20 Minute Gluten-Free Tomato and Feta Pasta
Published on Mar 21, 2020
by
Kristina Stosek
Prep Time:

5 minutes
Cook Time:

15 minutes
Serves:

4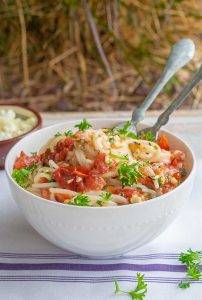 ​This post may contain affiliate links, please see our
privacy policy
for details
This is a 20-minute recipe for Gluten-Free Tomato and Feta Pasta. This recipe is all about fresh tomatoes, olive oil, garlic, herbs, feta cheese and fresh parsley, making this Italian dish exceptionally flavorful.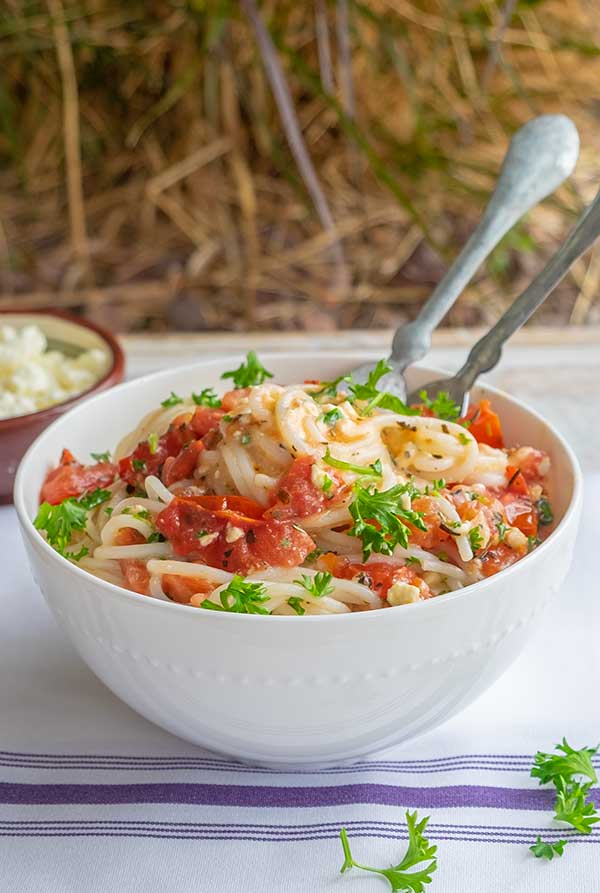 What we love about this tomato and feta pasta is, all you need is only five fresh ingredients plus herbs and salt.
The simplicity of this dish is what makes it so delicious, especially the saltiness of feta cheese. The best part, all you need is 20 minutes from start to the table.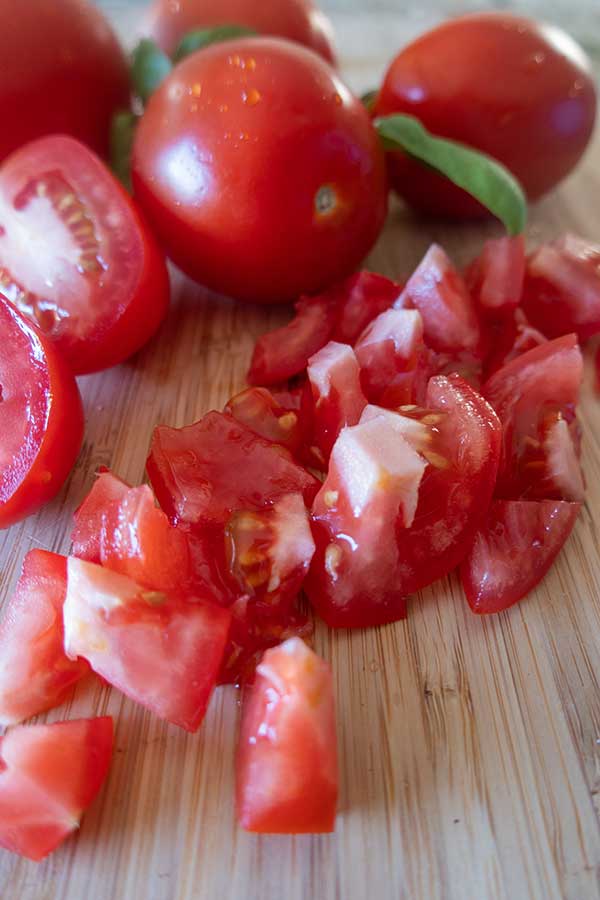 What to serve with tomato and feta pasta?
Firstly, this Italian gluten-free pasta dish can be served as a main. It is hearty and most satisfying. You can add a salad, or our favourite side the gluten-free cheese and garlic flatbread. Just thinking about this makes me want to eat now.
If you are serving the pasta as a side, there are many options. The way I like to serve this tomato, and feta pasta dish is with Healthy Coconut Pesto Salmon. However, southern fried chicken and pork tenderloin will make this pasta dish shine every time.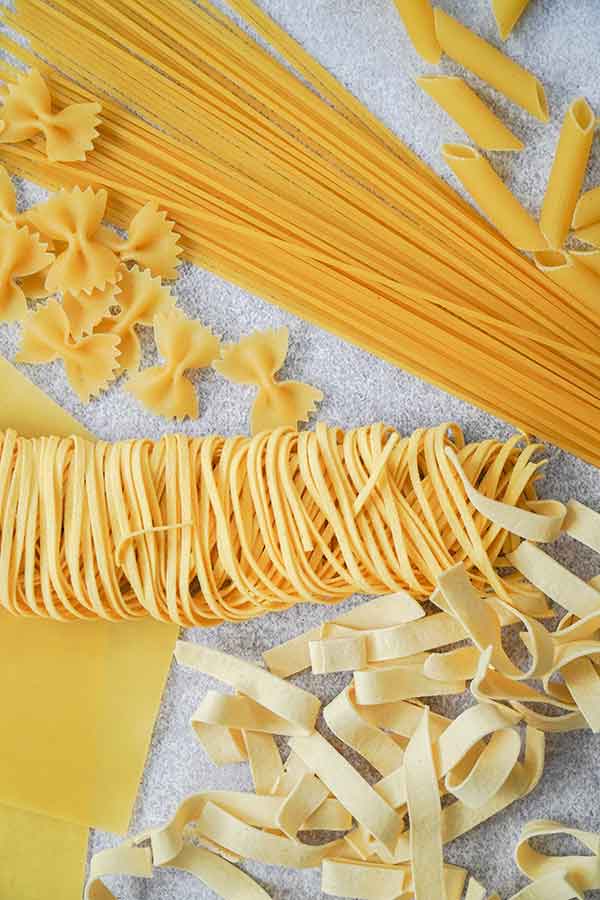 Best gluten-free pasta.
We often get asked which is our favourite gluten-free pasta. I must admit there are many choices of gluten-free pasta on the market. Here is our list starting from our favourites. Just to be clear, these are my choices and what is most readily available where I live, beautiful Vancouver in British Columbia.
Tinkyadda Pasta Joy → white rice pasta (3 g protein per serving) This is my favourite gluten-free pasta because it tastes just like real pasta. There is no fiber in this pasta, but you can always add more veggies to get the fiber you need.
Andean Dream Pasta → blend of organic rice and quinoa (3 g fiber and 5 g protein per serving) The blend of organic rice and quinoa makes this a healthier pasta. The texture is good, and it tastes good.
Bionaturae Organic Spaghetti → Organic blend of rice, potato starch, rice starch, organic soy flour (5 g of protein and 1 g fiber per serving) This pasta has added potato starch and soy flour. It tastes good, but for those that are soy intolerant this pasta will not work
Lundberg Organic Brown Rice Pasta (4 g fiber and 4 g protein per serving) this pasta has 4 g of fiber per serving, which is a fair amount. If you are looking for pasta with higher fiber content, this brown rice pasta may be for you. For me, I prefer the flavour and texture of the white rice pasta. Plus, this pasta takes longer to cook and seems to have more starch. (you can find this pasta at Wholefoods)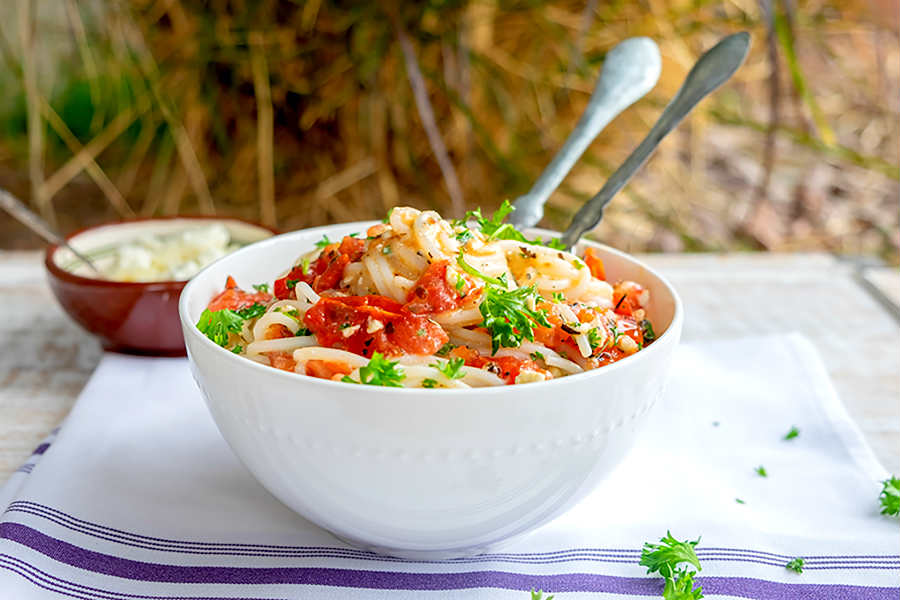 Explore Cuisine Organic Edamame and Mung Bean Fettuccine (11g fiber and 22 g protein per serving) this pasta is excellent for a plant-based diet because it includes plant-based protein. This pasta is good for someone that is following a vegan diet. It has the highest fiber and protein content per serving
Ancient Harvest Pasta → Blend of organic corn flour and organic quinoa flour (4 g fiber and 4 g protein per serving) If you are looking for gluten-free penne pasta, this may be the right choice. This pasta is excellent in salads and gluten free casseroles.
I don't like gluten-free pasta that is made only with corn. First, I don't like the texture, it is too grainy, and I don't like the flavour. It tastes like corn and overpowers the flavours of sauces. If you overcook corn pasta even slightly, it becomes mushy.
Lastly, gluten-free pasta has the best texture when cooked al dente. Unless you shock the pasta in ice water after cooking, it will soften more after you drained it. So always cook the pasta until it is still slightly firm.
20 Minute Gluten-Free Tomato and Feta Pasta
Published on Mar 21, 2020
by
Kristina Stosek
Instructions
1.

Bring a large pot of well salted water to a boil and cook pasta until al dente (firm to the bite)

2.

While the pasta is cooking, using a large skillet heat the olive oil over medium-low heat. Add garlic and cook until the garlic starts to soften. Careful not to burn the garlic

3.

Add basil, rosemary and chili pepper flakes (if using) and stir to coat the garlic. Add tomatoes and a pinch of salt. Cook stirring frequently until the tomatoes start to soften about 5 minutes

4.

Once the pasta is cooked, drain the pasta and save 1/2 cup of the pasta water. Add cooked pasta and pasta water to the tomato mixture and gently toss to coat the pasta

5.

Remove from the heat and stir in feta and parsley. Taste and season with salt if needed. Enjoy!
Leave a Comment
Kristina
thank your Renata, I am so happy to hear that xx
thank you for this pasta salad recipe, I have made it many times and each time the salad is a huge hit!
very delicious pasta salad and super easy. I also added olives. I will definitely make this again!