Healthy Coconut Pesto Salmon
Published on Jan 11, 2020
by
Kristina Stosek
Prep Time:

10 minutes
Cook Time:

15 minutes
Serves:

4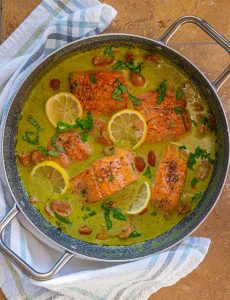 ​This post may contain affiliate links, please see our
privacy policy
for details
A Coconut Pesto Salmon dish – with coconut milk, cherry tomatoes, fresh lemon, garlic, pesto and Parmesan cheese. The flaky salmon made in one skillet in the most flavourful creamy pesto sauce.
30 minute fish recipe…
The entire dish comes together under 30 minutes making this a simple skillet dinner. Although this salmon dish is quick and easy to make, it is perfect for entertaining because it is fancy and most delicious.
To make this coconut pesto salmon, first you season the salmon and sear on both sides. Then you transfer the salmon on to a plate and make the coconut pesto sauce. To do this, add the garlic and tomatoes to the skillet and cook until the tomatoes are infused with the garlic.
next comes the pesto sauce…
Add the pesto sauce, coconut milk, lemon, lemon slices and Parmesan and cook until the sauce starts to bubble. Return salmon to the skillet and finish cooking in the creamy, lemony, pesto sauce. Very simple. When it comes to cooking fish, the thing I always worry about is, overcooking it.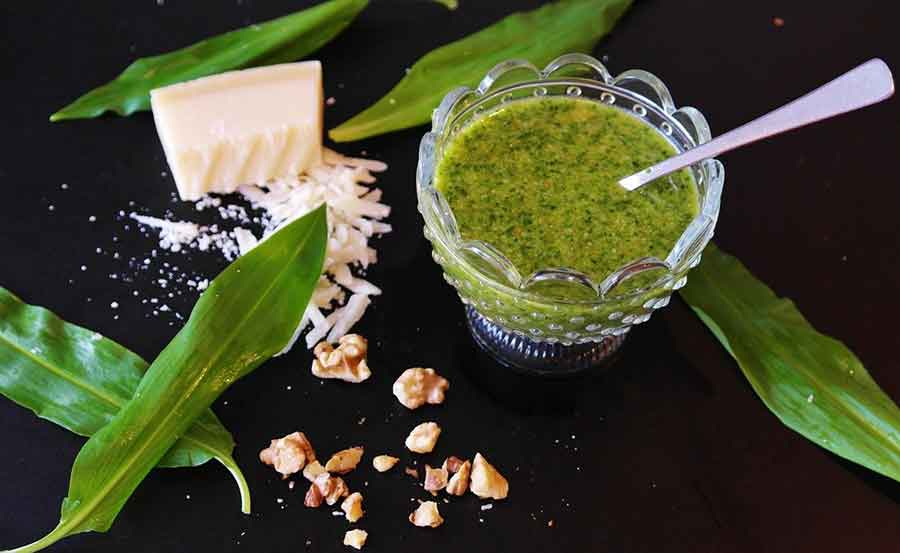 Using a thermometer is the best way to know when the fish is fully cooked without overcooking it. Besides, if you do overcook the fish slightly, you can always smother it in the delicious sauce. I like to serve the salmon with steamed vegetables or simple parsley rice.
Let us talk about farmed and wild salmon.
Farmed salmon is fed with processed fish feed, and wild salmon eat a lot of crabs, shrimp and krill. Sometimes farmed salmon are given antibiotics to keep them healthy. Wild salmon exposure to animal drugs is minimal. Unfortunately, a study found that Atlantic salmon contained more mercury than farmed.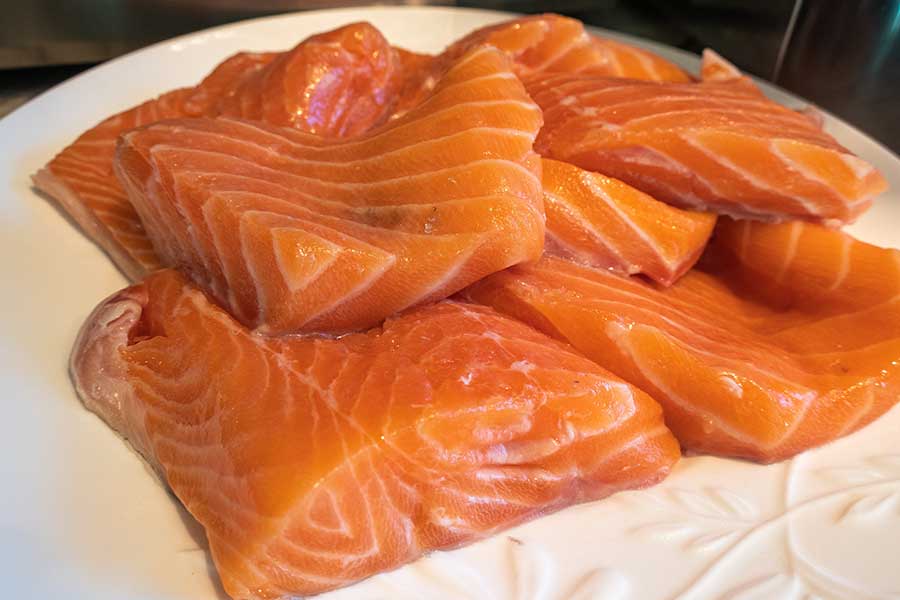 farmed salmon…
Farmed salmon had higher levels of omega-6 fatty acids than wild salmon. Farmed salmon also contains more fat and calories than wild salmon.
wild salmon…
On the other hand, wild salmon has more protein and is seasonal, available fresh only in the summer. Typically, wild salmon is nutritionally better, and sustainably-fished salmon have a lower impact on the environment.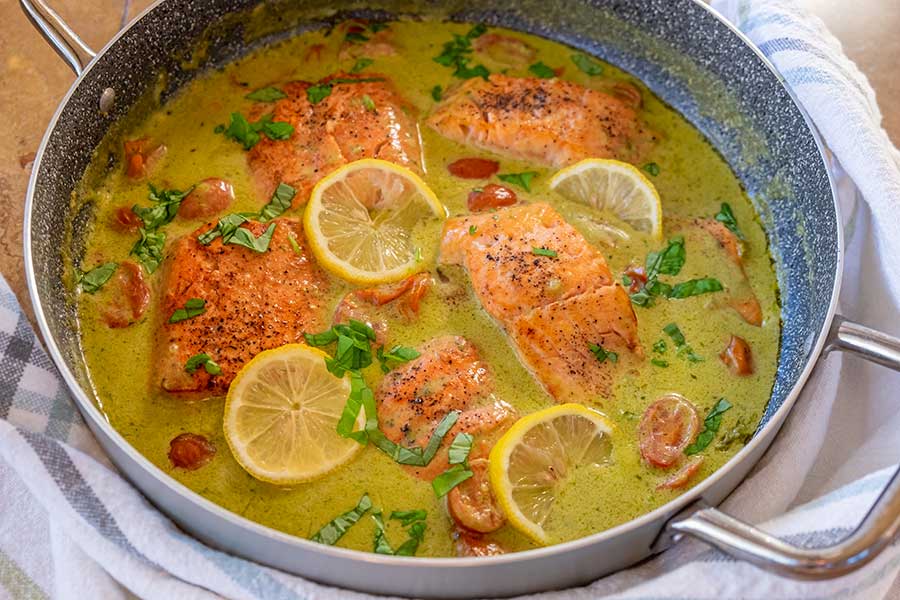 Both wild and farmed salmon are safe to eat and are excellent sources of nutrients.
Healthy Coconut Pesto Salmon
Published on Jan 11, 2020
by
Kristina Stosek
Instructions
1.

In a large skillet over medium-high heat, heat butter with olive oil

2.

Season salmon with salt and pepper

3.

Place salmon skin side up in the skillet, and sear each side, about 3 minutes per side. Transfer to a plate

4.

Reduce heat to medium-low and stir in garlic and tomatoes. Cook until tomatoes are heated through. Stir in pesto until combined. Add coconut milk, Parmesan cheese, lemon juice lemon slices and lemon zest. Cook over medium heat until the sauce starts to thicken. About 3 minutes. If the sauce is too thick, add a little more coconut milk

5.

Return salmon to the skillet and spoon over the sauce. Simmer until salmon is cooked through, about 2 - 3 minutes more. Depending on the thickness of the salmon. The internal temperature should 145 F.
Leave a Comment
Kristina
Delicious salmon recipe, I will definitely make this again.