Gluten-Free Instant Pot Spaghetti Bolognese
Published on Jan 10, 2020
by
Kristina Stosek
Prep Time:

15 minutes
Cook Time:

35 minutes
Serves:

6 family-style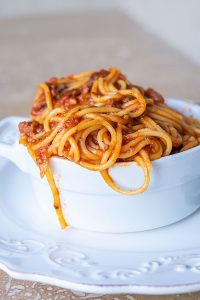 ​This post may contain affiliate links, please see our
privacy policy
for details
It is not very often that I will say "THE BEST" but this Gluten-Free Instant Pot Spaghetti Bolognese is the best. Just imagine a robust bolognese sauce or as they call it in Italy ragout, is oozing of authentic Italian herbs and spices, a little cream, white wine and Parmesan cheese.
This Instant Pot Spaghetti Bolognese has plenty of sauce and is most flavourful. Traditionally the Bolognese sauce is slowly simmered for a couple of hours or longer for the flavours to develop and allowing for the sauce to thicken.
By using Instant Pot, I was able to cut the cooking time drastically and still keep the traditional flavour and texture of the Bolognese sauce. Don't let the long list of ingredients scare you, six of them are just spices.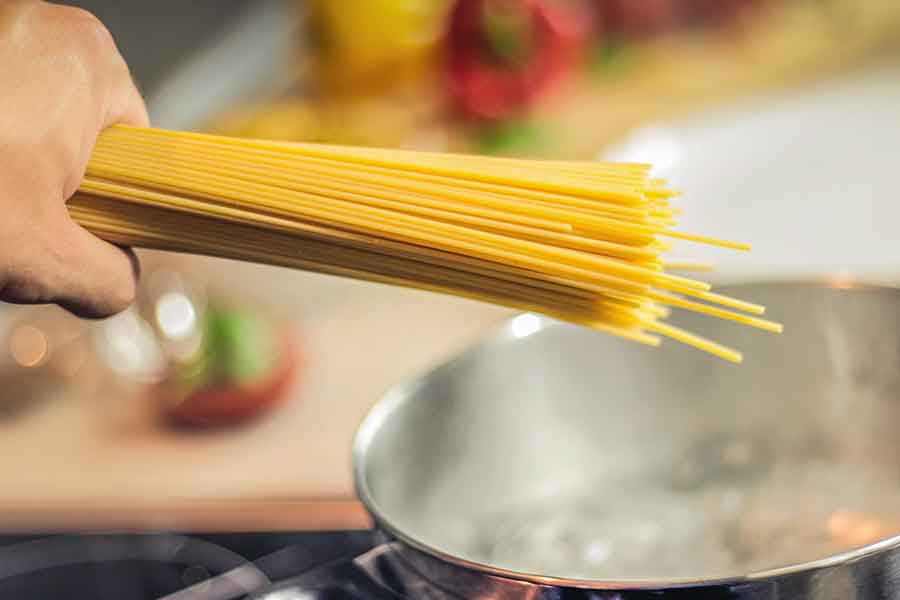 Because I wanted to keep it simple, I made the entire meal in one pot. That's right, sauce and pasta all in one. No boiling water, no messy stove, this recipe is kind of life changing. It does not get simpler!
The entire dish turned out unbelievably delicious. The pasta is cooked to perfection, and the sauce sticks to every spaghetti strand making everything so tasty!
Spaghetti sauce or Bolognese sauce, what is the difference?
Although they may smell and look the same, there is a big difference between spaghetti sauce and Bolognese sauce.
Spaghetti sauce, also called marinara sauce, is typically made with vegetables, herbs, spices, red wine and plenty of tomato sauce. It is a simpler sauce and is served with spaghetti.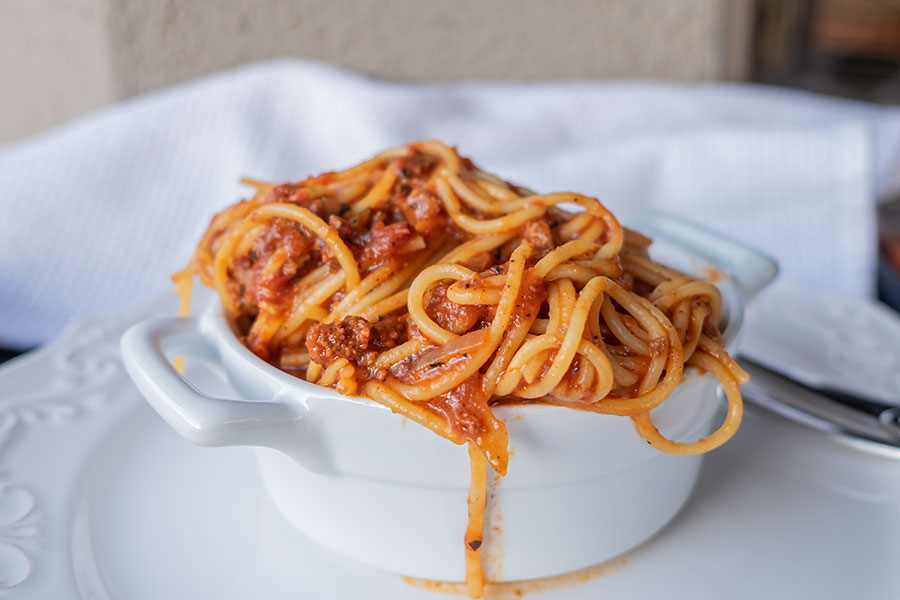 Bolognese sauce is a thick meat sauce, like a ragout, made with beef, pork or pork sausage, sometimes bacon, tomatoes, herbs, spices, cream, white wine and Parmesan cheese.
The sauce is cooked longer to create a thick sauce and has fewer tomatoes than spaghetti sauce. Often there is also butter added.
Bolognese sauce is typically served with wide pasta like lasagna, fettuccine, or pappardelle. In this recipe, I chose to serve it with spaghetti, because it is my family's favourite pasta, thus calling it spaghetti Bolognese.
If you like Italian food, you must check out these delicious Italian gluten-free recipes.
Gluten-Free Instant Pot Spaghetti Bolognese
Published on Jan 10, 2020
by
Kristina Stosek
Instructions
1.

Set instant pot to sauté. Add olive oil, once heated, add the bacon and cook stirring until browned, about 3 - 5 minutes. Add onions, carrots and celery and cook until soft. About 5 minutes. Stir in garlic, oregano, basil, cinnamon, nutmeg and bay leaves until combined

2.

Add the beef and sweetener and cook until no longer pink, stirring often. About 5 minutes. Add wine and cook deglazing the pot. About 1 minute.

3.

Stir in tomatoes and salt. Close the lid and cook on high pressure for 10 minutes. Turn the IP off and use the quick release function to release the steam. Discard bay leaves and stir in cream — Transfer 4 cups of sauce into a bowl.

4.

Break Spaghetti in half and scatter in various directions on top of the sauce. Add broth and top with the 4 cups of sauce we set aside. DO NOT STIR. Close the lid and cook on high pressure for 9 minutes. Immediately turn the IP off and use the quick release function to release the steam. Stir in Parmesan cheese until everything is combined. Rest for 10 minutes before serving. The sauce will thicken to perfection.

5.

Optional toppings; fresh basil and freshly grated Parmesan cheese

6.

Note; if you want to cook the Bolognese sauce without the pasta, omit the steps with pasta and broth