Gluten-Free Chicken Fajita Stew
Prep Time
15 Minutes
Difficulty
Easy
Cook Time
15 Minutes
Serves
4 - 6
Be the first to rate this recipe.
The Chicken Fajita Stew is a refreshing twist on tex-mex food. In this quick and healthy gluten-free meal, the chicken is marinated in fresh lime juice, Mexican spices and then seared until the chicken is crusted with the most delicious coating.
Then come the fresh vegetables like bell peppers, red onions and tomatoes. The veggies are pan-fried with the chicken until crisp tender.
To finish this tasty dinner, sweet corn, chicken broth and plenty of fresh cilantro. Somewhere in between, I have also added baby potatoes.
The potatoes are cooked separately as not to take away from the delicious spiced up lime broth that infuses the tender chicken and crispy veggies.
chicken fajita stew is an easy weeknight meal,
For a busy weeknight, this chicken fajita stew is a must try dish! Super simple to throw together, and the entire meal takes less than 30 minutes to cook. You probably have most of the ingredients in your pantry.
Traditionally fajitas are served with fresh tortillas, so if that is what you prefer, feel free to omit the potatoes and serve the deliciousness with tortillas. I have added potatoes to make this Mexican-like dish heartier and to avoid grains.
Seriously, if you like Mexican food, this is one of those meals you can eat every night without getting tired of it. For me, this chicken dinner finishes a busy day perfectly.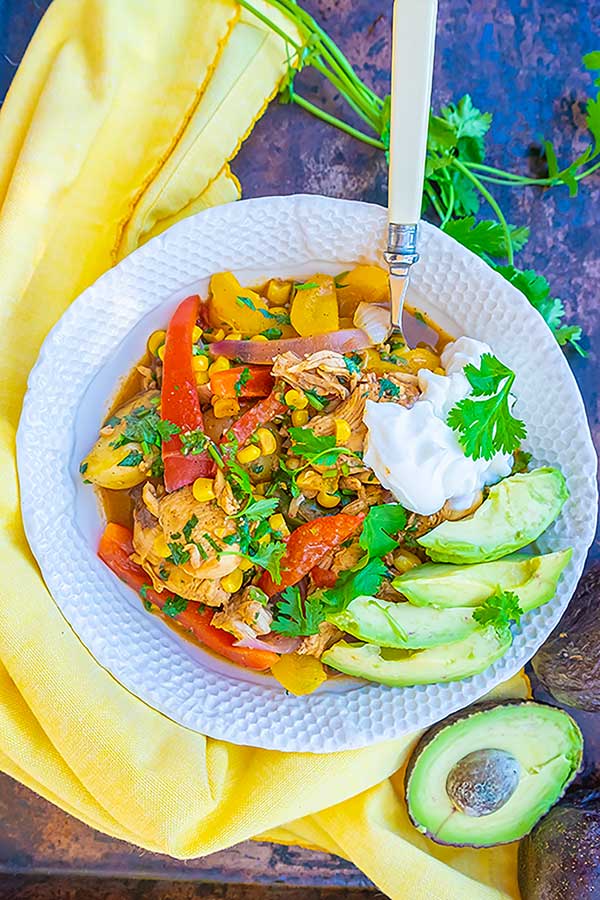 let's jump into the details,
To make this gluten-free chicken fajita stew, first, you marinate the chicken in the most delicious lime marinade. To do this is very simple. Mix olive oil, lime juice, maple syrup, arrowroot starch, chilli powder, cumin, salt and garlic powder and coat the chicken.
After ten minutes, you pan fry the chicken, add the veggies and stir in cooked potatoes. In the end, mix in plenty of fresh cilantro, making this a very colourful meal.
To serve, you can add various toppings like avocado, cilantro, fresh lime juice and sour cream. This gluten-free chicken dinner is a healthy, hearty meal with a big punch of flavours.
Ingredients
3 Tbsp. Extra virgin olive oil, divided
2 Tbsp. Fresh lime juice
1 Tbsp. Pure maple syrup or brown sugar
2 tsp. GF chili powder
1 tsp. GF ground cumin
1 tsp. Himalayan salt
1/2 tsp. GF garlic powder
1 1/2 lb. boneless skinless chicken breast, cut into strips
1 lb. baby yellow potatoes, halved or Yukon gold potatoes cut into bite size pieces
2 bell peppers, any colour, sliced into thin strips
1 red onion, cut into thin wedges
1 large tomato, roughly chopped
1 jalapeno pepper, sliced
2 cups frozen corn
1/2 bunch chopped cilantro
Optional toppings; avocado, cilantro, lime wedges
This post may contain affiliate links to products I use and highly recommend. You can read my full disclosure here
*As an Amazon Associate and member of other affiliate programs, I earn from qualifying purchases. Please check out my sponsorship and disclosure policy page for more details
Instructions
In a medium bowl, combine1 tablespoon of olive oil, lime juice, maple syrup, arrowroot/tapioca starch, chili powder, cumin, salt and garlic powder. Add chicken and coat well with the marinade. Set aside for 10 minutes
While the chicken is marinating cook potatoes in salted water until tender, about 10 - 12 minutes, then drain
In a large non-stick skillet heat remaining two tablespoons of olive oil over medium-high heat. Add marinated chicken and cook for 5 minutes stirring frequently until browned
Add peppers, onions, tomatoes and jalapeno and cook until the peppers are crisp tender. About 5 minutes
Stir in corn and chicken broth. Cover and simmer for 3 minutes. Stir in cooked potatoes, cilantro and season with salt if needed
Serve with avocado slices, chopped cilantro and extra lime juice if desired.
Similar Recipes
One-Skillet Vegetarian Burrito – Gluten Free
This gluten-free, vegetarian burrito has all the delicious ingredients of a burrito but without the tortilla. This Mexican dish is made with black beans, tomatoes, bell peppers, rice, cheese, and plenty of cilantro. For the spices, I used the traditional chili powder, cumin and garlic. To serve, you can add salsa, fresh cilantro and or […] Read More
Prep Time
10 Minutes
Difficulty
Beginner
Cook Time
45 Minutes
Serves
6