15 Gluten-Free Easy Chicken Dinners
Some days you just need easy dinners! These Gluten-Free Easy Chicken Dinners will highlight just how versatile chicken can be. You will find these chicken recipes will please even the pickiest eaters.
Some dishes are simple others have complex flavours. But, they are all incredibly delicious enough… to serve to company.
To complete these gluten-free chicken dinners, add a simple side salad or maybe the 30 Minute Gluten-Free Cheese and Garlic Flatbread and dinner will be ready in no time.
I promise, you will never get bored of these easy chicken recipes. And the best part, these dinners are most satisfying and super easy to make.
Try one of these gluten-free chicken dinners next time you are pressed on time or want to skip slaving in a hot kitchen for hours. I have compiled only the best of the best easy chicken dinners for you to choose from.
Were you thinking of having a chicken salad instead? You must check out two of my favourites the Baja Chicken Kale Salad with Avocado Lime Dressing or the Warm Asian Chopped Chicken Salad . They are both so good!
15 Gluten-Free Easy Chicken Dinners
The incredibly good chicken dinner is beautifully flavoured with Mexican spices and combined with beans, corn, tomatoes and topped with melted cheese. And let's not forget your favourite toppings such as cilantro, sour cream, green onions and avocado 🙂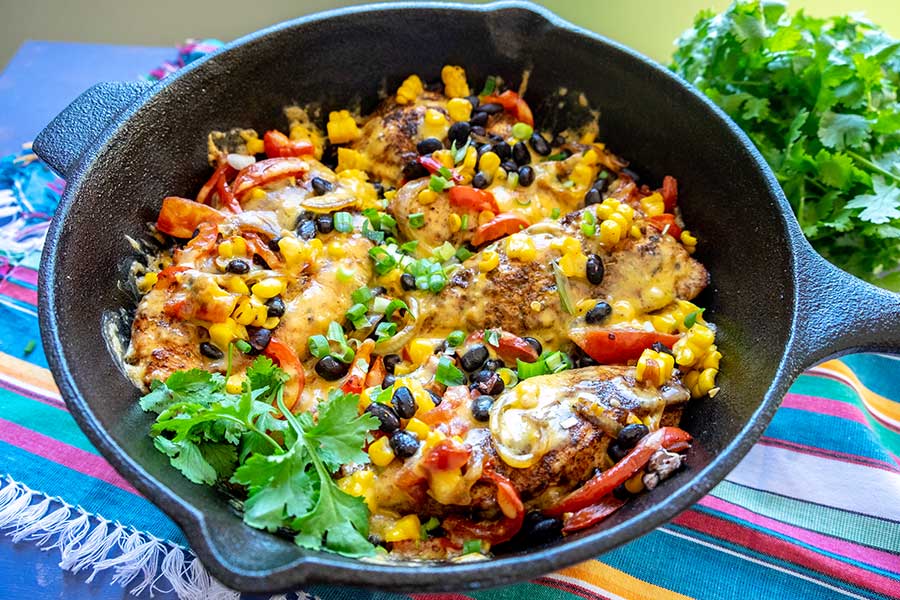 Made with just a few ingredients, a gluten-free chicken egg roll in one-bowl meal. I ditched the wrapper and served the egg roll over rice. My favourite rice for this Chinese chicken egg roll is simple rice with parsley. I added some turmeric to the rice for colour and created a healthy one bowl gluten-free Chinese chicken egg roll in a bowl. If you like Chinese take-out you will love this family favourite chicken egg roll in a bowl with all the delicious flavours you remember.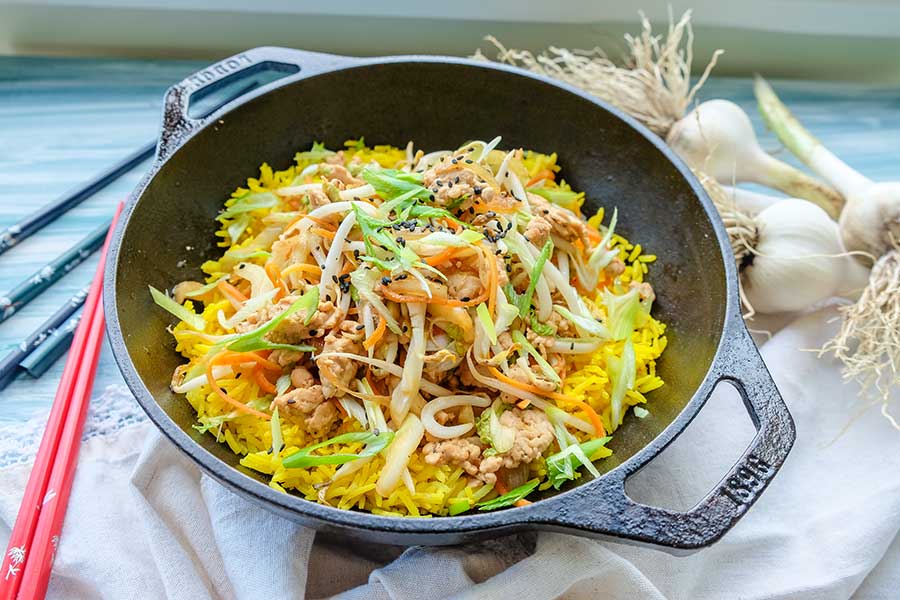 Combine rice noodles, fresh vegetables, pan-seared ginger chicken meatballs sweet and sour sauce, and you have a complete meal in a bowl. The rice noodles are mildly flavoured with sesame oil, green onions, fresh basil and for an added crunch some sesame seeds. The meatballs are made with lean ground chicken…the flavours come from fresh minced ginger, sliced green onions, garlic, honey and black pepper.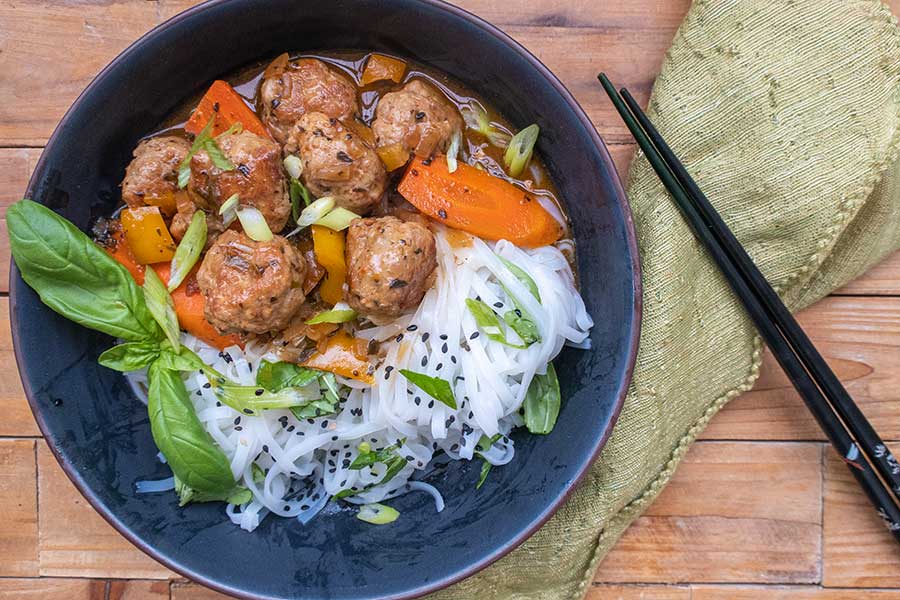 This Spicy Soba Noodles recipe is the simplest of simple. This noodles dish is made with soba noodles, chicken, miso, garlic, nut butter, veggies, herbs and spices and sesame seeds. This lovely and mildly spicy noodle dish takes just minutes to prepare. This is a flavourful soba noodle dish made with a sauce that will make you drool. Yes, it is all about the sauce coating the noodles making them incredibly tasty.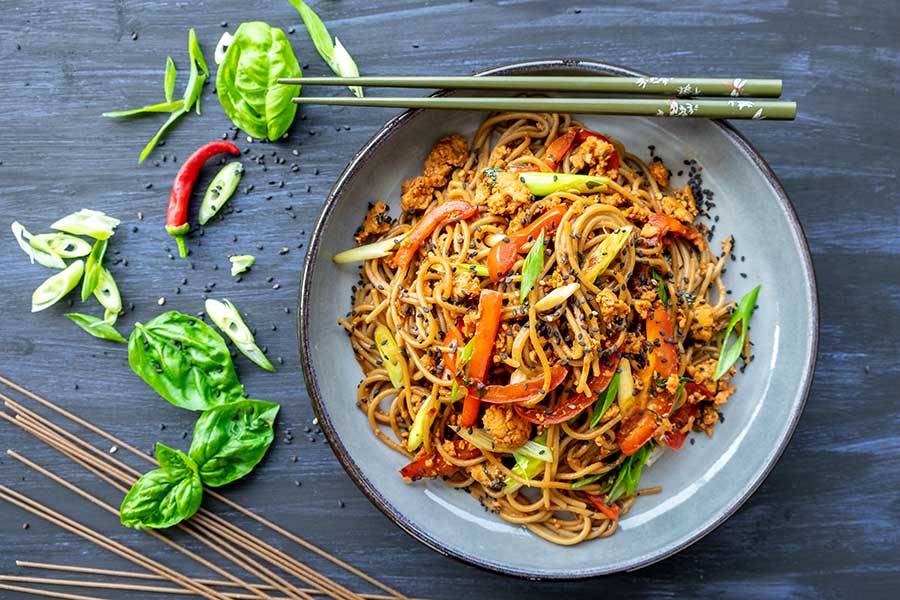 The aromatic naturally gluten-free chicken rice bake is easy, cheesy and takes just over thirty minutes to make. In Brazil, this dish is called Galinhada. It is a typical Brazilian dish prepared with rice, chicken, vegetables and turmeric or saffron. This chicken rice bake is probably one of the easiest chicken dinner recipes to make.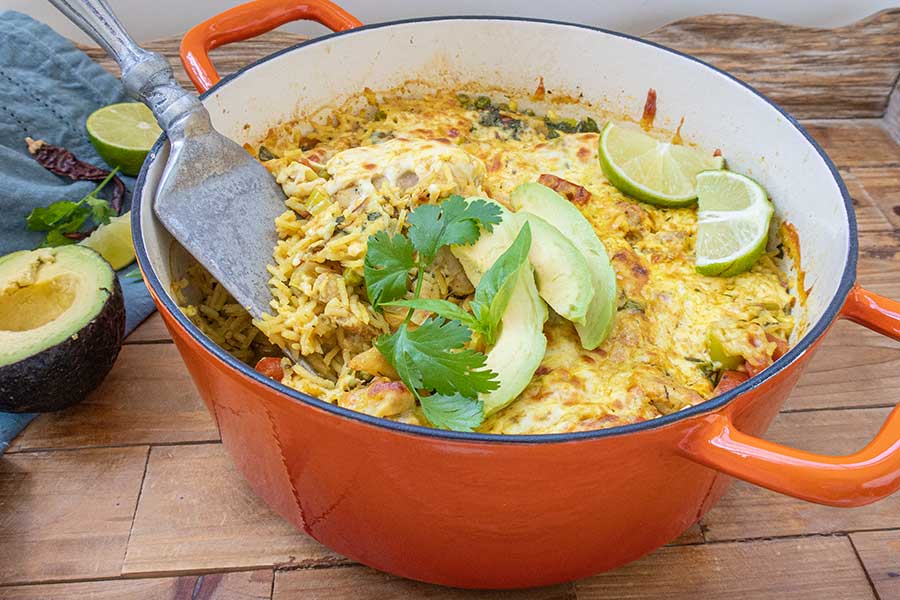 This Sheet Pan Spanish Chicken Dinner takes only minutes to whip up! Sheet pan dinners are simple with minimal clean up, boasting with an array of flavours. In this easy chicken dinner dish, the chicken and potatoes soak up the flavours from chorizo sausage, red onions, garlic, peppers, oregano and fresh lemon juice. This stunning chicken recipe brings chicken dinner to another level of deliciousness!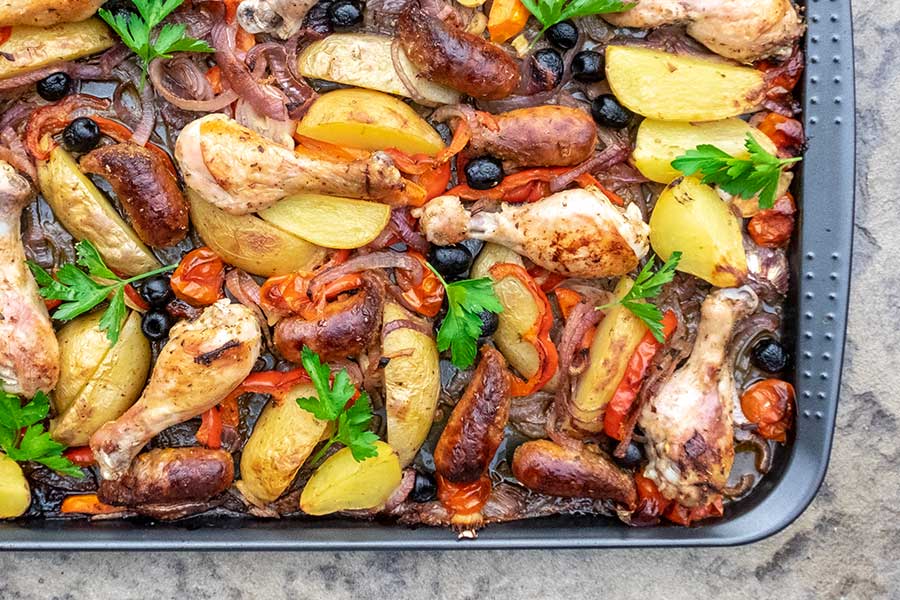 I wanted to include this recipe, although originally I made it vegetarian. This gluten-free Saucy Thai Noodles dish tastes just like takeout Thai food. The rice noodles and fresh vegetables are coated in the most delicious sweet and spicy Thai sauce made from scratch. By adding chicken, this speedy gluten-free chicken dinner is even tastier!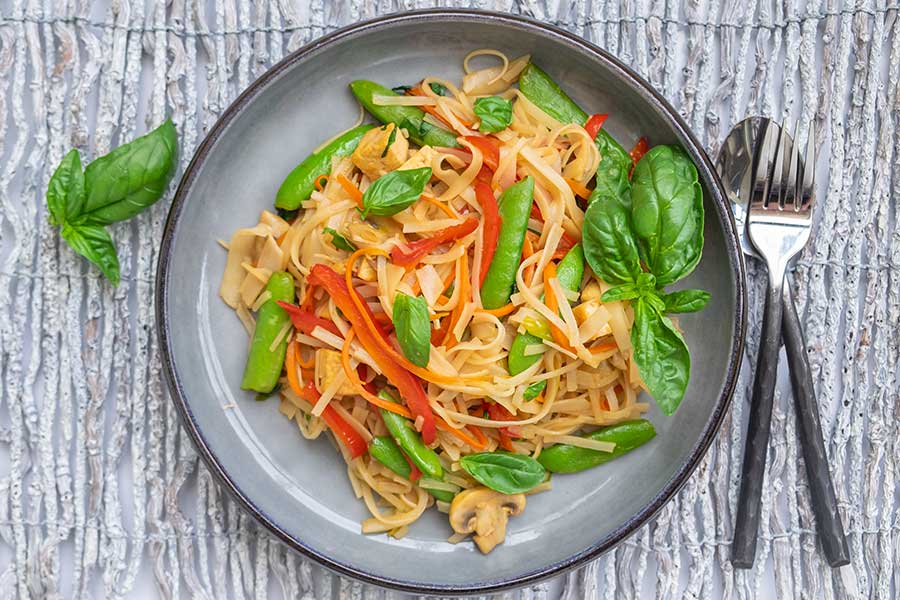 Welcome to another simple gluten-free pasta meal. This pasta dish is made with chicken, fresh spinach plenty of fresh basil, hint of garlic and lots of Parmesan cheese. Nothing fancy but the flavour is outstanding. The entire meal is made with less than 10 ingredients and in less than 30 minutes. I know, hard to believe 😀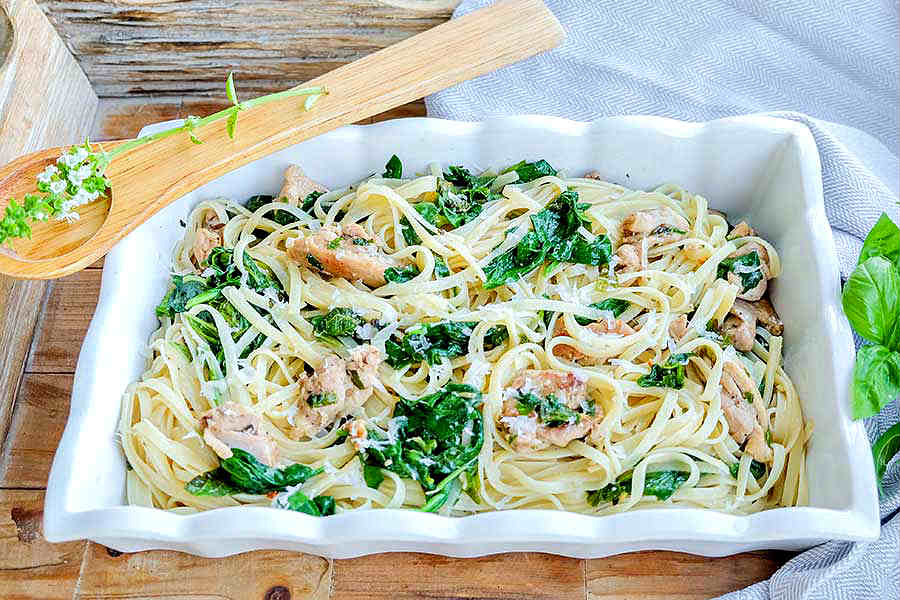 Sticky most delicious Gluten-Free Kung Pao Chicken Dinner…Roasted in the oven first and then tossed in the most delicious Kung Pao sauce. By avoiding the deep-frying of the chicken, the recipe was much simpler and healthier. Kung Pao sauce is probably one of the most flavourful sauces you can add to chicken. To complete this gluten-free chicken dinner, I added a quick and easy fried rice recipe.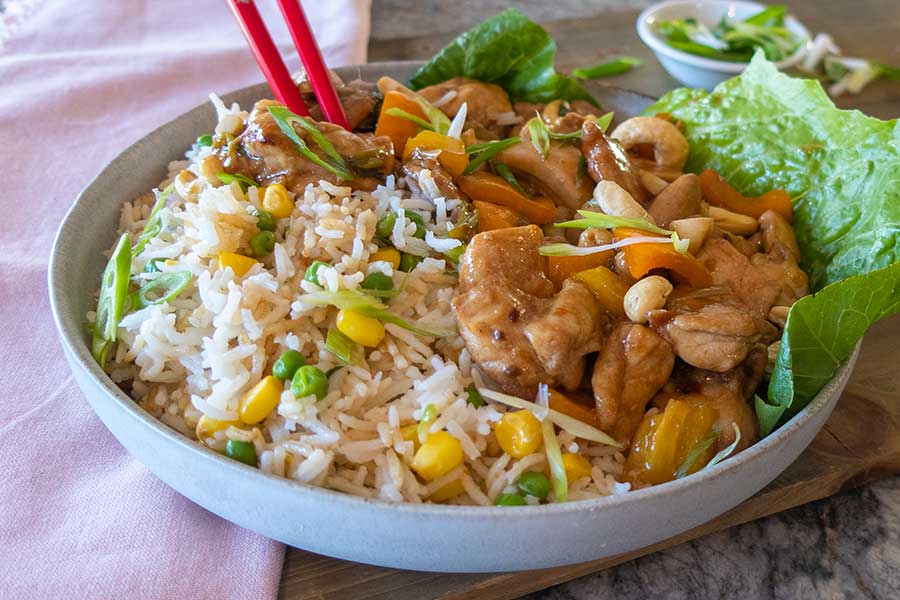 Healthier finger food with this Gluten-Free Oven Fried Cajun Popcorn and Creamy Feta Sauce! Think crispy cajun breaded popcorn chicken without frying, dipped in a creamy, pleasingly salty and garlicky feta sauce. Oh my, so addicting, perfect for this weekend. I am including this chicken recipe, although the popcorn chicken is more like finger food, by adding a light salad or a good rice dish you can change it into a delicious hearty easy chicken dinner!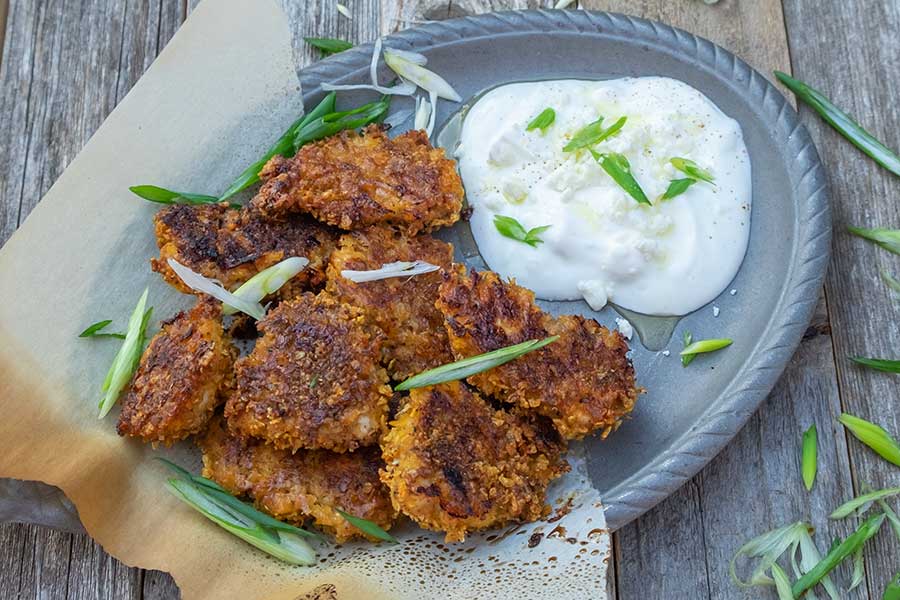 Healthy, savoury, and delicious these lettuce wraps are made with chicken, plenty of seasoning and for added crunch roasted peanuts. Lettuce wraps are a great way to serve food when following a gluten-free or calorie-restricted diet because you don't need tortillas, bread or rice. This high protein, low-carb chicken dinner is fast and super easy to prepare because all you need is fifteen minutes from start to finish. Healthy, delicious and quick to make, how does that sound?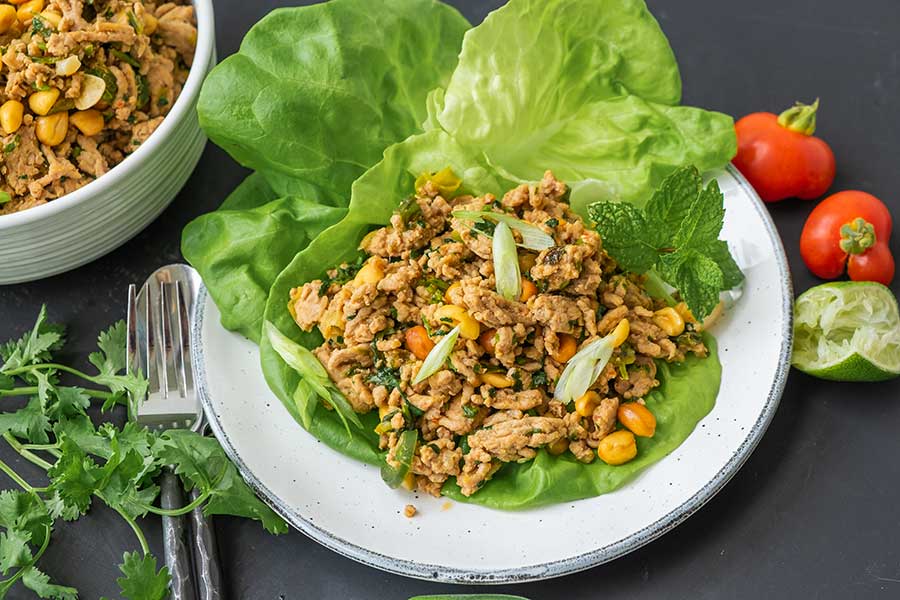 The tender chicken is cooked with vegetables in a creamy coconut curry sauce. In this chicken curry recipe, I used exotic ingredients that are readily available in most supermarkets. The curry is mildly spiced and has a fragrant and delicate flavour. This Indian dish is traditionally served with basmati rice. Now you can have an authentic Indian chicken curry dinner under 30 minutes. However, you will need an Instant Pot.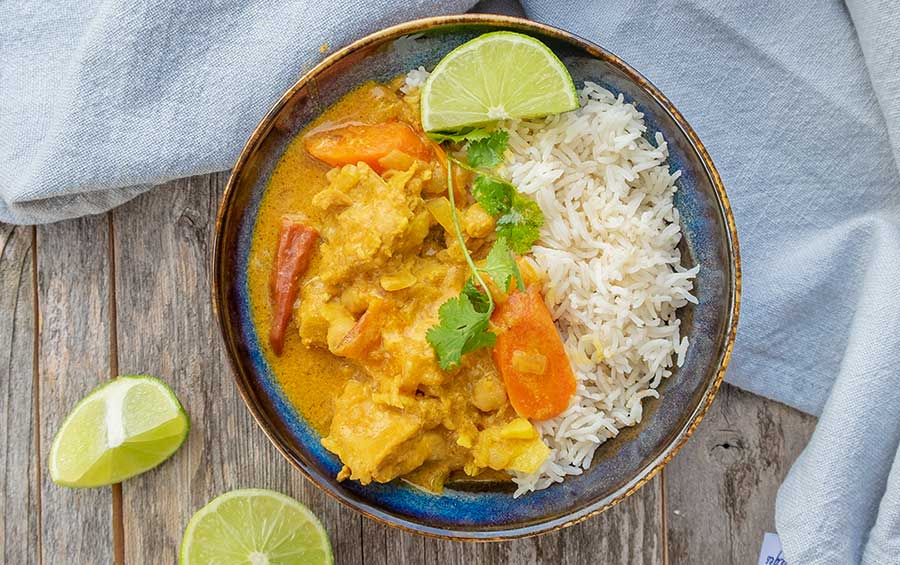 The rich, full bodied flavours and cheesy rice with chicken is a deeply satisfying dish. Everything in this easy chicken dinner dish has so much flavour. The rice is infused with onions, garlic, chilli pepper, oregano and cumin. The veggies such as bell peppers and tomatoes keep the rice moist and add more flavour. However, the key ingredient is the cheese, it makes everything rich and creamy. The fresh cilantro which is added at the end, adds freshness and an exceptional zing to this one pot chicken taco rice. This colourful and flavourful dish is wonderful served alongside a light salad.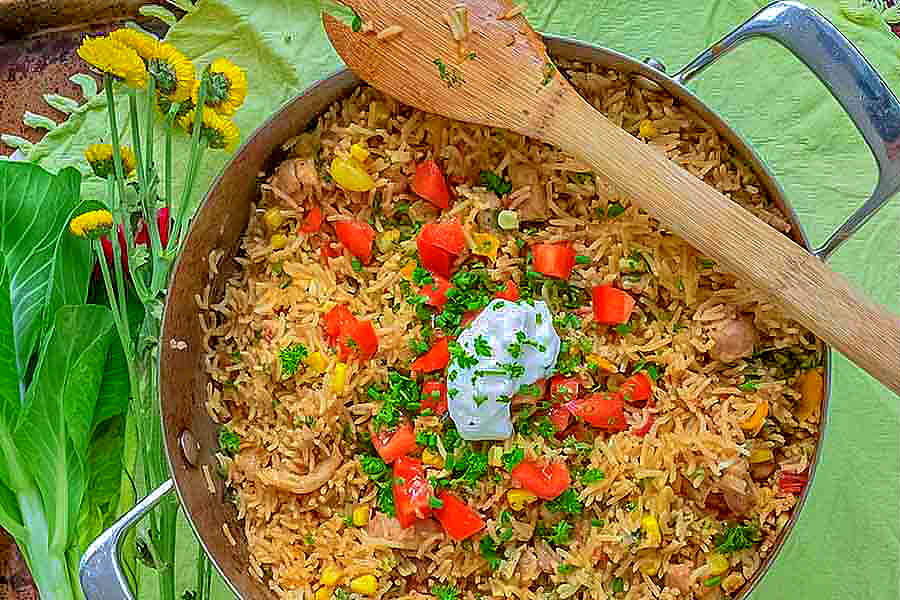 When fresh tomatoes and bell peppers are abundant, keep it simple with this gluten-free fajita chicken soup. A robust Mexican style summer soup light enough for warm weather, but still hearty to satisfy that hunger feeling. Serve with a slice of gluten-free crusty bread or our fabulous gluten-free cheesy Mexican corn bread. Although this is a soup, you will find that it is satisfying enough to replace dinner!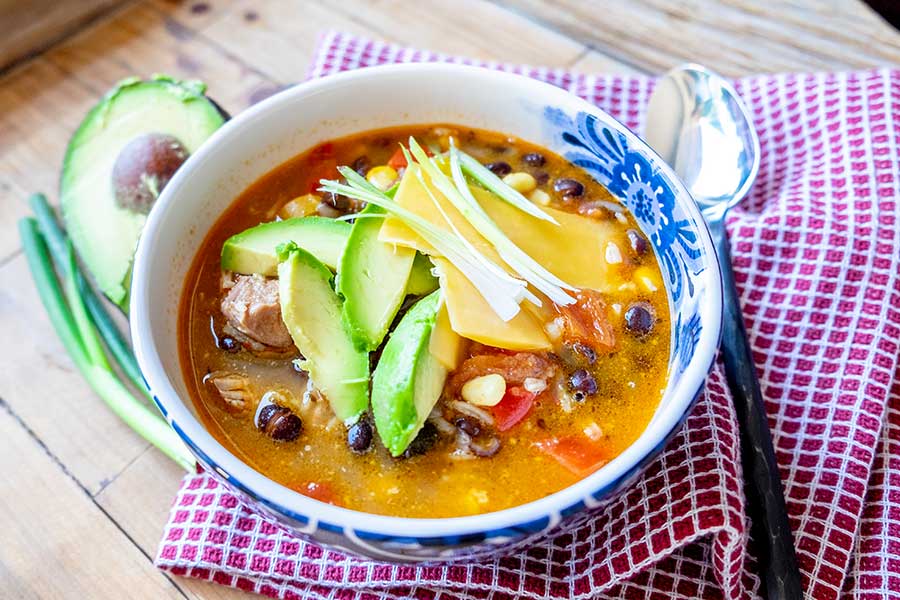 Garlicky, gingery and a little sweet and spicy pan seared chicken baked with creamy coconut rice. For added flavours and textures, some green beans and fresh corn off the Cobb. When I serve this chicken dinner, I like to add extra flavours → so fresh basil, green onions and more fresh lime juice. Making it an all round delicious meal and the best part, this meal is super easy to put together.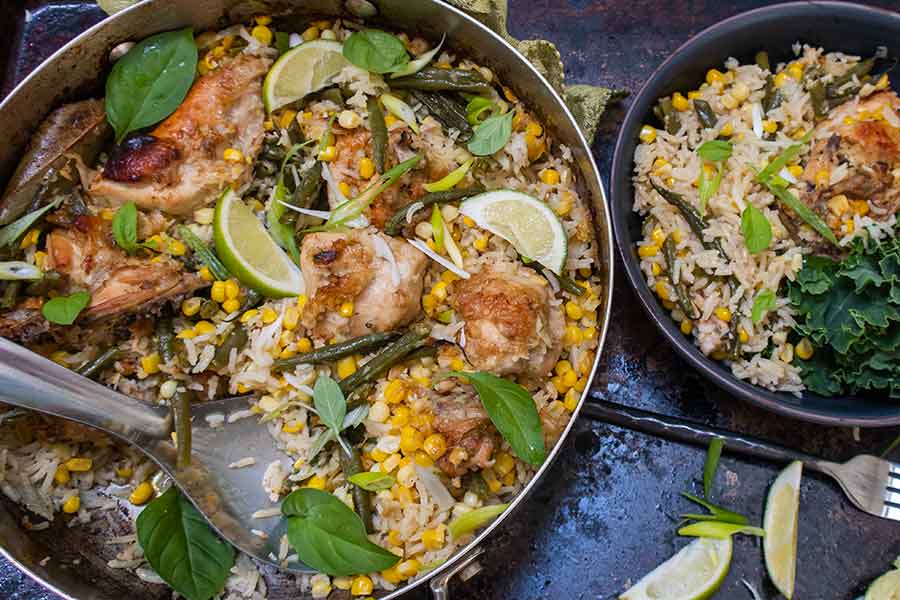 Affiliate Disclosure: Only Gluten-Free Recipes is a participant in the Amazon Services LLC Associates Program, an affiliate advertising program designed to provide a means for sites to earn advertising fees by advertising and linking to amazon.com. Please check out my sponsorship and disclosure policy page for more details