Gluten-Free King Ranch Chicken
Published on Sep 30, 2020
by
Kristina Stosek
Prep Time:

15 minutes
Cook Time:

50 minutes
Serves:

6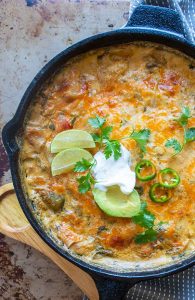 ​This post may contain affiliate links, please see our
privacy policy
for details
Family style Gluten-Free King Ranch Chicken dinner made from scratch. Think rich, creamy sauce, flavoured with Mexican spices and filled with chicken, tomatillos, bell peppers, green chillies, tortilla, fresh cilantro and plenty of cheese.
King Ranch Chicken recipe is for when you need real comfort food the most.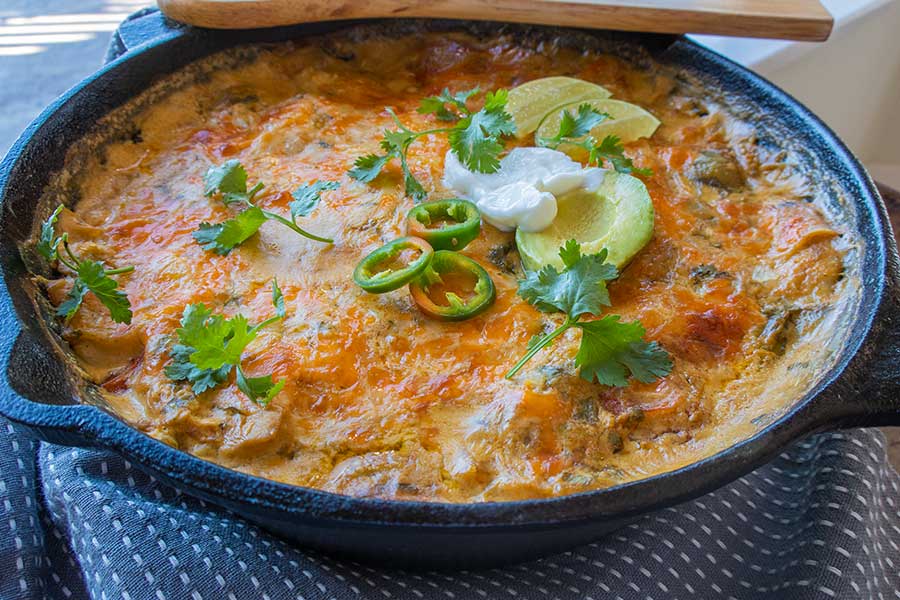 This King Ranch Chicken dish is made in one skillet with minimal effort. In fifteen minutes, you can have this gluten-free chicken dinner ready for the oven and walk away.
For the rich Tex-Mex flavours, I used garlic, onions, green chilli peppers, chilli powder and cumin. The authentic Tex-Mex flavours are making the sauce so good!
Typically King Ranch Chicken recipe is made with cooked leftover chicken and canned soups. However, I wanted to give this Tex-Mex chicken dinner a fresh-tasting chicken and make it healthier, thus avoiding canned soups.
avoid canned soups if possible
Canned soups are often packed with table salt, which contains a high amount of sodium and sometimes unwanted preservatives. In addition most canned soup contain gluten. By using fresh chicken, the sauce is a lot more flavourful and healthier.
I also added earthy flavoured mushrooms. Although they are optional, mushrooms are a wealth of healthy nutrients, and they texture and flavour.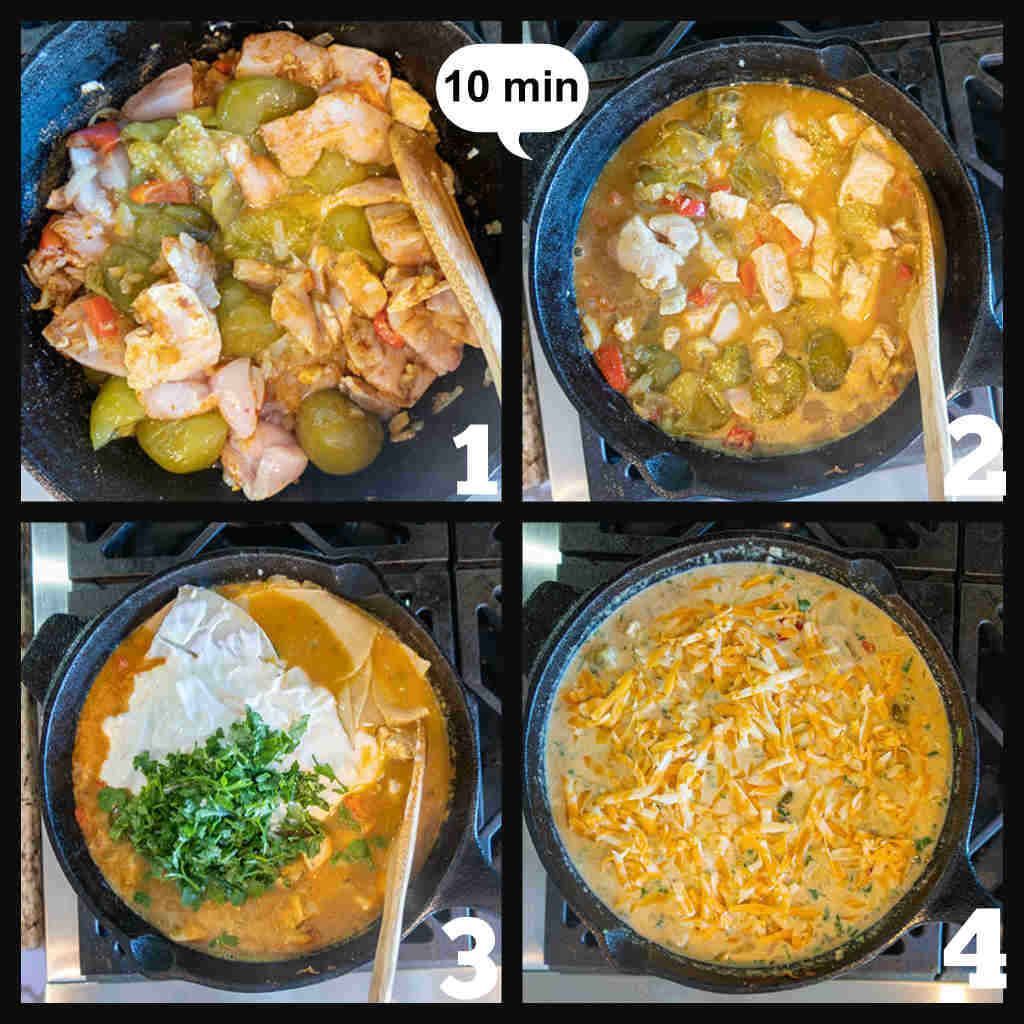 King Ranch Chicken recipe details
I love this gluten-free family-style chicken dinner recipe because it is super easy to put together. First, you will need a large oven-proof skillet. Yes, the entire Tex-Mex style dinner is made using only one skillet.
If you don't have one, it is not a problem. You can make the king ranch chicken in a large pot, then transfer it to a greased casserole dish. But, you will have one extra pot to wash.
To make this gluten-free chicken dinner, first, you sauté the onions with peppers. Then stir in garlic, spices and chicken.
The rest is easy – add the chicken broth, tomatillos, pieces of corn tortillas, fresh cilantro and a sour cream mixture with cheese.
Give it a good stir, top with remaining cheese, and bake. Nothing to it! Yet, this hearty chicken dinner is incredibly delicious.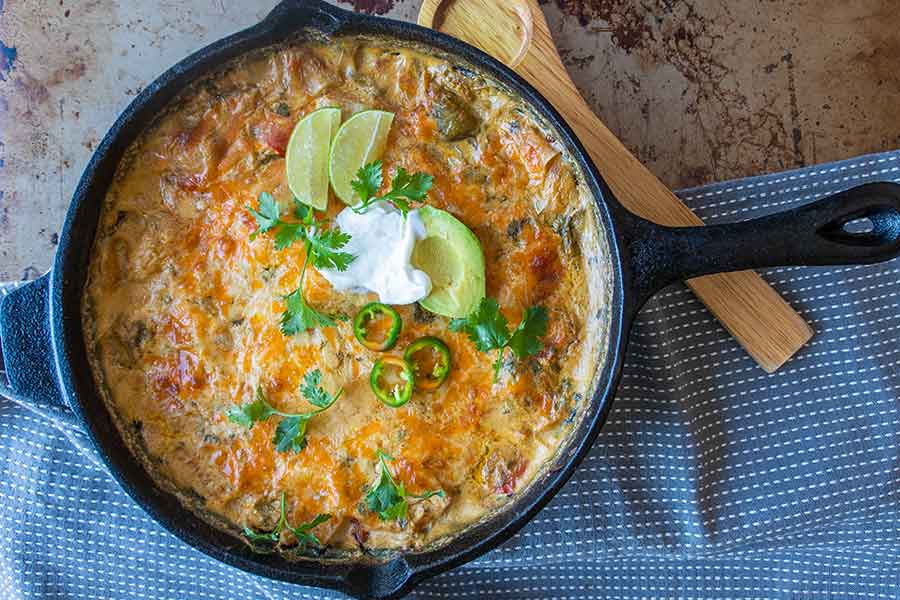 What to serve with king ranch chicken?
This Tex-Mex chicken dinner is so hearty that you can enjoy it just as a stand alone dish. However, I like to add a Gluten-Free Cheesy Mexican Cornbread for dipping into the creamy flavourful sauce, or a light salad.
If you are feeding a large crowd, you can add rice and black beans. I also like to add toppings because they add freshness and extra flavours to the King Ranch Chicken dinner.
Some toppings I would add are fresh cilantro, avocado slices, a dollop of yogurt or sour cream, and for extra heat, thinly sliced green chilli peppers.
King Ranch Chicken is a very popular casserole that originated in Texas. This chicken dish has Tex-Mex flavours and is hearty enough even for big appetites.
the cooked chicken option
The king ranch chicken dish is also an excellent way to use up leftover chicken or even turkey. For this recipe, you will need 3 cups of shredded chicken. Follow the same directions, except add the cooked chicken at the same time as adding the cilantro.
Need more casserole recipes? Here are my three favourite gluten-free casseroles.
One Pan Chicken and Creamy Mushrooms Casserole
Moroccan-Style Baked Lamb Casserole
Let's Connect!
Be sure to FOLLOW US on FACEBOOK and PINTEREST.
Many thanks!
Kristina xx
Gluten-Free King Ranch Chicken
Published on Sep 30, 2020
by
Kristina Stosek
Instructions
1.

2.

Using a large oven-proof skillet, heat olive oil over medium heat. Add onions and peppers and sauté for 3 - 5 minutes until they start to soften.

3.

Stir in garlic, chilli powder and cumin. Add chicken pieces and mushrooms if using, and stir to coat with the onion mixture.

4.

Add chicken broth, tomatillos and salt. Bring to a boil and stir, breaking up the tomatillos. Stir in tortillas and cilantro and remove from the heat

5.

In a medium bowl, combine sour cream, arrowroot flour and 1/2 cup cheddar cheese. Add the sour cream mixture to the skillet and stir to combine.

6.

Top with remaining cheese, cover with foil or lid and bake for 30 minutes. Uncover and bake for about 15 more minutes until bubbling and golden brown.

Leave a Comment
Kristina
thats so nice to hear, thank you
easy to make and delicious, my family loved it!