Gluten-Free Oven Fried Cajun Popcorn Chicken with Creamy Feta Sauce
Published on Jan 31, 2020
by
Kristina Stosek
Prep Time:

20 minutes
Cook Time:

20 minutes
Serves:

12 - 14 pc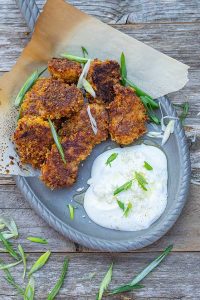 ​This post may contain affiliate links, please see our
privacy policy
for details
Enjoy this Gluten-Free Oven Fried Cajun Popcorn and Creamy Feta Sauce for the Super Bowl! Think crispy cajun breaded popcorn without frying, dipped in a creamy, pleasingly salty, and garlicky feta sauce. Oh my, it is so addicting, perfect for any sports event.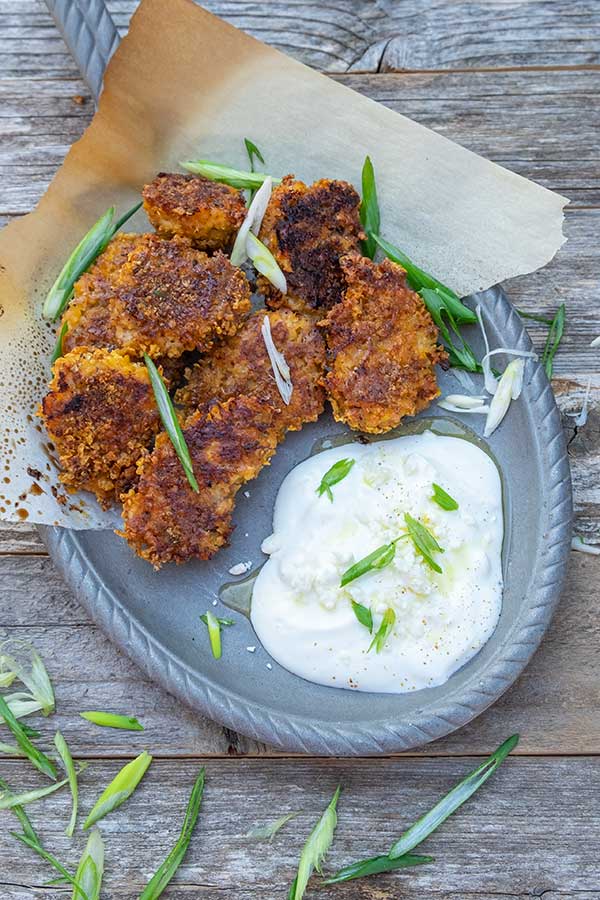 This is one of those must-have savory gluten-free snacks for the big game day! To keep the big day fun I wanted to make sure this popcorn chicken recipe is super easy to whip up.
Gluten-Free Oven Fried Cajun Popcorn Chicken Recipe Details
STEP ONE
Mix the chicken with some buttermilk, a little salt, and freshly minced garlic.
STEP TWO
Then, make the crispy coating. In this recipe, I used gluten-free cornflakes. To make the crumbs, add the cornflakes to a food processor and pulse until they become the texture of fine bread crumbs. The cornflakes give the chicken that crispy southern fried chicken texture.
STEP THREE
Then, add the seasoning. The flavourful cajun seasoning is the key! I also added cheddar cheese to the coating. This helps it stick to the chicken as the cheese melts. Once you roll the chicken pieces in the coating, they are ready to be baked.
It's a very simple recipe. This is also an egg-free crispy chicken recipe.
STEP FOUR
The creamy feta sauce
You simply can't have popcorn chicken without a delicious creamy dipping sauce. I wanted to keep the flavor of the sauce mild because the popcorn chicken was already spiced. The dipping sauce has only four ingredients: sour cream, garlic, olive oil, and feta cheese.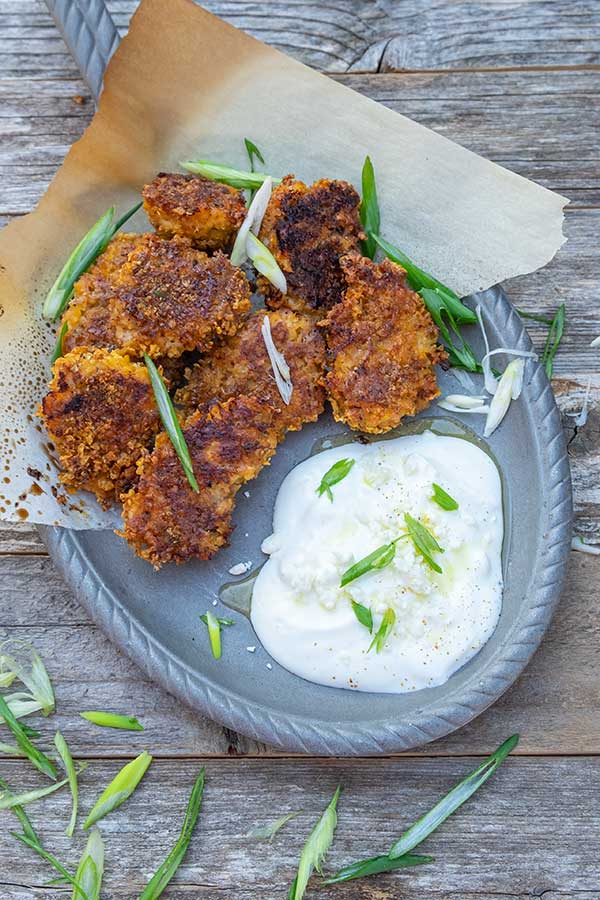 This Cajun Popcorn Chicken Recipe is Gluten and Egg-Free
You can enjoy this cajun popcorn chicken for an easy weeknight meal or snack. The creamy feta sauce compliments the popcorn chicken because it balances the heat from the spices on the chicken. It may even become a favorite chicken dish.
Need more finger food recipes? Check out these gluten-free chicken wing recipes.
Let's Connect!
Be sure to FOLLOW US on FACEBOOK or, check us out on PINTEREST. And don't forget to sign up for our newsletter. We always have something new and exciting for you!
Many thanks!
Kristina xx
Gluten-Free Oven Fried Cajun Popcorn Chicken with Creamy Feta Sauce
Published on Jan 31, 2020
by
Kristina Stosek
Instructions
1.

Preheat oven to 425 F Line a large baking sheet with parchment paper and lightly spray with cooking oil

2.

In medium bowl mix chicken, buttermilk, minced garlic and 1 teaspoon of salt

3.

Add corn flakes, flour, paprika, chili powder, garlic powder, oregano, black pepper, cayenne pepper and 1/2 teaspoon of salt to a bowl and mix well. Stir in cheddar cheese

4.

Dredge each piece of chicken in the crumbs pressing lightly for the crumbs to adhere. Place coated chicken pieces on the prepared baking sheet without touching and lightly spray with cooking oil

5.

Bake for 15 - 20 minutes until the chicken is fully cooked

6.

For the creamy feta sauce; Whisk ingredients together until well blended. I did not add salt because feta cheese is already salty but feel free to add some if needed

7.

Serve the chicken hot, scattered with green onions and creamy feta sauce