Gluten-Free Chicken Pot Pie Soup
Published on Dec 02, 2021
by
Kristina Stosek
Prep Time:

20 minutes
Cook Time:

35 minutes
Serves:

4 - 6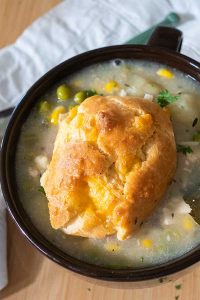 ​This post may contain affiliate links, please see our
privacy policy
for details
Gluten-Free Chicken Pot Pie Soup topped with the flakiest puff pastry cheesy biscuits. Not only is this chicken pot pie soup delicious, but it's also cozy and perfect comfort food for winter nights ahead.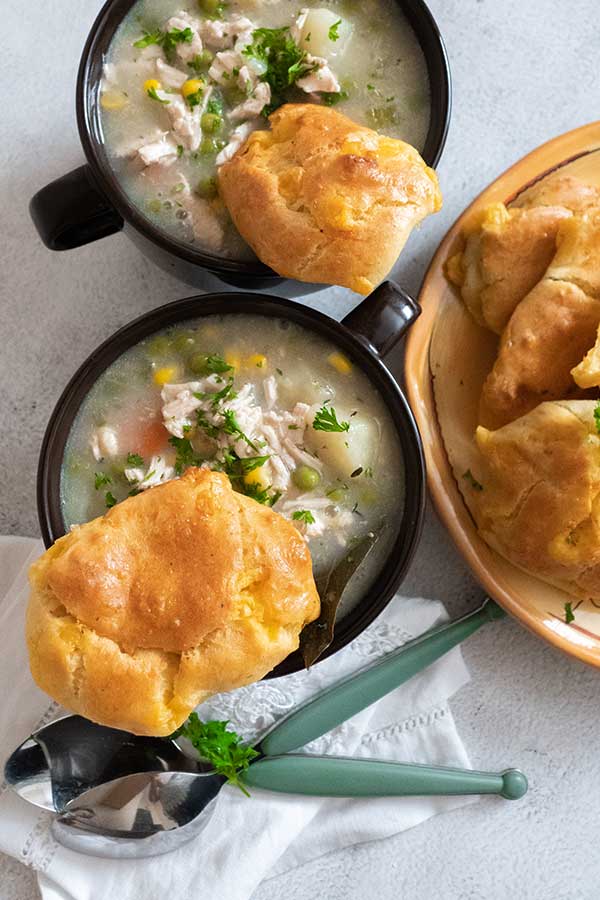 traditional chicken pot pie soup recipe
I am keeping this a traditional chicken pot pie soup recipe by using leftover cooked chicken, onions, celery, carrots, potatoes, corn, peas, and mushrooms cooked in a thick, buttery, creamy soup.
To make this dish extra special, I topped the soup with a gluten-free made from scratch puff pastry biscuit.
chicken pot pie soup recipe — recipe overview
Let's start with the soup. To keep this a gluten-free recipe, the soup is made without flour.
The traditional chicken pot pie recipe is always made with a roux. Roux is what makes the soup thick. However, when following the gluten-free diet, classic roux was not an option.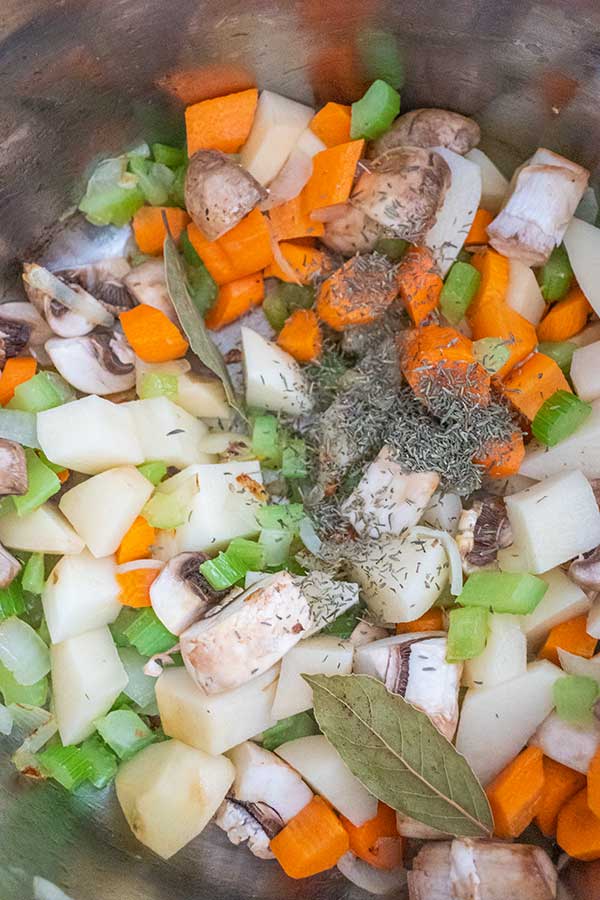 gluten-free chicken pot pie soup is an easy recipe
This thick and creamy soup recipe is so simple to make. Start with sauteing the onions, celery and carrots in butter. This will intensify the soup flavour.
Then, stir in the potatoes, mushrooms, seasoning and broth and cook until the potatoes become tender. I used bay leaf and thyme to season the soup.
Once the potatoes are tender, add the remaining ingredients and cook until the soup starts to thicken. This takes only a few more minutes. The soup is ready now.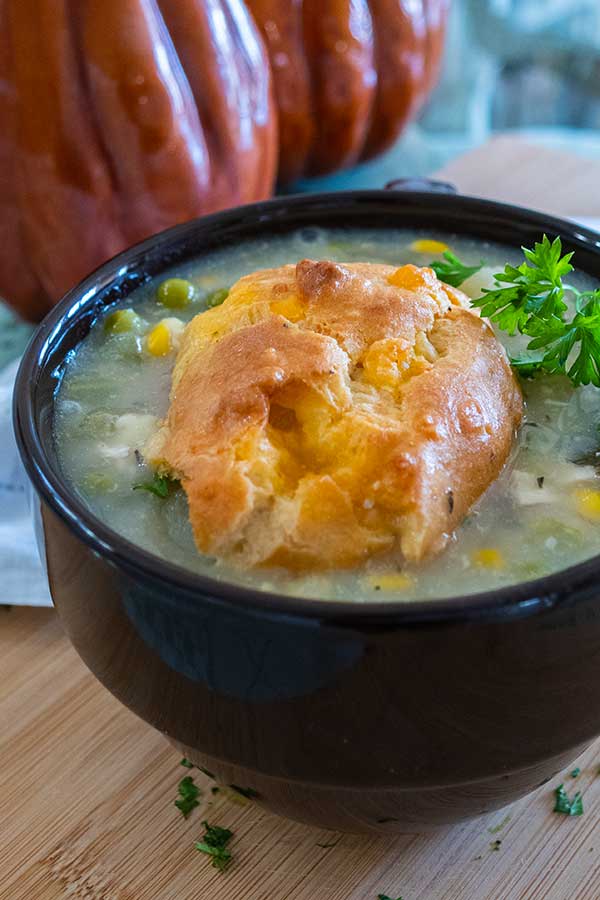 the best way to thicken gluten-free cream soups,
Not all starches are created equal. That's right. If you use the wrong starch, the soup may become a bowl of starchy liquid or a slimy stew.
I used tapioca starch in this chicken pot pie soup recipe because of its neutral flavour and excellent thickening power.
Cornstarch and arrowroot work well in stir fry sauce or fruit filling because of its transparent shimmer. But I find the two starches make the soup a bit slimy looking.
Is gluten-free flour blend a good thickener for soups?
In my experience, it does not work very well for thickening soups. The blend is made up of various grains and may contain xanthan gum. However, when correctly used in gluten-free baking, it helps the cake, muffins and bread rise.
To thicken this chicken pot pie soup I found that tapioca starch was the best choice. To prevent lumps, always stir the starch into a cool liquid before adding it to the hot soup.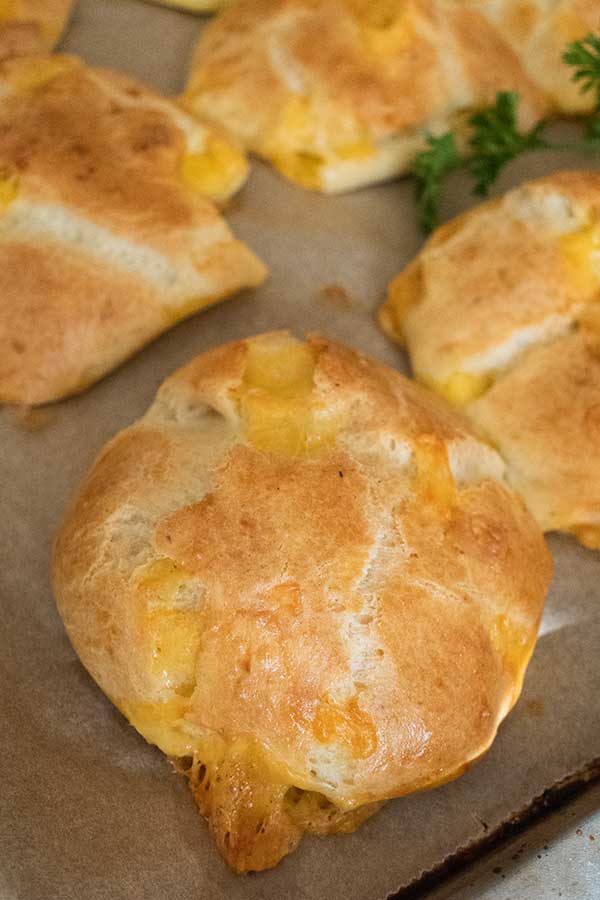 4 ingredient gluten-free puff pastry biscuits
This delicious chicken pot pie soup is topped with light and puffy biscuits. The gluten-fee puff pastry-like biscuits are made with only four ingredients plus seasoning. The biscuits may seem complicated to make, but the recipe is super easy.
First heat milk with butter, and then stir in flour. Once cooled using an electric mixer, whisk in the eggs one at a time.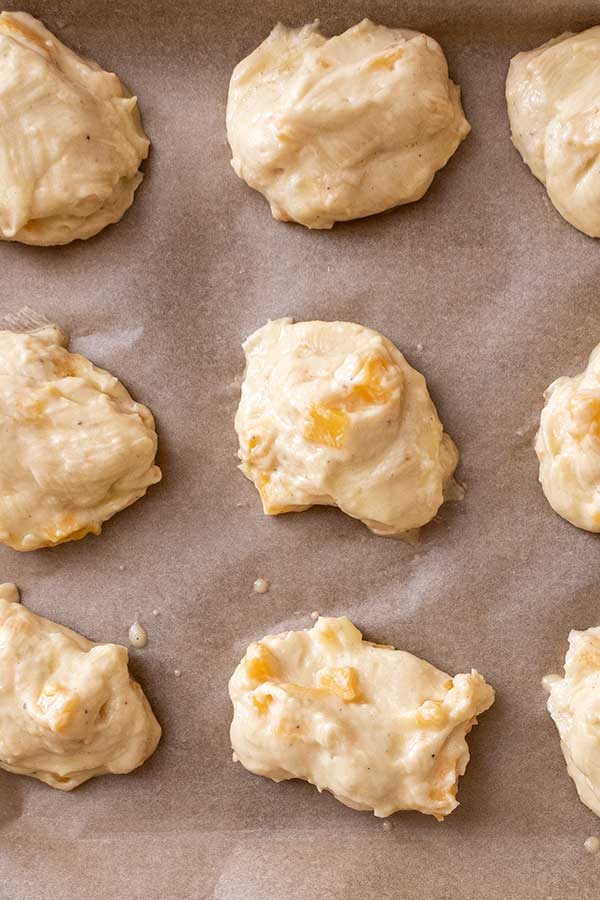 Then, drop mounds of the prepared dough on a baking sheet and bake—nothing to it.
I wanted to be a little more creative with this puff pastry recipe. So, I added a few small cubes of cheese to the dough.
The gluten-free biscuits turned out exceptional, buttery, cheesy, airy and light, with every bite melting in your mouth.
serving suggestions
This gluten-free chicken pot pie soup with puff cheesy pastry biscuits is so so good! Sometimes I like to serve this comforting soup with Gluten-Free Cheesy Mashed Potatoes Biscuits or Gluten-Free Pull Apart Soft Rolls. I promise you, this soup is sure to make you feel cozy and warm all over.
Gluten-Free Chicken Pot Pie Soup
Published on Dec 02, 2021
by
Kristina Stosek
Instructions
1.

2.

Heat butter in a large soup pot over medium heat. Add onions, celery and carrots. Cook until the onions start to soften, stirring as needed

3.

Stir in potatoes, mushrooms, bay leaf, thyme, salt and pepper until coated with the veggies. Add chicken broth, bring to a boil, cover, reduce heat and simmer until potatoes are tender. About 10 minutes

4.

Whisk the cream with tapioca flour and add to the soup with the remaining ingredients. Cook over medium heat until the soup starts to thicken. About 3 - 5 minutes. If the soup is too thick, add extra broth or cream to desired consistency. Taste and season with salt as needed

5.

6.

Preheat oven to 400 F Line a large baking sheet with parchment paper

7.

Heat the milk and butter in a saucepan over medium heat until simmering but not boiling 

8.

Remove the saucepan from the heat and quickly stir in flour. Return to the heat and cook over medium heat for 2 - 3 minutes until the dough is smooth and pulls away from the saucepan, forming a ball. Stirring frequently

9.

Transfer dough to the bowl of an electric mixer, and let cool 5 minutes. Beat with the paddle attachment to cool it down

10.

Add 1 egg at a time and continue beating until each egg is completely incorporated before adding another. Stir in cheese if using

11.

Using a cookie scoop or 2 spoons, drop dough onto the prepared pan 1 inch apart. The mounds should be 1 1/2 inch round about 1 1/2 inch high. Brush tops with egg wash

12.

Bake at 400 F for 5 minutes, then reduce oven temperature to 375 F and continue baking for 20 - 22 minutes, until puffed and golden brown. Turn off the oven and crack the door open, allowing the biscuits to cool inside the oven for 20 minutes before removing them and letting them cool completely on a wire rack. Do not open the oven during baking!

13.

Ladle hot soup into bowls and top with biscuits.
Leave a Comment
Kristina
thank you Rita, I am so happy you enjoyed the soup
This chicken pot pie soup is so good!!