Warm Asian Chopped Chicken Salad
Published on Jul 13, 2019
by
Kristina Stosek
Prep Time:

15 minutes
Cook Time:

15 minutes
Serves:

4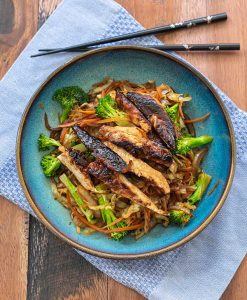 ​This post may contain affiliate links, please see our
privacy policy
for details
Warm Asian Chopped Chicken Salad is a light meal you can serve any time of the year. The chicken is deliciously flavoured with sticky teriyaki sauce and then served over lightly cooked veggies.
chopped chicken salad with Asian inspired sauce
Everything in this warm salad is accented with a tasty Asian inspired sauce made with tamari sauce, honey, ginger, garlic and sesame oil. And the best part, this salad is Keto-friendly.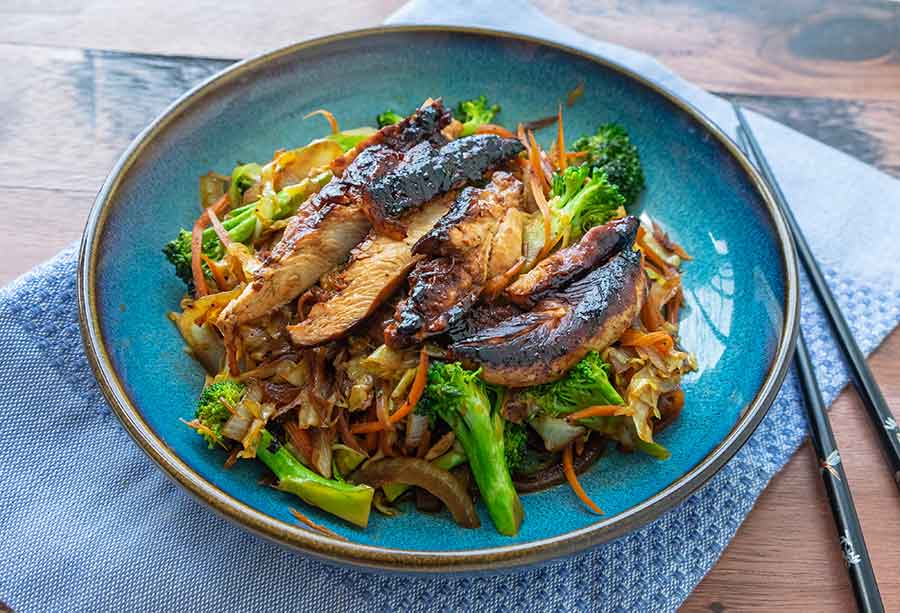 What we love about this Asian chopped chicken salad is, all you need is 30 minutes from start to finish.
Next time you are short on time and are thinking of something healthy for lunch or dinner, try this warm Asian chopped chicken salad. If this salad isn' for you, please check out our complete list of healthy salads here->
Warm Asian Chopped Chicken Salad
Published on Jul 13, 2019
by
Kristina Stosek
Instructions
1.

Lay the chicken breasts between 2 sheets of plastic wrap and using the flat side of a meat tenderizer bash to flatten them

2.

In a large bowl combine 1 tablespoon of sesame oil, tamari sauce, honey, ginger and garlic. Add the chicken and coat well with the marinade. Place in the fridge for 5 minutes

3.

Heat a wok or large non-stick frying pan over medium heat. Add 1 tablespoon of sesame oil and the chicken, cook 4 - 5 minutes per side, or until cooked through. Place the chicken on a plate and cover with foil. Once the chicken is slightly cooled slice the pieces into thin strips

4.

Heat the same wok without cleaning it over medium-high heat. Add remaining 1 tablespoon of sesame oil and the leftover marinade from the chicken. Add cabbage, carrots, onions and broccoli florets, stir-fry until everything is well coated with the marinade and heated through about 3 minutes

5.

To serve; divide warm vegetables into 4 bowls and top with sliced chicken. Enjoy!