Healthy Gluten Free Recipes For Weight Loss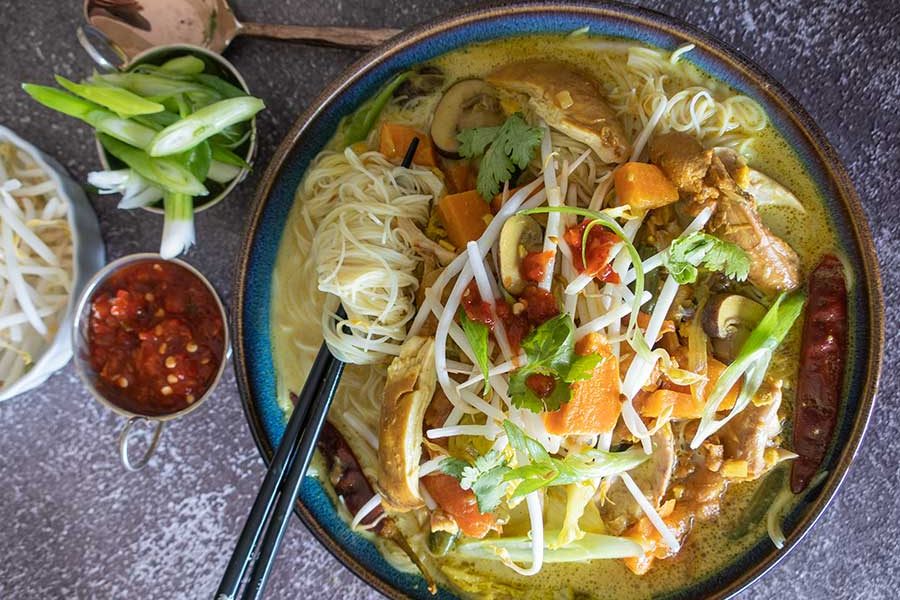 Healthy Gluten Free Recipes For Weight Loss!
We are starting the New Year with hand picked, healthy gluten free recipes for weight loss. When it comes to weight loss, there is no one-size-fits-all approach. What works for one person may not work for another. However, some general dietary principles can help most people lose weight.
Today we will share the most frequently asked questions about weight loss and our selection of healthy gluten free recipes for weight loss diet.
5 Tips for weightloss
Avoid processed foods: Processed foods are often high in saturated fats, salt and sugar, all of which contribute to weight gain. Stick to fresh, whole foods instead.
Watch your portion sizes: It's easy to overeat, especially when eating tasty food. So be sure to watch your portion sizes, so you don't consume too many calories.
Make healthy choices: When choosing what to eat, try to make healthier choices. For example, opt for lean protein sources, healthy fats such as seeds and nuts and plenty of fruits and vegetables.
Get active: Exercise is an integral part of maintaining a healthy weight. Be sure to get plenty of physical activity each day to help boost your metabolism and burn calories.
Can gluten free diet help you lose weight?
A gluten free diet can help you lose weight because it forces you to be more mindful of the foods you are eating and their ingredients. It also eliminates many unhealthy and processed foods from your diet that are often packed with empty calories and gluten.
What does cleansing do to your body?
Cleansing your body of toxins and impurities is essential for optimal health and well-being. Eating a clean, healthy diet is the best way to do this. By following a nutritious, healthy diet, your digestion may improve, you may experience weight loss, increased energy levels, and reduced inflammation.
Does a low-carb diet help you lose weight?
When you cut out carbs, your body burns stored fat for energy.
In addition, a low-carb diet can help to control your appetite by stabilizing blood sugar levels.
Why are soups good for weight loss?
There are many reasons why soups can be good for weight loss. They are typically low in calories and fat and high in water and fiber. This combination can help you feel full and satisfied after eating while also helping you to cut back on your overall calorie intake.
Soups can also be a great way to get in more nutrient-rich foods, such as vegetables and lean protein. When choosing a soup for weight loss, look for broth-based ones rather than cream-based ones. And be sure to include various vegetables to get the most benefit.
Does eating fat make you gain weight?
Fat has been demonized in the past, but it's not all bad. In fact, our bodies need good fat to function properly. The problem is that many people eat too much fat, which can lead to weight gain.
Fat is a type of nutrient that contains calories. So, when you eat foods that are high in fat, you're also consuming more calories than you would if you eat low-fat foods. And because our bodies don't need all those extra calories, they're stored as fat. Over time, this can lead to weight gain.
Of course, not all fats are created equal. Some fats, like those found in nuts, avocados, olive oil and fish, are good for your health. But other fats, like the saturated fats found in fatty meats and processed snacks, can be detrimental to your health and waistline.
If you're trying to lose weight, it's essential to focus on eating healthy foods low in saturated fat. This means filling up on fruits, vegetables, whole grains, lean protein sources, and healthy fats instead of processed food.
What is the worst food for weight loss?
When trying to lose weight, it's important to avoid foods that sabotage your diet. Processed foods and sugary snacks are some of the worst offenders when preventing weight loss. Here are some of the worst foods you should avoid if you're trying to lose weight:
1. Processed Meats: Processed meats like bacon, ham, and sausage are loaded with unhealthy fats and sodium that can hinder weight loss.
2. Refined Grains: Refined grains like white bread and white pasta are low in fiber and nutrients, making them ineffective for weight loss.
3. Sweetened Beverages: Sugary drinks like soda, sports drinks, and juices can add empty calories to your diet, making it more difficult to lose weight.
4. Fried Foods: Fried foods are high in calories and saturated fats that can lead to weight gain.
5. Junk Food: Junk food like chips, cookies, and candy are high in calories and low in nutritional value, making them a poor choice for those trying to lose weight.
Best food for weight loss?
When it comes to weight loss, many different factors come into play. The right diet for your needs is undoubtedly one of the most important pieces of the puzzle.
The best food for weight loss is a diet made up of whole foods, lean proteins, high-fiber foods, healthy fats and foods low in sugar.
How does exercise help you lose weight?
Exercise is one of the most important things you can do for your health, but it's also critical for weight loss. We all know that when you want to lose weight, you need to burn more calories than you consume.
But what some of us may need to be made aware of is that exercise helps you burn calories and keep your metabolism going, even after you're done working out. And exercise helps build muscle, which burns more calories.
So if you decided to start a weight loss journey, try these healthy gluten-free recipes. They are easy to prepare without compromising flavor. And the best part is that these meals will leave you feeling full and satisfied.
our list of gluten free recipes for weight loss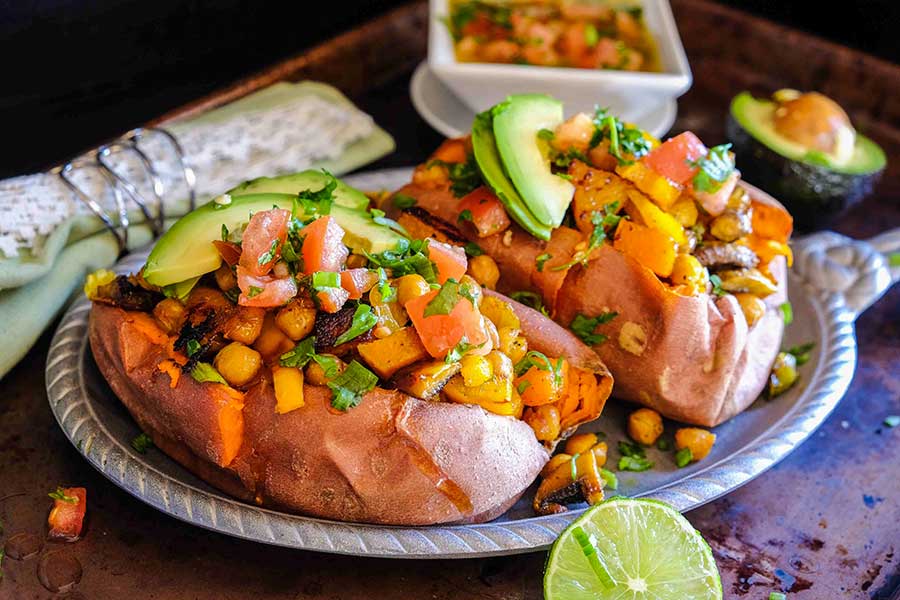 This is a vegetarian forward recipe with blended flavours, nutritionally packed and super easy to make. The plant based protein and high fiber gluten free dish is excellent for a weight loss diet.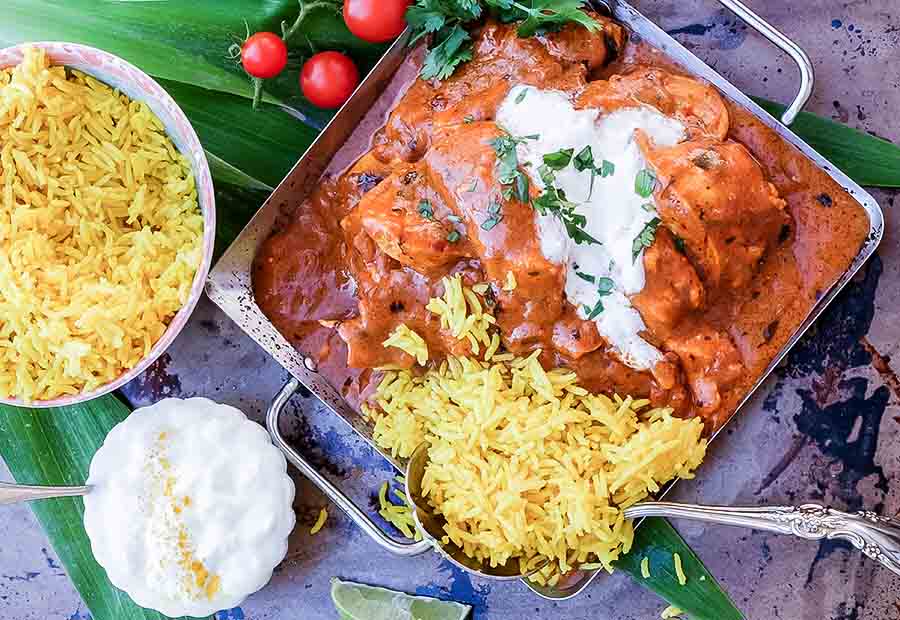 This is the most popular dish in Indian restaurants. This is a simplified low-fat version of this flavorful Indian chicken dish.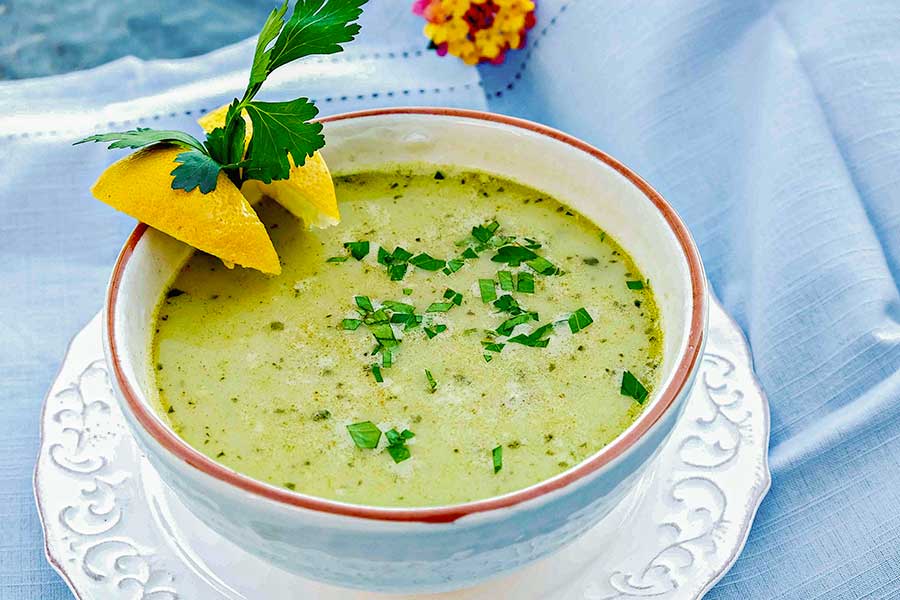 A soup that has it all. Nutrients, antioxidants, protein and fiber. This soup recipe for weight loss is especially good during the flu season because it is rich in antioxidants.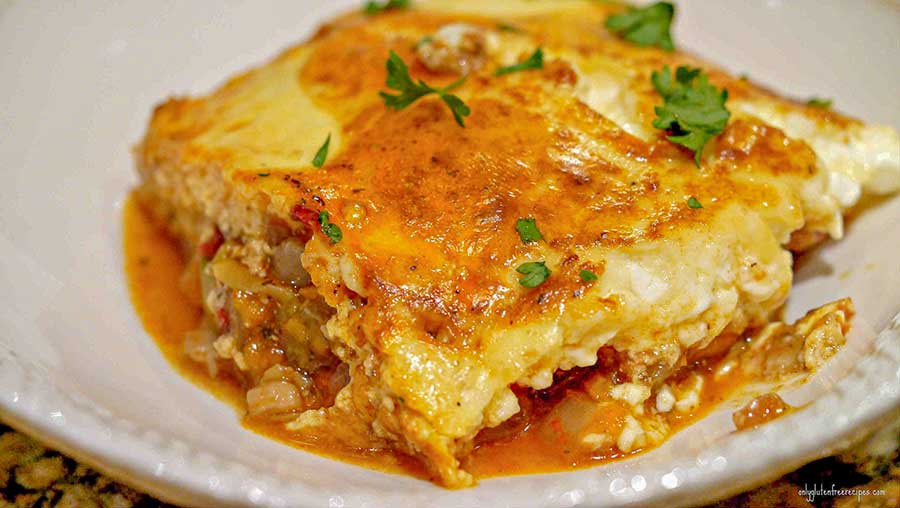 This delicious Greek dish is made with all the ingredients that a classic Moussaka recipe has except with less fat and extra veggies. When you crave comfort food, try this gluten free dish.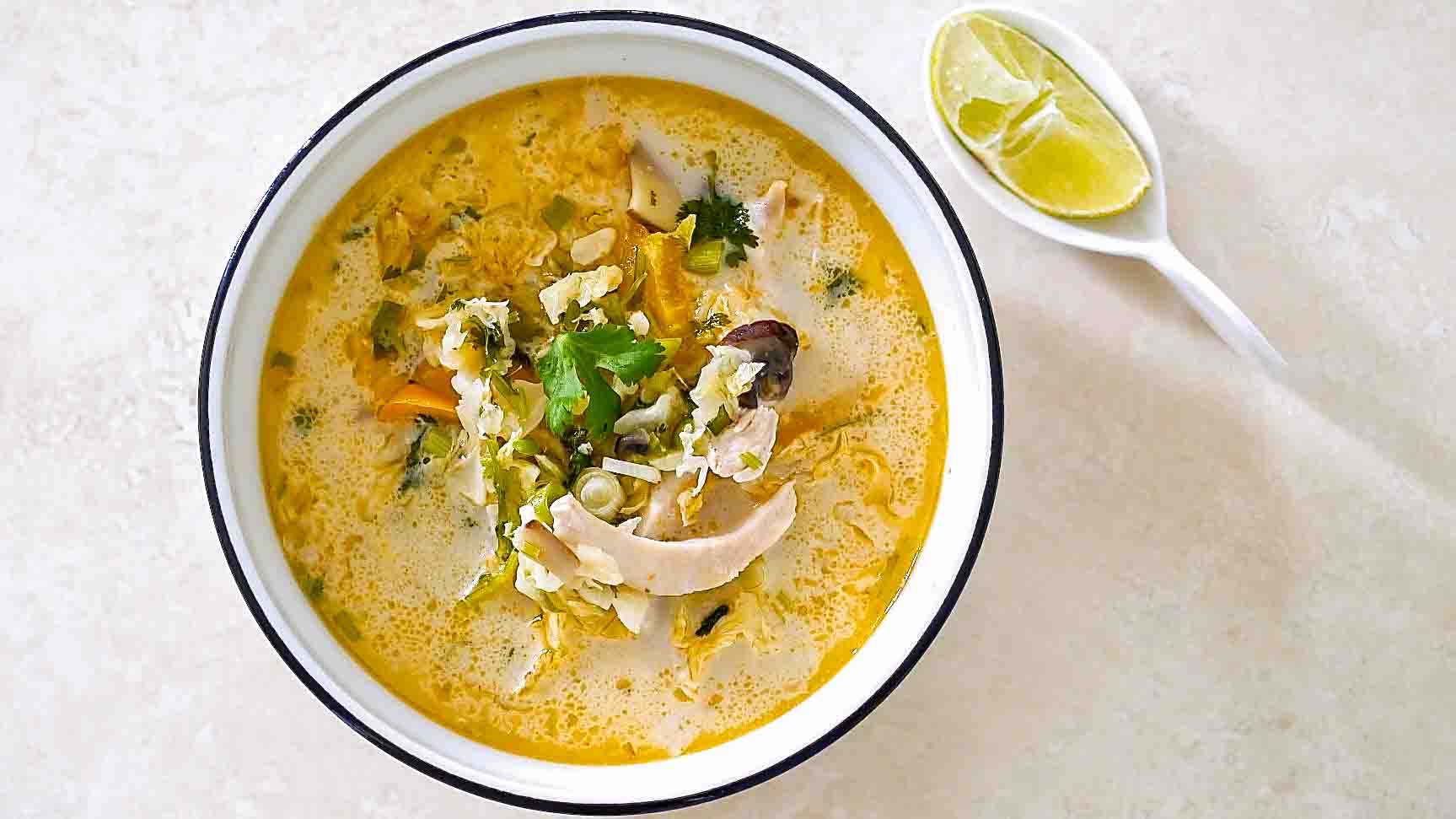 The fresh vegetables in this a nutrient-dense soup are savoy cabbage, mushrooms, green onions, and bell peppers. So much healthiness in a bowl of warming soup! If you are on the hunt for ethnic flavours, this diet-friendly, naturally gluten-free soup is a must try recipe.
This sauerkraut soup is made primarily with fermented cabbage, onions, garlic, gluten free chorizo sausage, potatoes, mushrooms, and spices, then served with sour cream and fresh parsley. This is a fiber rich soup.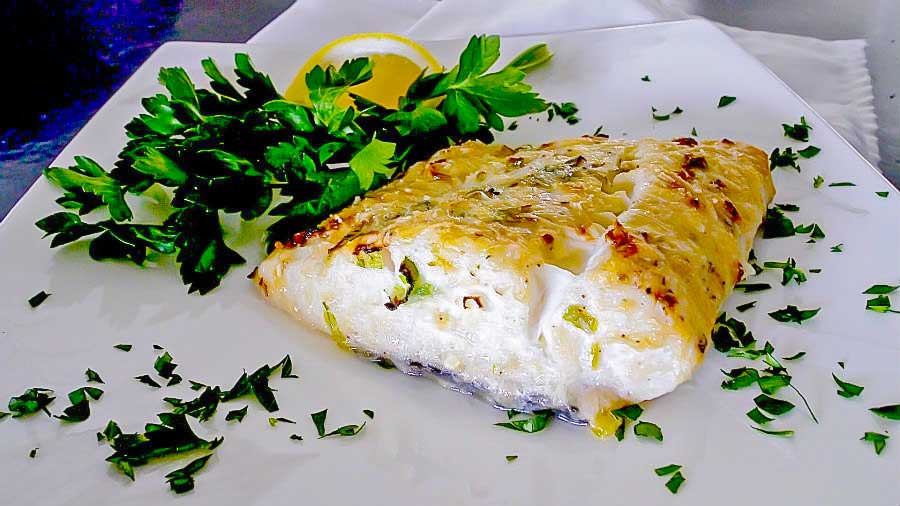 This gluten free six-ingredient fish recipe is simple to follow, and the fish is perfectly cooked every time. The tender halibut is coated with crispy parmesan and green onions keeping this a low-carb recipe acceptable for a weight loss diet.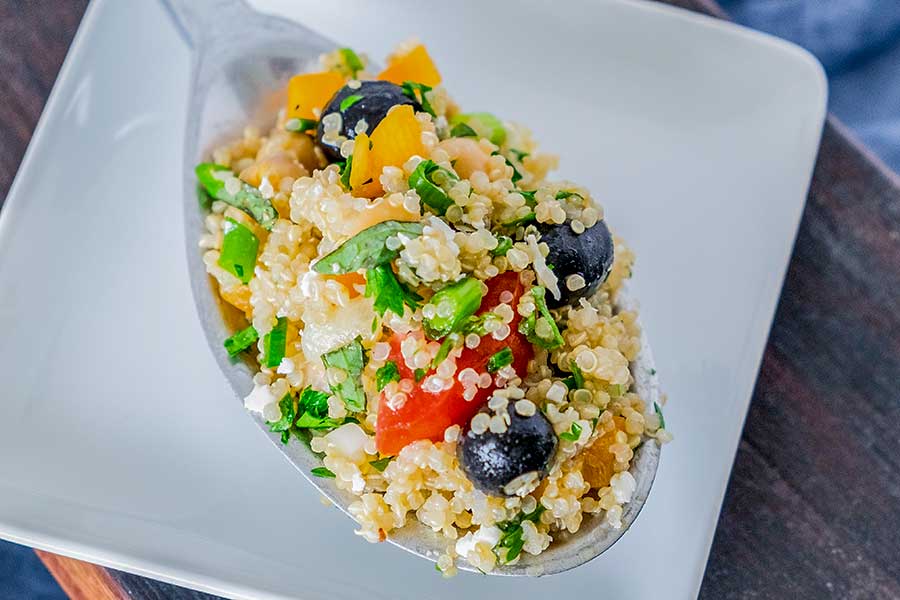 Quinoa has superior nutritional properties. This tiny naturally gluten-free seed is rich in complete protein, fiber, B vitamins, iron and calcium, just to name a few. And is a great addition to weight loss diet.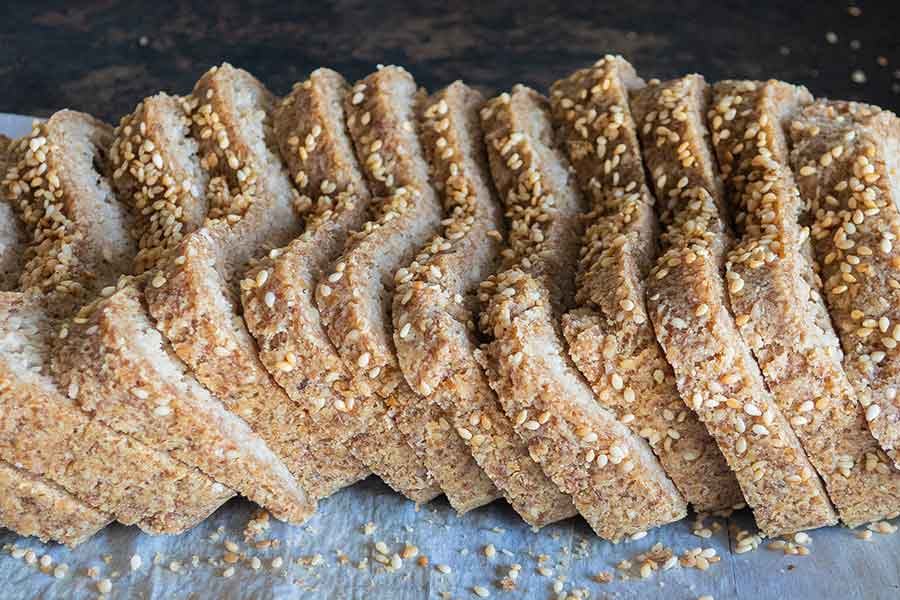 If you are counting carbs, each slice of this gluten-free bread has about 4 grams of net carbs and is acceptable on a keto diet. This diet-friendly bread is excellent for making sandwiches.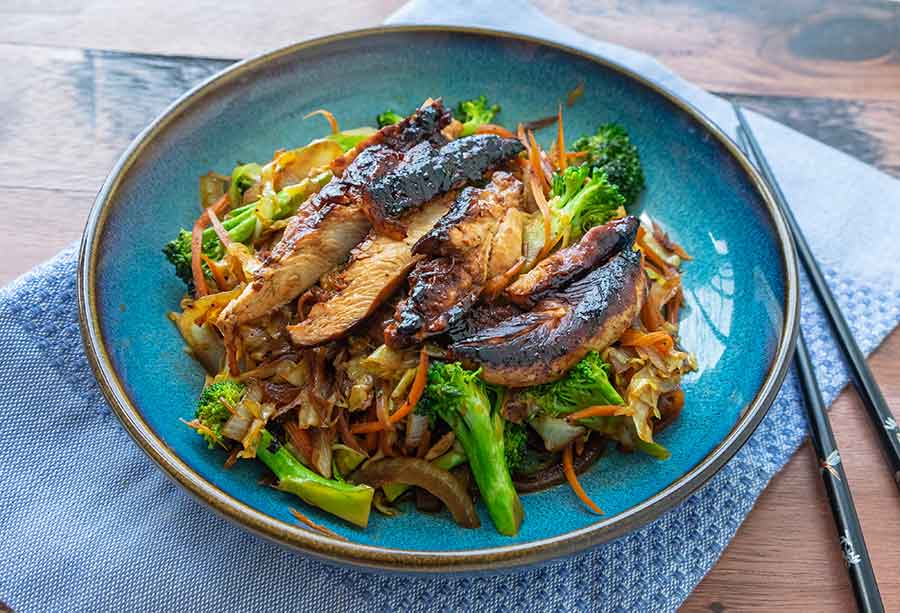 Warm Asian Chopped Chicken Salad
The chicken is flavoured with sticky teriyaki sauce and then served over lightly cooked veggies coated in a delicious sauce. This low-carb meal is a great addition to a list of weight loss recipes.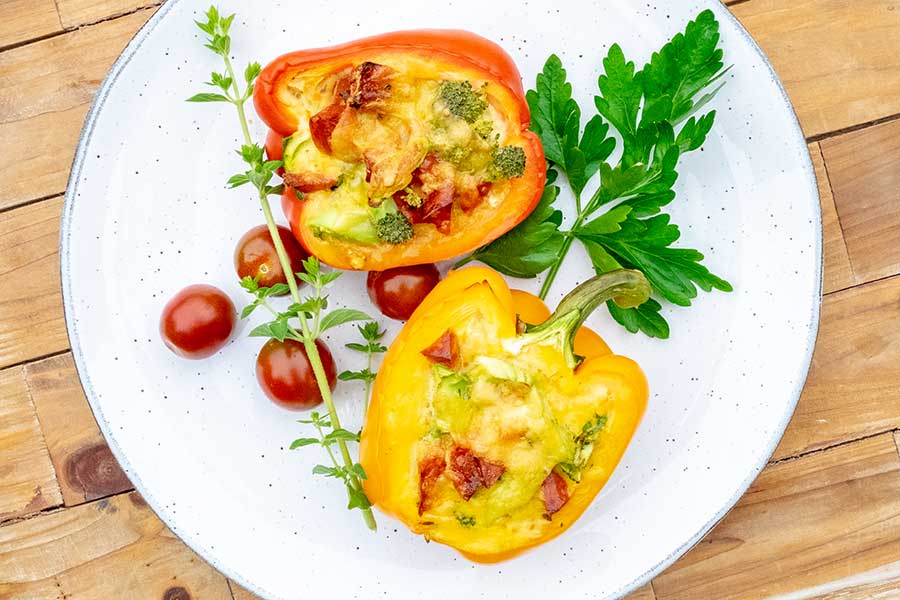 The peppers are filled with leftover meat such as chicken, ham, beef or sausages, healthy broccoli, cheese, herbs and eggs, keeping this low-carb high-protein breakfast recipe simple and delicious.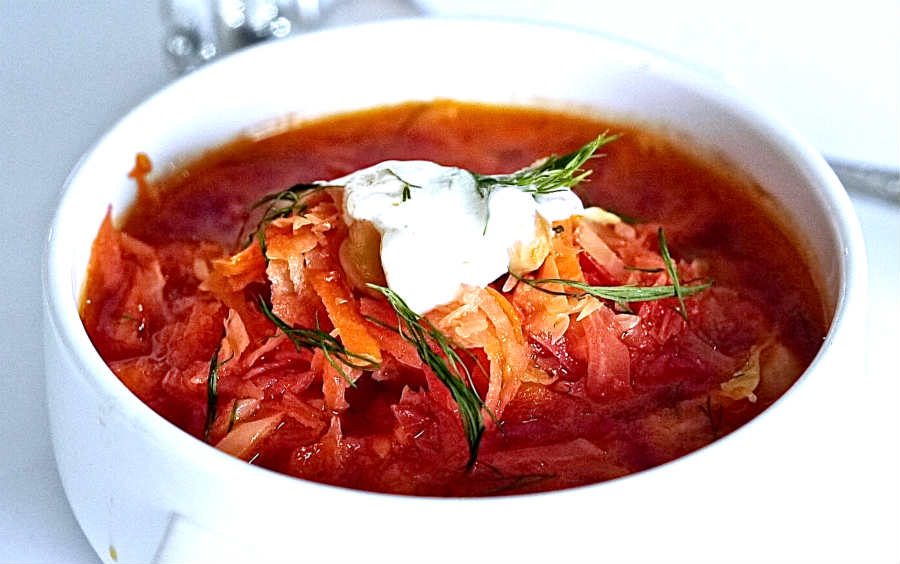 This traditional borscht is made with plenty of vegetables such as cabbage, beets, chickpeas, carrots and tomatoes and served with a dollop of yogurt or sour cream. You can also try a little different instant pot borscht version.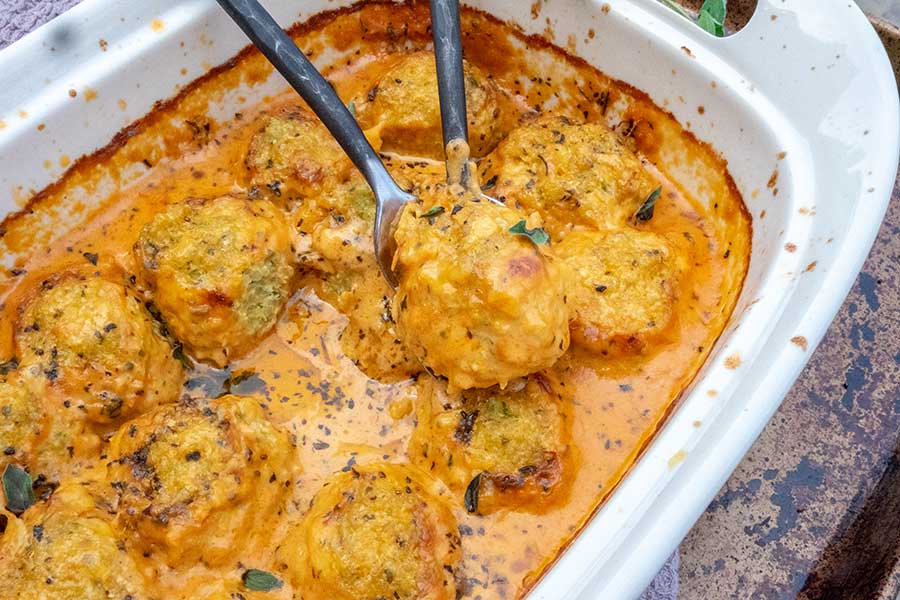 If you are searching for a delicious vegetarian gluten-free Italian recipe, why not try these low-carb Cauliflower Quinoa Dumplings in Creamy Marinara Sauce. This easy dinner dish is super tasty and also healthy.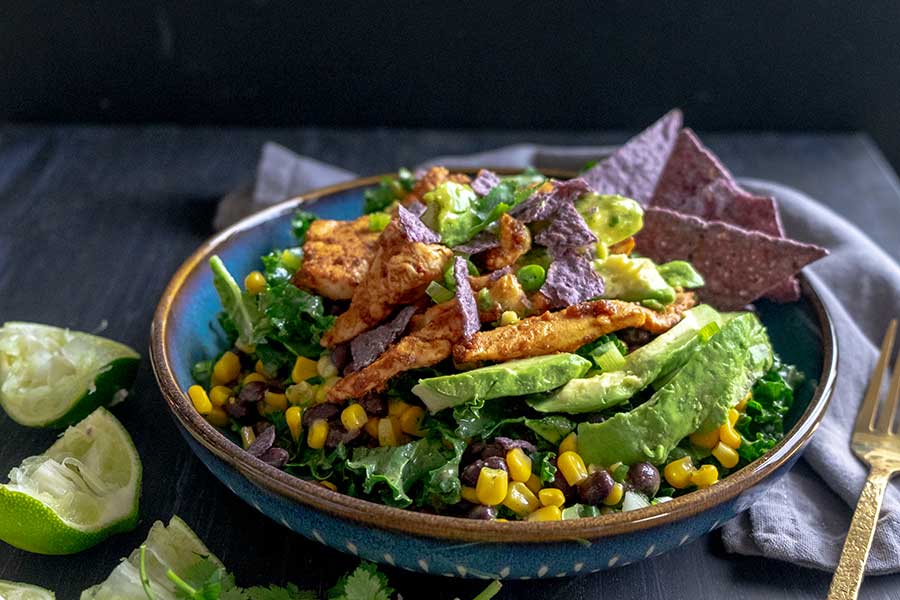 The best way to describe this satisfying salad, is Tex-Mex food. This chicken kale salad will give you the satisfaction of eating Mexican food but without the extra calories and using only healthy fats.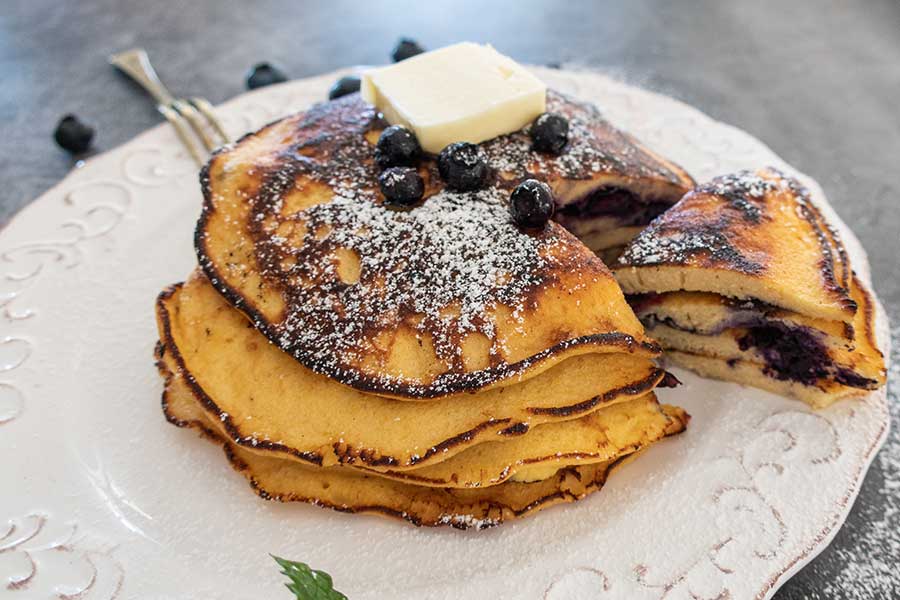 Bursting Blueberry Maple Coconut Flour Pancakes…healthy, grain-free, naturally gluten-free, keto-friendly best coconut flour pancake recipe! Why not start your day with healthy low-carb pancakes!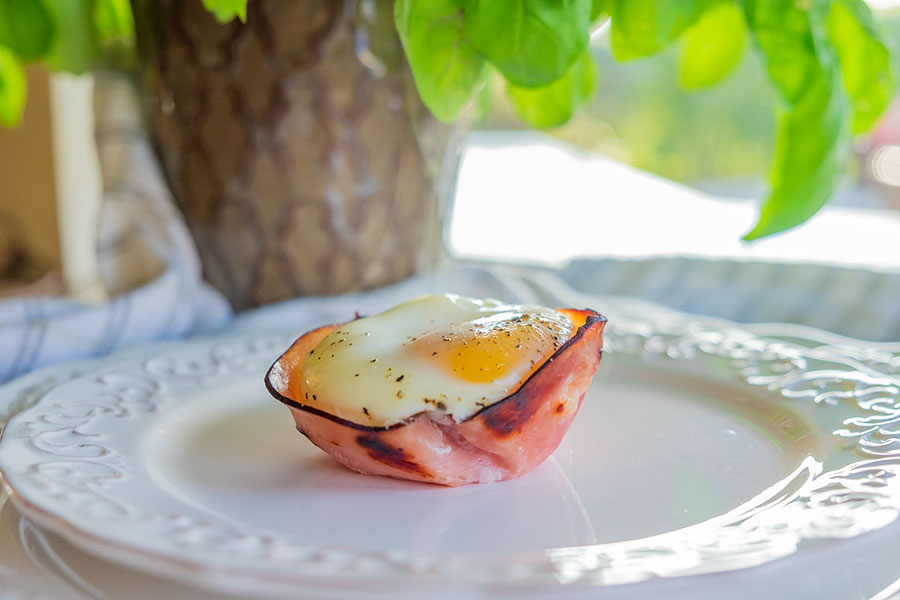 Using only three ingredients plus seasoning, these ham and cheese egg cups are simple enough for anyone to make. This low carb breakfast will do wonders for your waistline.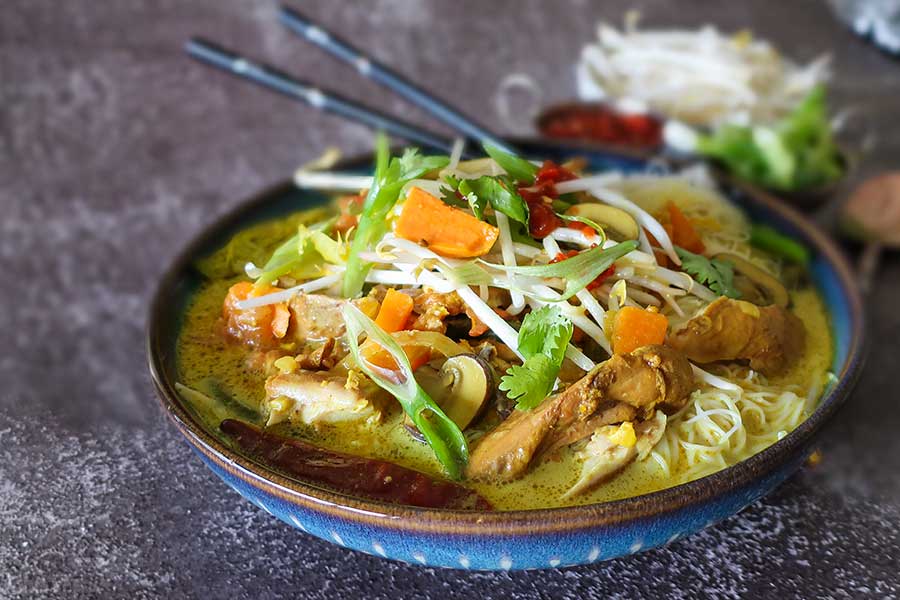 The soup has plenty of veggies and lean chicken, and is made entirely from scratch. This is our favorite soup dish of 2022.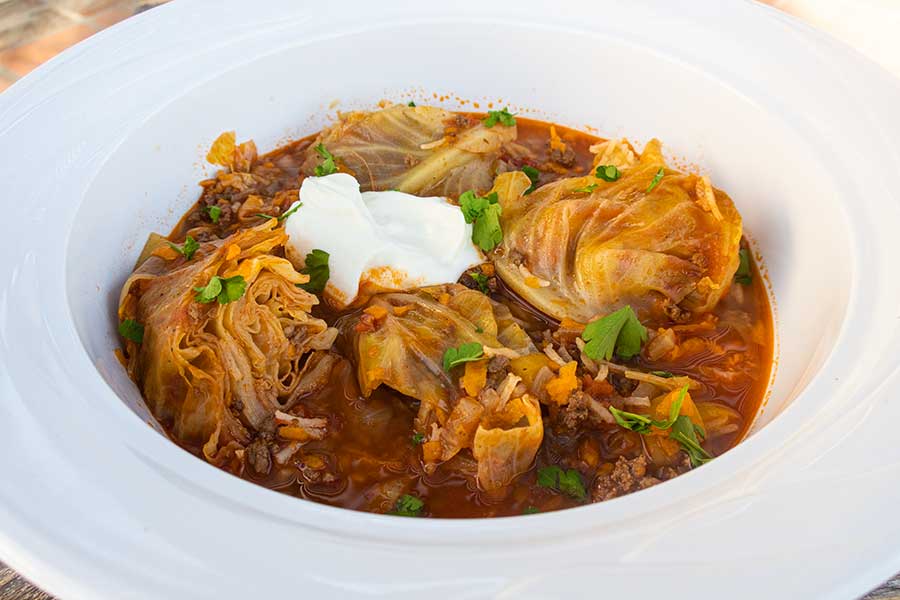 This soup's insanely delicious flavour comes from lean ground beef, grated sweet potatoes, bell peppers, cabbage wedges, crushed tomatoes, onions, garlic, and spices. This is a high fiber soup and is a great addition to weight loss diet.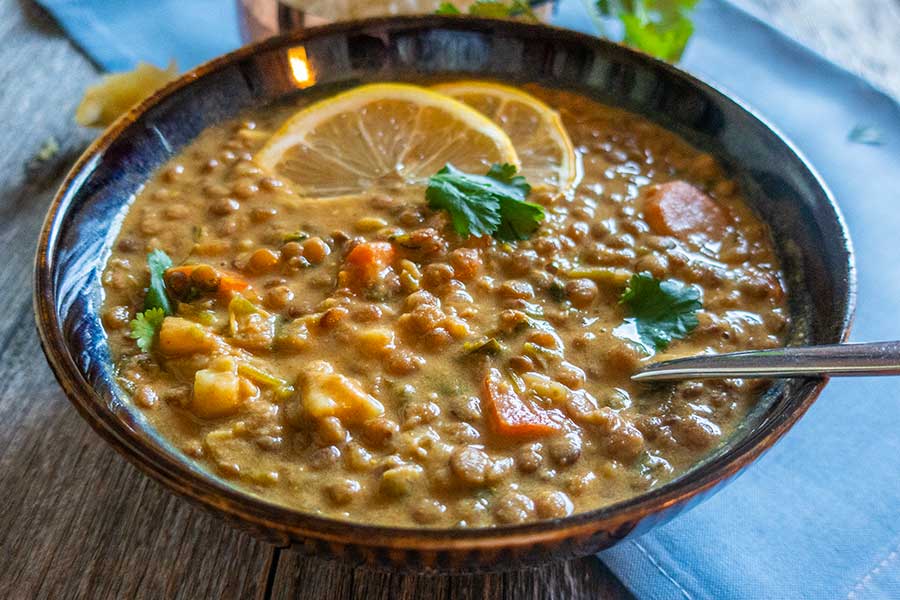 What we love about this naturally gluten-free lentil stew is that it takes only 15 minutes to cook. By cooking this ethnic dish in the instant pot, the ingredients retain most of the nutrients—more than other cooking methods. This is another high-fiber healthy dish that can be served as a main or as a starter.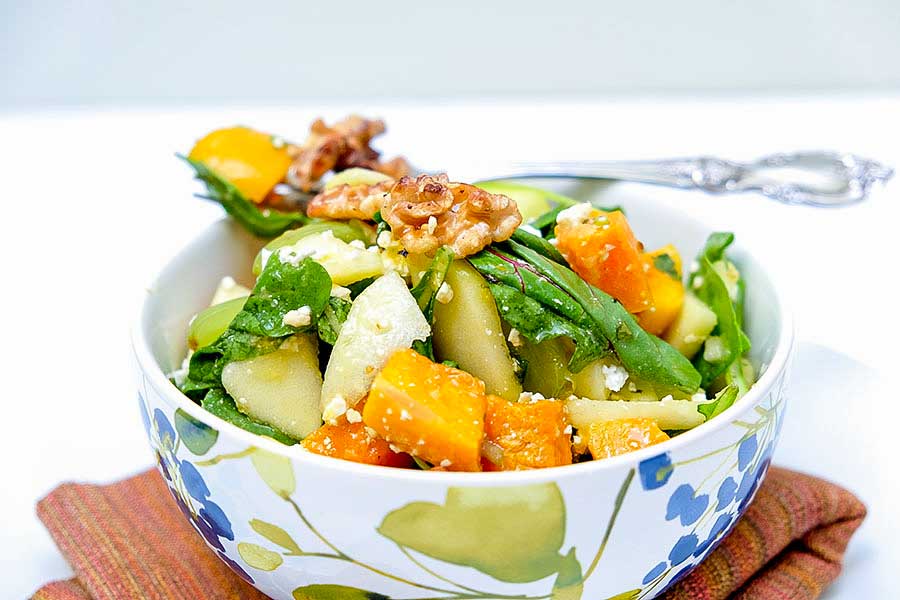 Meet your new power salad, vibrant and nutritious, with just a touch of citrusy vinaigrette. This salad is ideal for the diet savvy and those who follow a plant-based diet.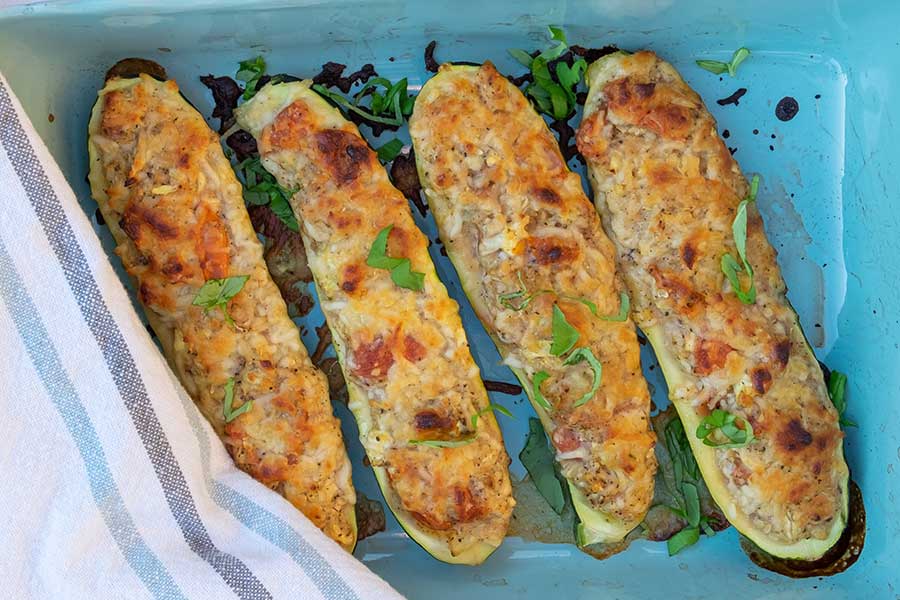 We love Italian food, but most of the dishes are packed with carbs. This stuffed zucchini meal is so flavourful that you won't even miss the carbs and you can still enjoy the flavors of Italy.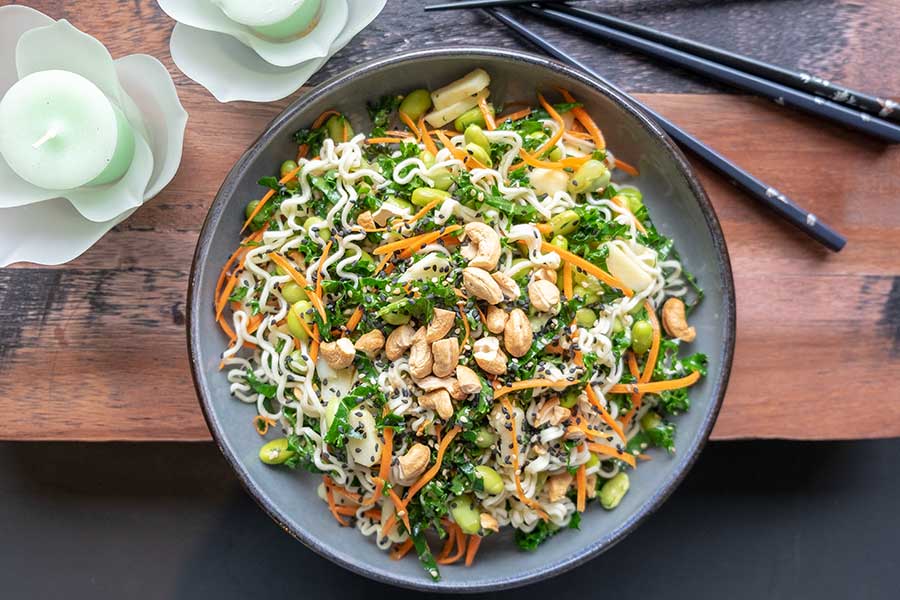 This gluten-free salad is made with lots of veggies, cashews and sesame seeds. This vegan dish is particularly sought after in the cooler months when big, robust flavours are needed. Since this salad is packed with fiber and healthiness the noodles will not hurt your diet.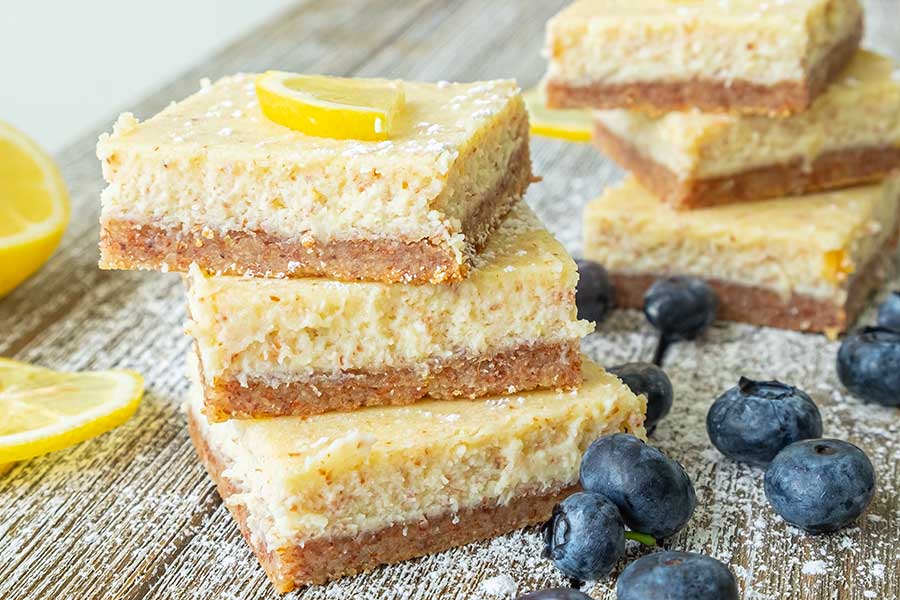 Silky smooth and lemony with a buttery shortbread almond crust. And yes, you can enjoy a dessert without sugar.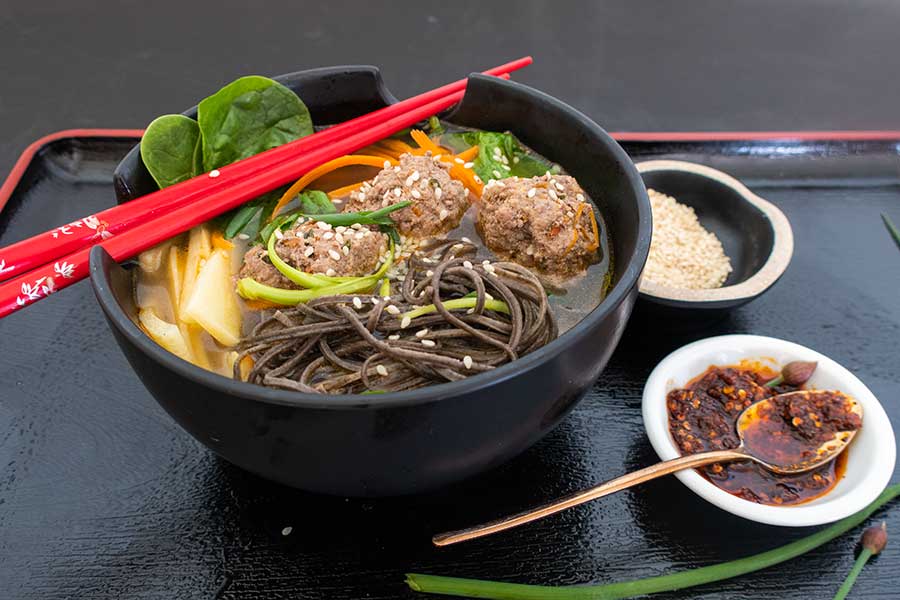 Flavourful gluten-free Miso Noodle Soup with Meatballs spiked with chili, ginger, honey, green onions and sesame seeds. And yes, you can enjoy soba noodles when they are made with fiber-rich buckwheat flour.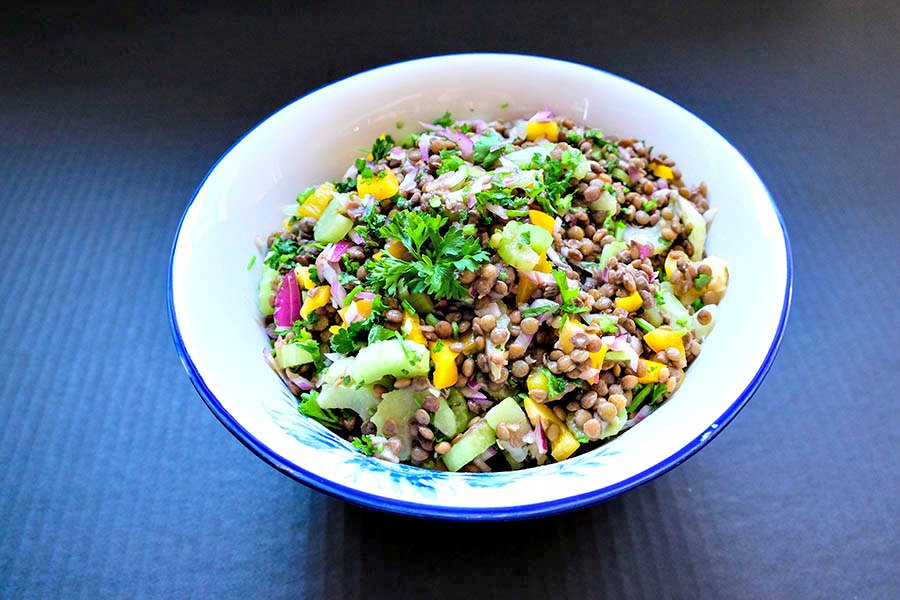 Lentils are known for being high in protein, dietary fiber, iron and are low in fat. One cup of lentils contains 36 grams of protein and 16 grams of fiber. This lentil salad comes together fast and easy and is nutritionally packed for optimum health.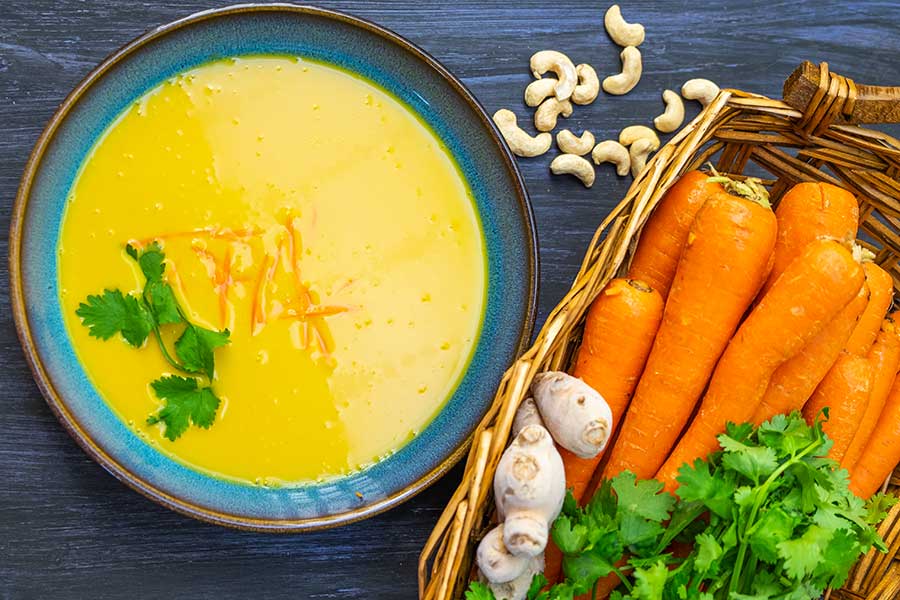 The gorgeous golden creamy soup is lightly flavoured with nutmeg, cinnamon, lime juice and a boost of spicy ginger. The cashews make the soup extra creamy and hearty. This is a good recipe for weight loss diet and the soup can also be served as a hot snack.