Sauerkraut Soup
Prep Time
15 Minutes
Difficulty
Easy
Cook Time
180 Minutes
Serves
6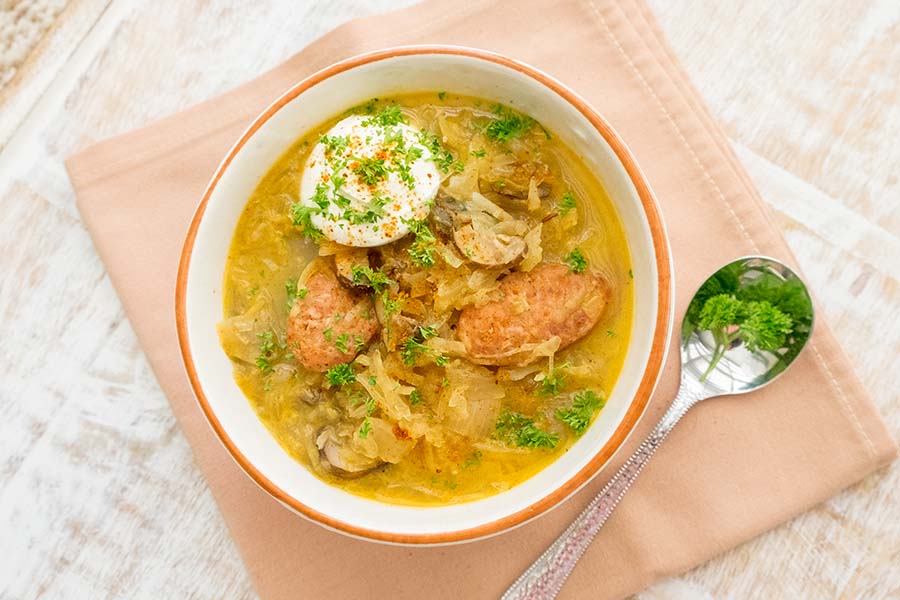 Average Rating: 5 | Rated By: 5 users
One of the best sauerkraut soups originates from Slovakia. Fermented sauerkraut has many health benefits. It is naturally gluten free, rich in dietary fiber, vitamin C, K and iron, and is low in calories. There are many versions of sauerkraut soup, but this one is by far the best one. Because of the health benefits and low calories, this soup is an excellent choice when following a well-balanced healthy diet.
Ingredients
2 Tbsp. extra virgin olive oil
2 medium size yellow onions, chopped
1 Tbsp. GF smoked paprika (sweet paprika will work too)
2 GF bay leaves
½ tsp. GF caraway seeds
1 cup dried wild mushrooms (you can use fresh mushrooms, but dried add a lot more flavour)
2 links of gluten-free chorizo sausage, cut into 2-inch long pieces
1 large potato, peel and grate just before adding into the soup
3 garlic cloves, minced
½ cup full fat sour cream
Garnish: fresh chopped parsley
Instructions
Heat olive oil over medium-low heat in a large soup pot. Add onions and cook until slightly golden. About 5 - 7 minutes. Stir in paprika, bay leaves and caraway until just fragrant.
Add sauerkraut and stir until onions and spices are well combined with the sauerkraut.
Add mushrooms, chorizo sausage and water. The water should be two inches above the sauerkraut
Bring to boil, reduce heat to low and cover. Cook for 2 hours
Add grated potato and garlic and cook for 30 more minutes
Rest soup for 24 hours in a cool place. This enhances the flavour of the soup. Reheat over medium-low heat just before serving
To serve, remove bay leaves and ladle soup into bowls. Top with a spoon of sour cream and fresh parsley
Similar Recipes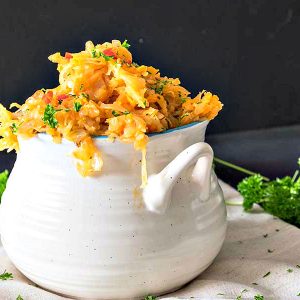 Sauerkraut Salad With Carrots And Red Pepper
Fermented cabbage has 200 times more vitamin C than raw cabbage before fermentation. As per Dr. Natasha Campbell-McBride, MD, "With every mouthful of sauerkraut you're consuming billions of beneficial microbes which will be killing the pathogens in your gut driving them out and replenishing the beneficial flora in your digestive tract." In this healthy sauerkraut […] Read More
Prep Time
10 Minutes
Difficulty
Easy
Cook Time
10 Minutes
Serves
4-6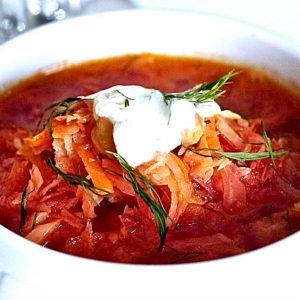 Healthy Vegetarian Ukrainian Borscht
This simple to make borscht is a vegetarian version of the classic recipe. The spices and vegetables are what make this borscht outstanding. Beets and cabbage are packed with fiber and healthy nutrients, making this a healthy soup in a well-balanced diet. The delicious borscht also aids in weight loss Read More
Prep Time
20 Minutes
Difficulty
Easy
Cook Time
35 Minutes
Serves
6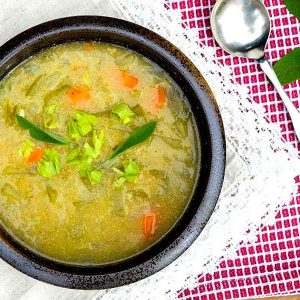 Immune Boosting Turmeric Celery Soup
Celery is a vegetable not to be forgotten. This simple vegetable is an excellent source of antioxidants, vitamins and minerals and has only 10 calories per stalk. Celery also provides an impressive amount of dietary fiber, which boosts digestion and weight loss. Other significant benefits of celery include its ability to cleanse the liver and […] Read More
Prep Time
15 Minutes
Difficulty
Easy
Cook Time
32 Minutes
Serves
6