Sauerkraut Soup Recipe
Published on Dec 22, 2014
by
Kristina Stosek
Prep Time:

15 minutes
Cook Time:

180 minutes
Serves:

6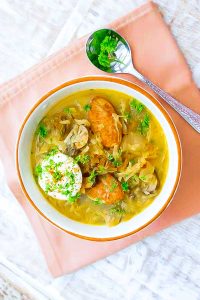 ​This post may contain affiliate links, please see our
privacy policy
for details
Two words to describe this Sauerkraut Soup – a healthy soup with intense flavor. This sauerkraut soup is made primarily with fermented cabbage, onions, garlic, gluten free chorizo sausage, potatoes, mushrooms, and spices, then served with sour cream and fresh parsley.
What is sauerkraut soup?
Sauerkraut soup is a traditional German wintertime soup primarily made with fermented cabbage, potatoes, and smoked pork.
In this recipe, I replaced the smoked pork with gluten free chorizo sausage adding depth of flavor to the soup.
The key to making a good sauerkraut soup is to simmer it for a long time so that all the flavors can meld together.
This soup is best made at least 24 hours in advance, allowing the flavors to develop.
Why is sauerkraut soup better the next day?
Sauerkraut soup is always better the next day or the day after. The flavours develop over time, adding a lot of flavor to the soup.
This recipe is about simmering the soup for a long time. Then the soup is chilled overnight, sometimes for days, before reheating and serving.
What is sauerkraut?
Sauerkraut is naturally gluten free fermented white cabbage with a distinctive sour flavour. The cabbage is nutritionally packed with vitamins such as C and K and is rich in iron and fiber.
Sauerkraut is also low in calories and carbs and is considered diet-friendly.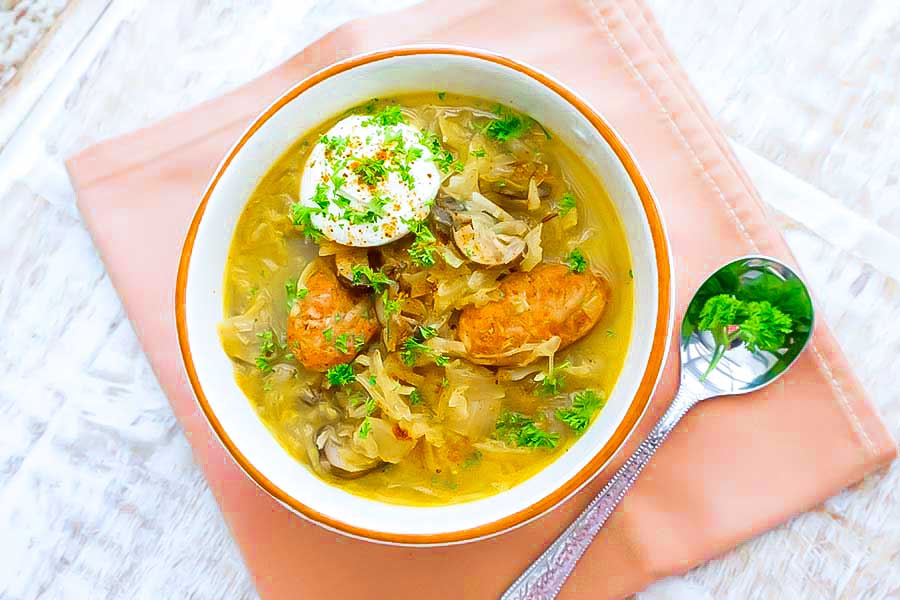 FAQs about sauerkraut soup
Can you replace sauerkraut with white cabbage?
No, raw cabbage will not work in this soup recipe. The flavor and texture of the cabbage come from fermented cabbage. Therefore, the soup would taste like cabbage soup by using raw cabbage.
Is sauerkraut soup gluten free?
Good quality sauerkraut is naturally gluten free because it is made with only salt and raw cabbage. However, be aware of some brands that may include additives with gluten. So be sure to check the label for ingredients.
How long will sauerkraut soup keep?
If you add smoked meat to the soup, it should be safe to eat for up to seven days when refrigerated. The vegan version will last up to fourteen days when refrigerated. The best part, the flavor of the soup intensifies with each day.
History of sauerkraut soup
Sauerkraut soup is a traditional German soup that dates back to the Middle Ages. The word sauerkraut means "sour cabbage" in German, and the dish is made by fermenting white cabbage in a brine of water, salt, and sometimes caraway seeds.
The earliest recorded recipe for sauerkraut soup comes from a 14th century German cookbook, but the dish was likely made long before that. Sauerkraut soup was a way to use surplus cabbage, commonly grown in German households.
Over time, the dish evolved and became more elaborate, adding additional ingredients, such as bacon, smoked pork, chorizo sausage, potatoes, onions and mushrooms.
Today, there are many different versions of sauerkraut soup, but all feature the sour and savory flavors that have made it a German classic.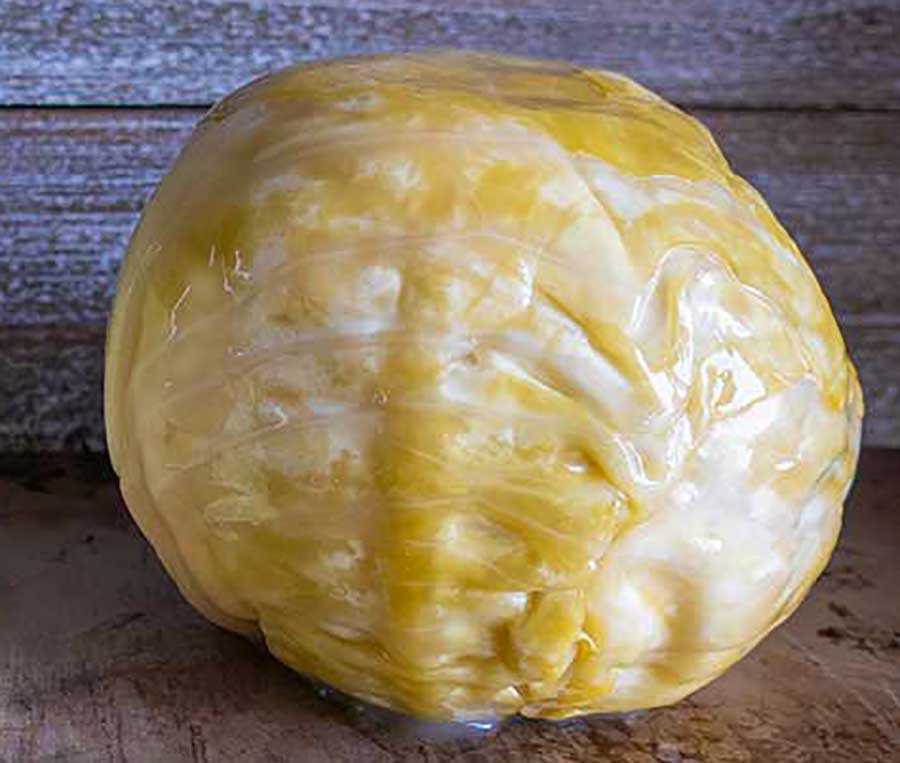 Health benefits of fermented cabbage
Fermented cabbage is a probiotic food that contains beneficial bacteria for gut health. These friendly bacteria can help to improve digestion, reduce inflammation, and boost the immune system.
Fermented cabbage is also a good source of vitamins and minerals, including vitamin C, iron, and calcium.
How to make sliced fermented cabbage at home?
To make fermented cabbage at home, you will need:
– 1 large head of white (green) cabbage
– 1 tablespoon of sea salt
– 1 tsp. GF caraway seeds (optional)
– 1 cup of filtered water
– A clean glass jar with a lid (I use 2)
First, wash and slice the cabbage thinly. Next, add the remaining ingredients and mix everything.
Then, add the cabbage to the jar, along with the brine and pack it tightly.
If you have weights or clean stones, weigh down the cabbage to keep it in the brine.
Place the lid loosely on the jar, and set it aside in a cool, dark place. Check on it daily, and press it down from time to time. After 10 – 14 days, the cabbage should be fermented. The longer you ferment the cabbage, the better it will taste. It will have a slightly sour smell and taste tangy.
If you have extra sauerkraut, remove the weights and store in the refrigerator for up to two months. Just be sure to keep it covered, so the sauerkraut doesn't dry out.
Some of our favorite recipes using sauerkraut are the sauerkraut salad with carrots and red peppers or this instant pot pork and sauerkraut dinner.
What can you add to sauerkraut soup?
Sauerkraut soup is a hearty, filling soup made with sauerkraut, potatoes, onions, and spices. And can be made with or without smoked meat.
You can add other vegetables to this soup, such as carrots, bell peppers and mushrooms, and various spices such as paprika, rosemary, marjoram, thyme and sage.
In Slovakia, they often add 3 – 5 raw eggs to the soup at the end of the cooking time. The eggs will cook in the broth to medium hardness and are served alongside the soup.
Sides to sauerkraut soup
Serve this hearty soup with gluten-free crusty bread, a dollop of sour cream, and fresh herbs for a complete meal.
When to serve sauerkraut soup?
In Slovakia, it is a tradition to serve sauerkraut soup as a starter on Christmas Eve and during the holidays.
This soup is also considered healthy, low in calories, rich in fiber and is keto friendly. This is why January is popular to include this soup for a weeknight meal.
vegan sauerkraut soup version
Sauerkraut soup can be easily adapted for a plant-based diet. To make the vegan sauerkraut soup, follow the exact directions, except do not add smoked meat and replace water with gluten free mushroom broth or vegetarian broth. You can also add a cup of crushed tomatoes, thinly sliced carrots and bell peppers.
If you like, add cubed firm tofu and one teaspoon of gluten free liquid smoke if you have some on hand.
I hope you will give this healthy Sauerkraut Soup Recipe a try. It may surprise you how delicious the soup is. Enjoy!
Sauerkraut Soup Recipe
Published on Dec 22, 2014
by
Kristina Stosek
Instructions
1.

Using a large soup pot, heat olive oil over medium-low heat. Add onions and cook until a golden colour. About 5 - 7 minutes. Stir in paprika, bay leaves and caraway seeds

2.

Add sauerkraut and stir until coated with the onion mixture

3.

Add mushrooms, chorizo sausage and water. The water should be two inches above the sauerkraut

4.

Bring to a boil, reduce heat to low and cover. Simmer for 2 - 3 hours

5.

Add grated potato and garlic and continue cooking for 30 longe

6.

Rest soup for 24 hours in a cool place. Then refrigerate until ready to serve. This enhances the flavour of the soup. Reheat over medium-low heat just before serving

7.

To serve, remove the bay leaves and ladle soup into bowls. Top with a spoon of sour cream and fresh parsley
Leave a Comment
Kristina
In my family, we make similar, but omit the caraway seeds and add lots, like several tablespoons, of dried rosemary.