Keto Ham And Cheese Egg Cups
Published on Jan 25, 2020
by
Kristina Stosek
Prep Time:

5 minutes
Cook Time:

15 minutes
Serves:

4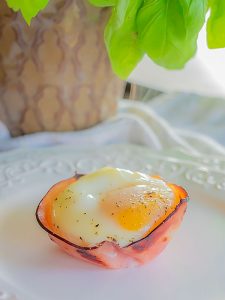 ​This post may contain affiliate links, please see our
privacy policy
for details
Discover the easiest way to make a high protein breakfast with these Keto Ham And Cheese Egg Cups. Using only three ingredients plus seasoning, these ham and cheese egg cups are simple enough for anyone to make. They remind me a bit of an eggs benedict but without the muffin.
The best part they are so pretty and tasty you can serve them for a special brunch. The ham has crispy edges, the cheese is oozing with deliciousness, and the eggs are perfectly cooked. This high protein breakfast is a no-fail recipe that will impress even the savviest chef. * If you would like to add Hollandaise sauce, I have included a recipe below.
Keto ham and cheese egg cups are a super easy breakfast recipe.
All you need is a muffin pan, ham slices, your favourite cheese, eggs and an oven – no bowls or mess in the kitchen. What I love about this breakfast or brunch recipe, you can make up to twelve servings at a time with ease. If you are following a low carb diet, these succulent bites are sure to be a winner. And besides, they are naturally gluten-free, so a win-win all the way.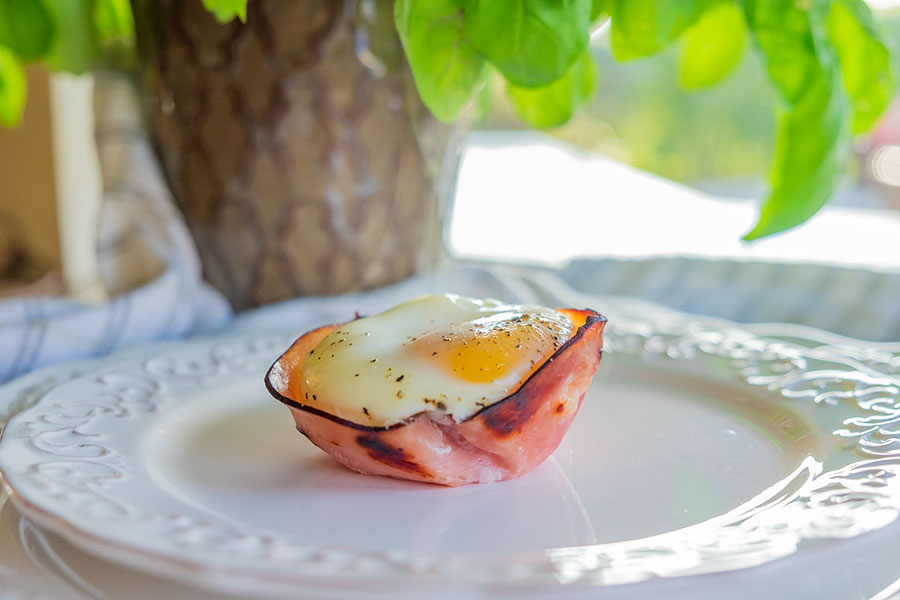 Why should you start your day with a high protein breakfast?
As per American Society for Nutrition consuming a high protein breakfast (30% protein) had improved blood sugar control and insulin levels. Mornings tend to be very busy for most of us, and this is why breakfast may be the most skipped meal of the day.
Or, we grab a high carb muffin or toast on the go, and within an hour, we crave more food. By consuming protein for your first meal of the day will help you feel fuller for longer and is associated with maintaining a healthy weight because it curbs your appetite. Another one of my favourite high protein breakfast recipes is Stuffed Breakfast Peppers
* Hollandaise Sauce Recipe for 4
2 egg yolks –
2 tsp. freshly squeezed lemon juice –
1/4 cup unsalted butter, melted –
Pinch salt –
– Vigorously whisk the egg yolks and lemon juice together in a stainless steel bowl and until the mixture is thickened and doubled in volume. Place the bowl over a saucepan containing gently simmering water (or use a double boiler). The water should not touch the bottom of the bowl.
Continue to whisk rapidly. Be careful not to let the eggs get too hot, or they will scramble. Slowly drizzle in the melted butter and continue to whisk until the sauce is thickened
Keto Ham And Cheese Egg Cups
Published on Jan 25, 2020
by
Kristina Stosek
Instructions
1.

2.

Spray a muffin pan with nonstick cooking spray or brush with melted butter

3.

Place one ham slice in each muffin cup and press down to fit the muffin cup

4.

Add about one and a half tablespoons of cheese in each ham cup

5.

Crack an egg into each cup and bake for 13 - 15 minutes, depending on how you like your eggs. Serve immediately with or without Hollandaise sauce. I baked mine for 15 minutes