Easy Greek Quinoa Salad
Published on Mar 22, 2018
by
Kristina Stosek
Prep Time:

15 minutes
Cook Time:

minutes
Serves:

6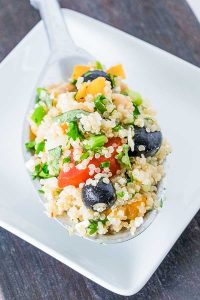 ​This post may contain affiliate links, please see our
privacy policy
for details
This super-healthy Greek Quinoa Salad has an intense flavour combination of the saltiness of feta and kalamata olives. For the veggies, it is the traditional tomatoes, bell peppers, onions and cucumber. I also added protein-rich chickpeas also called garbanzo beans for delicious earthy flavour.
Why add chickpeas to Greek quinoa salad?
I often add chickpeas to salads because they have plenty of fiber and are thought to lower cholesterol and help balance blood sugar.
For the flavour, this stunning Greek quinoa salad has plenty of fresh herbs added, such as parsley and basil. And let's remember the aromatic fresh garlic that ties everything together beautifully.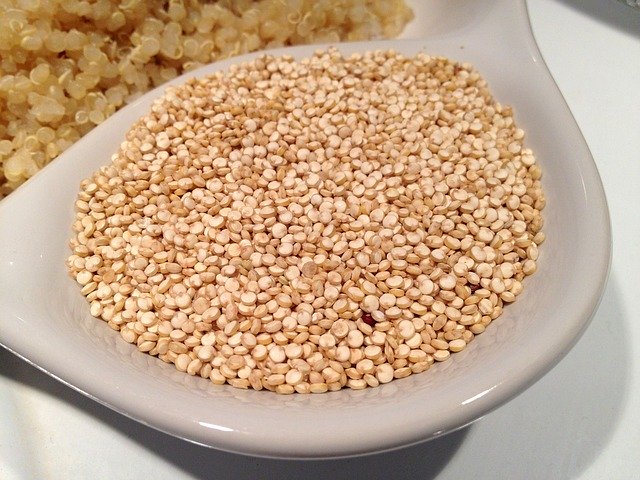 What is quinoa and is it healthy?
Quinoa has superior nutritional properties. This tiny naturally gluten-free seed is rich in complete protein, fiber, B vitamins, iron and calcium, just to name a few. And is a great addition to weight loss diet.
Although this exceptional seed sometimes referred to as a grain, is mostly grown in South America, you can readily find it in most grocery stores and health food stores. The seed comes in four colours, red, black, white, and golden.
The most common colours are white and golden. For a dramatic look, you can mix the colours in dishes for special occasions. Quinoa is especially important for vegetarians and vegans because it is a nutritionally superior source of non-animal protein.
It has optimal amino acid content and ease of digestion making it an ideal alternative to meat proteins. The great thing about this seed is, it cooks quickly, and you can add it to just about anything like soups, stews, casseroles and salads.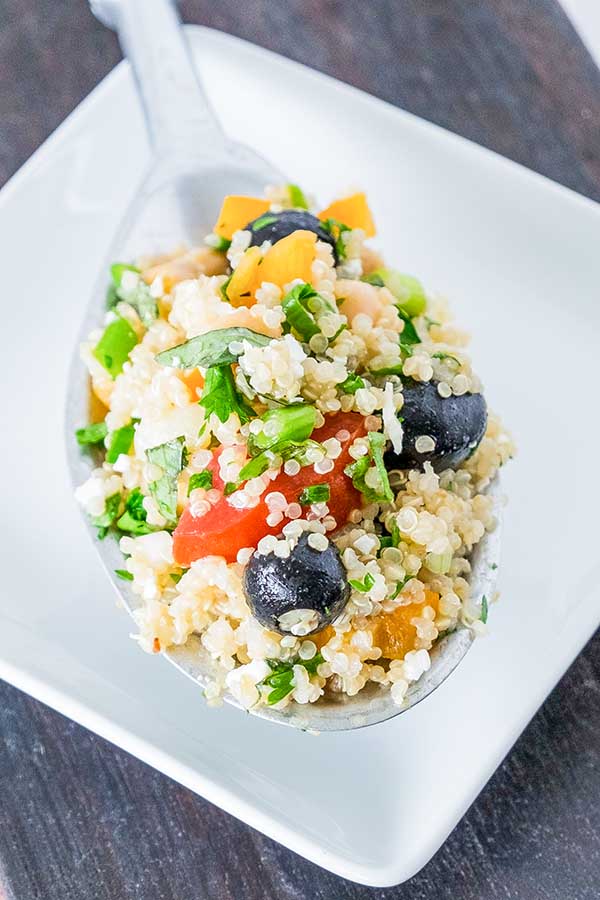 This wholesome salad is a perfect complement to almost any entrée, especially summer barbecues. And, because it is so delicious this Greek quinoa salad recipe may just become your favourite salad.
Check out our selection of gluten-free quinoa recipes, from breakfasts to desserts, you will find something for everyone. Our most downloaded quinoa recipe is the Cauliflower Quinoa Dumplings in Creamy Marinara Sauce.
Easy Greek Quinoa Salad
Published on Mar 22, 2018
by
Kristina Stosek
Instructions
1.

In a large bowl combine first 10 ingredients

2.

In a separate bowl whisk together apple cider vinegar, olive oil and garlic. Add to quinoa mixture and stir well. Season with salt and pepper

3.

Refrigerate for a minimum of 4 hours or overnight

4.