Instant Pot Borscht – Ukrainian Recipe
Published on Sep 25, 2019
by
Kristina Stosek
Prep Time:

15 minutes
Cook Time:

20 minutes
Serves:

6 - 8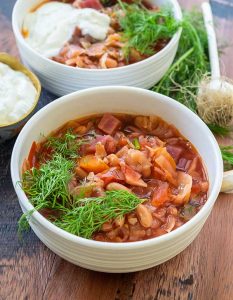 ​This post may contain affiliate links, please see our
privacy policy
for details
Thick, rich, and packed with nutrients, instant pot borscht. There are different variations of borscht, it all depends on what you like. Some are made with meat or meat broth, and others are vegetarian with vegetables you have on hand.
However, beet is always the main ingredient that gives it the reddish-purple color, and cabbage makes the soup hearty. I added mushrooms and white kidney beans to this recipe for extra flavor and texture without adding meat.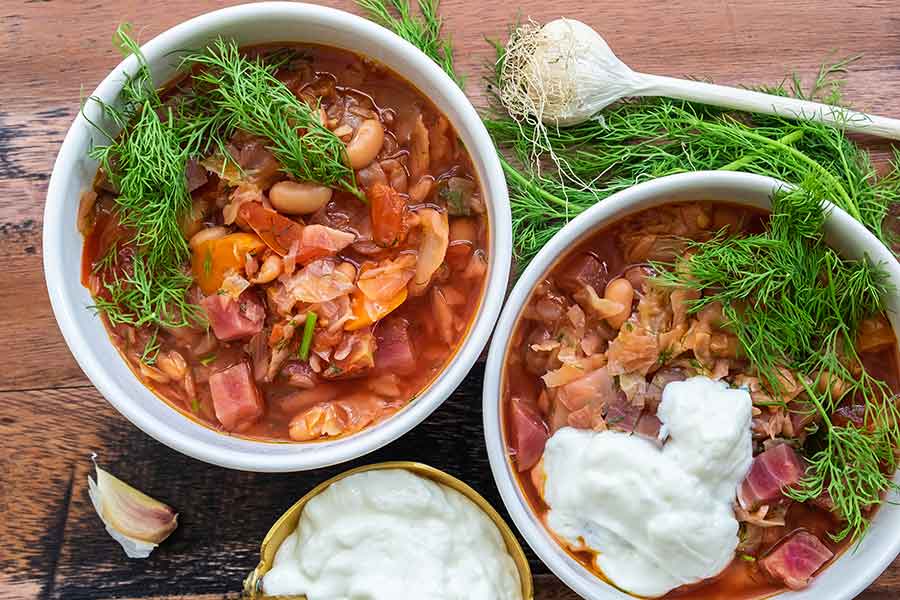 variations of borscht recipes
There are three popular types of borscht. The most popular is the traditional hot Ukrainian borscht made with beets, cabbage, other vegetables and with or without meat.
The second is cold borscht which is made mainly with beets and is served during summer months.
The third is green borscht made in early spring with sorrel, parsley, potatoes, onions and egg. But all three versions are served with sour cream or thick yogurt and fresh dill.
When we look at today's borscht recipes, you will find that they have tomatoes and tomato paste added to them. In ancient times there were no tomatoes, or even potatoes added.
There are many discussion as to whether borscht is Ukrainian or Russian national dish. From all the research that I have done, borscht originated in Ukraine.
Can I freeze Borscht Made in an Instant Pot?
Yes, Borscht freezes well. Allow it to cool completely before transferring it to a freezer-safe container. It can be stored in the freezer for 4 – 5 months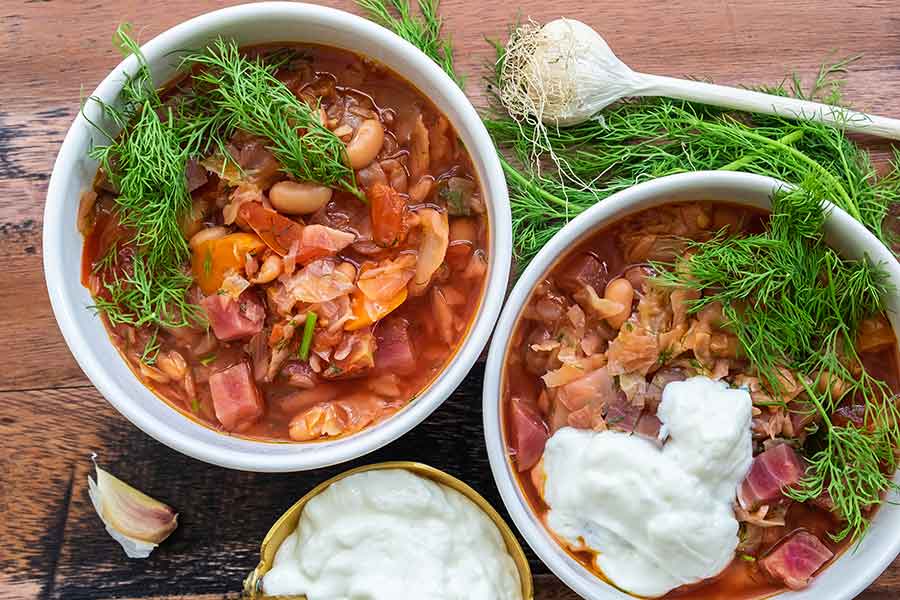 Is Borscht Nutritious?
What I love about this instant pot borscht is that it is nutritious, low in calories, and cooks in a fraction of the time it would take, making it the traditional way using a slow cooker.
Both beets and cabbage are a great source of nutrients, including vitamin C, fiber, folate, vitamin K and are known to help keep inflammation in check.
Whether you are following a low-calorie diet or looking for a fiber rich soup, this recipe is for you. This delicious Ukrainian dish can be served as a starter or as a main with simple potatoes with parsley or gluten-free crusty rolls.
The best part, this hearty soup is even more delicious the next day, or the day after as the flavours develop with each day.
Let's connect
Meet Kristina. Passionate about creating delicious, innovative gluten free recipes, and author of two gluten free cookbooks, "Entertaining The Gluten Free Way" and "Small Bites The Gluten Free Way".
Be sure to FOLLOW US on FACEBOOK or, check us out on PINTEREST. And don't forget to sign up for our newsletter. We always have something new and exciting for you!
Many thanks!
Kristina x
Instant Pot Borscht – Ukrainian Recipe
Published on Sep 25, 2019
by
Kristina Stosek
Instructions
1.

Set Instant Pot to sauté. Add olive oil, once heated add onions and cook for 3 minutes stirring often

2.

Add tomatoes, cabbage, beets, carrots, mushrooms with water, kidney beans, bay leaves, thyme, salt and pepper and give it a good stir. Add enough water so that all the vegetables are covered, about 6 cups. Cover and select the manual setting. Cook on high pressure for 15 minutes.

3.

Once done cooking, use the quick release function and release the steam. Stir in fresh dill, garlic and apple cider vinegar.

4.

Serve with a dollop of sour cream and fresh dill