Best Cabbage Roll Soup – Gluten Free
Published on Mar 18, 2021
by
Kristina Stosek
Prep Time:

15 minutes
Cook Time:

65 minutes
Serves:

6 - 8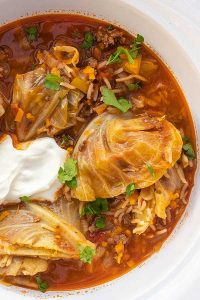 ​This post may contain affiliate links, please see our
privacy policy
for details
I can't tell you how excited I am to share this Cabbage Roll Soup recipe. I can honestly say this cabbage roll soup is so good, and it can easily replace cabbage rolls.
This soup's insanely delicious flavour comes from lean ground beef, grated sweet potatoes, bell peppers, cabbage wedges, crushed tomatoes, onions, garlic, and spices.
Why add grains to cabbage roll soup?
As with many cabbage roll recipes, the one ingredient that is often added is rice. In this healthy soup recipe, you have a choice to add rice or a superfood called quinoa.
Both ingredients work exceptionally well in this cabbage roll soup recipe. And by adding a handful of rice or quinoa, the cabbage soup becomes heartier, healthier and satisfying even for big appetites.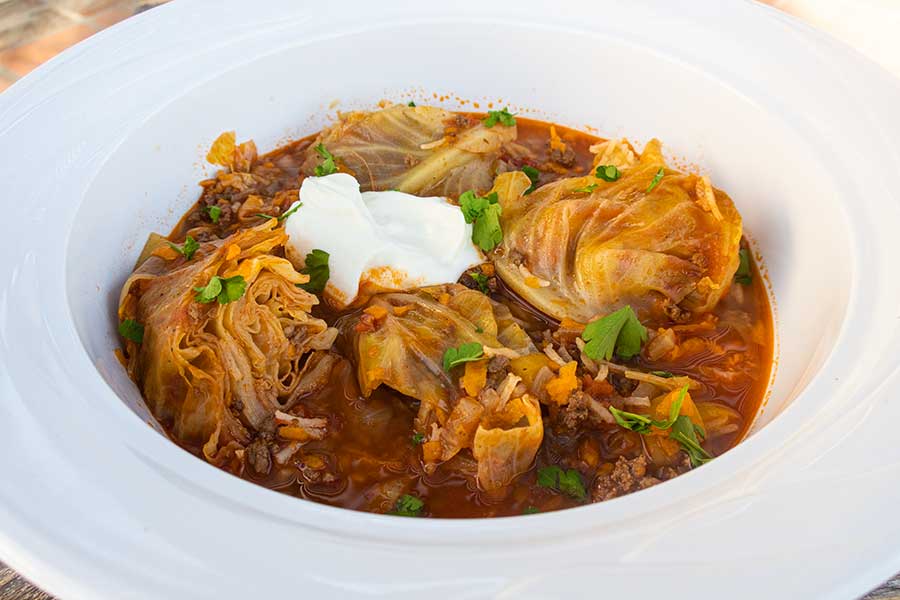 the cabbage roll soup with extra veggies
This naturally gluten-free soup recipe is not the classic full-on tomato sauce cabbage roll soup. And, there is no added sugar.
But there are extra veggies! The sweet potato grated into the soup adds natural sweetness, flavor and healthiness.
The bell peppers add a unique taste that goes exceptionally well with the cabbage and tomatoes.
And by replacing the tomato sauce with crushed tomatoes, the soup has just a hint of tomato. Let us be serious – this is not tomato soup!
keeping the soup low-carb
If you want to keep this a low-carb soup, you can skip the rice or quinoa altogether. Instead, replace the grains with grated zucchini or mushrooms.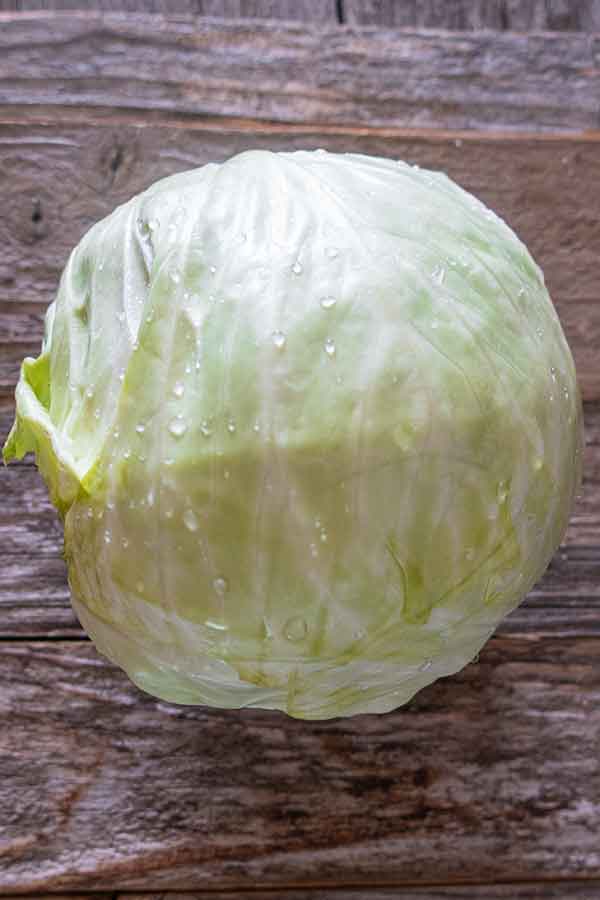 How to make best cabbage roll soup?
Let's be clear, this soup is not about chopping the wedgies and throwing everything together to cook. This is the reason why I stand behind saying this is the Best Cabbage Roll Soup Recipe.
To start, the beef has to be browned. To do this, ensure the oil is hot before adding the meat.
I always bring my ground beef to room temperature before cooking. This will make it easier to break up the meat while it is browning.
The browned beef sets the rich beefy flavour that makes this cabbage roll soup so flavorful.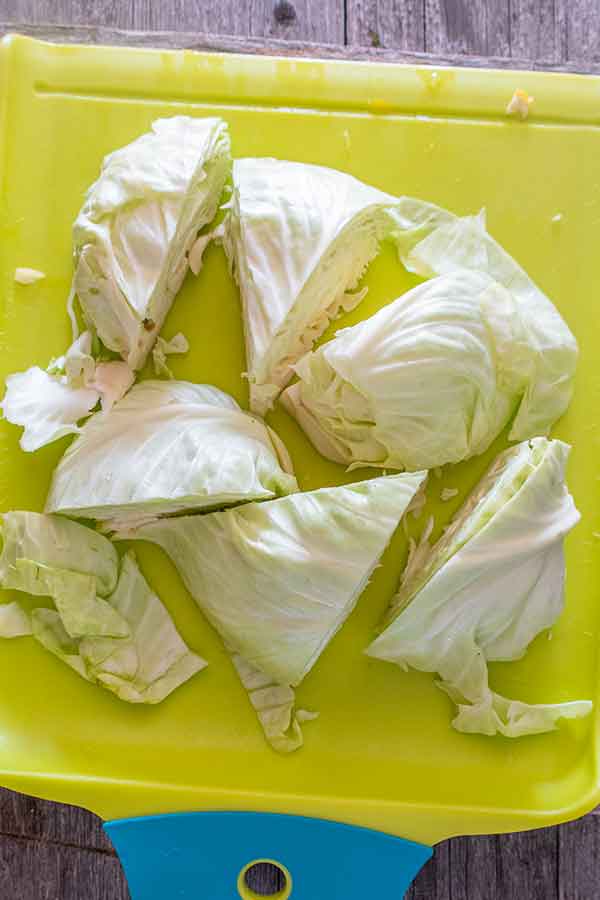 Once the beef is browned, add the spices, bell peppers, and grated sweet potatoes and generously season with salt.
I do not add salt until this point. If you add salt to the beef while it is browning, it will release moisture, and the meat will take longer to brown.
Next come the crushed tomatoes, water, apple cider vinegar and cabbage wedges.
It is essential to place the wedges on top of the soup and not mix them into the soup. This way, they will hold their shape and look beautiful for presentation.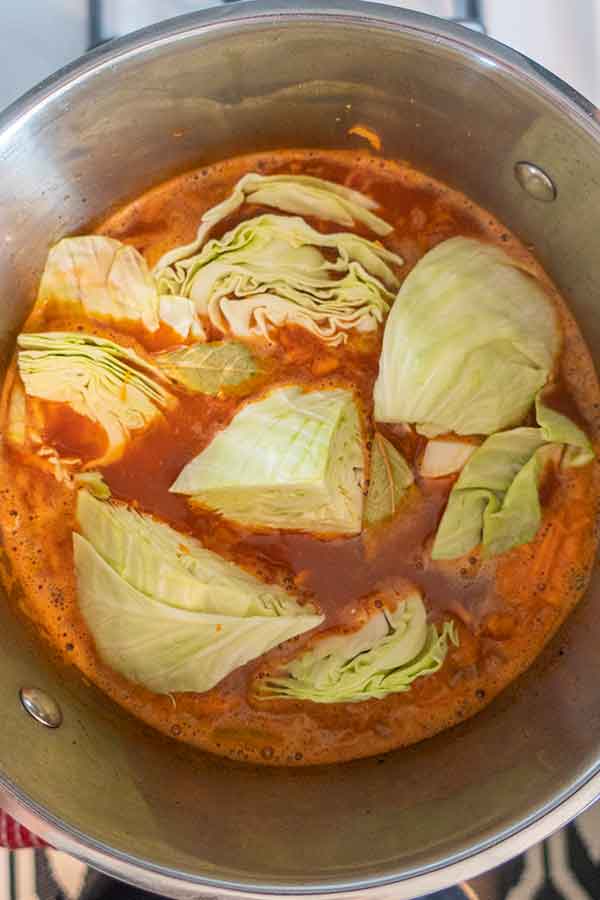 If you are adding rice or quinoa, now is the time to do it. Sprinkle the rice or quinoa over the cabbage, and using a spoon, gently immerse into the soup—cover and cook for additional 10 minutes.
Then, rest the soup for 15 minutes allowing the rice or quinoa to finish cooking in the hot sauce.
I do not add the grains into the soup from the start because the grains will become mushy and fill the soup with starch.
The rice or quinoa should have a firm to bite texture, making them super tasty because they absorb the soup's flavorful broth.
serving
The soup has everything. Tender beef, veggies, perfect cabbage wedges, delicious broth and grains cooked to perfection.
When serving the soup, carefully place a cabbage wedge or two in a bowl, add the meaty vegetable broth and sprinkle with fresh parsley.
I often like adding thick Greek yogurt or light sour cream to the soup. The creaminess adds extra richness and makes the soup insanely good!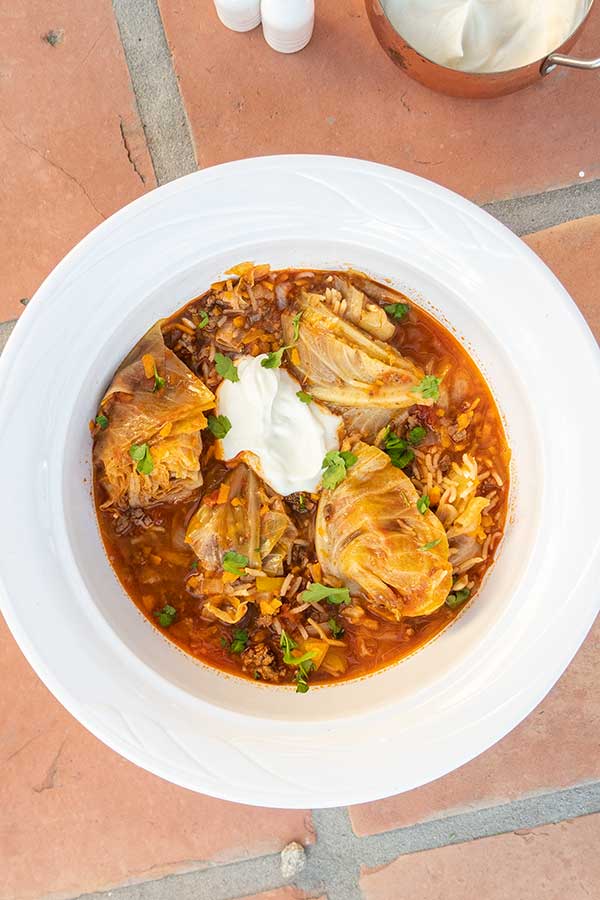 What to serve with cabbage roll soup?
Cabbage roll soup is super hearty, so you don't need to add anything to make it a complete meal. However, a robust, healthy soup always goes well with a slice of gluten-free French bread, or Gluten-Free Homemade Italian Bread.
Next time you crave Hungarian cabbage rolls, give this healthy soup a try. I promise you may never go back to making cabbage rolls. Enjoy!
Let's Connect!
Be sure to FOLLOW US on FACEBOOK and PINTEREST.
Many thanks!
Kristina xx
Best Cabbage Roll Soup – Gluten Free
Published on Mar 18, 2021
by
Kristina Stosek
Instructions
1.

Using a large soup pot, heat olive oil over medium-high heat. When the oil is hot, add the ground beef. Cook, breaking up the meat using a spatula until the meat is browned. About 5 minutes. Stir in onions and garlic and cook additional 3 minutes

2.

Add paprika, bay leaves, hot chilli peppers (if using), bell peppers, sweet potatoes and generously season with salt. Mix well until combined

3.

Add crushed tomatoes, water, apple cider vinegar, then place cabbage wedges on top of the soup, cover and bring to a boil. Reduce heat to low and simmer for 45 minutes. Sprinkle the soup with rice/quinoa, cover and cook for additional 10 minutes. Turn off the heat and rest the soup for a minimum of 15 minutes. The rice/quinoa continue cooking to perfection while the soup is resting

4.

To serve, sprinkle with fresh parsley and a dollop of sour cream or yogurt 

5.

Note: This soup is even better the next day and will keep up to 7 days when refrigerated. 
Leave a Comment
Kristina
thank you Sandy, I am happy to hear that you enjoyed it.
We loved this cabbage roll soup, and so easy to make, thank you