Gluten Free Authentic Cabbage Rolls
Prep Time
30 Minutes
Difficulty
Intermediate
Cook Time
150 Minutes
Serves
6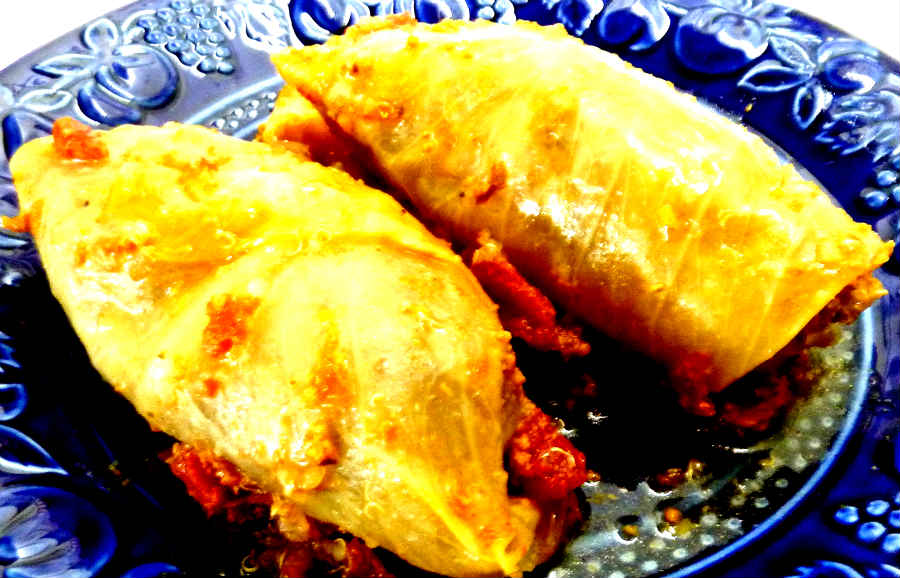 Average Rating: 5 | Rated By: 1 users
Cabbage rolls are common to ethnic cuisines of the Eastern, Northern and Central Europe, Balkans as well as Middle East. In this recipe, I used fermented cabbage which has many health benefits. Most cabbage rolls are made with a lot of rice, but in this recipe, I have replaced small amount of quinoa for the rice which makes them deliciously moist
I make this dish a day in advance, because the cabbage rolls taste even better the next day. Serve with acorn squash and sweet potato mash.
Ingredients
1 large sour cabbage head, peel the leaves off and place them in cold water for 10 minutes, then drain
1 medium sweet onion, quartered
2 garlic cloves, minced
1/2 bunch fresh parsley, roughly chopped
3 white or brown mushrooms
1 carrot washed and roughly chopped
1 tsp. sea salt • 1 tsp. GF sweet paprika ; ½ tsp. GF ground black pepper • 1 tsp. GF dried rosemary
1 ½ lb. ground beef
½ cup cooked quinoa
1 (13.5 oz.) can chopped tomatoes + 2 Tbsp. pure tomato paste
1 1/2 cup of water
1 Tbsp. GF tapioca starch
Instructions
Preheat oven to 325 F
Add onion, garlic, parsley, mushrooms, carrot and spices, into a food processor and pulse until finely chopped.
 Add half the meat and pulse to blend together
Transfer the meat mixture into a large bowl and add the balance of the meat and quinoa. Mix the ingredients together
Drain the cabbage leaves. Add approximately 3 tablespoons of meat mixture onto each cabbage leaf, close the ends first and then roll. Place cabbage rolls seam down into a large baking dish
Add chopped tomatoes, tomato paste, tapioca starch and 1/2 teaspoon of salt into a bowl and mix. Pour over cabbage rolls and cover the pan with foil or lid. Bake for 2 hours. Check a couple of times to see that there is enough liquid, if not you can add a little water
To serve place cabbage rolls on a serving plate and pour sauce over the rolls.
Similar Recipes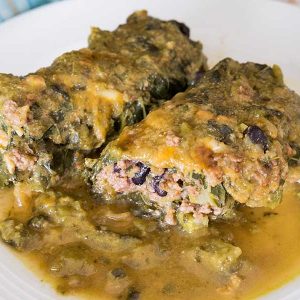 Beef and Black Bean Enchilada Kale Rolls
A tasty Mexican dish with added twist of kale. In this enchilada recipe, I replaced the usual flour tortilla with kale. Kale rolls are stuffed with beef, black beans, cheese, sour cream and spices and baked to perfection in our gluten free green enchilada sauce. When you feel like Mexican food, try this scrumptious, healthy […] Read More
Prep Time
15 Minutes
Difficulty
Easy
Cook Time
45 Minutes
Serves
4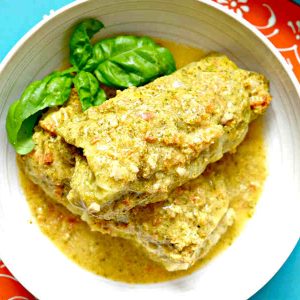 Savoy Cabbage Rolls in Light Curry Sauce
In this recipe, the delicious savoy cabbage is stuffed with veggies, meat, herbs and spices. Then the rolls are slowly baked in a light curry sauce. When it comes to Savoy cabbage it has a distinct flavour which compliments the delicious curry sauce. This dish is our signature Paleo and cooking light recipe. Enjoy! Read More
Prep Time
20 Minutes
Difficulty
Easy
Cook Time
90 Minutes
Serves
8 rolls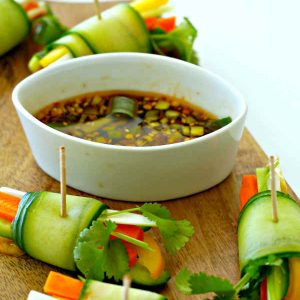 Vegetarian Cucumber Spring Rolls
Whether you are entertaining a crowd or looking for a healthy snack for your kids, these raw vegetarian cucumber spring rolls are a great choice. In addition, they come with a tasty Vietnamese dipping sauce which adds delicious flavour to the fresh veggies. The best part is that kids love the cucumber spring rolls as well Read More
Prep Time
20 Minutes
Difficulty
Easy
Serves
12 rolls