Miso Noodle Soup with Meatballs – Gluten Free
Prep Time
10 Minutes
Difficulty
Easy
Cook Time
15 Minutes
Serves
4
Be the first to rate this recipe.
Flavourful gluten-free Miso Noodle Soup with Meatballs spiked with chili, ginger, honey, green onions and sesame seeds. Time to pick up the chopsticks, enjoy buckwheat noodles, and tender pork meatballs, followed by a flavourful miso broth mildly spiced with garlic and fresh ginger.
This gluten-free noodle soup is a trove of tasty ingredients; pork, ginger, sesame oil, tamari sauce, garlic, carrots, miso paste, fresh baby spinach and soba noodles topped with sesame seeds and green onions. After a hot bowl of this miso noodle soup, you will feel very content.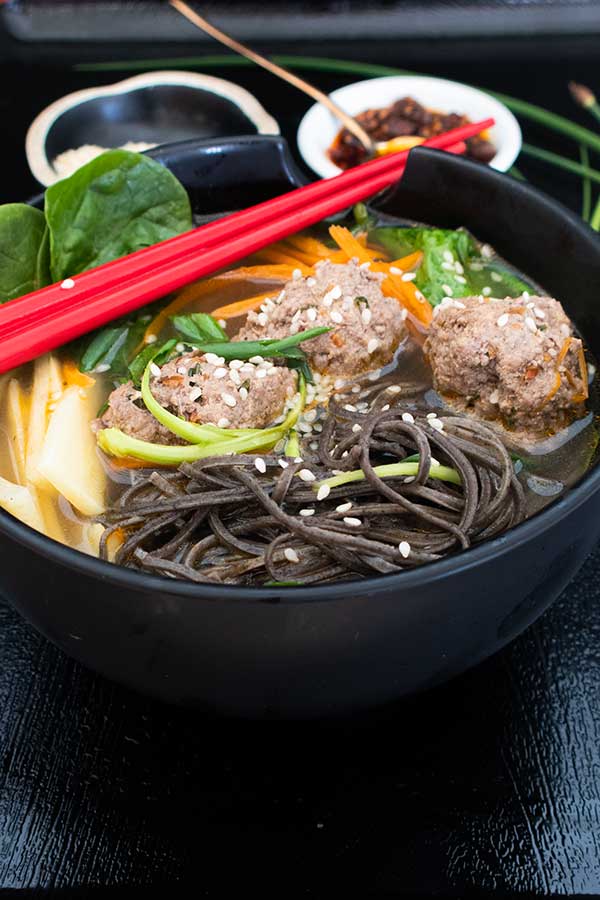 Cooking gluten-free buckwheat noodles is easy. Check out this Monday Night Spicy Soba Noodles Recipe. What lies behind the success of this miso soup is a staple of fresh ingredients, lightly spiced pork meatballs and a tasty miso broth—a perfect Japanese-inspired dish for the home cook.
The preparation time required for this soup is well inside 10 minutes, and the soup is cooked in under fifteen. This miso noodle soup with meatballs is specified for four people if you serve it as a light lunch or a starter. If this soup is enjoyed as a main course, I will serve the miso noodle soup in two large bowls for two people.
I would redefine this soup as fast food, take fresh ingredients, cook them briefly, and deliver oodles of flavour. This miso noodle soup style of cooking concentrates on a short period of cooking and fresh ingredients. Another soup you may enjoy is the gluten-free Easy Vegan Coconut Curry Ramen Soup.
the Japanese style of cooking…
In Japan, there are typically seven methods to choose from to create a delicious meal, ensuring a variety: Simmered (nimono), grilled (yakimono), deep-fried (agemono), sautéed (itammono), steamed (mushimono) integrated vinegars (sunomono) and salads (aemono).
In this Japanese-inspired miso noodle soup with meatballs, I used two styles: the sautéed and the simmered. When I develop recipes, I try to ensure that not only the recipe works, but the dish tastes good. This gluten-free noodle soup is outstanding.
In Japan, the presentation of the meal is an integral part of Japanese dining. Their hot soups are often served in bowls made from lacquer. Lacquer remains cool even when it contains hot soup. This is why you can lift the soup and drink it without burning your hands or lips. 
Why are chopsticks used to eat miso noodle soup…
Using chopsticks enables you to enjoy a noodle soup the traditional way. In Japan, the soup is slurped, and the noodles are sucked. The reason behind this is the need to incorporate air when you eat so that you sense aroma as much as flavour.
I hope you enjoy this gluten-free miso noodle soup with meatballs. This Japanese-inspired soup recipe is one of my favourites go to noodle soup.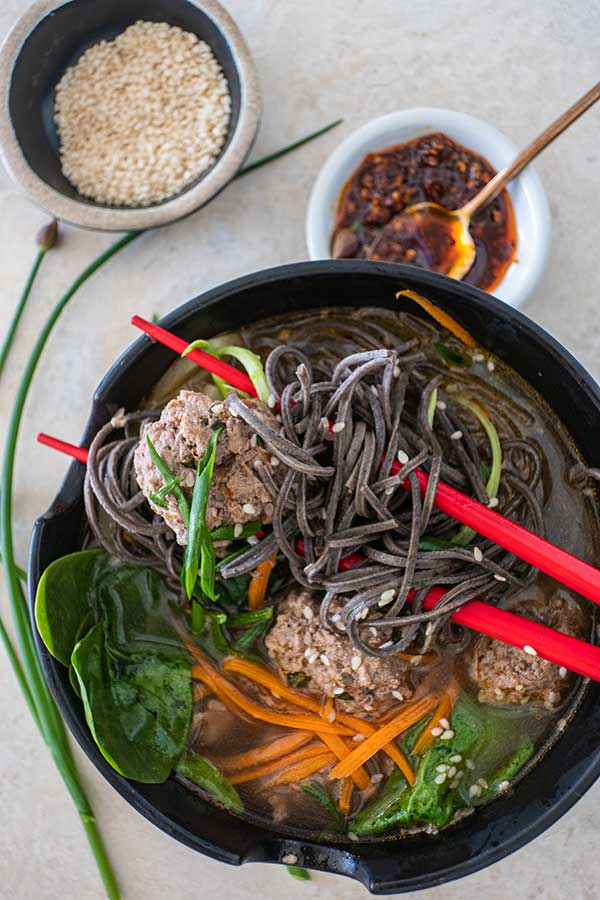 There are several reasons why I love this soup so much. It is super easy to make, the flavours are second to none, it is comforting, healthy and I usually have most of the ingredients. You can change up the veggies for whatever you have on hand. Just be sure to slice them thinly. Enjoy!
Ingredients
10 oz. lean ground pork or chicken
2 tsp. Minced or grated ginger
2 tsp. Honey or sweetener of choice
1 Tbsp. Toasted sesame oil
1/2 cup diagonally sliced green onions, divided
2 garlic cloves, grated or minced
1 medium carrot, julienned or shredded
4 cups GF chicken stock
2 cups chopped baby spinach
1/2 tsp. Sea salt
Optional toppings: sesame seeds, sliced green onions, menma (fermented bamboo shoots), bean sprouts
*As an Amazon Associate and member of other affiliate programs, I earn from qualifying purchases. Please check out my sponsorship and disclosure policy page for more details
Instructions
Combine pork/chicken, ginger, 2 tablespoons of sliced green onions, 1 tablespoon of sesame seeds, honey, sambal oelek and 1/2 teaspoon salt. Shape mixture into 16 meatballs. Set aside
Heat sesame oil in a large saucepan over medium heat. Add remaining green onions, garlic, and carrots. Sauté for 2 minutes
Add stock, bring to a simmer and add the meatballs—Cook for 10 minutes. Whisk miso paste with 1 cup of hot water and tamari sauce and stir it into the soup. Cook one more minute
Meanwhile, prepare the noodles per package directions. Careful not to overcook the noodles. Soba noodles cook quickly.
Divide warm noodles into four soup bowls, add spinach to each bowl, and pour hot soup with meatballs over the top. Sprinkle with sesame seeds and top with desired toppings
Similar Recipes
Gluten-Free Miso Ramen with Sesame Mushrooms
A simple noodle dish… Gluten-Free Miso Ramen with Sesame Mushrooms recipe. This vegan gluten-free noodle dish has brown rice ramen noodles, roasted sesame mushrooms and tender snow peas tossed with buttery miso, ginger and garlic sauce.     Not only that this gluten-free ramen dish is so incredibly flavourful, but the noodles are made only […] Read More
Prep Time
10 Minutes
Difficulty
Beginner
Cook Time
10 Minutes
Serves
4
30 Minute Gluten-Free Beef Ramen Noodles
Simple 30 Minute Gluten-Free Beef Ramen Noodles. This gluten-free Asian inspired noodle dish is just the thing for when you crave take out food but are short on time. The beefy noodles are seasoned with mildly spicy ginger sauce and mixed with julienned carrots, peppers and corn. This noodle dish is quick and simple to […] Read More
Prep Time
10 Minutes
Difficulty
Easy
Cook Time
20 Minutes
Serves
4