Laksa – Malaysian Noodle Soup with Chicken
Published on Sep 29, 2022
by
Kristina Stosek
Prep Time:

10 minutes
Cook Time:

30 minutes
Serves:

4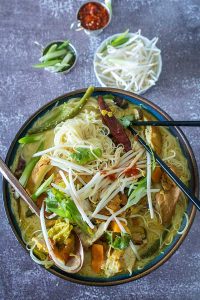 ​This post may contain affiliate links, please see our
privacy policy
for details
This amazing Malaysian noodle soup is made with a rich coconut curry broth flavoured with lemon grass, lime leaves, chili peppers, fresh ginger, shallots, garlic, herbs and spices. The soup has also plenty of veggies, chicken, gluten-free rice vermicelli noodles, and is made from scratch.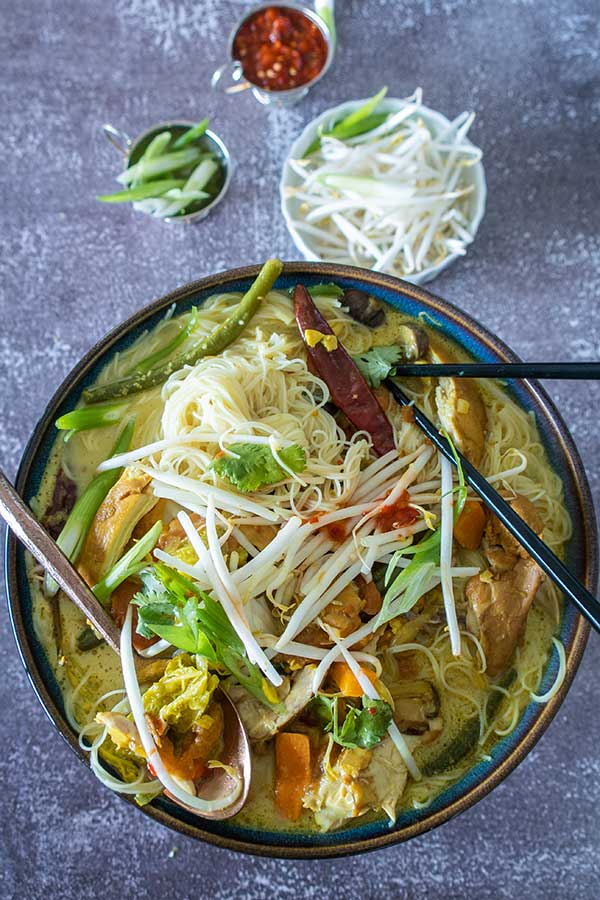 FAQs about laksa
1. What is laksa?
Laksa is a famous fragrant Malaysian noodle soup made with light coconut curry broth, a dish that typically features chicken or shrimp. This soup is often served with various toppings, such as bean sprouts, fried shallots, green onions and chili paste.
2. Where did laksa come from?
Laksa is thought to have originated in the southern Chinese province of Guangdong before eventually making its way to Malaysia. It is believed that the dish was first introduced to Malaysia by Chinese immigrants who settled in the country during the 18th century.
3. What are some of the most popular types of laksa?
There are many different types of laksa, but some of the most popular include Penang laksa (also known as Asam laksa), Sarawak laksa, Johor laksa, and Curry mee.
4. How do you make laksa?
While there are many different ways to make laksa, the basic ingredients usually include coconut milk, lemongrass, lime leaves, galangal or ginger, chili peppers, shallots and garlic.
making gluten-free Malaysian soup from scratch
Making laksa from scratch may seem daunting, but it is quite simple. The key is to get the right balance of spices in the soup.
To simplify this Malaysian soup recipe, you can replace the herbs and spices with gluten-free laksa paste.
Why is this Malaysian soup a healthy recipe?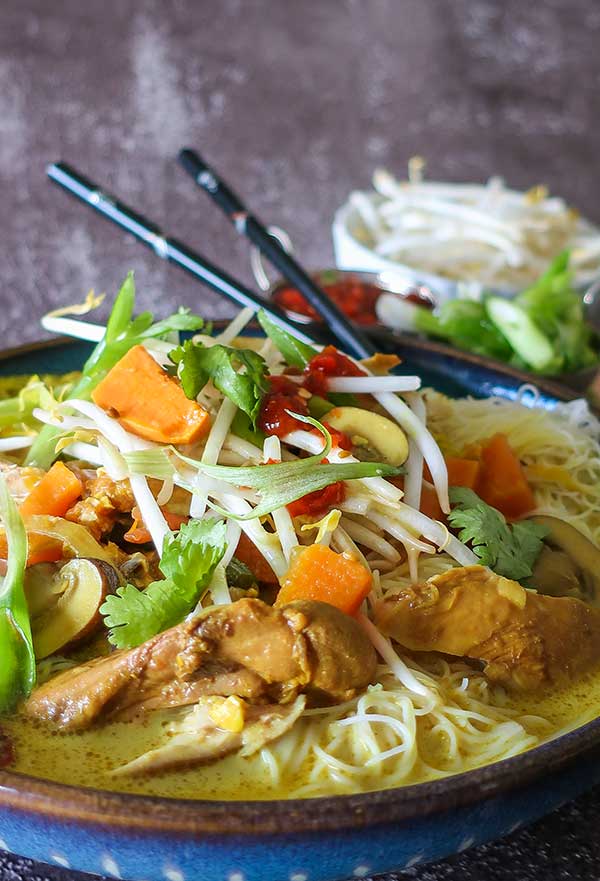 When it comes to soup, Malaysians know how to do it right. Laksa is a delicious and healthy soup that is perfect for any occasion.
The soup comprises vegetables, chicken, noodles, spices, herbs, and coconut milk. This combination makes for a soup that is not only flavorful but also packed with nutrients.
One of the reasons why laksa is so healthy is because of the abundance of veggies and lean chicken.
In addition, this laksa is made with gluten-free rice vermicelli. These naturally gluten-free noodles make this Malaysian meal a healthy addition to a gluten-free diet.
The spices and herbs in laksa add even more health benefits to the soup. These ingredients are rich in antioxidants and are also anti-inflammatory.
favorite vegetables for laksa
This traditional Malaysian noodle soup is often made with chicken, shrimp, or tofu. It's a flavorful and hearty dish that's perfect for cooler weather. However the veggies complete this soup recipe, here are our favorites:
vegetables for laksa
green beans
napa cabbage
mushrooms
squash
tomatoes
bok choi
leeks
snap peas
fried tofu puffs
carrots
lotus root
bamboo shoots
protein add-ins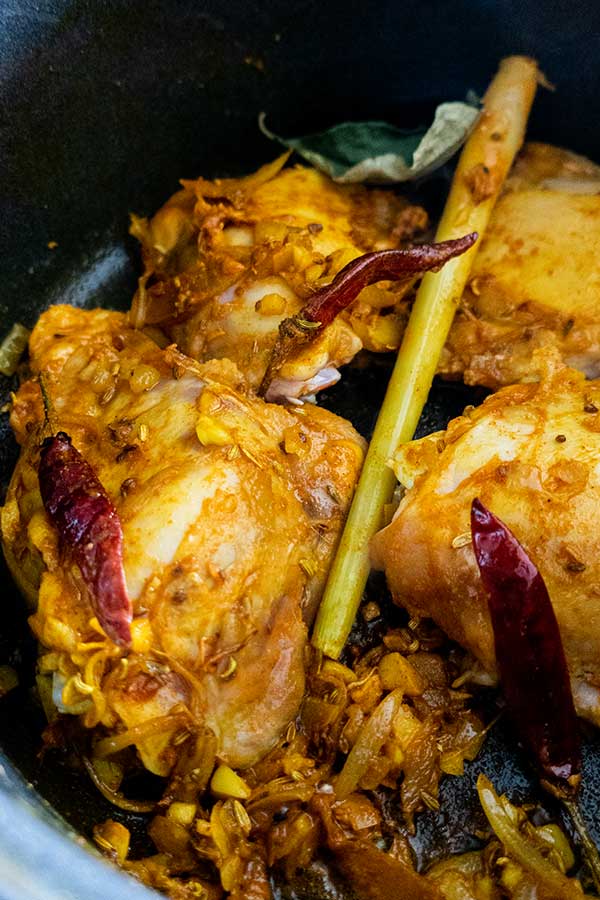 1. Chicken – a classic protein to add to any soup, and it works perfectly in laksa.
2. Shrimp – shrimp is another good option that adds richness to the soup
3. Tofu – for a vegetarian option, tofu is a great way to add protein and creaminess to the soup.
How to serve Malaysian noodle soup?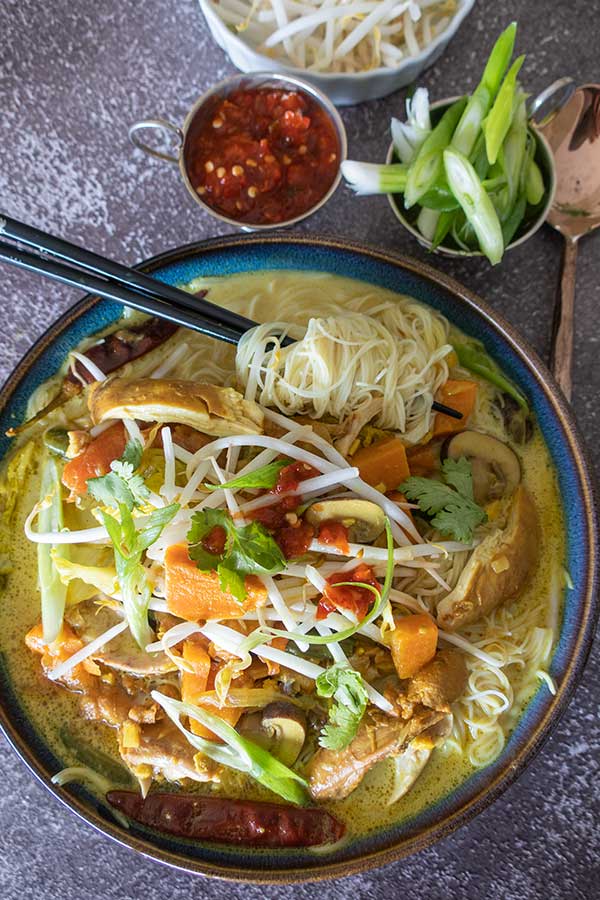 When it comes to Malaysian noodle soup, a few key ingredients make it truly delicious. The best thing about this meal is that it can be customized to your liking with different toppings.
To start, place hot rice vermicelli into a bowl. Next, ladle hot soup over the noodles, then add essential laksa toppings.
Toppings for Malaysian noodle soup;
bean sprouts
chopped cilantro leaves
crispy fried shallots
chili paste
fried tofu puffs
sliced green onions
Is laksa gluten-free?
Laksa is gluten-free, so this dish is acceptable for someone who has gluten-sensitivities or celiac disease.
best gluten-free noodles for Malaysian noodle soup
When it comes to Malaysian noodle soup, the best gluten-free noodles to use are vermicelli, made from rice or tapioca flour.
Rice and tapioca flour noodles are more resistant to breaking and becoming mushy, so they'll hold up better in soups and stir-fries.
Is Malaysian soup spicy?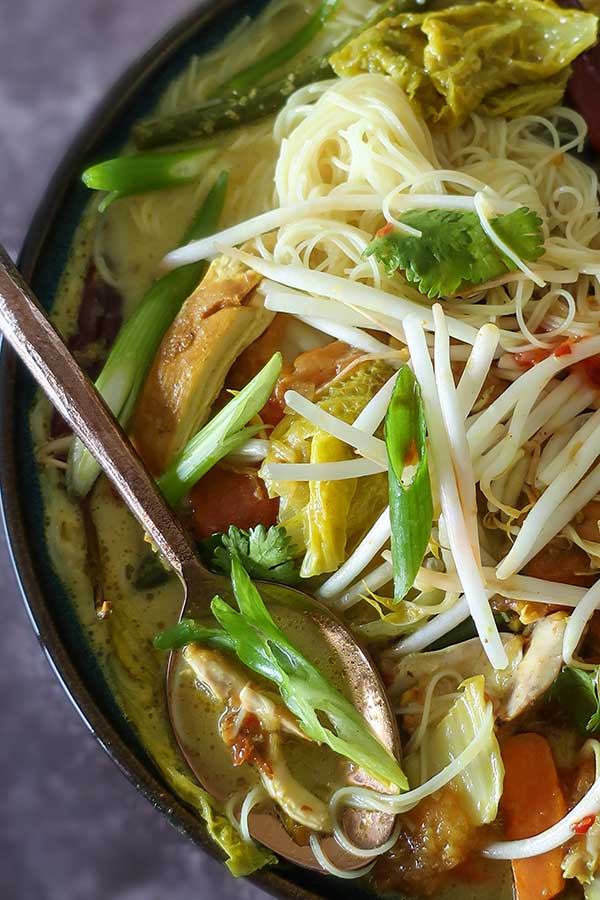 Yes, laksa is a Malaysian soup that is traditionally spicy. The spiciness comes from the chili peppers used to make the soup broth.
serve as a main or a side
Laksa is a Malaysian noodle soup typically served as a main dish. The rich coconut curry broth is served with rice vermicelli noodles, vegetables and protein. The soup is also served with a side of various toppings.
to summarize,
This Laksa recipe is a coconut-based Malaysian noodle soup with chicken and vegetables. It is hearty with a robust flavor that is perfect for a winter meal. The soup is made with various spices, including chili pepper, lemongrass, lime leaf and ginger. You can use rice noodles or gluten-free thin vermicelli pasta noodles. The soup is topped with fresh cilantro and your choice of toppings.
Let's Connect!
Be sure to FOLLOW US on FACEBOOK and PINTEREST.
Many thanks!
Kristina xx
Laksa – Malaysian Noodle Soup with Chicken
Published on Sep 29, 2022
by
Kristina Stosek
Instructions
1.

In a large soup pot, saute shallots and garlic in oil for three minutes. Stir in ginger, red chilies, turmeric, anise seeds, fennel seeds and cinnamon.

2.

Season chicken with salt and add to the pan, stirring to coat with the spice mixture. Add water, lemon grass, lime leaves, tomato, coconut sugar, tamari sauce and fish sauce. Cover and simmer for 15 minutes

3.

Add vegetables and continue cooking for 15 minutes longer.

4.

Discard the lemon grass, lime leaves and pull flesh off the bones and discard bones

5.

Stir in coconut milk, and cook until heated through

6.

To serve, place hot noodles into bowls, and top with hot soup and your choice of toppings