Instant Pot Somali Lentil Stew
Published on Jan 29, 2021
by
Kristina Stosek
Prep Time:

10 minutes
Cook Time:

15 minutes
Serves:

6 - 8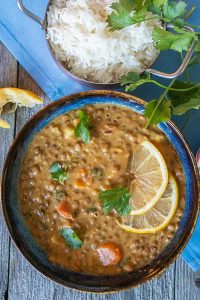 ​This post may contain affiliate links, please see our
privacy policy
for details
Healthy, delicious and hearty Somali inspired lentil stew made in an instant pot. This lentil stew is generously flavoured with ginger, cumin, and curry powder, a hint of cinnamon and fresh lemon juice. The fresh veggies in this stew are onions, garlic, bell peppers, sweet potato, carrots and jalapeno peppers.
Everything in this Somali lentil stew is healthy. For creaminess and richness, this Somali dish also includes coconut milk. I can't tell you how delicious this vegan lentil stew is! This is one of the most flavourful lentil dishes I have made.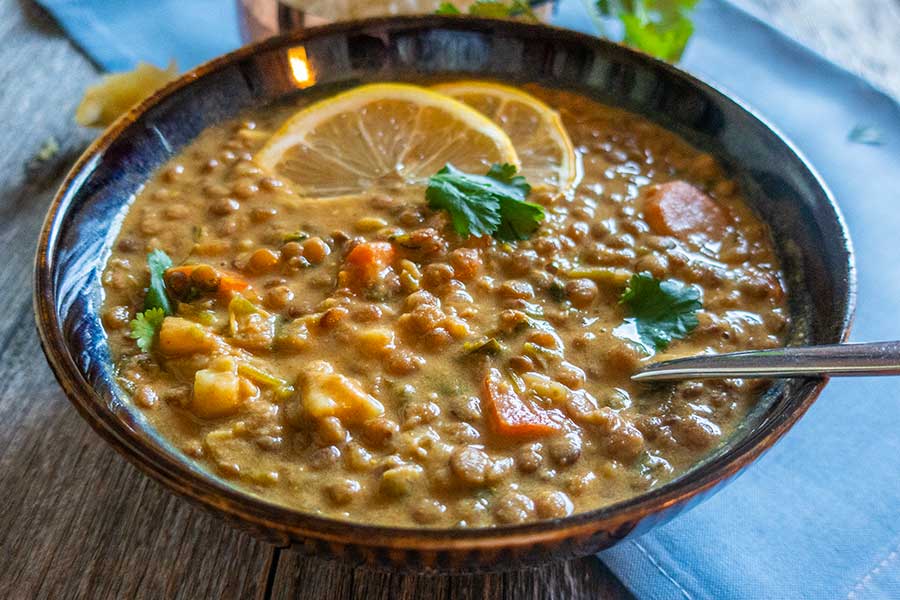 What I love about this naturally gluten-free lentil stew is that it takes only 15 minutes to cook. By cooking this ethnic dish in the instant pot, the ingredients retain most of the nutrients—more than other cooking methods.
And, you can walk away once you set the pot to cook function. The veggies and lentils are cooked to perfection, and the plant-based recipe couldn't be easier.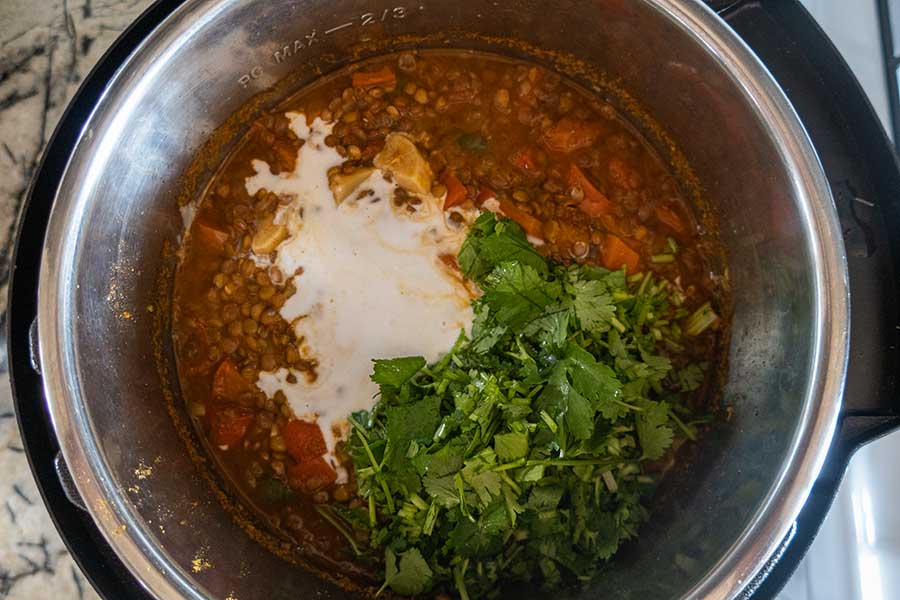 the details,
There are very few steps to make this stunning Somali lentil stew. The list of ingredients may look overwhelming, but it is mostly spices, which is what makes this lentil dish so incredibly tasty.
To start, saute the onions, then add all the other ingredients except coconut milk, cilantro and lemon juice. The stew is cooked under high pressure for 10 minutes and then finished with the last three ingredients. You don't even have to soak the lentils before cooking. Done!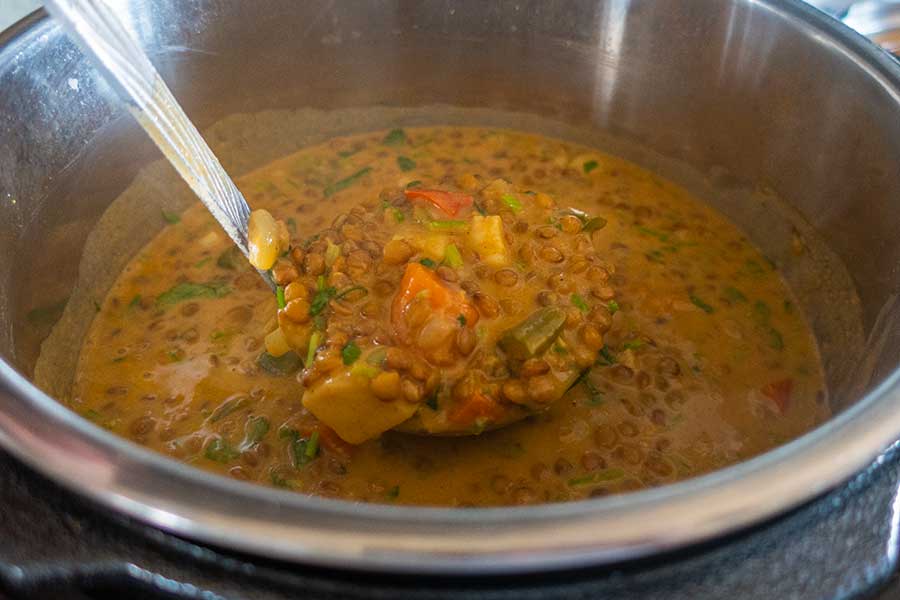 lentil stew stovetop version,
If you don't have an instant pot, you can make this lentil dish on the stovetop. To cook the stew on the stovetop, follow steps as per recipe except increase the cooking time by about 20 minutes. The stew should be cooked over medium-low heat until the brown lentils are tender.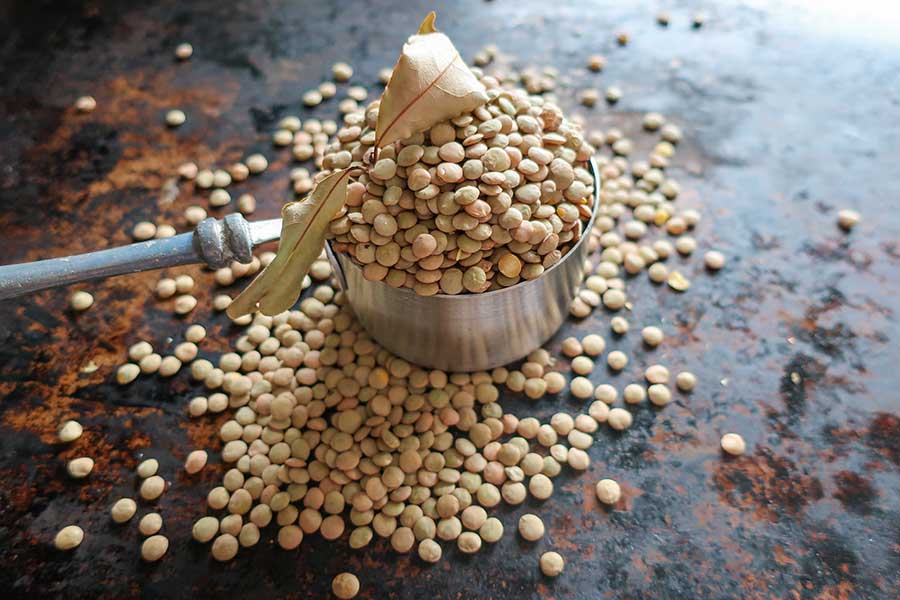 health benefits of lentils,
Lentils come in various colours. Brown, green, black, orange, gold and coral. All the lentils have different textures and flavours. However, nutritionally they are pretty much the same, except for black lentils. They are the healthiest.
I like to use brown lentils because they are smaller than green lentils, and in my opinion, they have a better texture, and I prefer the flavour.
Lentils grow in pods like beans and peas, so they are considered legumes. This tiny legume is low in calories and rich in dietary fiber, about 15.6 grams per cup of cooked lentils. This immune boosting lentil salad is especially delicious!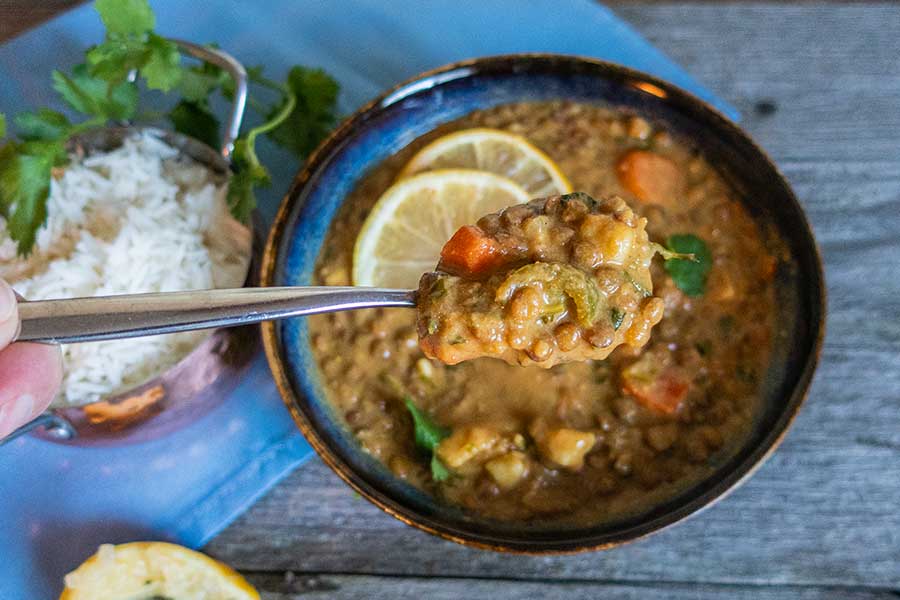 I am super excited to share this Somali inspired lentil stew recipe, because it is naturally gluten-free, delicious, packed with healthy nutrients and quick and easy to make. Serve with rice or gluten-free naan bread. Enjoy
For the latest recipes and tips, please like us on Facebook or follow us on Pinterest and Instagram.
Instant Pot Somali Lentil Stew
Published on Jan 29, 2021
by
Kristina Stosek
Instructions
1.

Set instant pot to saute function and add olive oil. When the olive oil starts to shimmer, add onions and cook until softened. About 5 minutes

2.

Add garlic, bell pepper, sweet potato, carrots, jalapenos, ginger and spices. Stir to combine and coat with the onion mixture.

3.

Add tomato sauce and lentils and give it a good stir. Add water and salt, cover and set the instant pot to manual. Cook under high pressure for 10 minutes.

4.

Once done cooking, use the quick release function and release the steam

5.

Stir in coconut milk, cilantro and lemon juice. Reheat if needed, and enjoy with a bowl of rice or naan bread

6.

Stovetop; follow steps as per recipe except increase the cooking time by about 20 minutes. The stew should be cooked over medium-low heat until the brown lentils are tender.
Leave a Comment
Kristina
No I am sorry, I do not provide nutritional or calorie information at this time. Here is a good link to use to calculate the calories https://caloriecontrol.org/healthy-weight-tool-kit/food-calorie-calculator/
Do u know how many calories in 1 serving
Kristina
thank you John, I hope you will try some of our other IP recipes, they are just as easy and delicious!
I just bought an Instant Pot and this was my first recipe. I must say, I was amazed how delicious this stew came out, and it was so easy to make. Thank you, your recipes are super easy and delicious!
Kristina
I agree with you Mike and thank you
Amazing dish!!! Make extra, you will want thirds