Healthy Vegetarian Ukrainian Borscht Recipe
Published on Jun 04, 2014
by
Kristina Stosek
Prep Time:

20 minutes
Cook Time:

35 minutes
Serves:

6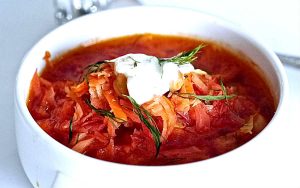 ​This post may contain affiliate links, please see our
privacy policy
for details
Healthy Vegetarian Ukrainian Borscht packed with flavour and healthiness. This hearty soup is a vegetarian version of the borscht recipe. This traditional borscht is made with plenty of vegetables such as cabbage, beets, chickpeas, carrots and tomatoes and served with a dollop of yogurt or sour cream.
classic seasoning for Ukrainian borscht,
To flavour the borscht, I used caraway seeds, healthy dill, garlic, chilli peppers and apple cider vinegar. The borscht is often served with extra fresh dill.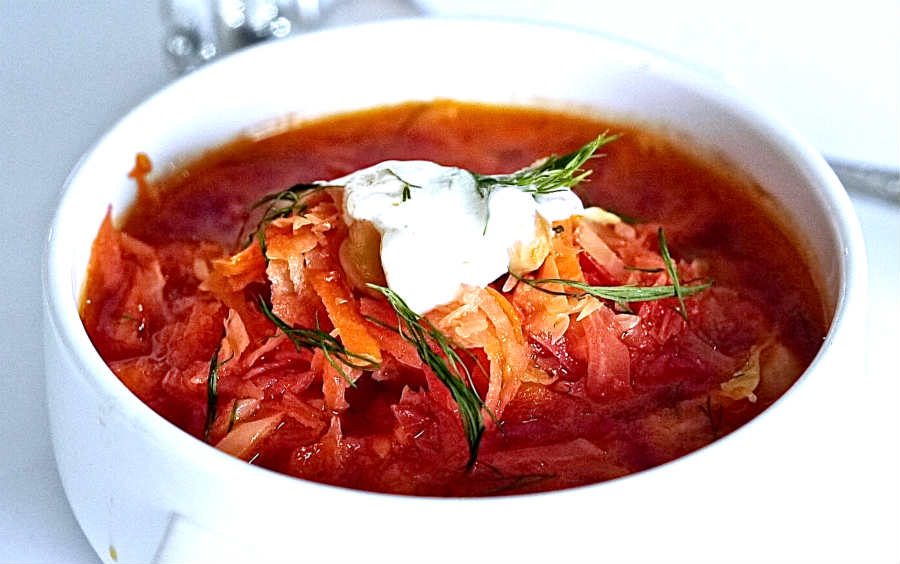 The borscht tradition.
Borscht originated in Ukraine and is most common in Eastern Europe. There are many versions of this soup, depending on your tradition. Some have meat and or potatoes and pickled beets.
In Poland, borscht is typically served at Christmas time, and it is considered the Christmas Eve dinner. The red colour comes from the beetroot, and the broth is clear and always vegetarian.
This healthy soup is packed with nutrients, antioxidants and is very flavourful. Ukrainian Borscht is served hot or cold and sometimes with a boiled potato and crusty bread.
If you are searching for holiday recipes, check out our selection of gluten-free Christmas recipes.
Healthy Vegetarian Ukrainian Borscht Recipe
Published on Jun 04, 2014
by
Kristina Stosek
Instructions
1.

In a large soup pot, saute onions in olive oil until translucent. Add caraway seeds and stir to combine

2.

Add balance of ingredients except for garlic and cover. Simmer for 30 minutes. The veggies should be tender but firm to bite

3.

Remove from the heat and stir in garlic

4.

To serve, ladle soup into bowls and top with yogurt or sour cream and fresh dill