Gluten-Free Skinny Vegetarian Moussaka
Prep Time
30 Minutes
Difficulty
Easy
Cook Time
60 Minutes
Serves
6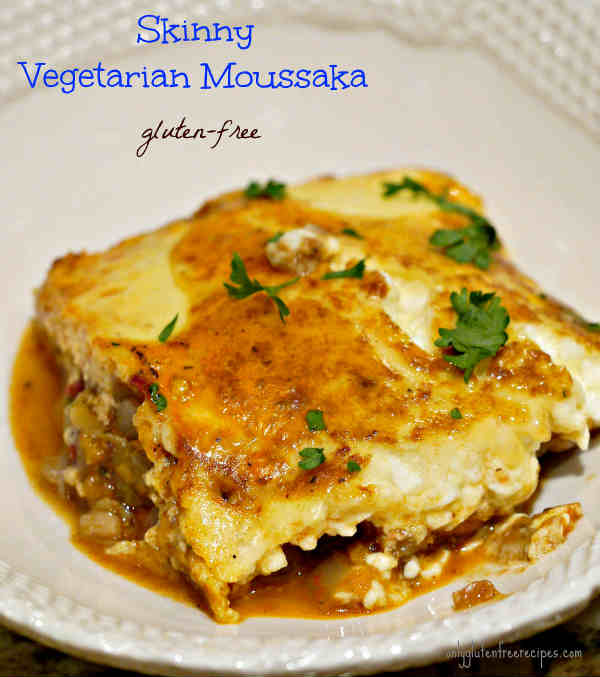 Average Rating: 5 | Rated By: 4 users
This recipe is a healthier version of classic Moussaka. This delicious Greek dish is made with all the delicious ingredients that a classic Moussaka recipe has except with less fat. This gluten-free skinny vegetarian moussaka is outstanding!
Ingredients
2 medium-size Japanese eggplants or use 1 large Italian eggplant
2 Tbsp. extra virgin olive oil plus some for brushing
2 medium size onions, thinly sliced
3 garlic cloves, crushed
2 tsp. GF ground paprika
2 tsp. GF dry oregano leaves
1 GF bay leaf
½ tsp. cayenne pepper (optional)
¼ tsp. GF ground cinnamon
4 large tomatoes, chopped
¾ cup vegetable broth or water
1 yellow or red bell pepper
2 cups sliced mushrooms
½ small sweet potato, peeled and grated (should make 1 cup)
1 medium size zucchini with skin, grated
1 tsp. sea salt
¼ cup chopped fresh parsley
2 Tbsp. GF ground flax seed
BECHAMEL SAUCE
1 cup milk
¼ cup brown rice flour
2 cups (454 g) creamed cottage cheese, room temperature or low fat ricotta cheese
½ cup grated Parmesan cheese
2 eggs, whisked
1 garlic clove, minced
1 tsp. lemon zest
1/8 tsp. GF ground nutmeg
1/8 tsp. GF ground black pepper
Instructions
Preheat oven to 375 F
Cut eggplant into 1/4-inch thick circles and place on a baking tray lined with parchment paper. Brush with olive oil and sprinkle with salt ad pepper. Bake for 30 minutes
Meanwhile heat 2 tablespoons of olive oil in a medium-size pot over medium heat. Add onions and sauté for 10 minutes. Stir in garlic, paprika, oregano, bay leaf, cayenne and cinnamon until fragrant.
Add tomatoes, broth, red pepper, mushrooms, sweet potato, zucchini and salt. Cover and simmer on low heat for 20 minutes, stirring occasionally. Add parsley and flax seed and cook 5 more minutes. Remove bay leaf
BECHAMEL SAUCE
In a small pot whisk together milk and rice flour. Simmer over medium heat while stirring until sauce thickens, about 5 minutes.
In a medium size bowl combine ricotta cheese, Parmesan cheese, garlic, lemon zest, nutmeg and black pepper, and then stir in cooked milk sauce and then the eggs
- To Construct -
Preheat oven to 400 F
Spread 1 cup of vegetable sauce on the bottom of a 9x13-inch casserole dish. Place eggplant evenly over the sauce. Cover with vegetable sauce over eggplant and top with béchamel sauce. Bake for 30 minutes or until top is golden.
Remove from oven and let rest for 20 minutes, before serving
Similar Recipes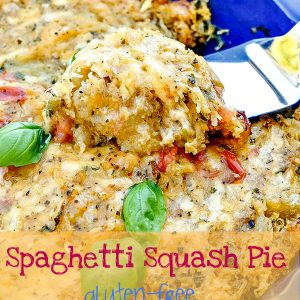 Gluten Free Spaghetti Squash Pie
This spaghetti squash pie is a tasty savoury vegetarian dish made with spaghetti squash, Italian herbs, fresh tomatoes and mozzarella cheese. This delicious squash is lower carb alternative to pasta or other squash. If you are following a paleo diet, this tasty gluten free spaghetti squash pie is for you! Serve as lunch with a […] Read More
Prep Time
10 Minutes
Difficulty
Easy
Cook Time
40 Minutes
Serves
6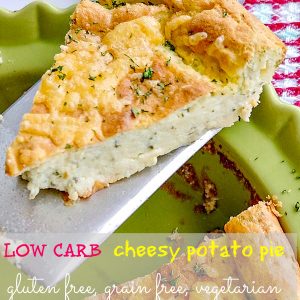 Low Carb Cheesy Potato Pie
Looking for life changing potatoes? You will love this easy cheesy potato pie recipe that has only 23 carbs per serving. This savoury pie is gluten free, grain free, vegetarian and deliciously flavoured with two types of cheeses. Whether entertaining or having a family dinner, this pie will always be a hit. Potatoes are considered […] Read More
Prep Time
15 Minutes
Difficulty
Easy
Cook Time
85 Minutes
Serves
6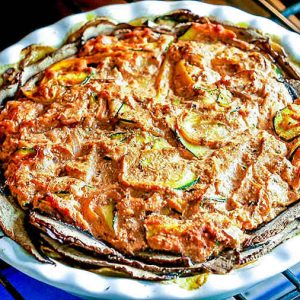 Mediterranean Vegetable Pie In A Potato Crust
There are eight vegetables in this healthy gluten-free vegetable pie. The tasty vegetarian pie has a crust made of a thin layer of potatoes and the vegetables are baked in spiced Italian sauce and creamy ricotta cheese. Because the crust is made with potatoes, this pie is completely grain-free Read More
Prep Time
20 Minutes
Difficulty
Intermediate
Cook Time
50 Minutes
Serves
6