Roasted Butternut Squash Salad
Published on Oct 20, 2021
by
Kristina Stosek
Prep Time:

15 minutes
Cook Time:

20 minutes
Serves:

4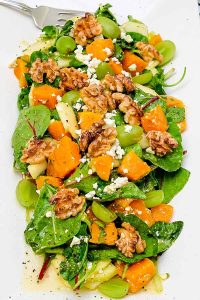 ​This post may contain affiliate links, please see our
privacy policy
for details
A Healthy Roasted Butternut Squash Salad that will keep you coming back for more. Meet your new power salad, vibrant and nutritious, with just a touch of citrusy vinaigrette.
The robust flavours of butternut squash and the saltiness of feta cheese go exceptionally well with apples, grapes and walnuts. This vegetarian butternut squash salad is always popular with the diet savvy.
This Salad Is A Meal In A Bowl
When the cooler weather comes around, or you are craving a substantial salad, just greens will not cut it.
In this nutrient-packed salad, the star ingredient is butternut squash. The squash is coated with maple syrup and olive oil and then slowly roasted to perfection. The caramelized squash is buttery, insanely delicious, and a great addition to any salad.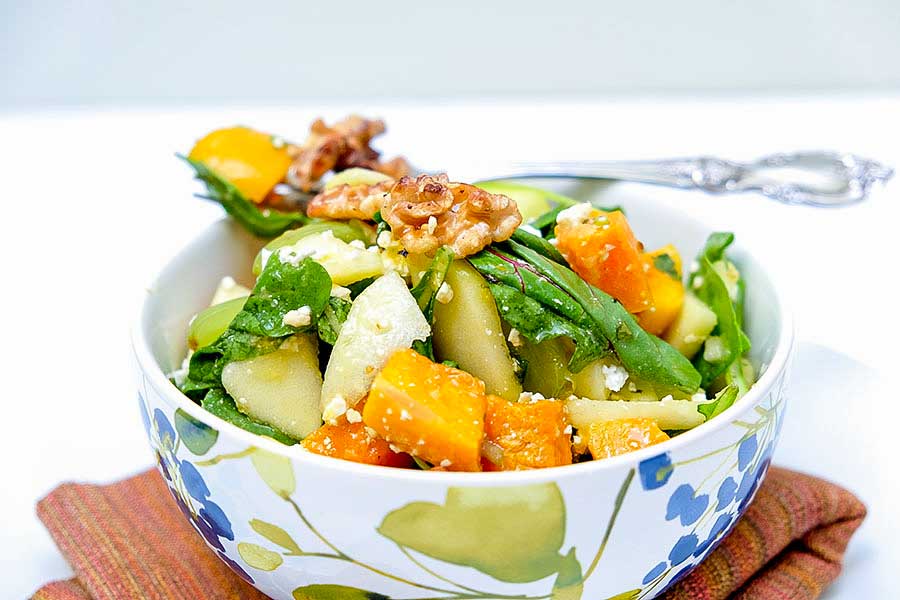 What goes well with butternut squash in a salad?
In this salad, the squash, apples and grapes add sweetness. Then, to balance the flavour and add a punch of saltiness is the creamy feta cheese. And for some crunchiness and to add richness, the addition of heart-healthy walnuts.
orange vinaigrette for butternut squash salad
I always feel that you can't have a delicious salad without the right dressing. Sometimes we need creamy dressing such as the light blue cheese dressing, or another times, a light vinaigrette.
I wanted something citrusy for this roasted butternut squash salad because it would go well with the apples and grapes. And, the orange flavour will not overpower the fruit in this salad. The light fruity vinaigrette will enhance the freshness of this healthy salad, making it so good!
Is butternut squash fruit or a vegetable?
Butternut squash is one of the most versatile fruits. Yes, this orange-fleshed winter squash is a fruit. Although, it is more often used as a vegetable in savoury dishes such as this Thai Red Curry With Chickpeas and Butternut Squash. If you are looking for a hearty vegan soup, then try this Vegan Lentil Butternut Squash Soup Recipe.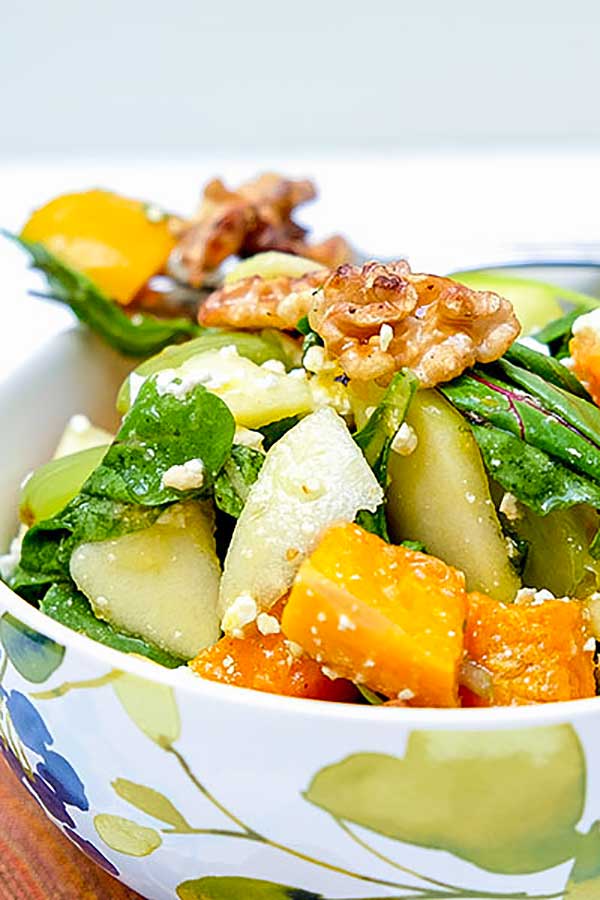 Is butternut squash healthy?
You will be impressed with its nutritional panel. This fruit is packed with vitamins, minerals and plenty of dietary fiber and antioxidants. In addition, the squash is not shy of calcium, iron, phosphorus, and copper.
You can add butternut squash to both sweet and savoury dishes because of its mild flavour. By adding butternut squash to salads, they become more filling and healthier. And when squash is roasted, especially with a splash of maple syrup, you know the salad will be a winner.
If you are looking for butternut squash recipes, check out our complete list of healthy butternut squash savoury dishes.
Roasted Butternut Squash Salad
Published on Oct 20, 2021
by
Kristina Stosek
Instructions
1.

Preheat oven to 400 F. Line a baking sheet with foil

2.

Toss butternut squash with olive oil, maple syrup, pepper and salt. Place squash on the prepared baking sheet and roast for 20 – 25 minutes, until tender. Set aside to cool

3.

While the squash is roasting, prepare the vinaigrette. Whisk together orange juice, apple cider vinegar, shallots, olive oil, maple syrup and basil.

4.

To assemble, place the greens in a salad bowl, add roasted squash, apples and grapes, season with salt and pepper and gently toss with the orange vinaigrette.

5.

Top with feta cheese and toasted walnuts. Enjoy