Vegan Lentil Butternut Squash Soup
Prep Time
15 Minutes
Difficulty
Beginner
Cook Time
50 Minutes
Serves
4-6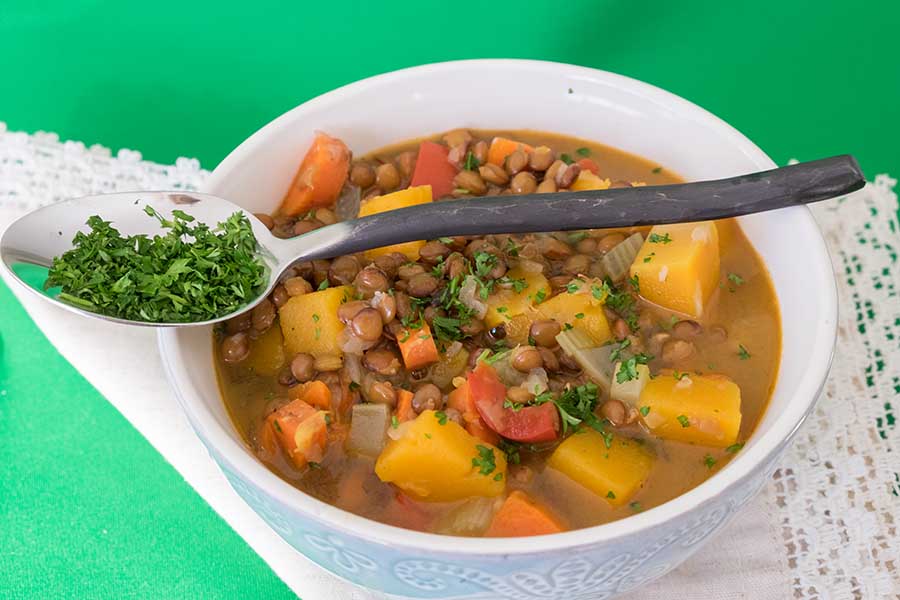 Be the first to rate this recipe.
This is a simple, healthy lentil butternut squash soup with a lot of flavours. The earthy lentils combined with the sweetness of butternut squash make a super tasty hearty soup. Lentils are high in protein and other essential nutrients. Butternut squash is also a vegetable not to be ignored. The tasty squash contains highest levels of vitamin-A and more potassium than a banana. Serve as a starter or a complete gluten free meal in a bowl
Ingredients
1 ¼ cup whole dried lentils
2 Tbsp. coconut oil or extra virgin olive oil
1 medium size yellow onion, chopped
2 stalks of celery, diced
2 carrots, diced
½ red bell pepper, sliced
2 garlic cloves, crushed
1 tsp. minced ginger
½ tsp. GF ground cinnamon
4 cups GF vegetable broth + 1 cup water
2 cups cubed butternut squash (about 3/4-inch in size)
Sea salt and GF black pepper to taste
1 Tbsp. apple cider vinegar
¼ cup chopped fresh parsley
Instructions
Soak lentils in hot water for 1 hour, then drain
In a large soup pot heat, coconut oil over medium heat. Add onions and cook until translucent. About 5 minutes
Stir in celery, carrots, bell pepper, garlic, ginger, and cinnamon and cook for 1 minute
Add broth and water, butternut squash and season with salt and pepper. Cook covered over low heat for 30 – 40 minutes or until the lentils are tender
Remove from the heat and add apple cider vinegar and parsley. Enjoy!
Similar Recipes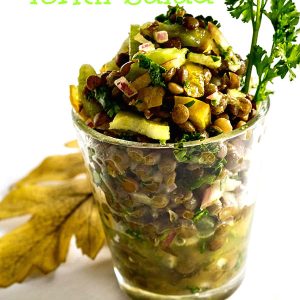 Detox Lentil Salad Recipe
Lentils an ancient food are the powerhouse of nutrients. Some of the health benefits include high protein, iron, folate, vitamin B1, healthy heart, weight loss, cancer, help with digestions, and maintain healthy nervous system just to name a few. This vegan recipe comes together fast and easy with added health benefits that help detox your […] Read More
Prep Time
10 Minutes
Difficulty
Easy
Cook Time
25 Minutes
Serves
6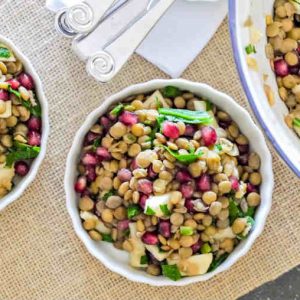 Lentil and Pomegranate Salad Recipe
In this scrumptious rainbow salad, the pomegranate adds delicious citrusy flavour and a lovely texture. This diet-friendly vegan salad is packed with fiber, antioxidants, iron and protein. Lentil and pomegranate salad adds a nice touch to outdoor cooking or large dinner parties Read More
Prep Time
5 Minutes
Difficulty
Easy
Cook Time
20 Minutes
Serves
4
Classic Vegetarian Lentil Soup
This classic vegetarian lentil soup is packed with flavour and interesting textures. Lentils are rich in folate and fiber so you can have healthy without giving up the delicious taste. Serve with a slice of gluten free herb and garlic bread Read More
Prep Time
20 Minutes
Difficulty
Easy
Cook Time
65 Minutes
Serves
4