Vegan Lentil Butternut Squash Soup
Published on Sep 04, 2017
by
Kristina Stosek
Prep Time:

15 minutes
Cook Time:

50 minutes
Serves:

4-6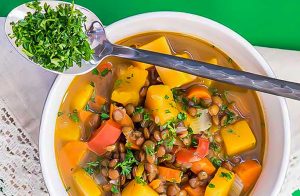 ​This post may contain affiliate links, please see our
privacy policy
for details
Look no further than this vegan lentil butternut squash soup recipe if you're looking for a hearty, healthy soup to keep you warm during cooler months.
This satisfying plant-based soup is made from dry lentils, butternut squash, celery, carrots and bell peppers. I added onions, garlic, ginger, and cinnamon to season the soup.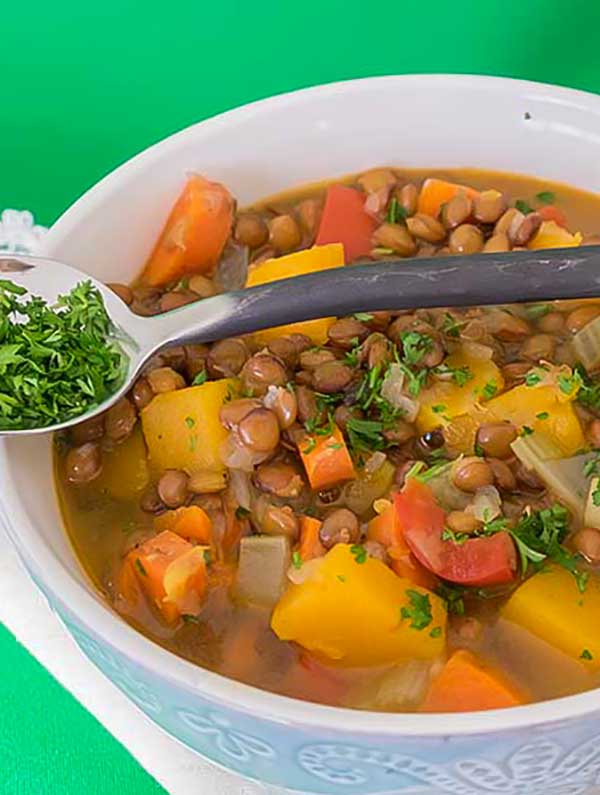 The fresh parsley and apple cider vinegar tie everything together and add freshness and a zesty flavour. I can't tell you just how delicious this lentil butternut squash soup is.
You can also make this naturally gluten-free soup in advance. The soup's flavour is even better the next day or the day after. And this soup will keep up to five days in the refrigerator.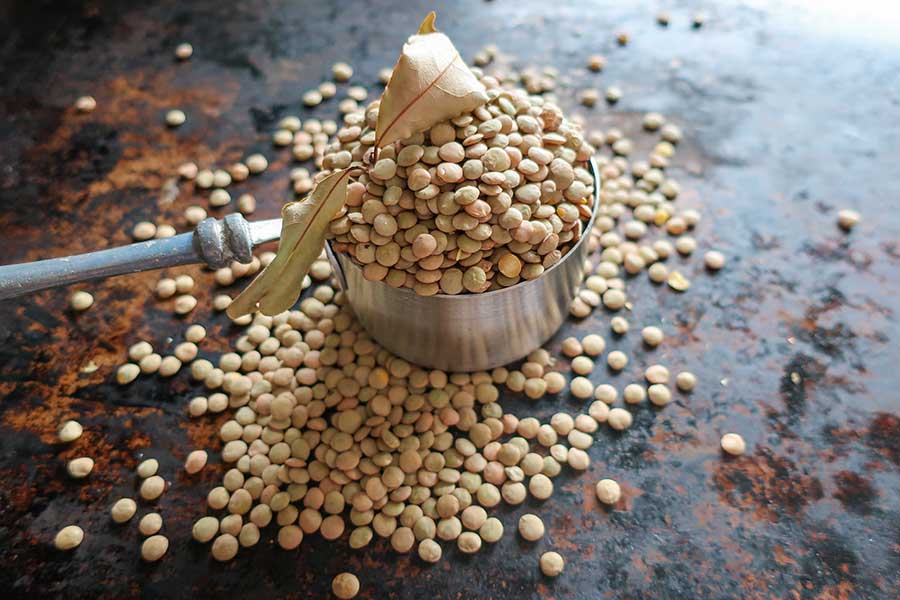 What are lentils?
Lentils are a type of legume that are small, disk-shaped, and have a variety of colours, including green, brown, red, and black. They are often cooked in soups, stews, and curries and are highly nutritious.
Are lentils good for weight loss?
The answer is YES! They are low in calories and a great dietary fiber and protein source. They will fill you up without adding extra calories to your meals.
Lentils are generally also lower in carbs than other legumes. For example, half a cup of cooked lentils has only 12 grams of net carbs.
Butternut squash is another excellent ingredient in this soup for weight loss. It has only about 7 grams of net carbs per half a cup of cubed squash and only 23 calories.
Everything you need to know about lentils
Lentils are a type of legume that is often used in soups and stews. They come in many colours, but the brown lentil is the most common type.
Lentils are relatively easy to cook and only need to be simmered in water for about 20 minutes. You can also add them to other dishes such as rice or salads, like this Immune Boosting Lentil Salad.
Lentils can be a great addition to a plant-based diet, as they are a good source of protein, fiber and iron. To get inspired, check our complete list of gluten-free lentil recipes.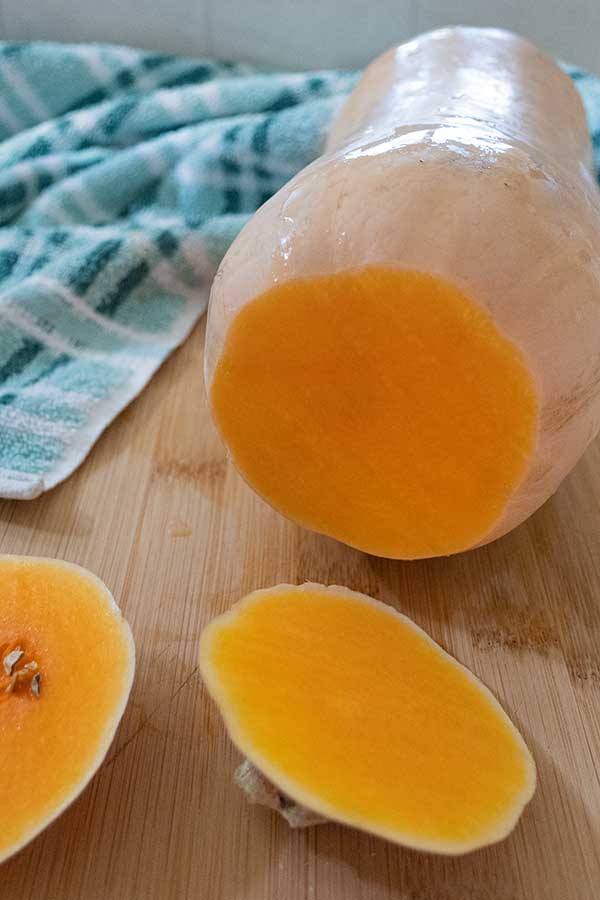 Why add butternut squash to lentil soup
There are a few reasons why adding butternut squash to lentil soup is a great idea. First, the squash adds a lovely sweetness and depth of flavour to the soup.
Additionally, the squash provides a good source of vitamins A and C, fiber, and potassium.
Finally, the squash helps to thicken the soup, making it even more filling and satisfying.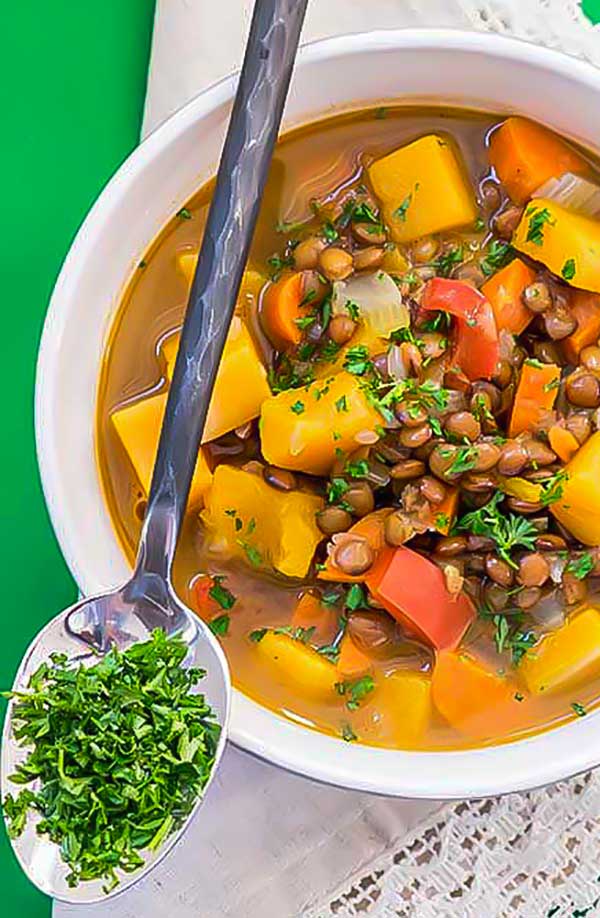 Why are vegan soups so tasty?
There are a few reasons why vegan soups are so tasty. However, the main reason is that the soups are made with various vegetables, which add many flavours and textures.
Also, vegan soups are made with fresh herbs, spices, and sometimes fresh lemon juice, lime juice, or apple cider vinegar.
And for creaminess, they are often made with rich coconut milk, another flavour to add when making a plant-based soup.
Where does lentil soup originate from?
Lentil soup is a dish that has been around for centuries. It is believed to have originated in the Middle East and has been a staple in many cultures ever since.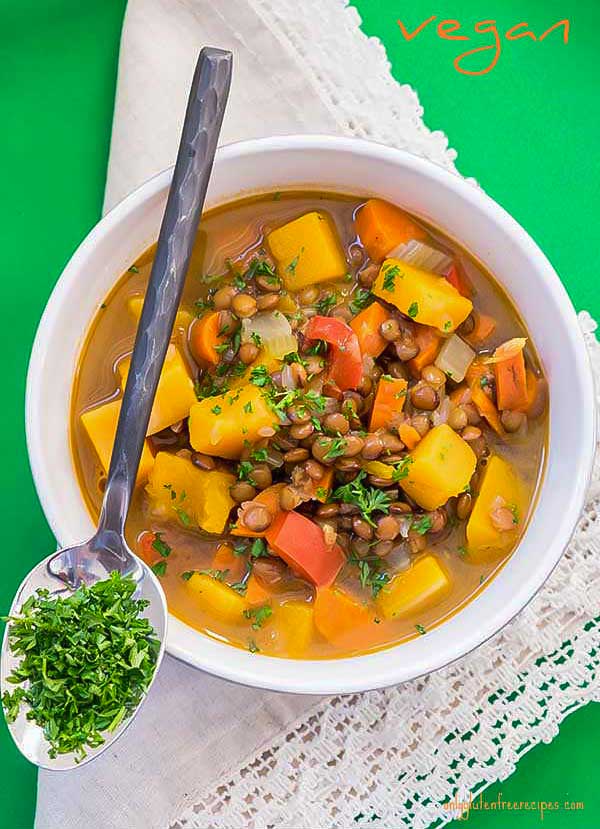 lentil soup is a budget-friendly recipe
Lentils are a budget-friendly ingredient, and this vegan lentil soup is no exception. This soup is delicious and nutritious and is packed with healthy ingredients like lentils, butternut squash, celery, and carrots.
How to cook lentils?
Lentils are a type of pulse, or legume, which are the edible seeds of plants in the legume family. They are typically small and round.
There are many different types of lentils, which can be divided into categories: red/yellow, brown and green lentils.
Red/yellow/brown lentils are often used in Indian and Pakistani dishes, while green lentils are more common in French and Italian cuisine.
So, there you have it! This vegan lentil butternut squash soup is an excellent addition to a plant-based diet and great for keeping a healthy weight.
I hope you enjoy this soup, and if you have any questions or comments, feel free to leave them below. Thanks for reading!
Let's Connect!
Be sure to FOLLOW US on FACEBOOK and PINTEREST.
Many thanks!
Kristina xx
Vegan Lentil Butternut Squash Soup
Published on Sep 04, 2017
by
Kristina Stosek
Instructions
1.

Soak lentils in hot water for 1 hour, then drain

2.

In a large soup pot over medium-low heat sauté onions in coconut oil until translucent. About 5 minutes

3.

Stir in celery, carrots, bell pepper, garlic, ginger, and cinnamon and cook for 1 minute

4.

Add broth, water, and butternut squash and season with salt and pepper. Simmer covered for 30 – 40 minutes or until the lentils are tender

5.

Remove from the heat, and stir in apple cider vinegar and parsley. Enjoy!
Leave a Comment
filling and tasty vibrant lentil soup, I love the idea of the apple cider vinegar
Award winning vegan soup!!