Soft Keto Cappuccino Chocolate Chunk Cookies
Prep Time
10 Minutes
Difficulty
Easy
Cook Time
15 Minutes
Serves
18
Be the first to rate this recipe.
These Soft Keto Cappuccino Chocolate Chunk Cookies are for adults only! They are made with coffee and chocolate chunks and are keto-friendly. Therefore low carb 🙂
In this keto recipe I used almond flour, coconut flour, a little butter and cream, coffee and dark chocolate chunks YUM! As a sweetener, I used monk sugar. I will talk about this sugar later.
Moving on, who said you can't enjoy a cookie and still follow a low carb diet? If you like coffee and chocolate, you will love this cookie. It is not your typical crispy or chewy cookie. It's a soft melt in your mouth cappuccino flavoured cookie with chocolate chunks throughout.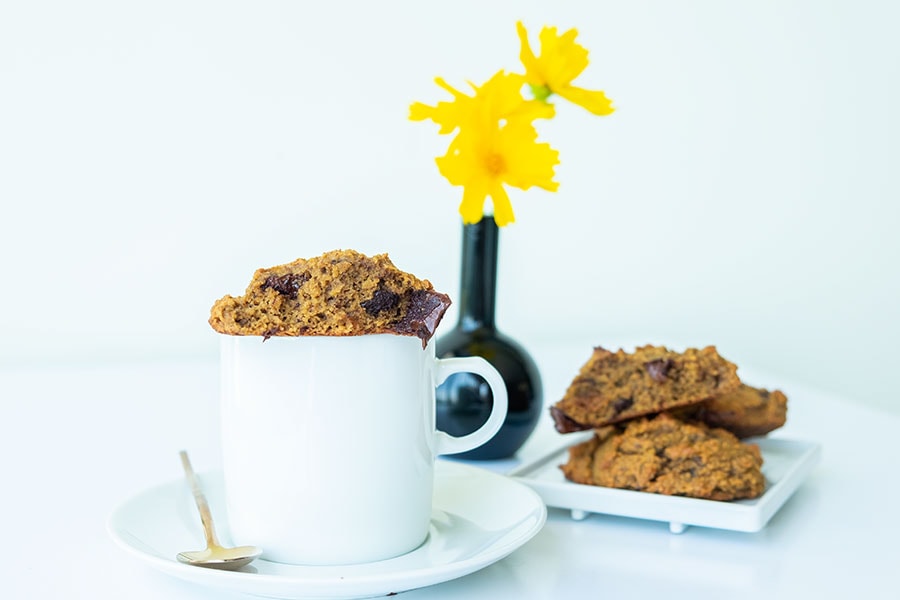 AWW… for me, a cup of good organic coffee with this gluten-free cappuccino chocolate chunk cookie is a perfect treat. I hope you enjoy it as much as I do! Check out our complete selection of cookie recipes here 
what is monk sugar?
Monk sugar is made from Monk fruit which originates from southeast Asia. The Monk fruit has been used for centuries as traditional Chinese medicine to treat inflammation and fever.
Monk fruit sweetener has zero net carbs, and since there is no sugar, it won't raise blood sugar, so a good substitute for those with diabetes.
It is important to buy pure monk because some brands have added sugar, or xylitol so make sure it is pure. My favourite brand is Purisure Monk fruit extract. There are other zero-carb sweeteners you can use, but I love Monk sugar in baking. My new go to no-carb sweetener!
Ingredients
1/3 cup cream
2 Tbsp. Instant coffee
1/4 cup melted butter
3 large eggs, at room temperature
1 tsp. Pure vanilla extract
1/2 tsp. Baking soda
1/4 tsp. Himalayan fine salt
*As an Amazon Associate and member of other affiliate programs, I earn from qualifying purchases. Please check out my sponsorship and disclosure policy page for more details
Instructions
Preheat oven to 350 F and line a large baking sheet with parchment paper
Heat the cream so it's hot enough to dissolve the instant coffee (you can use a microwave) and stir in the instant coffee. Bring to room temperature
Whisk butter with eggs, monk sugar and vanilla until creamy. Add the coffee cream and mix to combine
Mix almond flour, coconut flour, gelatin, baking soda, and salt. Add to wet mixture and mix to combine. Fold in the chocolate chunks and set aside for 5 minutes. The coconut flour will absorb the moisture
Using a medium-size cookie scoop or tablespoon drop the cookie batter about the size of a walnut onto the prepared baking sheet about 2 inches apart. Gently flatten them to about 1/2 inch thick. 
 Bake for 15 - 17 minutes until lightly browned. Cool on the baking sheet for 15 minutes and enjoy
Similar Recipes
Best Keto Chocolate Chip Pecan Cookies
A keto cookie studded with mini chocolate chips and healthy pecans that will melt in your mouth. This chocolate chip cookie is that perfect keto cookie recipe that we all need in our recipe box. The best part is they are undeniably the best keto chocolate chip cookies and only about 1 net carb per […] Read More
Prep Time
15 Minutes
Difficulty
Easy
Cook Time
15 Minutes
Serves
24
Keto Cream Cheese Lemon Bars (Gluten-Free)
These Keto Cream Cheese Lemon Bars are silky smooth, lemony with a buttery shortbread almond crust. This delicious keto dessert is made with two layers, a shortbread almond crust and creamy lemon layer. Both the shortbread crust and the lemon layer are simple to make.       First, you bake the crust, which has only […] Read More
Prep Time
20 Minutes
Difficulty
Easy
Cook Time
50 Minutes
Serves
24
Keto Mini Blueberry Cheesecakes
Delicious creamy Keto Mini Blueberry Cheesecakes…cream cheese, butter, coconut oil, fresh lemon juice, and plenty of fresh blueberries. To sweeten this keto blueberry dessert, I used erythritol. When following the keto diet, we often skip desserts. The reason for this is, a keto (ketogenic) diet is a low-carb, moderate protein, a higher-fat diet that can […] Read More
Prep Time
10 Minutes
Difficulty
Beginner
Serves
8