Healthy Edible Cookie Dough (Grain-Free, Egg-Free)
Published on Sep 07, 2020
by
Kristina Stosek
Prep Time:

5 minutes
Cook Time:

minutes
Serves:

4 cups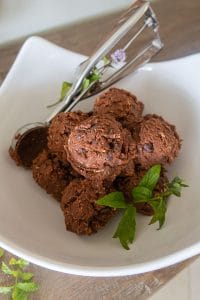 ​This post may contain affiliate links, please see our
privacy policy
for details
This is a Healthy Edible Cookie Dough! I know…you are thinking, how can raw cookie dough be healthy? And I agree, eating raw flour or raw eggs is unhealthy and can be irritating to our stomach. However, this edible cookie dough is made without flour and eggs.
edible cookie dough – the ingredients
This delicious raw cookie dough is made with chickpeas, nut butter, cocoa powder, coconut flour, almond flour, unsweetened shredded coconut, carob chips, and sweetened up with pure maple syrup.
Before I decided to create this edible cookie dough, I wanted to make sure it is packed with protein and fiber. Protein keeps us full, boosts our metabolism and gives us lasting energy.
And, fiber is essential to support a healthy weight. But more importantly, this simple protein cookie dough is so delicious!
The edible cookie dough is like eating a brownie.What I love about this grain-free and egg-free healthy snack, it takes five minutes to whip up.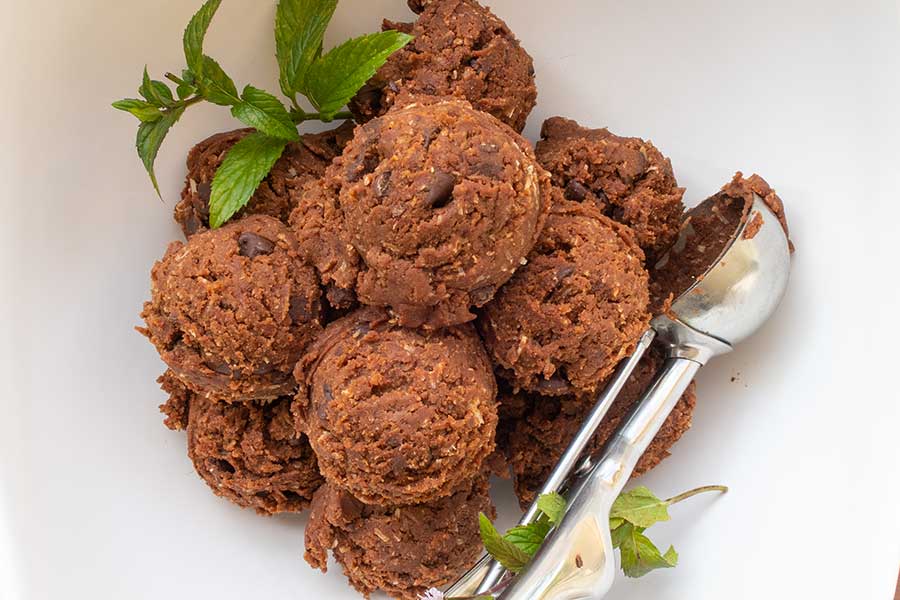 How to make edible cookie dough?
You will love this because the raw cookie dough is so easy to make. However, you will need a food processor. There are no other ways to make this edible cookie dough.
First, you process the chickpeas, nut butter, and maple syrup for the perfect cookie dough texture until creamy.
This step is essential to achieve a perfectly smooth cookie dough. This takes about a minute. Now you add the dry ingredients, almond flour, coconut flour and pure cocoa powder. Give it a good mix, about a minute.
You will need to scrape the sides of the food processor bowl to make sure everything is incorporated. Now the cookie dough is ready for the add-ins.
I used unsweetened shredded coconut and unsweetened carob chips. But you can substitute dark chocolate chips for the carob chips.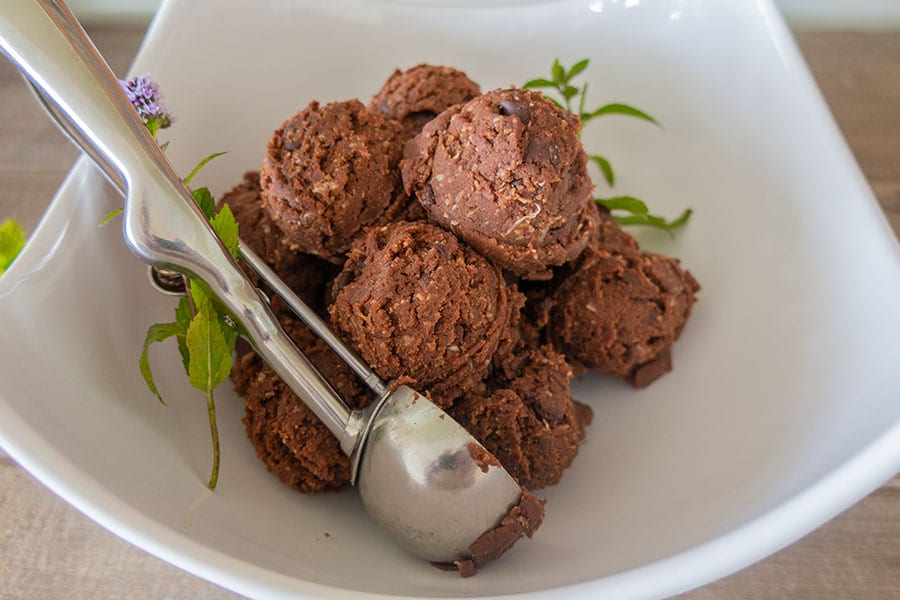 Carob chips are made from the pod of the carob tree. Carob is less bitter than cocoa, it has a mild natural sweetness and is naturally high in fiber and antioxidants. So an excellent addition to your edible cookie dough to keep a healthy weight and a healthy body.
I used small amounts of pure maple syrup for the sweetener, and as with all sweeteners, whether refined sugar or healthy pure maple syrup, it is still a sweetener and should be used only in small amounts.
However, two tablespoons of pure maple syrup provide half of your recommended daily intake of manganese, a mineral that is important for brain, nerve function and bone health.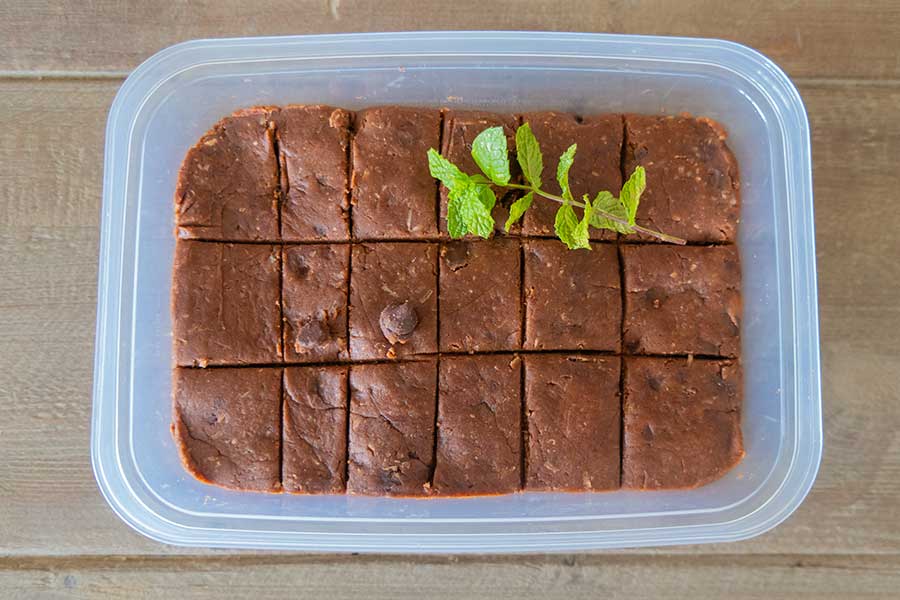 uses for edible cookie dough
This is the best part! Raw cookie dough can be used in many ways. You can roll the protein packed cookie dough into balls and enjoy them as an anytime snack or a pick me up for added energy.
My favourite way to enjoy the edible cookie dough is, I pack it in a container, cut it into small pieces and enjoy the raw cookie dough as brownies.
The healthy cookie dough makes for an excellent dessert. Other ways you can use it is over ice cream, chop it up into small pieces and add it to your cereal, or use it as a base for a cheesecake. I always keep a bowl of this incredibly tasty edible cookie dough in my fridge.
Why we love edible cookie dough?
The cookie dough recipe is super easy to make. It is packed with healthy nutrients, fiber and protein. There are many uses for raw cookie dough.
And it is incredibly delicious. I can't think of one reason not to keep this healthy sweet treat in my refrigerator…can you? For more delicious chocolate treats, check out our gluten-free chocolate dessert recipes!
Let's Connect!
Be sure to FOLLOW US on FACEBOOK and PINTEREST.
Many thanks!
Kristina xx
Healthy Edible Cookie Dough (Grain-Free, Egg-Free)
Published on Sep 07, 2020
by
Kristina Stosek
Instructions
1.

In a food processor, blend chickpeas, nut butter and maple syrup until creamy

2.

Add coconut flour, almond flour and cocoa powder and blend until smooth

3.

Add shredded coconut and carob/chocolate chips and pulse a few times until evenly distributed in the cookie dough

4.

Place in an airtight container and refrigerate