Gluten-Free Chocolate Crinkle Cookie Recipe
Published on Dec 10, 2019
by
Kristina Stosek
Prep Time:

10 + minutes
Cook Time:

12 minutes
Serves:

18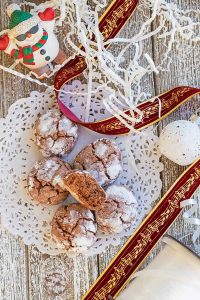 ​This post may contain affiliate links, please see our
privacy policy
for details
The gluten-free Chocolate Crinkle Cookie recipe is a must-have holiday recipe. Whether you are looking for a holiday cookie, a hostess gift, or just that freshly baked sweet treat, this classic chocolate crinkle cookie is always a big hit.
This melt in your mouth crinkle cookie is probably one of the easiest gluten-free cookie recipes. These cookies are made in a jiffy with only a few ingredients, a few minutes of prep time, and a short chill time.
This recipe is adapted from the classic chocolate crinkle cookie recipe, but I have substituted maple syrup for sugar and made it without gluten.
These holiday cookies are fudgy, not too sweet and lightly coated with powdered sugar. And, they taste just the way you remember them.
The best part about this gluten-free cookie recipe, you probably already have all the ingredients in your pantry.
A holiday dessert platter wouldn't be complete without crinkle cookies. Christmas is all about traditions, fond memories, delicious food and family get togethers.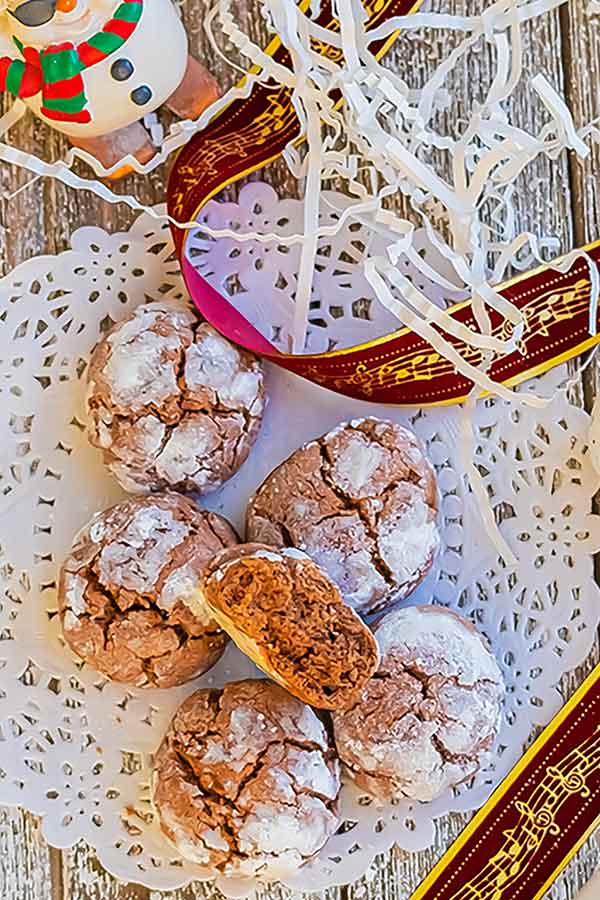 only a few steps and a few ingredients…
the details,
9 ingredients
Whisk 3 dry ingredients in a bowl; flour, baking powder and cocoa powder
Beat together 5 wet ingredients; butter, maple syrup, egg, milk and vanilla
Fold in dry ingredients and form a ball of dough
Chill
When ready; form the dough into small balls and lightly roll in powdered sugar
Bake
Eat 🙂
brief history of crinkle cookie,
Did you know that a crinkle cookie is an American cookie? The famous cookie is an original Betty Crocker recipe. The flavours of this traditional cookie vary, but the chocolate one is a holiday classic.
I highly recommend eating them when they are slightly cooled but still warm. There is nothing more satisfying than a warm chocolate crinkle cookie melting in your mouth. Especially with a cup of hot chocolate and marshmallows. YUM! Need more holiday cookie recipes? Check out our popular gluten-free chai spiced thumbprint cookie or grain-free gingerbread cookie
Gluten-Free Chocolate Crinkle Cookie Recipe
Published on Dec 10, 2019
by
Kristina Stosek
Instructions
1.

Using a medium bowl whisk together flour, baking powder and cocoa powder

2.

In the bowl of a stand mixer, add the butter and maple syrup. Beat on medium-high speed until blended. Add milk, egg and vanilla and beat on medium-low speed for 1 minute

3.

Gradually fold in flour mixture until blended. Form the dough into a ball and wrap with a plastic wrap. Refrigerate for 1 hour

4.

Once you are ready to bake the cookies preheat oven to 350 F and line a large baking tray with parchment paper

5.

Form the dough into 18 balls about the size of a walnut Roll each ball in the powdered sugar and place 2 inches apart on the prepared baking tray

6.

Using your fingers or a spatula slightly flatten the balls. Bake for 12 minutes

7.

Slightly cool on the baking tray before transferring onto a platter