Chai Spiced Thumbprint Cookies – Gluten Free
Prep Time
15 Minutes
Difficulty
Easy
Cook Time
15 Minutes
Serves
18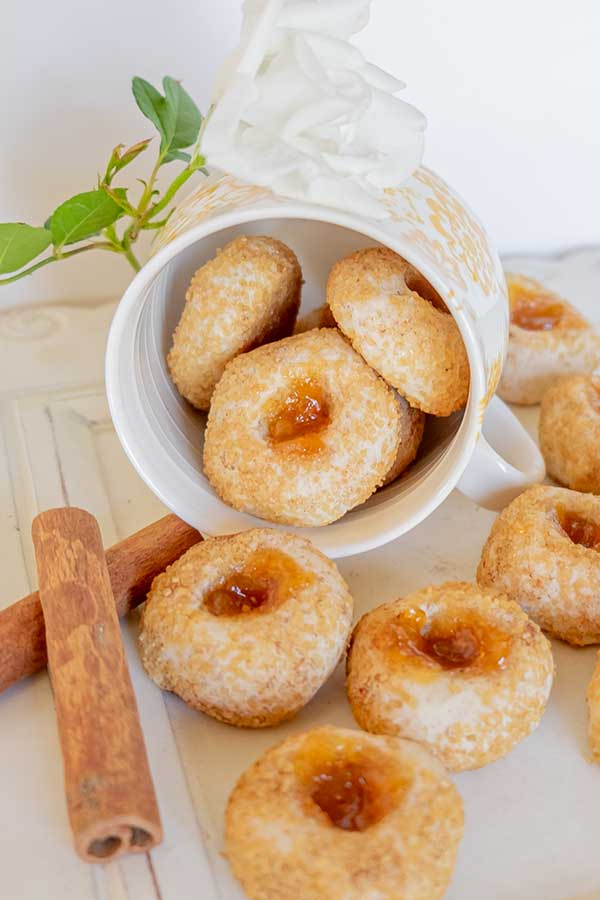 Be the first to rate this recipe.
Gluten-Free Chai Spiced Thumbprint Cookies…yes it is that time of the year to start with festive cookies. Perfectly spiced with chai spices, coated with spiced sugar mix and finished with ginger marmalade. This gluten-free chai spiced thumbprint cookie is a one-bowl recipe and so much fun to make. Deliciously flavoured with chai spices, such as cardamom, ginger, cinnamon, nutmeg and a pinch of black pepper. The chai flavour is not overpowering, but it does make this cookie extra special. The cookies are extra buttery with a dollop of ginger marmalade in every cookie. I used ginger marmalade, but feel free to use any jam or marmalade that you love. The reason I used ginger flavour is because it ties in beautifully with the chai spices. There is so much flavour going on in these festive gluten-free cookies.
For the recipe, it is straight forward. All you need is one bowl, so super easy cleanup. First, you combine the butter, sugar, egg, vanilla and spices. Then you mix in the flour and create small cookie balls. What I love about this cookie dough it does not stick to your hands when you are making the balls. Then roll the balls in spiced sugar, create a small hole in the middle of each cookie and fill with marmalade. That is it, nothing to it. When it comes to holiday baking, I sometimes use refined sugar….sorry, but once in a while, we can all indulge — the good thing about this recipe, I used less than half the sugar you would use in a typical sugar cookie recipe. I am super excited about this cookie because it is festive and delicious to every last bite. I feel it is never too early to start collecting cookie recipes for the holiday season, don't you agree? Enjoy!
Ingredients
½ cup unsalted butter, at room temperature
1 large egg white, at room temperature
1 ½ tsp. pure vanilla extract
1/4 tsp. GF ground ginger
1/4 tsp. GF cinnamon
1/4 tsp. GF ground cardamom
1/8 tsp. GF nutmeg
Pinch of GF ground black pepper
TOPPING
2 Tbsp. turbinado sugar (minimally refined raw cane sugar with caramel flavour)
1/4 tsp. GF cinnamon
1/4 tsp. GF ground ginger
3 Tbsp. ginger marmalade
Instructions
Preheat oven to 325 F and line a baking tray with parchment paper
In a large bowl beat together butter, sugar, egg white, vanilla, ginger, cinnamon, cardamom, nutmeg and black pepper until creamy
Add flour, using a spatula blend together until cookie dough forms
Scoop the dough about the size of a walnut and roll into a ball. You should have 18 balls
For the topping; mix turbinado sugar with cinnamon and ginger Roll the cookie ball lightly in the spiced sugar mix and place on prepared baking sheet
Using your finger, poke a hole in the center of each cookie and fill with marmalade
Bake for 15 - 17 minutes until the edges start to golden. Transfer onto a cooling rack
Similar Recipes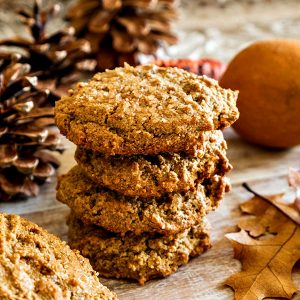 Gluten Free Grain Free Gingerbread Cookies
I created this healthy gingerbread cookie to accommodate most diets. It is grain free, paleo, dairy free, egg free and nut free. This cookie is the powerhouse of cookies. Although I have named it a cookie, it should be labeled healthy energy snack. This scrumptious cookie is made with pumpkin seeds. Pumpkin seeds are well […] Read More
Prep Time
15 Minutes
Difficulty
Easy
Cook Time
15 Minutes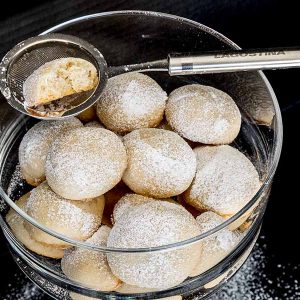 Gluten Free Vanilla Shortbread Cookies
This gluten free shortbread cookie will melt in your mouth. Shortbread cookies are always popular, especially during holiday season. All you need is one bowl and thirty minutes to whip up this cookie recipe. Next time you need a hostess gift, bring these mouthwatering shortbread cookies, they are always popular. No one will ever know […] Read More
Prep Time
10 Minutes
Difficulty
Easy
Cook Time
17 Minutes
Serves
18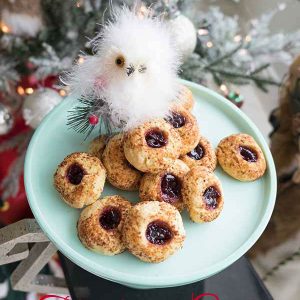 Gluten-Free Thumbprint Cookies
It is that time of year when baking is in full swing and Christmas traditions begin. Gluten-Free Thumbprint Cookies cookies are always on top of my list. The cookies are festive and pretty because they have jam in the center. They will melt in your mouth. With only a few basic ingredients, you can also […] Read More
Prep Time
20 Minutes
Difficulty
Easy
Cook Time
15 Minutes
Serves
18 cookies