Skillet Chocolate Chip Cookie with Coconut (Grain-Free)
Published on Apr 23, 2020
by
Kristina Stosek
Prep Time:

10 minutes
Cook Time:

20 minutes
Serves:

6 - 8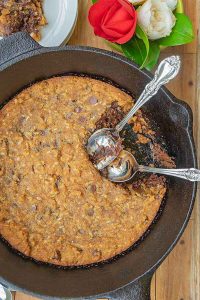 ​This post may contain affiliate links, please see our
privacy policy
for details
Ooey gooey Skillet Chocolate Chip Cookie with Coconut made without grains. The cookie is shaped like a pizza and eaten straight out of the oven. Who doesn't love a warm cookie made with chocolate melting in your mouth? It's beyond delicious. This is a family friendly chocolate chip and coconut cookie, so grab your spoons and dig in.
♥

This cookie is gluten-free and grain-free 🙂

When I decided to make this cookie, I wanted to keep it grain-free. Why not something different than the basic skillet chocolate chip cookie. So, I used only healthy, nutrient packed coconut flour, a very simple substitution.

And since I used coconut flour, why not add coconut flakes. After all, chocolate and coconut are a perfect pair. The cookie dough texture is just as it should be gooey and a little crispy around the edges. The coconut flakes add extra flavour. You will love it!
♥

Can the skillet chocolate chip cookie with coconut be made in advance?

What I love about this chocolate chip cookie recipe is you can make it in advance. Once you make the batter, spread it into a greased skillet and place it in the refrigerator. When ready, pop the skillet in the oven. The cooking time will increase by about 10 minutes.

The outer edges should be browned and slightly puffed, and the middle a bit soft. Another way to bring this cookie from delicious to spectacular – sprinkle the cookie with flaky salt just before the cookie goes in the oven.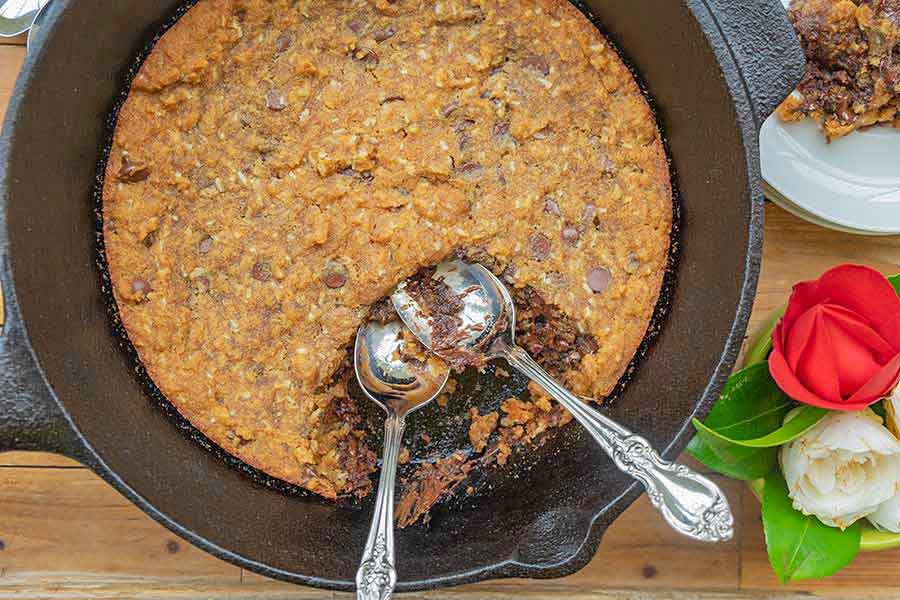 ♥

How to serve a skillet cookie?

The beauty of this chocolate chip cookie is, the dessert is served in the skillet. The cookie should be slightly warm and gooey. To finish the cookie to perfection, add a dollop or three of vanilla bean ice cream.

Doesn't this sound heavenly? Who else loves the combination of a warm chocolate chip cookie and some coconut with vanilla ice cream? It's beyond heavenly.

For more delicious chocolate chip cookies, check out our gluten-free chocolate chip cookie recipes
Skillet Chocolate Chip Cookie with Coconut (Grain-Free)
Published on Apr 23, 2020
by
Kristina Stosek
Instructions
1.

2.

Whisk together coconut flour, sugar, shredded coconut, baking soda, and salt

3.

In a small bowl beat the eggs with vanilla

4.

Add egg mixture to dry ingredients and mix until blended. Stir in melted butter and mix until everything is well incorporated. Fold in chocolate chips

5.

Spread the cookie dough in the skillet and sprinkle with salt flakes (if using). Bake until cookie is golden brown and just set in the center, 18 - 20 minutes. Let cool 15 minutes before serving. If the cookie starts to brown too quickly, cover it with foil.

6.

* if you are using a stainless steel skillet adjust baking time to about 16 - 18 minutes