Best Gluten-Free Oatmeal Cookies
Published on Apr 02, 2019
by
Kristina Stosek
Prep Time:

15 minutes
Cook Time:

15 minutes
Serves:

24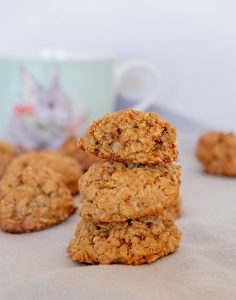 ​This post may contain affiliate links, please see our
privacy policy
for details
These Gluten-Free Oatmeal Cookies are chewy and satisfying – here is the right from scratch version of those yummy oatmeal cookies that are rich and buttery and sweetened without refined sugar.
I can honestly say that this is the best classic oatmeal cookie recipe, except this is a gluten-free version. The cookies have that perfect chewy texture of oats, and they are sweetened with coconut sugar, adding a wholesome, earthy flavour.
Gluten-free oatmeal cookie recipe made with only 7 ingredients!
This oatmeal cookie is made with certified gluten-free old-fashioned rolled oats, coconut sugar, butter, eggs, vanilla, baking soda and a gluten-free flour blend.
This oatmeal cookie has sulfite-free raisins for extra sweetness and texture, but the raisins are optional.
The primary reason I used coconut sugar is that it has a lower glycemic index. This is especially important if you are serving the cookies to children.
What does a low glycemic index mean? It means it takes longer to spike the blood sugar, keeping the energy at a more even level.
By using sweetener such as the coconut sugar, you will avoid the outbursts of energy that we see in younger children when they eat something sweet. I am sure you have noticed when you give your children sugar or chocolate how much energy they have all of a sudden. By using coconut sugar, energy is better balanced.
In this cookie recipe, I used only 7 ingredients, most of which you probably already have in your pantry. This means you can make these gluten-free oatmeal cookies at any time.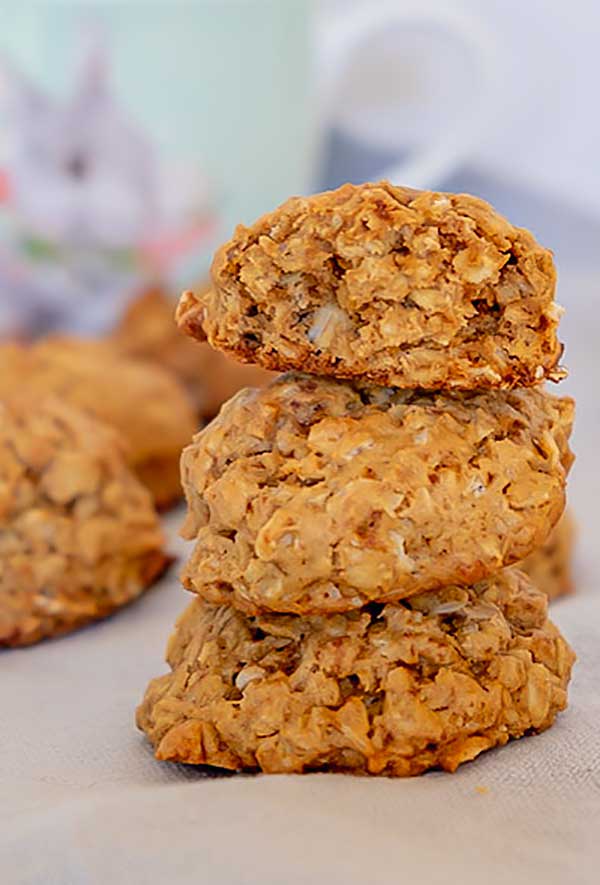 The best part is, you can't tell that these cookies are gluten-free.
This oatmeal cookie is a wholesome snack to add to your kid's lunch box, or you can enjoy them as a snack at any time of the day. This cookie is rich in dietary fiber and is not shy of protein. Enjoy!
Check out our gluten-free recipes for kids for inspiration. The recipes are made simply, keeping them healthy as much as possible.
Best Gluten-Free Oatmeal Cookies
Published on Apr 02, 2019
by
Kristina Stosek
Instructions
1.

In a large bowl whisk together rolled oats, flour, coconut sugar, and baking soda. Add butter and mix well with the dry ingredients

2.

Whisk together eggs and vanilla and add to the oat mixture. Stir to combine until you form a dough. If you are using raisins add them in at this time and distribute evenly through the dough

3.

Using a medium cookie scoop, place cookies onto a baking sheet lined with parchment paper. If you don't have a cookie scoop, using a spoon divide the dough into 24 equal cookies. Place cookies in the freezer for 15 minutes - this is very important!

4.

Preheat oven to 350 F and bake cookies for 13 - 15 minutes, until the edges start to brown. Remove baking sheets from the oven and set aside for 10 minutes to cool, then transfer cookies onto a cooling rack to cool