5 Ingredient Gluten-Free Peanut Butter Chocolate Chip Cookies (Grain-Free, Dairy-Free)
Published on May 08, 2019
by
Kristina Stosek
Prep Time:

10 minutes
Cook Time:

14 minutes
Serves:

12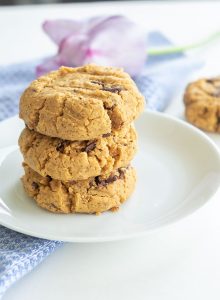 ​This post may contain affiliate links, please see our
privacy policy
for details
These gluten-free peanut butter chocolate chip cookies are sooo delicious! The cookie 🍪 will melt in your mouth and all you need is five ingredients for this recipe. Just imagine a cookie recipe without flour, doesn't this sound good?
In this gluten-free peanut butter chocolate chip cookie recipe, as a sweetener I used coconut sugar, you may ask why? Coconut sugar is low glycemic and unrefined, lower in fructose than cane sugar, agave or maple syrup, so a little better option to avoid the sugar spikes.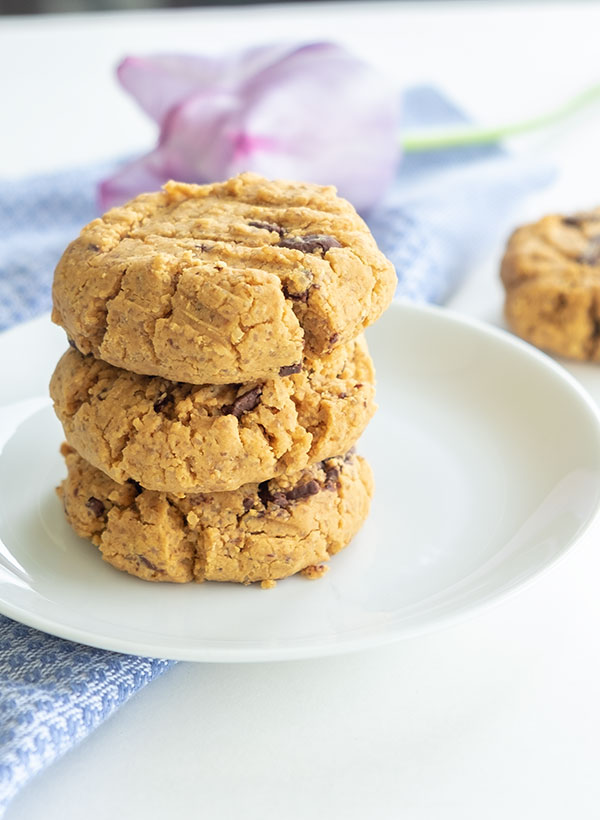 This cookie is a high protein snack and smooth peanut butter has about 1 gram of fiber per one tablespoon. Moving on, not only this gluten-free peanut butter chocolate chip cookie will satisfy your sweet tooth, it will also supply you with energy.
So after a workout or later in the day when you need a little pick me up this cookie works wonders. I have also made these cookies with almond butter and they are just as delicious. Enjoy! 😉
Do you love cookies? Check out these easy to make gluten-free cookie recipes->
5 Ingredient Gluten-Free Peanut Butter Chocolate Chip Cookies (Grain-Free, Dairy-Free)
Published on May 08, 2019
by
Kristina Stosek
Instructions
1.

Preheat oven to 350 F and line a baking sheet with parchment paper

2.

Cream peanut butter and coconut sugar together. Add egg and baking soda and stir to combine. Stir in chocolate chips

3.

Shape the dough into 1-inch balls and place 1-inch apart onto prepared baking sheet. Using a fork press the cookies halfway down

4.

Bake for 14 minutes until lightly browned

5.

Cool on the baking sheet for 10 minutes, then transfer onto a cooling rack to cool completely
Leave a Comment
Kristina
I am so happy to hear that Samantha, thank you
my daughter loves these cookies, thank U!!