5-Ingredient Grain-Free Almond Butter Chocolate Chip Cookies
Published on Nov 04, 2023
by
Kristina Stosek
Prep Time:

15 minutes
Cook Time:

15 minutes
Serves:

15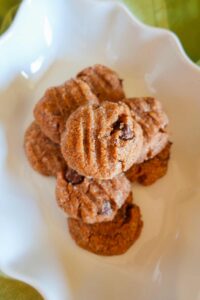 ​This post may contain affiliate links, please see our
privacy policy
for details
This 5-Ingredient Grain-Free Almond Butter Chocolate Chip Cookie has a slightly crisp sugar-coated outside, with a nutty buttery interior rich with melted chocolate chip sweetness. Once you bite through the crunch of the first bite, the cookie, and the chocolate pieces will melt in your mouth.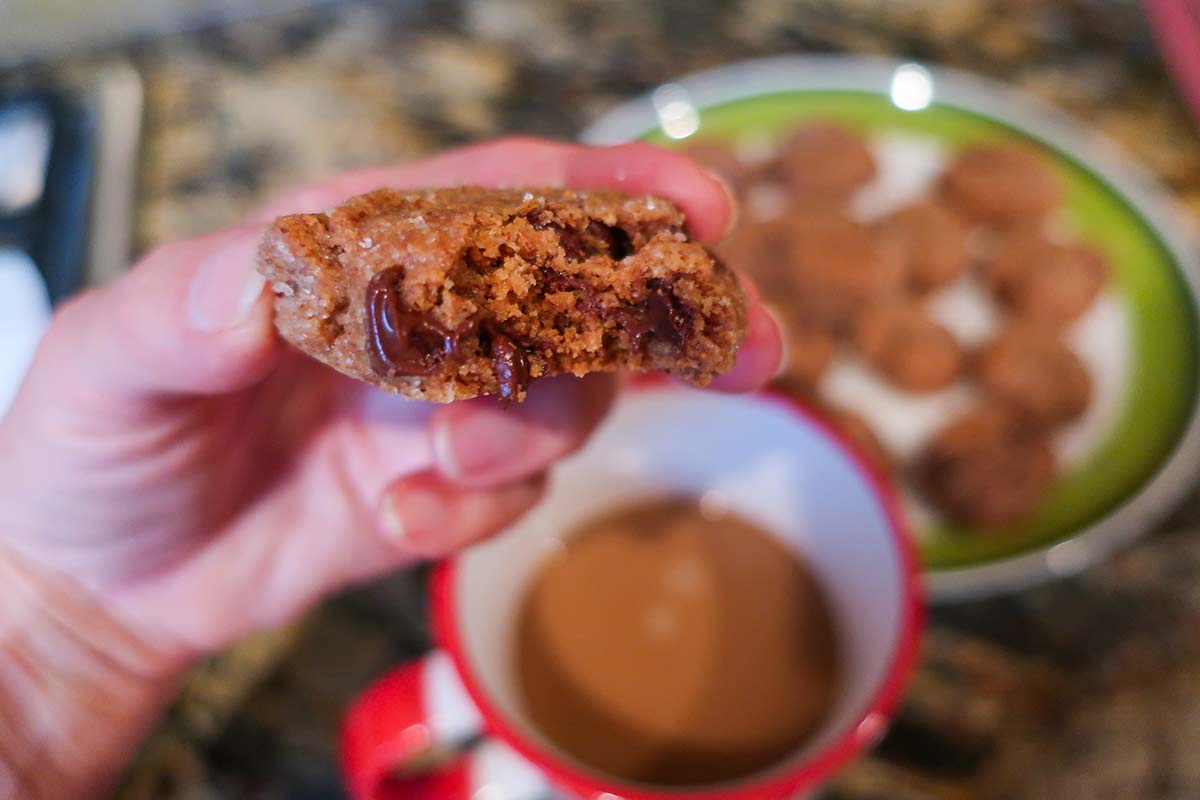 WHAT IS A GRAIN-FREE ALMOND BUTTER CHOCOLATE CHIP COOKIE?
This flourless cookie recipe is made with only five ingredients. Almond butter, an egg, vanilla, sugar, and chocolate chips.
What holds a 5-ingredient cookie together when you don't use grains?
Eggs: The egg provides structure and moisture, helping to hold the ingredients together.
Sugar: Not only does it add sweetness, but it also contributes to the stickiness and binding properties of the dough.
Nut Butter: Almond butter or peanut butter are often used in grain-free cookie recipes as both a source of moisture and a binding agent. Their natural oils and protein content contribute to the dough's texture.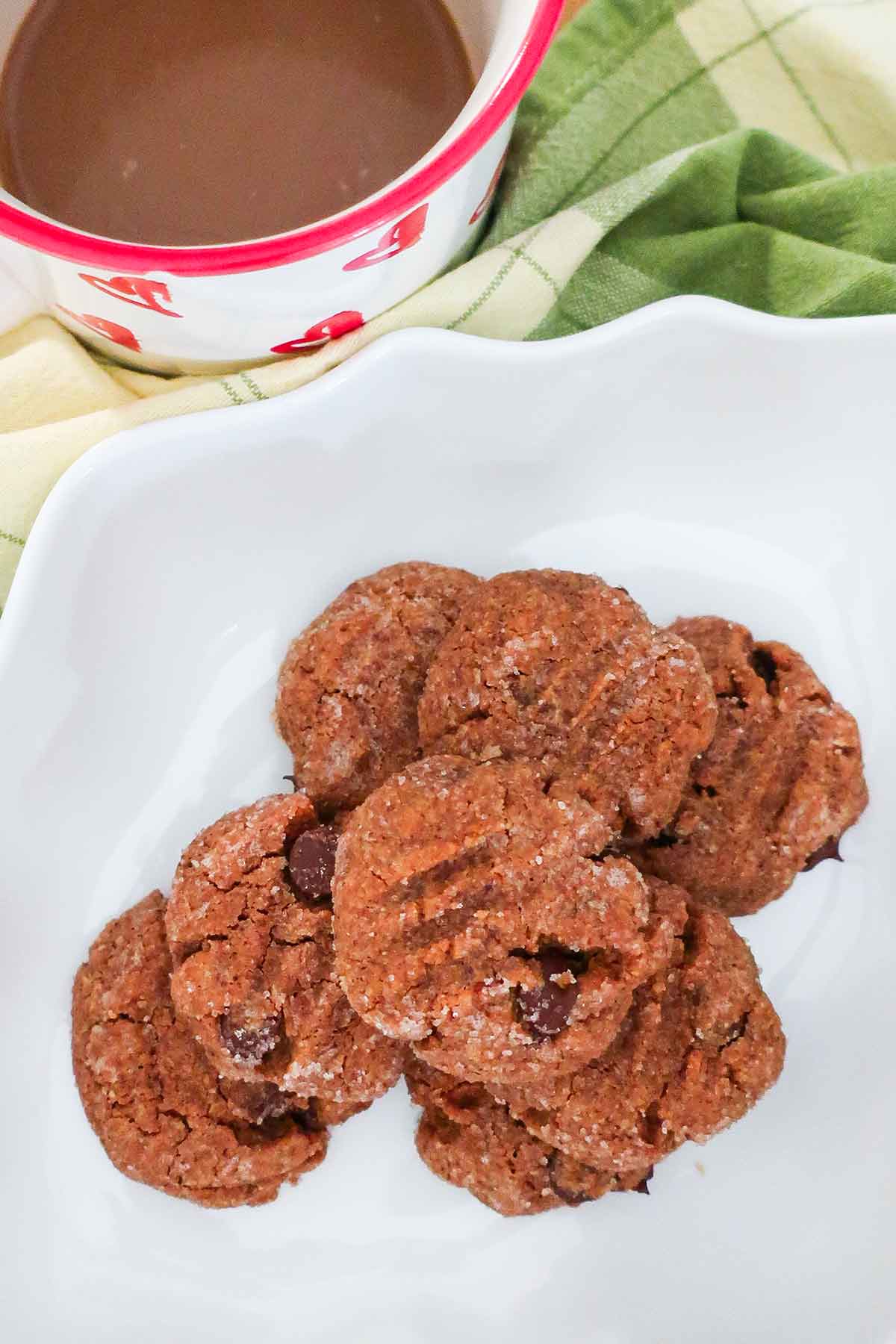 WHY I DIDN'T USE PEANUT BUTTER
Peanut butter has a similar nutrient profile as almond butter, including protein, fiber, vitamins, and minerals. However, there are two reasons why I try to avoid peanut butter in most of my recipes.
Peanut allergies
Peanuts are one of the most common and severe food allergies. For individuals with peanut allergies, even small traces of peanuts can trigger a severe allergic reaction, such as anaphylaxis shock, which makes it necessary to avoid peanuts and peanut products. In addition, most schools have banned foods containing peanuts.
Aflatoxins
As per USDA peanuts are susceptible to a mold that produces aflatoxins, which can be harmful when consumed in large quantities.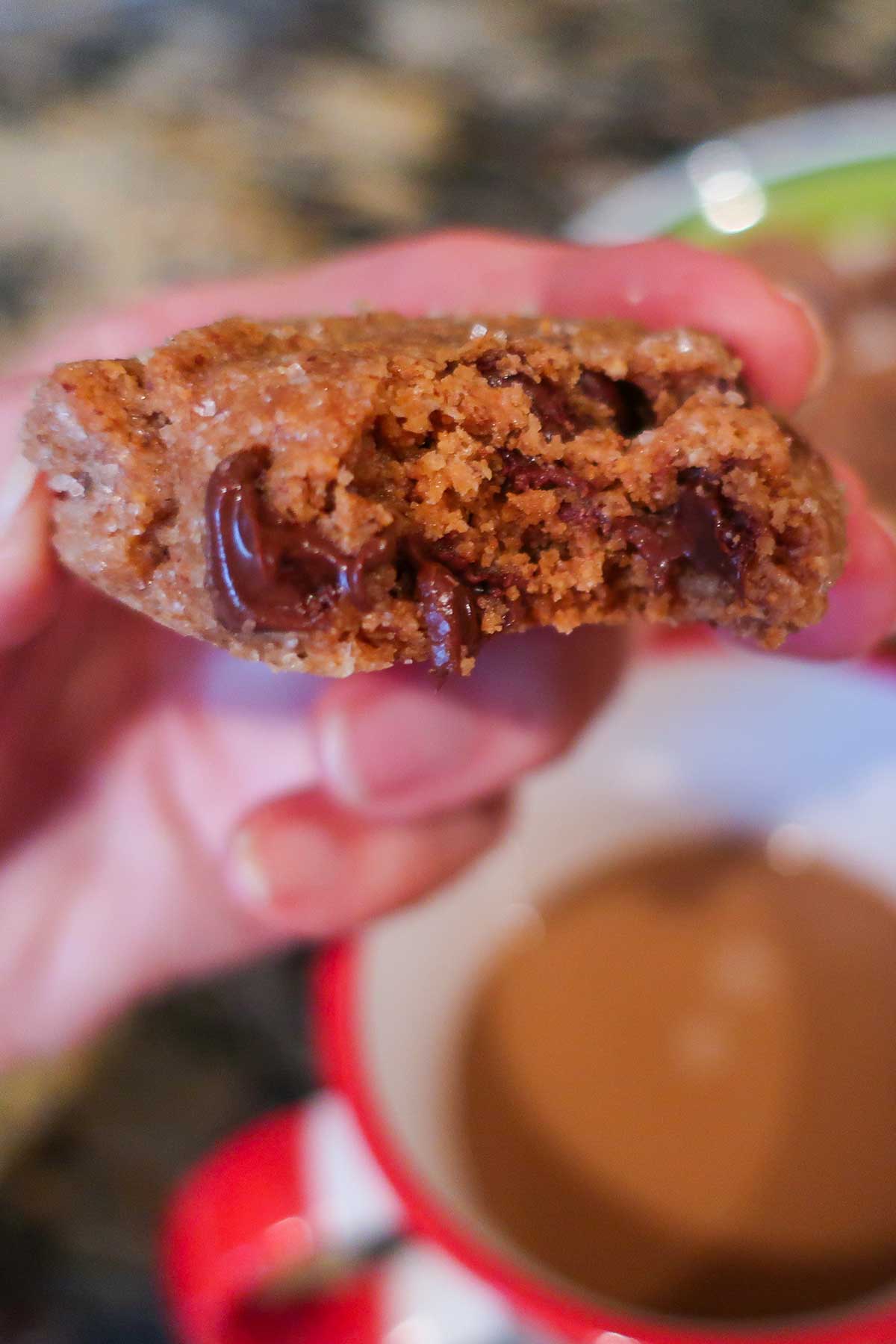 Can I replace the chocolate chips in a 5-ingredient cookie recipe?
When substituting chocolate chips in a grain-free cookie recipe, you can get creative.
Cacao Nibs: Cacao nibs are small pieces of crushed cacao beans. They provide a deep chocolate flavor and a satisfying crunch without added sugar. Remember that cacao nibs are less sweet than chocolate chips, so you might want to adjust the sweetener in your recipe accordingly.
Dried Fruit: Finely chopped dried fruits like cranberries, or raisins, can add a burst of sweetness and chewiness to your cookies. They pair well with almond butter.
Chopped Nuts: Chopped nuts, such as pecans or macadamia nuts, can provide extra texture, crunch, and a nutty flavor.
Coconut Flakes: Unsweetened shredded coconut or coconut flakes can add a tropical twist to them. They offer a chewy texture and a hint of coconut flavor.
Spices: Experiment with ground spices like cinnamon, nutmeg, or cardamom to infuse your cookies with warm and aromatic flavors.
Remember to adjust the quantities to match the amount and size of the small chocolate chips called for in this recipe. The specific flavor and texture of your cookies may vary based on the substitutions.
What can I use instead of almond butter in this grain-free cookie recipe?
If you're looking for a substitute for almond butter in a grain-free cookie recipe, there are several alternatives you can consider, depending on your taste preferences and dietary restrictions. Here are some options:
Cashew Butter: Cashew butter has a mild and creamy flavor, similar to almond butter, making it an excellent replacement in this recipe. It offers a smooth texture and works well in most grain-free cookie recipes.
Sunflower Seed Butter: Sunflower seed butter is a nut-free alternative that can be used in place of almond butter. It has a slightly nutty flavor and a creamy consistency, making it suitable for this cookie.
Hemp Seed Butter: Hemp seed butter is a nutritious and nutty option. It offers a rich source of omega-3 fatty acids and protein. Its texture and flavor can work in this grain-free cookie recipe.
Peanut Butter: If you choose peanut butter as a substitute for almond butter, choose pure peanut butter without added sugars or hydrogenated oils.
Here are some more grain-free cookie recipes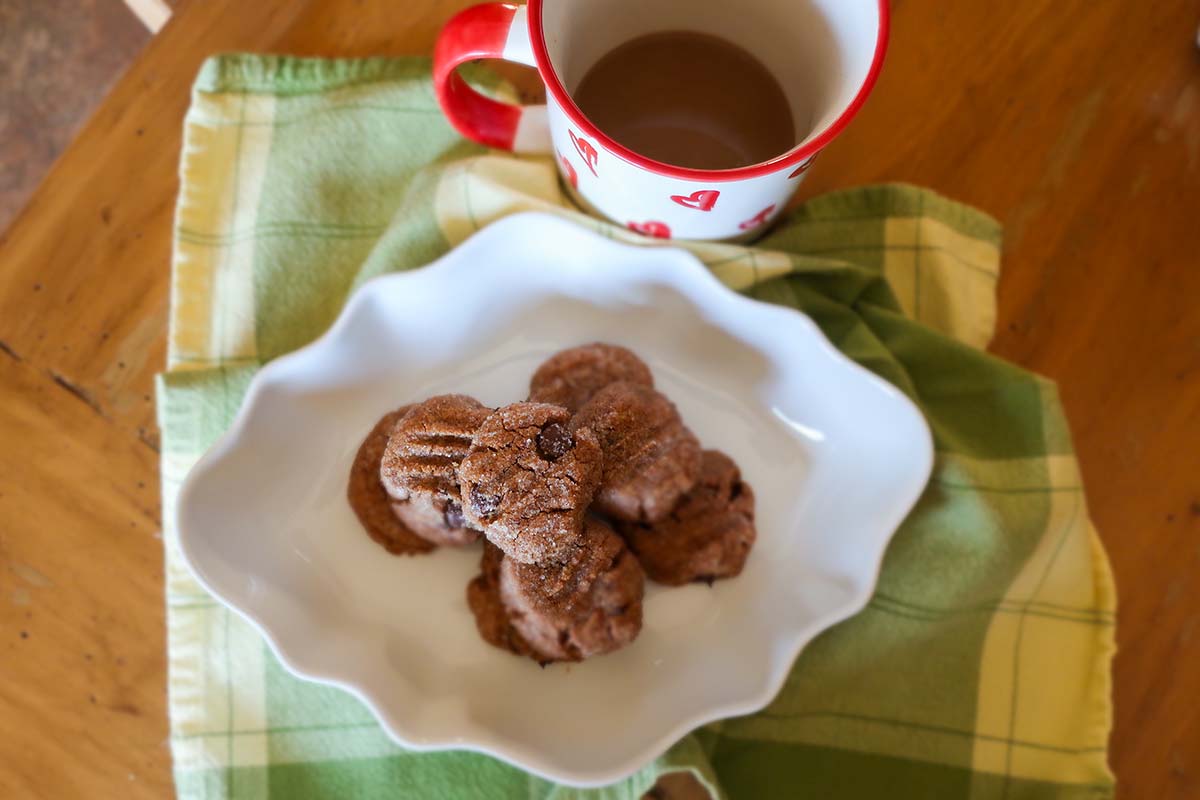 SERVING GRAIN-FREE ALMOND BUTTER CHOCOLATE CHIP COOKIES
Here are some serving suggestions:
Milk or Coffee: Pairing the cookies with a glass of cold milk or hot coffee is a classic and comforting combination.
Ice Cream: Top warm almond butter chocolate chip cookies with a scoop of vanilla ice cream for a delectable dessert.
Yogurt Parfait: Crumble or break the cookies into smaller pieces and layer them with Greek yogurt and fresh berries to create a cookie parfait.
Gifts and Party Favors: Package the cookies in decorative boxes or bags and give them as gifts or party favors for special occasions or celebrations.
Anytime: Of course, almond butter chocolate chip cookies are delicious and can be enjoyed anytime. Whether as an afternoon snack or a midnight indulgence, they're a simple high-protein treat.
Ultimately, serving almond butter chocolate chip cookies is all about personal preference, and you can get creative with your presentation to make the experience even more enjoyable.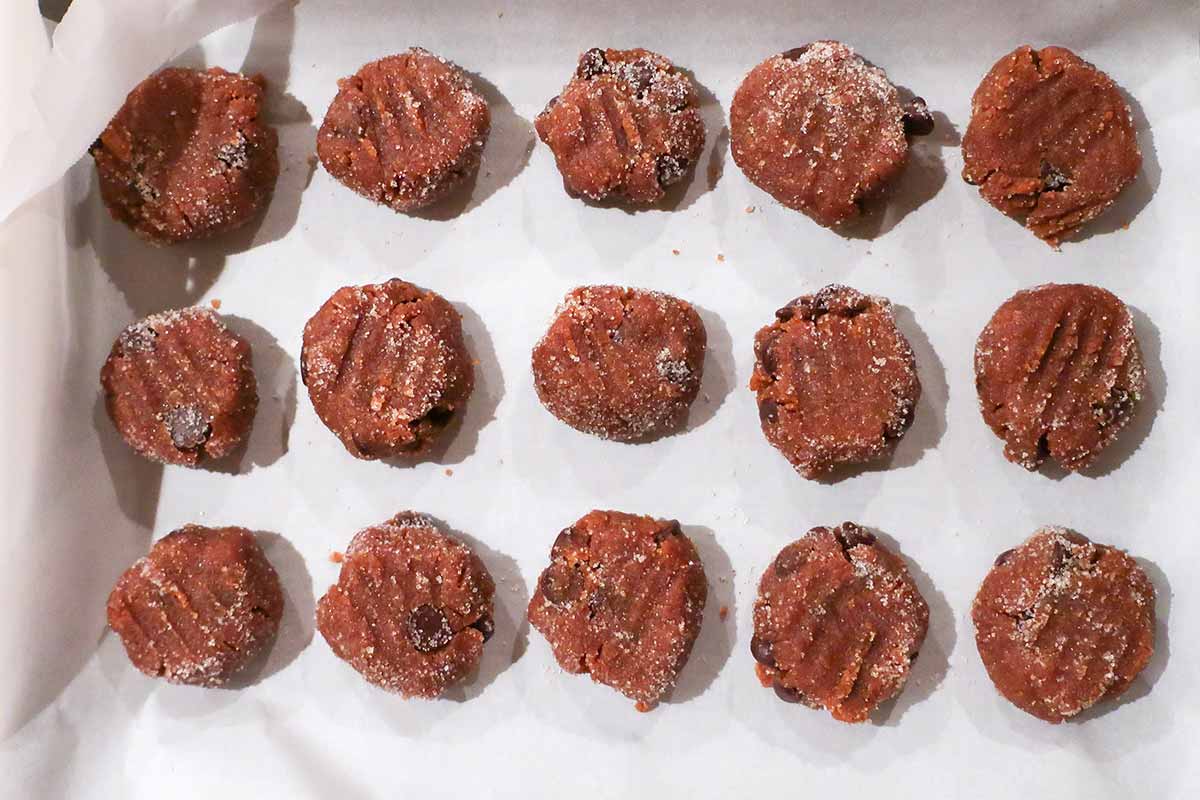 STORING
Storing grain-free almond butter chocolate chip cookies properly is essential to maintain their freshness and prevent them from becoming stale or overly soft. Here's the best way to store them:
Cooling: Allow the cookies to cool completely on a wire rack before storing. Hot cookies can create moisture inside the storage container, leading to a loss of texture and flavor.
Airtight Container: Place the cooled cookies in an airtight container. You can use a plastic or glass container with a tight-sealing lid. Alternatively, you can also use a resealable plastic bag, ensuring you remove as much air as possible before sealing it.
Room Temperature or Refrigeration: Grain-free almond butter cookies can be stored at room temperature for 3-4 days. If you intend to keep them longer, consider refrigerating them, which can extend their freshness for up to 3 weeks. (I prefer them served chilled)
Freezing: For longer-term storage, you can freeze the cookies. They will keep in the freezer for up to 2 months. When you're ready to enjoy them, allow them to thaw at room temperature in the open air.
So why not indulge in the perfect blend of wholesomeness and decadence with our 5-Ingredient Grain-Free Almond Butter Chocolate Chip Cookies? They are made with just a handful of ingredients, and these flourless cookies are a rich and nutty goodness of almond butter paired with luscious chocolate chips.
Let's Connect!
Meet Kristina. Passionate about creating delicious, innovative gluten free recipes, and author of two gluten free cookbooks, "Entertaining The Gluten Free Way" and "Small Bites The Gluten Free Way".
Be sure to FOLLOW US on FACEBOOK or, check us out on PINTEREST. And don't forget to sign up for our newsletter. We always have something new and exciting for you!
Many thanks!
Kristina x
5-Ingredient Grain-Free Almond Butter Chocolate Chip Cookies
Published on Nov 04, 2023
by
Kristina Stosek
Instructions
1.

Preheat oven to 350 F and line a baking tray with parchment paper or spray with cooking spray

2.

Beat together almond butter, sugar, egg, and vanilla until combined. Using a spatula fold in chocolate chips. Place the bowl in the fridge for 15 minutes

3.

Place two tablespoons of sugar in a small bowl. Shape the dough into small balls about the size of a walnut and roll in the sugar until coated. Place them on the prepared baking tray about one inch apart

4.

Use the back of a fork to flatten each cookie slightly. Bake for 15 minutes.

5.

Cool the cookies on the baking tray for 10 minutes before transferring them onto a cooling rack to cool completely
Leave a Comment
Omg, this cookie tastes amazing. Better than ANY other chocolate chip cookie I ever made with or without gluten, thank you Kristina you make my life in the kitchen so much easier xx