Grain-Free Sugar Cookies with Maple Icing
Published on Jul 04, 2020
by
Kristina Stosek
Prep Time:

15 minutes
Cook Time:

12 minutes
Serves:

32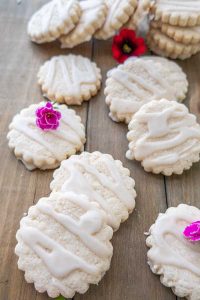 ​This post may contain affiliate links, please see our
privacy policy
for details
Quick and easy Grain-Free Sugar Cookies with Maple Icing recipe… This cookie recipe is perfect for when baking with kids. The recipe is easy and a lot of fun to make, especially when decorating the cookies.
And what a better way to spend Sunday morning than baking with young children. Something they will never forget is baking with mom or dad their favourite sugar cookies topped with icing.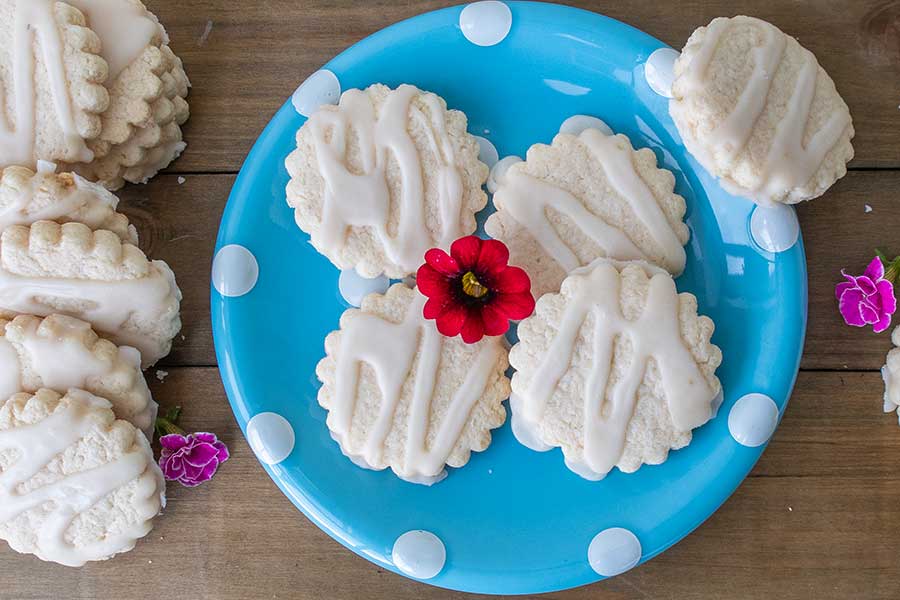 ♥

For the details.
First thing, melt the butter. The butter should cool at room temperature, so while you are getting the ingredients, the butter will be ready to use. Now, whisk the dry ingredients, add the butter, egg and a teaspoon of water. Using a spatula or your hands combine everything together until you form a ball of dough.
♥

The fun part when making the grain-free sugar cookies!
Before you roll the dough out, divide it in half. By doing this, it will be easier to roll out the dough. You can let your kids start rolling the dough, but make sure your surface and the top of the dough is lightly sprinkled with the tapioca flour.
Get the kids to choose the cookie shapes and let them cut out the cookies. The kids love love doing this. For any leftover dough, roll it together and roll it out again for more cookies.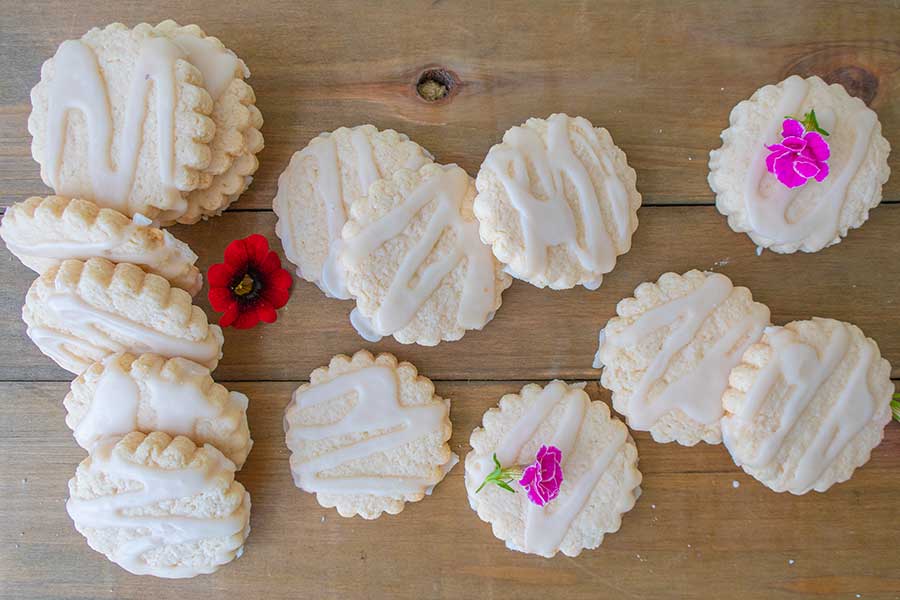 ♥

For the maple icing 🙂
Place the ingredients in a bowl and leave the stirring for the kids to do. For some reason, they love to stir things in bowls. Once the cookies finish baking, allow them to cool. The sugar cookies cool very quickly, which is great because kids don't like to wait for anything, haha.
♥

Time to decorate the sugar cookies!
Once the icing is ready, you can divide it into two or three small bowls and add natural plant based food colouring. Or you can leave the icing as is. I know young children love colours so let them chose their favourite shades. Now all they have to do is decorate. Fun Fun Fun.
Baking sugar cookies with young children is always so much fun. And this gluten-free and grain-free sugar cookie recipe is super easy. I used a simple cookie cutter 2 1/4-inch in diameter, yielding 32 cookies. If you use a smaller cookie cutter, the cookies will take less time to bake, so keep an eye on them. Also, you will yield more cookies.
For more cookie recipes for kids, check out our gluten-free cookie list. From our famous one bowl gluten-free chocolate chip cookie to a healthy oatmeal and almond butter cookie, you will find something for everyone. Enjoy!
Grain-Free Sugar Cookies with Maple Icing
Published on Jul 04, 2020
by
Kristina Stosek
Instructions
1.

Preheat oven to 325 F and line a baking sheet with parchment paper

2.

Using a large bowl whisk together flours, sugar, baking powder, xanthan gum and salt

3.

Add butter, egg and water and mix to form a ball of dough. If the dough doesn't come together add an extra teaspoon of water

4.

Transfer dough onto your working surface lightly dusted with tapioca flour. Divide dough into half. Lightly sprinkle the dough with tapioca flour and roll each half into about 1/3-inch thick using tapioca flour as needed to avoid sticking. Using a cookie cutter cut into desired shapes until all the dough is used up. Place on the prepared baking sheet about one inch apart

5.

Bake for 10 -12 minutes until the edges start to turn a golden colour. Cool on the cookie sheet

6.

For the maple icing; In a small bowl, stir together confectioners' sugar and milk until smooth. Add maple syrup and maple extract and mix until combined. If icing is too thick, add more milk.

7.

Decorate the cooled cookies with the icing. The icing will firm up in about 2 hours