Grain-Free Snowball Cookie Recipe
Published on Dec 02, 2020
by
Kristina Stosek
Prep Time:

10 + minutes
Cook Time:

16 minutes
Serves:

20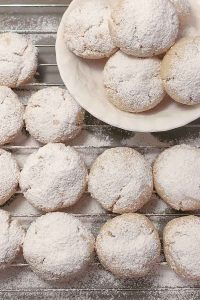 ​This post may contain affiliate links, please see our
privacy policy
for details
This Grain-Free Snowball Cookie is the simplest holiday cookie recipe. Buttery cookies with a perfect crumb, lightly sweetened, hinted with a warming cinnamon spice and a light dusting of powdered sugar.
Holiday grain-free snow ball cookie recipe
You will need only five ingredients to make this grain-free cookie, making this Snowball Cookie recipe simple but keeping the cookie exceptionally delicious. This holiday cookie is perfect for this month's baking and a lovely addition to your festive cookie platter.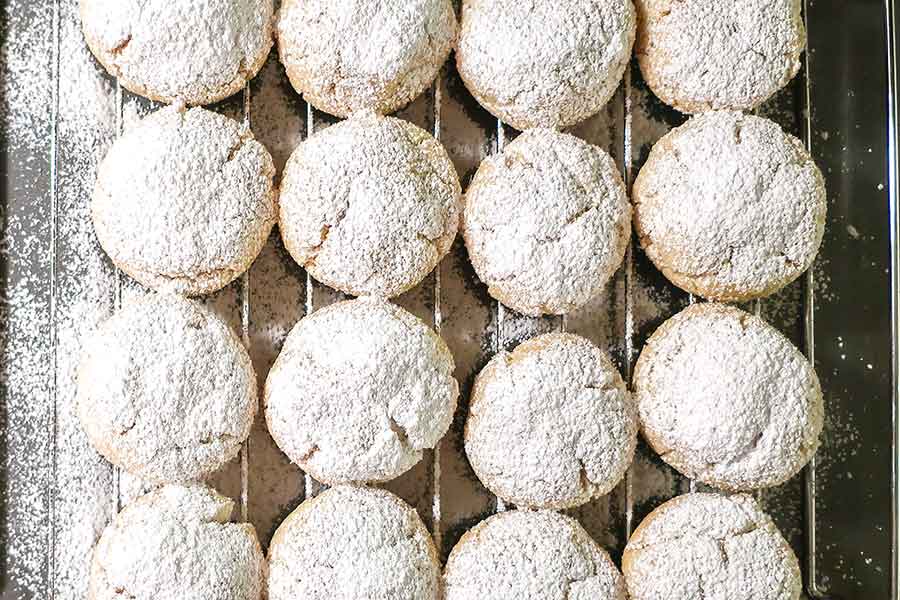 These Snowball Cookies are nothing fancy. However, they are extra delicious, buttery, with a perfect cookie texture, and all you need is five ingredients to make them.
snowball cookie ingredients
These grain-free cookies are made with almond flour, butter, powdered sugar, vanilla, and cinnamon—very basic ingredients, you don't even need eggs or baking powder.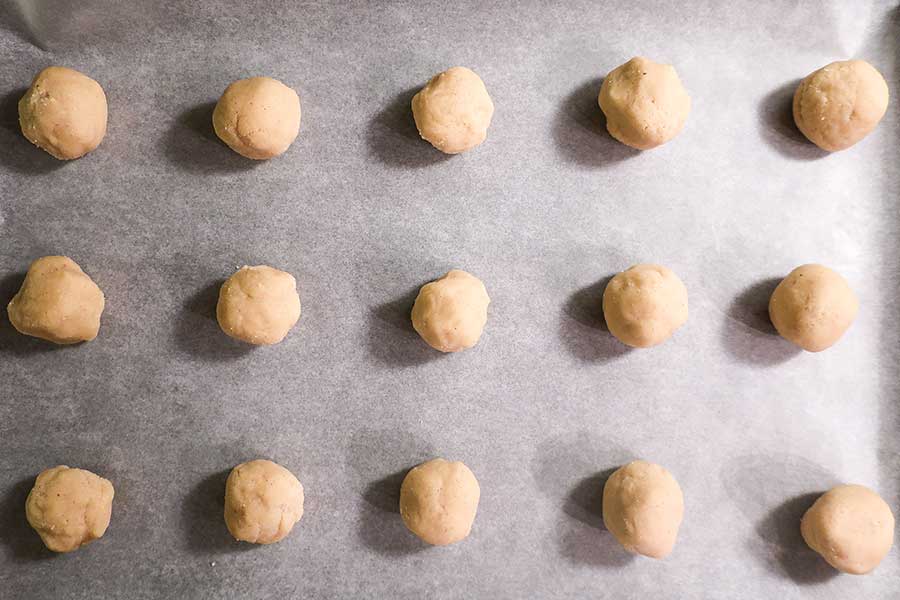 4 easy steps to make Grain-Free Snowball Cookies
The grain-free cookie dough is made with protein and fibre-packed almond flour and only five ingredients.
STEP ONE
Mix the almond flour with powdered sugar, and cinnamon.
STEP TWO
Add soft butter and vanilla and mix until you form a ball of dough
STEP THREE
Chill the dough for 30 minutes and then shape them into small balls. The cookie dough is very easy to work with.
STEP FOUR
Bake the cookies at 325 Fahrenheit for about 16 – 18 minutes
STEP FIVE
Coat warm cookies in cinnamon sugar
the sugar coating for snowball cookies
To make the snow like coating, mix powdered sugar with a pinch of cinnamon for extra flavour. The cookies are then rolled in the sugar or dusted with the snow like coating.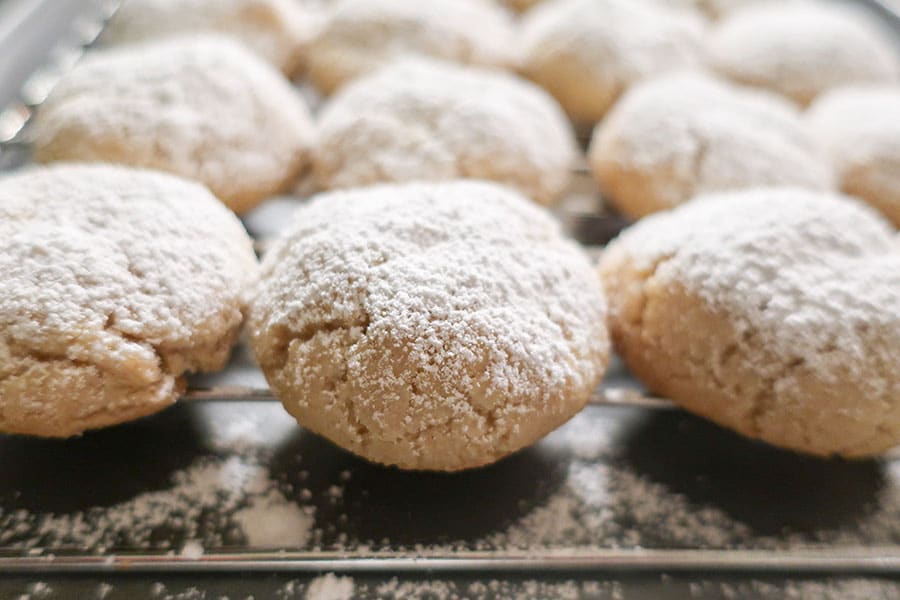 gluten-free cookies for a gift box
Whenever I make a cookie gift box filled with cookies, these Grain-Free Snowball Cookies are always included.
Some of our popular cookies for a cookie box are:
Freshly baked homemade cookies make a wonderful gift because they are made with love and dietary needs in mind. Trust me, everyone loves cookies, so you can't go wrong by bringing a box of homemade cookies to family or friends.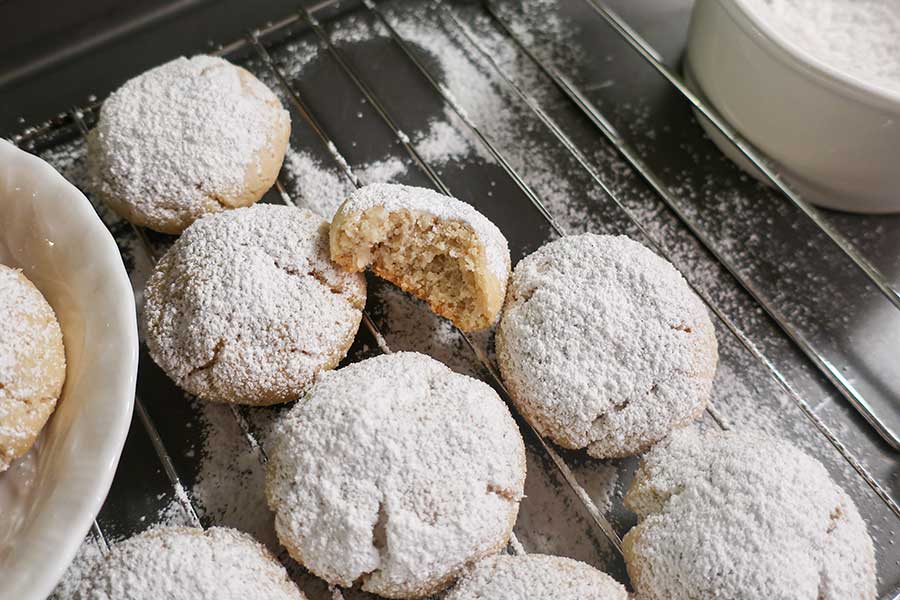 We believe you can't have enough cookies during the holiday season because this is the time we can indulge and enjoy delicious sweets.
So let's get into the holiday spirit, bake some cookies and listen to your favourite holiday music, because this is a very special time of year. Indulge in pure bliss with this 5-ingredient Grain-Free Snowball Cookie. Buttery and mouthwatering, lightly dusted with cinnamon powdered sugar, and melt-in-your-mouth goodness!
Let's Connect!
Be sure to FOLLOW US on FACEBOOK or, check us out on PINTEREST. And don't forget to sign up for our newsletter. We always have something new and exciting for you!
Many thanks!
Kristina xx
Grain-Free Snowball Cookie Recipe
Published on Dec 02, 2020
by
Kristina Stosek
Instructions
1.

Sift together almond flour, sugar, cinnamon and salt

2.

Add softened butter and vanilla and mix until the dough sticks together. Refrigerate for 30 minutes

3.

Preheat oven to 325 F and line a cookie sheet with parchment paper

4.

Shape a tablespoon of dough into a ball about the size of a walnut. Continue with remaining dough

5.

Place cookies 1-inch apart on the prepared baking sheet and bake 16 - 18 minutes until the cookies start to golden around the edges

6.

Cool the cookies for 10 minutes

7.

Using a small bowl, mix 3 Tbsp. sugar with 1/8 tsp. cinnamon, and gently roll the cookies in the mixture to coat, or sprinkle with the sugar. Cool on a wire rack
Leave a Comment
I was just reminiscing about these cookies yesterday and missing being able to eat them! You have made my day! Thank you
About to pull these put of the oven! They smell so good!!
Kristina
I am happy to hear that, I will work on the chocolate version, I know my family will love them!
Just made these tonight. I used Bob's Red Mill almond flour. I don't have a sifter, so I just whisked everything well, and they didn't seem to suffer. This recipe was super easy and came out so well. I added the tiniest pinch of nutmeg, allspice, and cloves as well. I want a chocolate version of this cookie!