23 Favourite Gluten-Free Low Carb Recipes
Look no further if you're looking for some delicious and healthy gluten-free low-carb recipes! Today we will share some of our favourites.
low carb VS keto diet
Before we start, let us discuss the low carb vs keto diet. There are a lot of different diets out there, but two popular diets are the low-carb and the keto diet.
Both diets are effective for weight loss and improving overall health. However, they do have some differences.
The low-carb diet is a bit more lenient than the keto diet. It allows for up to 150 grams of carbs per day, while the keto diet limits net carbs to just 20-50 grams per day.
This means that on the low-carb diet, you can still eat some fruits and extra vegetables, whereas, on the keto diet, you need to stick to primarily fats and protein and limited carbs.
The keto diet is also a bit more restrictive in terms of the types of food you can eat. The keto diet is considered high-fat diet. This means that most of your calories come from healthy fats.
Overall, both the low-carb diet and the keto diet can be effective for weight loss.
everything to know about a low-carb diet
A low-carb diet is a diet that restricts carbohydrates, such as those found in sugary foods, pasta, rice and bread. Instead, you focus on eating protein-rich foods, healthy fats, some fruit and plenty of vegetables.
There are several benefits of following a low-carb diet. For one, it can help you lose weight. This is because when you cut out carbs, your body is forced to burn fat for energy instead.
This can lead to weight loss, reduced blood sugar levels and improved insulin sensitivity.
If you're interested in following a low-carb diet, there are plenty of delicious recipes to choose from. You can find recipes for everything from breakfast to desserts that are gluten-free and low in carbs.
So if you're looking for a healthy way to lose weight and improve your overall health, a low-carb diet may be right for you.
However, always consult your doctor first before you start a restrictive diet.
Today we share some of the most popular gluten-free low-carb recipes that are delicious and nutritious and can help you stick to your diet while still enjoying tasty food.
our favourite gluten-free low-carb recipes
———
Asparagus Soup With Mint → recipe
Did you know that asparagus is loaded with nutrients such as folate, vitamins A, C, E and K, protein and has an abundance of fiber? Asparagus soup is one of the easiest soups to make because this healthy vegetable cooks in minutes. This low-carb soup can be served hot or chilled any time of the year.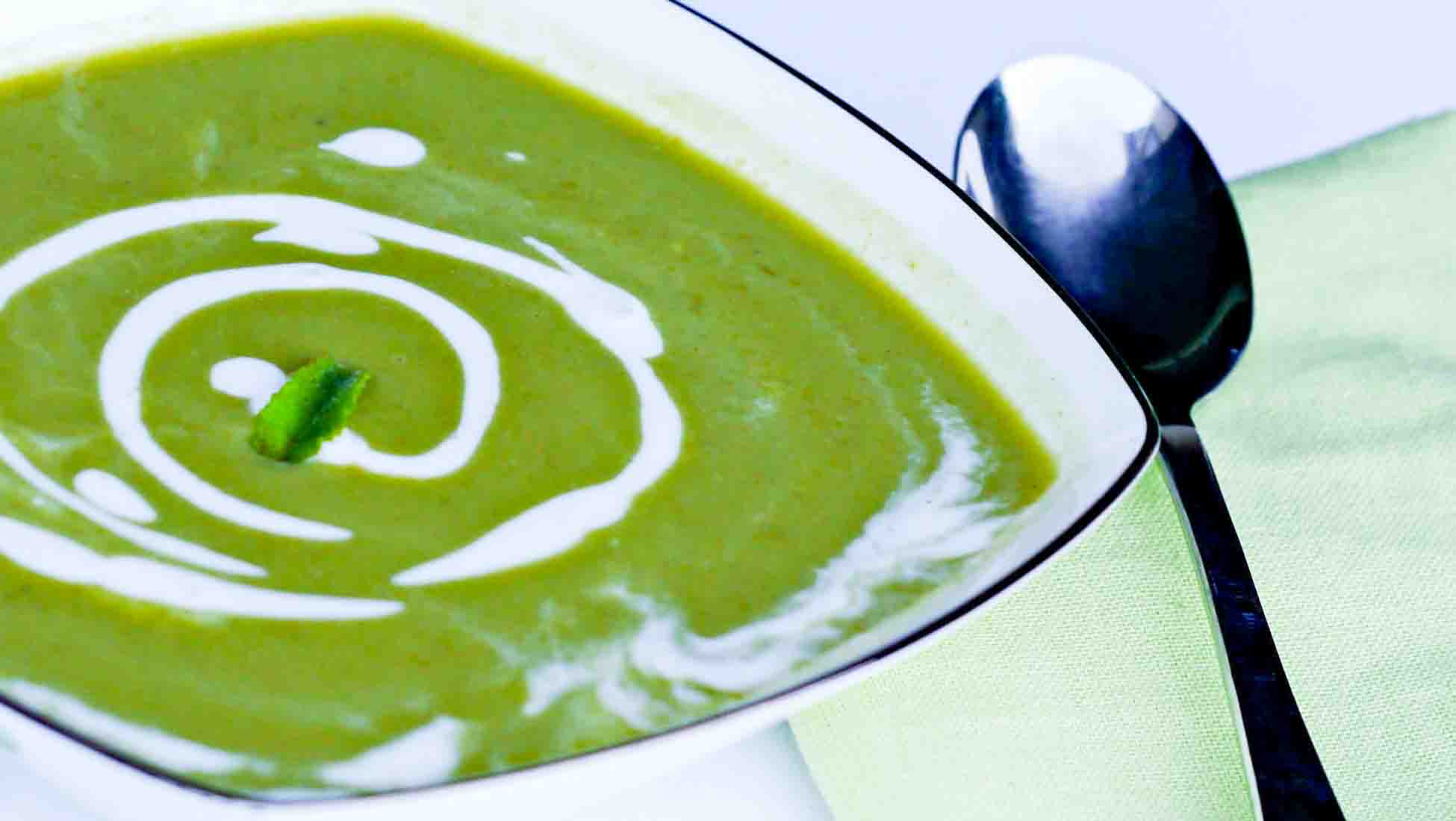 Spanish Pork and Sausage Casserole → recipe
The pork chops are tender and juicy, smothered in a tasty sauce, and the sausages add intense flavour to this Spain's favourite casserole. There is nothing easier because it's made entirely in one pot. Seriously, this is one of those easy low carb recipes for weeknight or company is coming.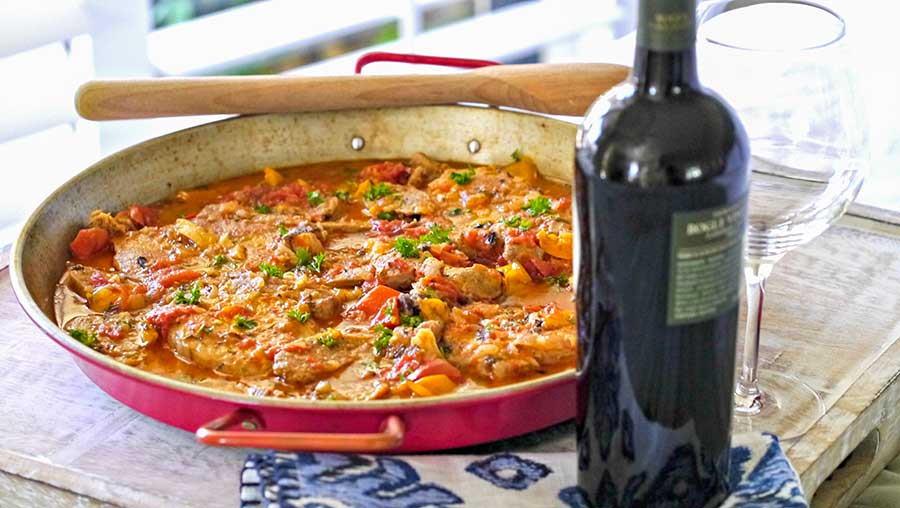 Salmon Pops With Piquant Dill Sauce → recipe
The salmon pops are a big hit at any dinner party, especially for the diet savvy. The best part, this delightful appetizer will accommodate most diets. This is a naturally gluten-free recipe and is keto-friendly. If you are looking for a light lunch idea, serve the salmon pops over a salad, such as this zesty cabbage and fennel citrus salad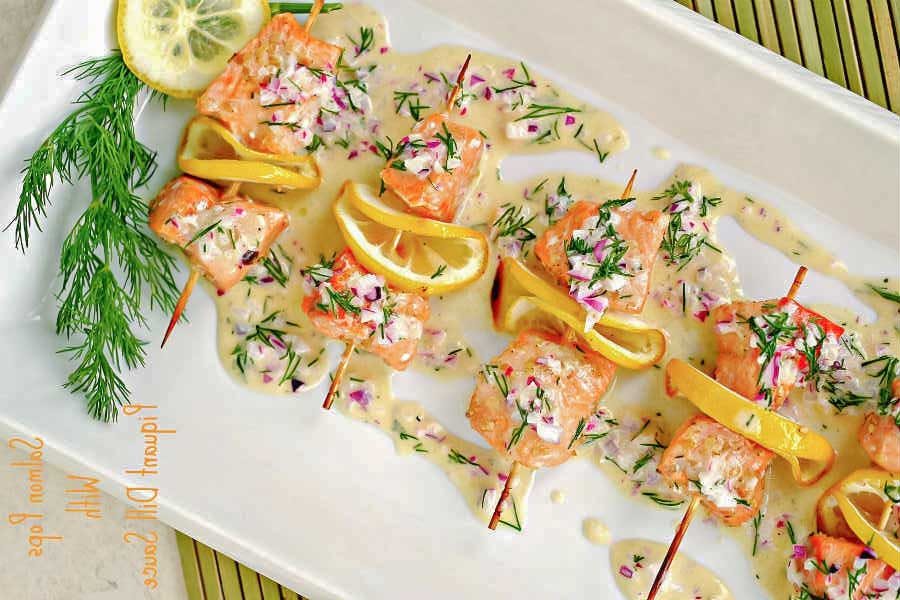 Vegan Cauliflower Steak with Cashew Sauce → recipe
This vegan cauliflower recipe is a hearty gluten-free dish, and ideal when you are looking for an easy low-carb vegan dinner. The cauliflower is lightly caramelized and the cashew sauce is outstanding!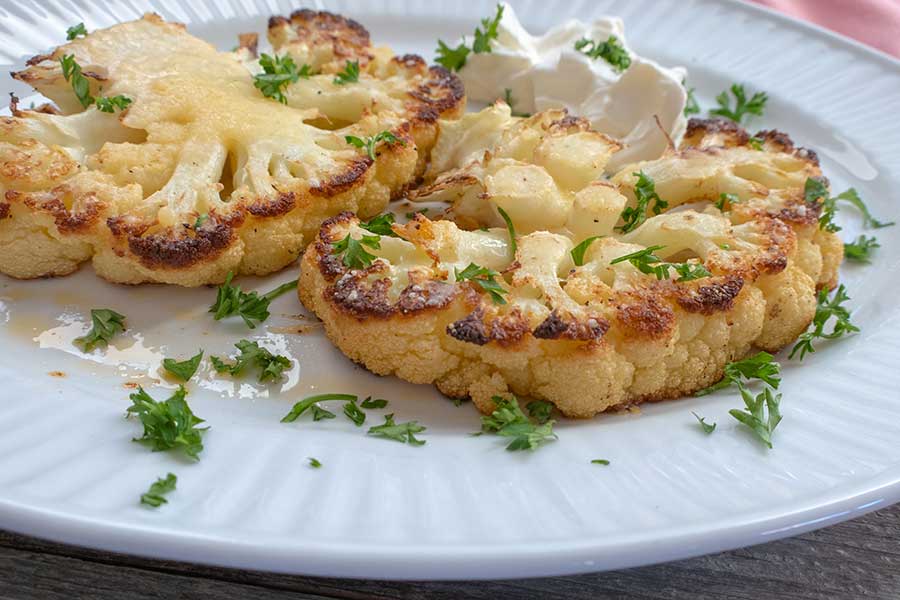 Low Carb Singapore Cauliflower Rice → recipe
If you are on the hunt for low carb ethnic food, this recipe is for you. This vegetarian Singapore inspired dish is made with an array of spices and medley of vegetables, making this a mouthwatering healthy dish. This keto recipe comes together fast and easy with added health benefits.
Gluten-Free Spinach Soufflé Recipe → recipe
The best soufflé…ever! Delicious, cheesy, savoury soufflé with spinach throughout lightly flavoured with garlic and nutmeg. Even novice cooks will master this easy keto spinach soufflé recipe!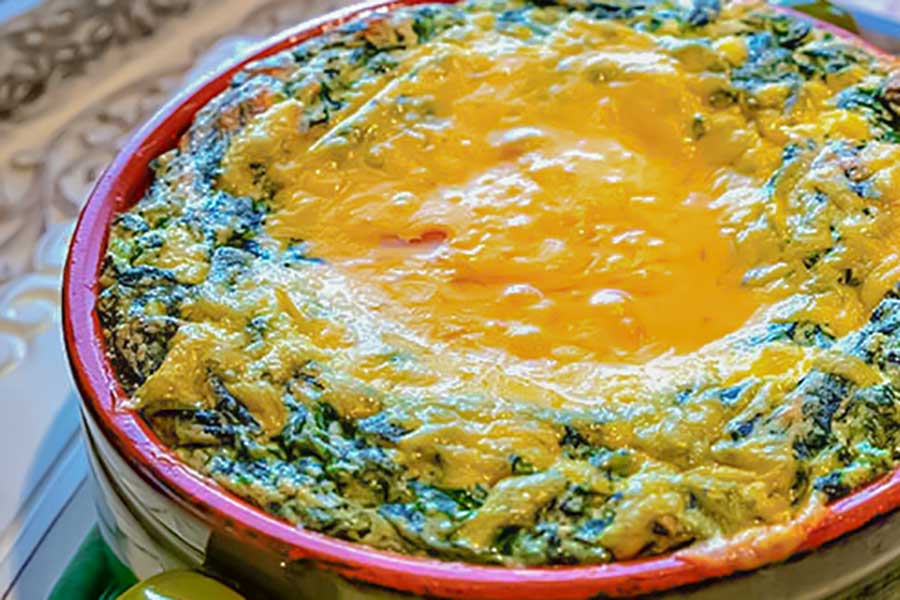 Meatballs Stuffed With Jalapeno And Mozzarella → recipe
The jalapeno and mozzarella filling is what make these low carb meatballs extra special. Serve with or without the dipping sauce, they are delicious both ways. Or make it into a meal by adding steamed low carb veggies.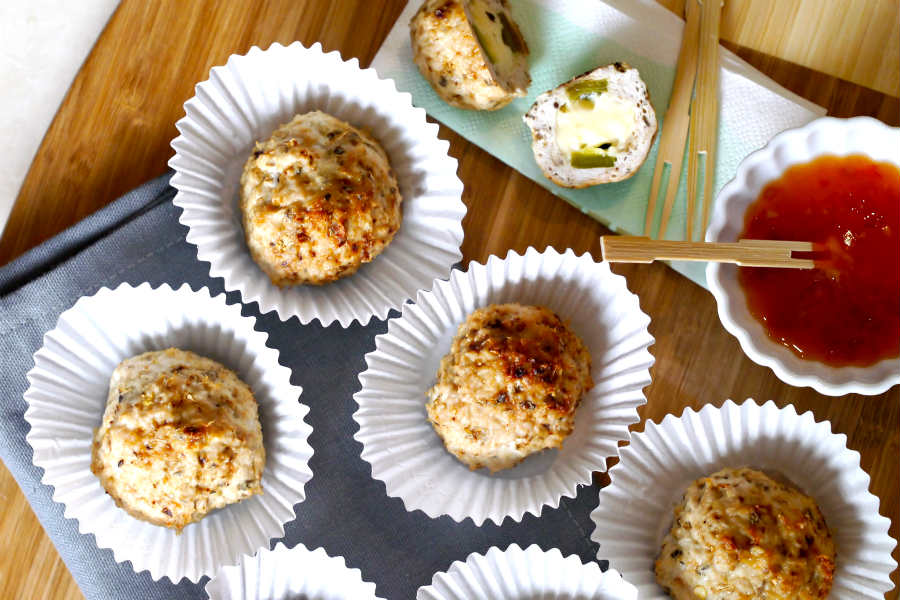 Gluten-Free Baked Zucchini Fries → recipe
Baked zucchini fries lightly coated with spiced crunchy Parmesan. This keto recipe is super easy to whip up, and there is no frying. This means less fat and less calories. Enjoy!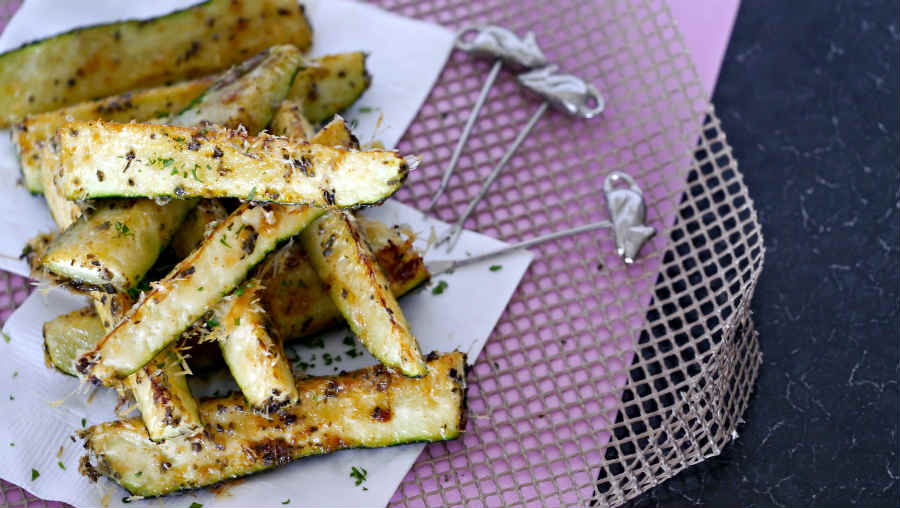 Roasted Chicken in Basil Cream Sauce → recipe
In this roasted chicken in basil cream sauce dish, the basil cream sauce is simmered with vegetables and then soaked up by the tender chicken. To keep this chicken dinner keto, serve with zero carb noodles or over steamed low carb veggies.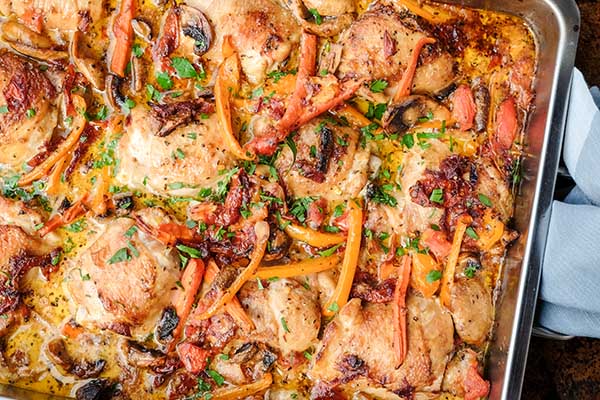 Nut-Free Pumpkin Seed Bread – Grain-Free → recipe
A bread that is light, moist and has pumpkin seeds throughout for extra wholesomeness. For those that are following a keto or low carb diet, this is a winner of a recipe. I can't even believe it myself—only 1 net carb per slice. The best part, this keto bread is made without nuts. I promise this low-carb bread recipe will not disappoint.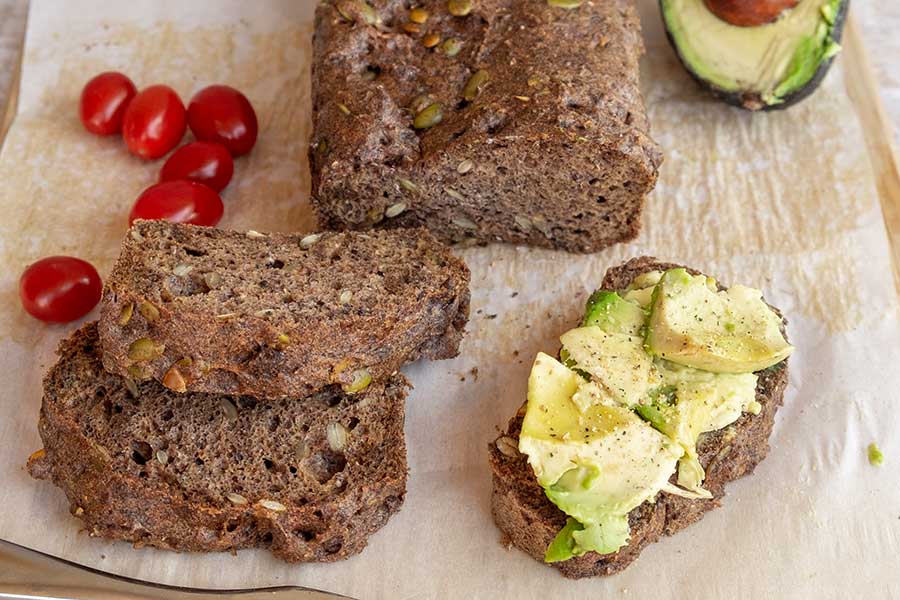 Low-Carb Ham And Cheese Egg Cups → recipe
Using only three ingredients plus seasoning, these low carb ham and cheese egg cups are simple enough for anyone to make. They remind me a bit of an eggs benedict but without the muffin. The best part they are so pretty and tasty you can serve them for a special brunch. The ham has crispy edges, the cheese is oozing with deliciousness, and the eggs are perfectly cooked.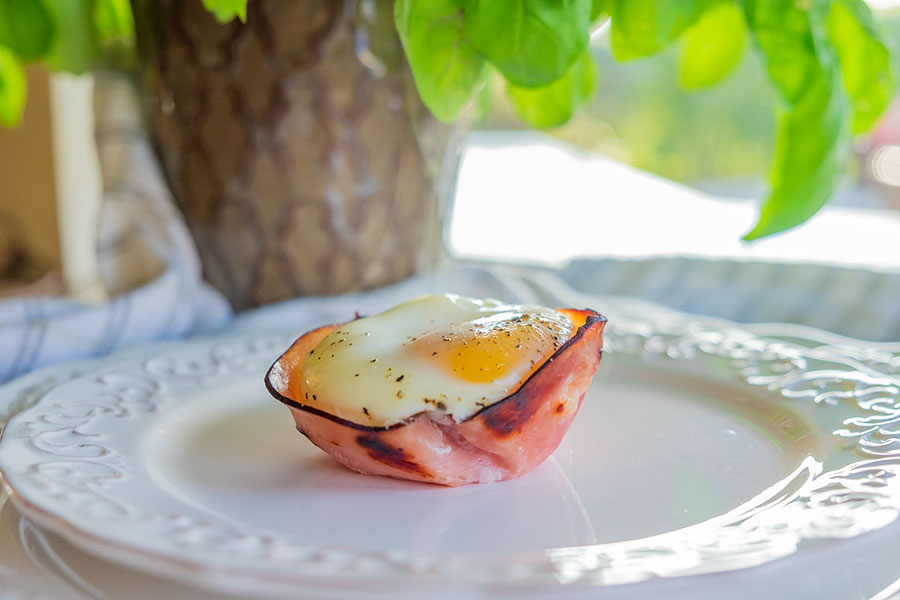 Low-Carb Cream Cheese Lemon Bars → recipe
These Keto Cream Cheese Lemon Bars are silky smooth, lemony with a buttery shortbread almond crust. This delicious keto dessert is made with two layers, a shortbread almond crust and creamy lemon layer. Both the shortbread crust and the lemon layer are simple to make. This its a low carb dessert not to be missed.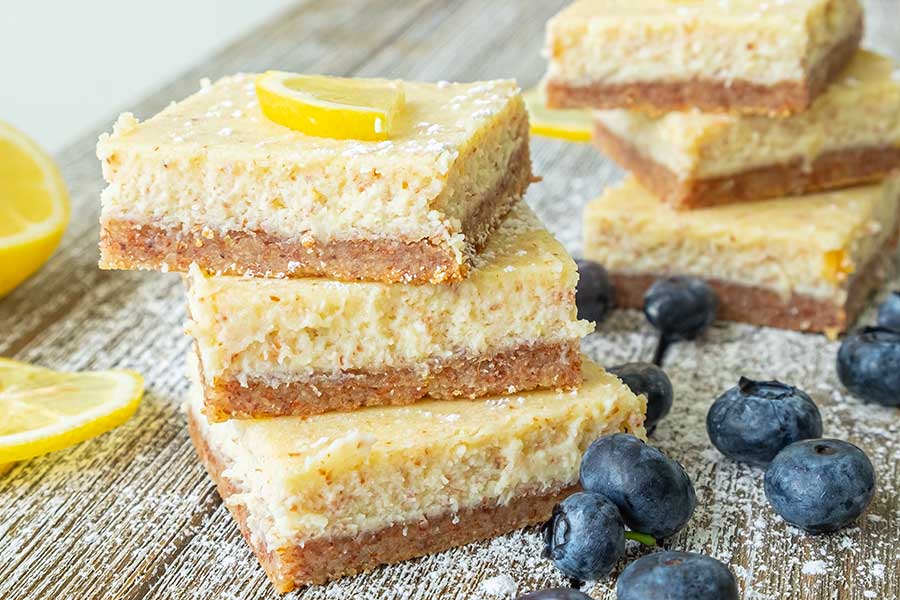 Skillet Tomato Cheese Pasta → recipe
Sometimes you want pasta for dinner, we all do. And what's better than a creamy tomato cheese fettuccine dish that you don't feel guilty about eating? This is keto pasta dinner to add to this month's healthy recipes. Just imagine, a low carb pasta smothered in the most flavourful Italian tomato cheese sauce.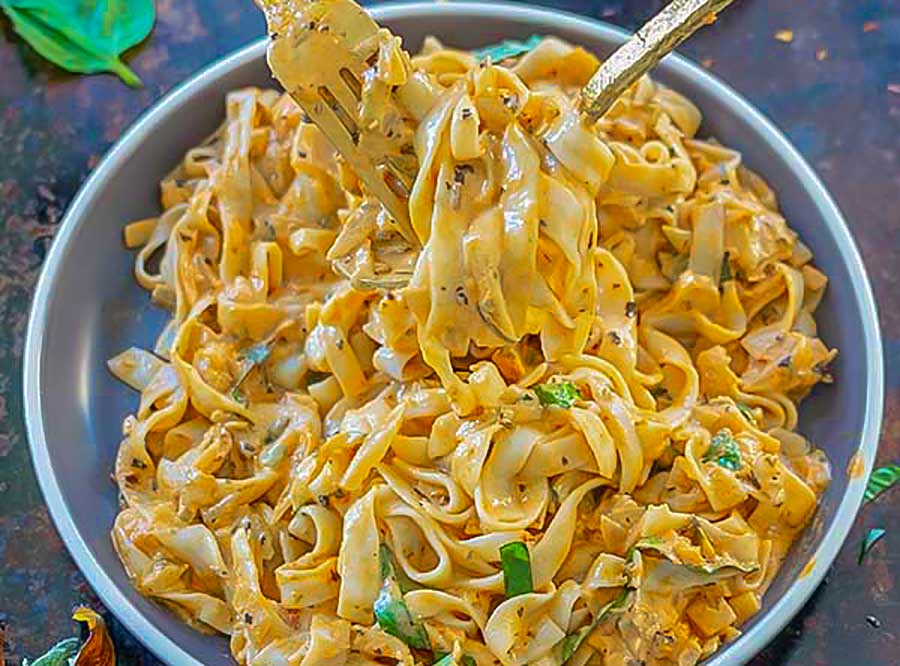 Low Carb Italian Stuffed Zucchini → recipe
This stuffed zucchini is so flavourful that you won't miss the carbs. The tender zucchini is stuffed with lightly sautéed fresh tomatoes, zucchini, garlic and Italian spices. Also, there is mozzarella and parmesan cheese, which makes the stuffing gooey and cheesy. The best part, the naturally gluten-free vegetarian recipe is super simple to make.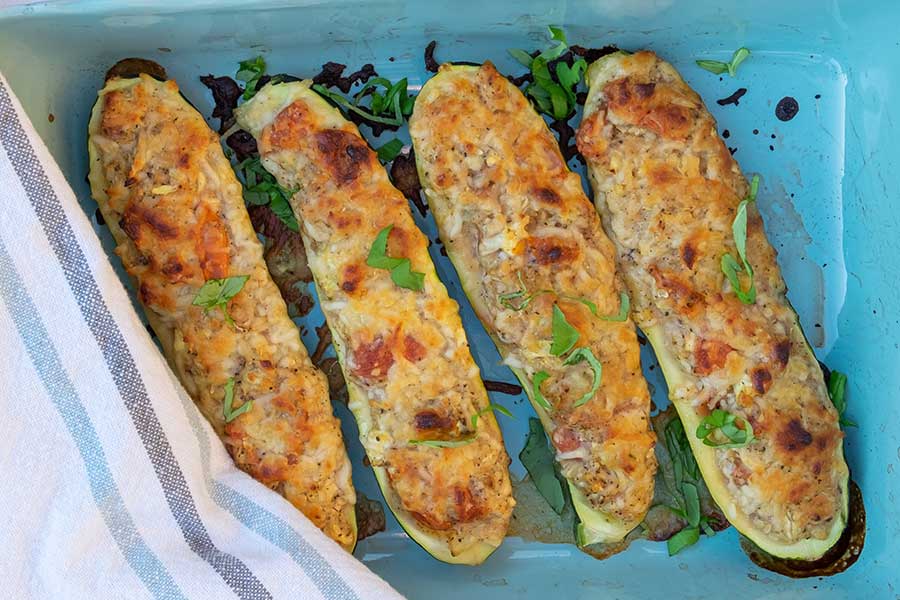 Low-Carb Minnie Blueberry Cheesecakes → recipe
If you are following a low-carb or keto diet, you will enjoy these Minnie Blueberry Cheesecakes. This is our most loved low carb dessert. All you need is six ingredients and six minutes to make this heavenly keto zesty dessert. The best part, you don't have to bake them and the cheesecakes taste heavenly.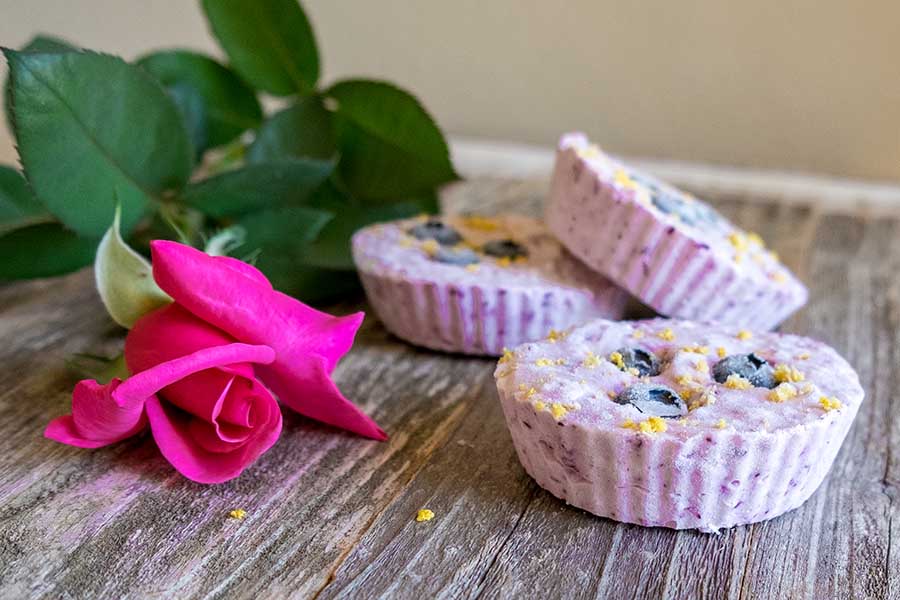 Taco Stuffed Roasted Kabocha → recipe
Casual style Mexican inspired cheesy taco stuffed roasted kabocha. As we keep January on the healthier side, this roasted kabocha stuffed with the most delicious loaded taco filling makes the list of healthy gluten-free recipes and is low-carb.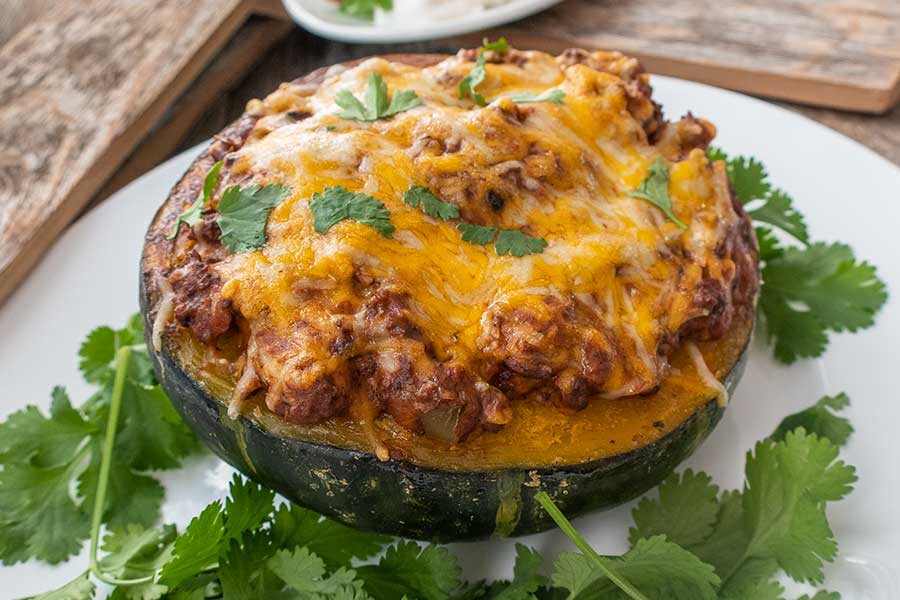 the very best pizza stuffed portobello mushrooms → recipe
If you haven't tried Pizza Stuffed Portobello Mushrooms, you are missing out. We all love pizza, but carbs, not so much. These small pizzas are naturally gluten-free, low in carbs and healthier than a traditional pizza.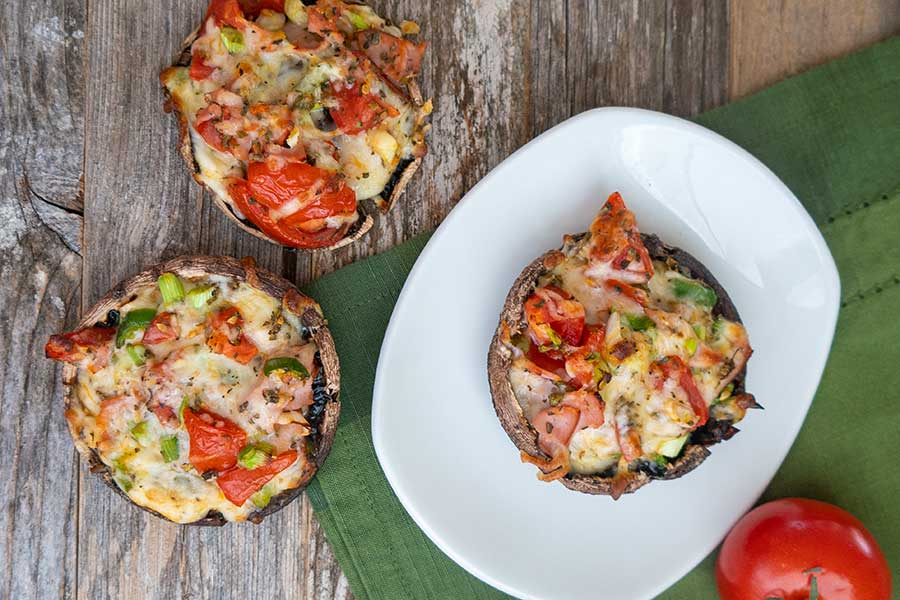 sheet pan cajun chicken with roasted veggies → recipe
Healthy, low-carb, easy and super flavourful chicken dinner under 45 minutes. This gluten-free low carb chicken dinner is healthy, with perfectly cooked veggies, caramelized onions, and irresistible flavours.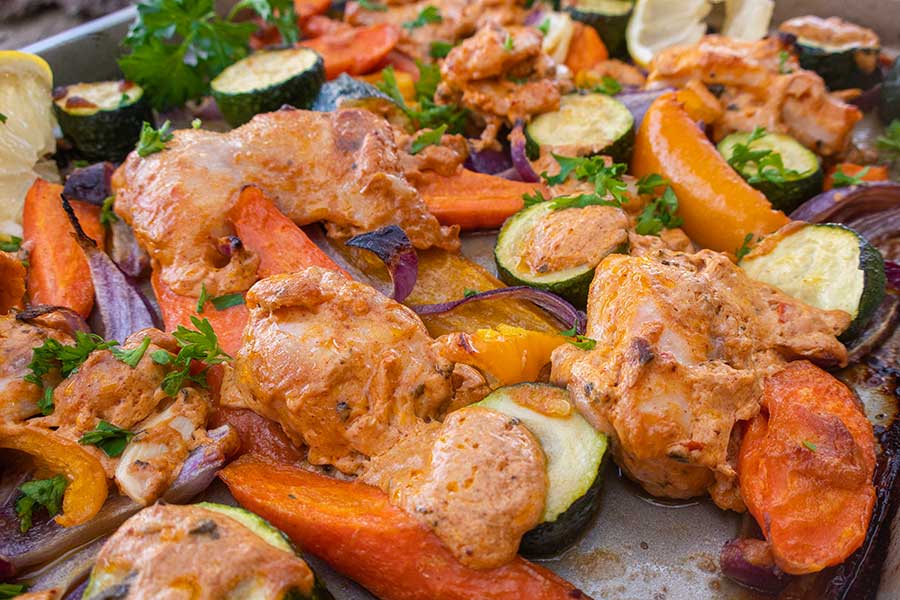 Salmon With Thai Coconut Cream Sauce → recipe
A healthy fish dinner made under 30 minutes. This one-skillet salmon dish is made with Thai spices, onions, garlic, ginger, julienned bell peppers, carrots, zucchini and coconut milk. This is a low-carb fish dinner packed with delicious flavours.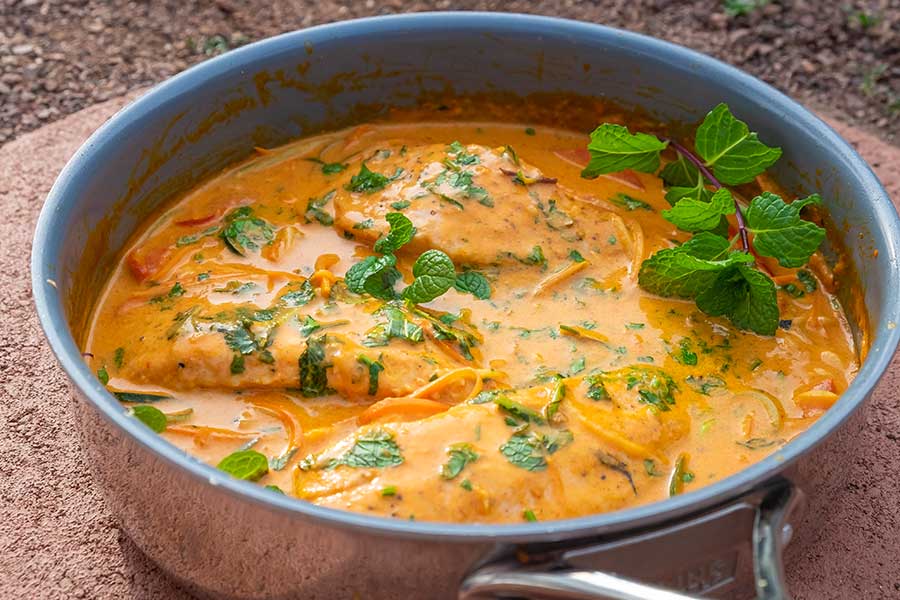 The Very Best Jalapeno Poppers → recipe
These low-carb Jalapeno Poppers, known in Mexico as chiles rellenos, are filled with cream cheese, Mexican cheese blend, red onion, salsa, and are flavoured with basil and cumin. For the topping, crispy, smoky bacon. Is there anything else to say? Enjoy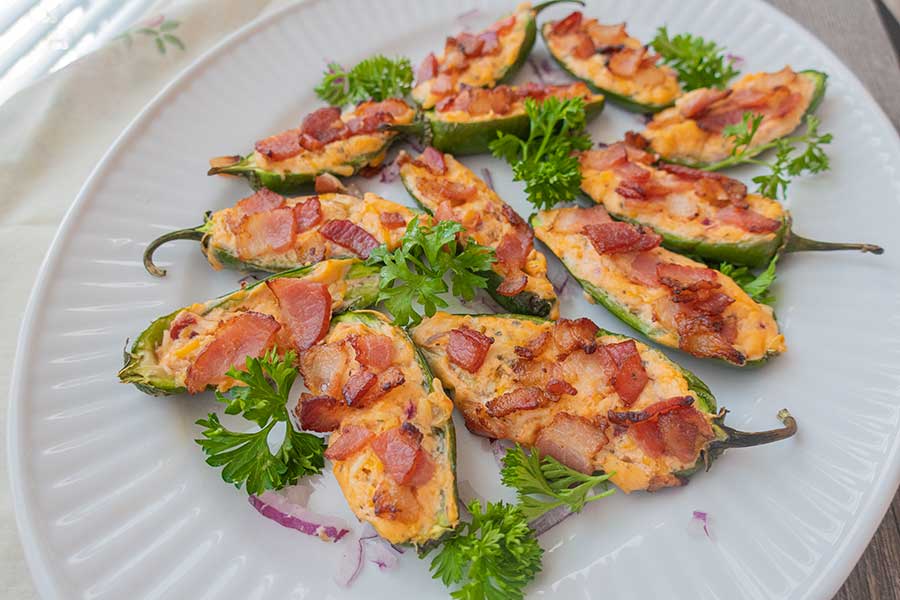 Bacon Wrapped Cauliflower with Avocado Aioli → recipe
In this recipe, the flavour of the cauliflower is enhanced by the smoked bacon, maple syrup and black pepper. Sometimes the simplest combinations work the best. This easy to make low-carb appetizer is served with a creamy avocado aioli, but most dips will work well with this recipe.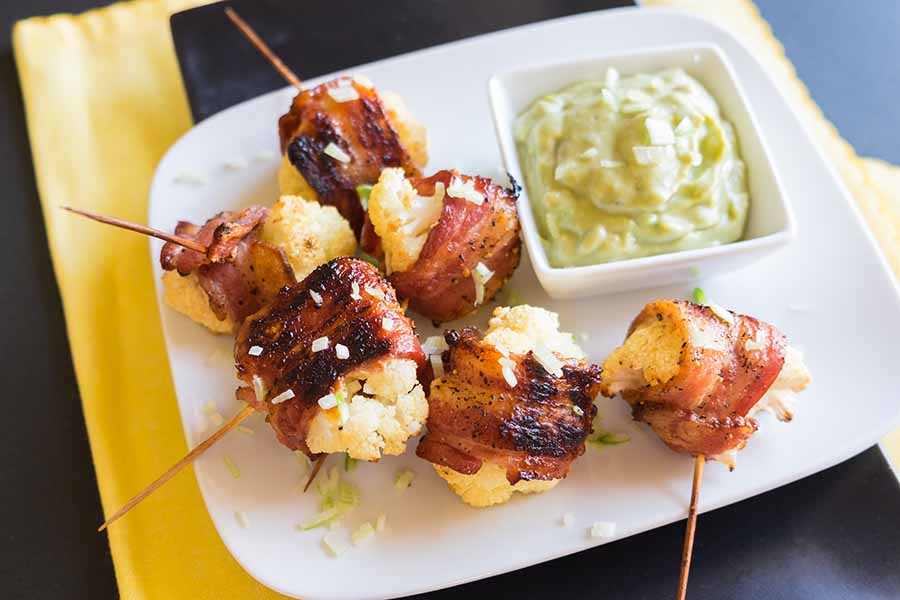 Southwest Chicken Lettuce Wraps – Low Carb →recipe
Tastiest Southwest Chicken Lettuce Wraps. These wraps are low-carb, healthy, savoury, and delicious lettuce wraps and are made with chicken, plenty of seasoning, and roasted peanuts for added crunch.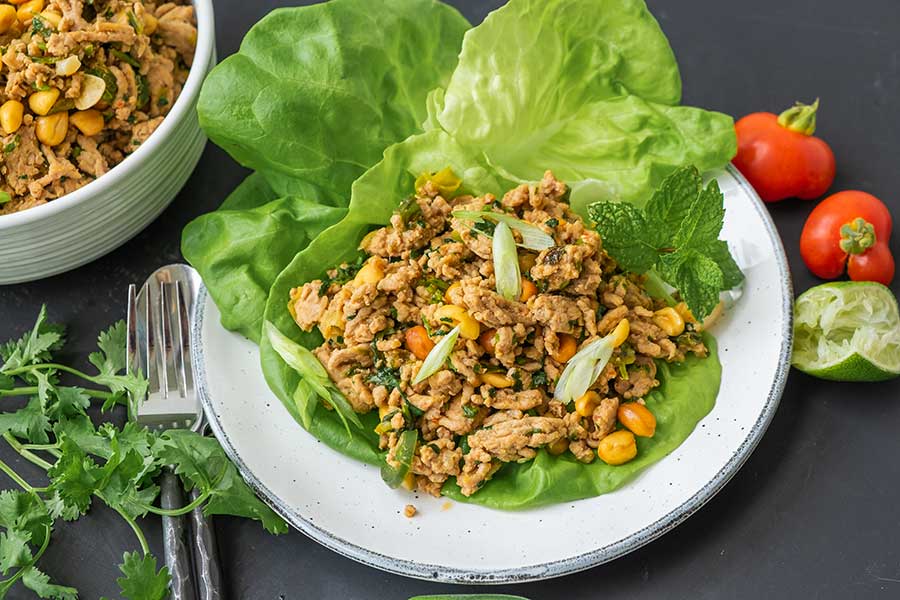 4-Ingredient Low-Carb Strawberry Mousse → recipe
This creamy mousse is made with only 4 ingredients and has about 3.5 net carbs per serving → the net carbs depending on the type of cream cheese you are using. The best part is, this dessert takes only 10 minutes to prepare.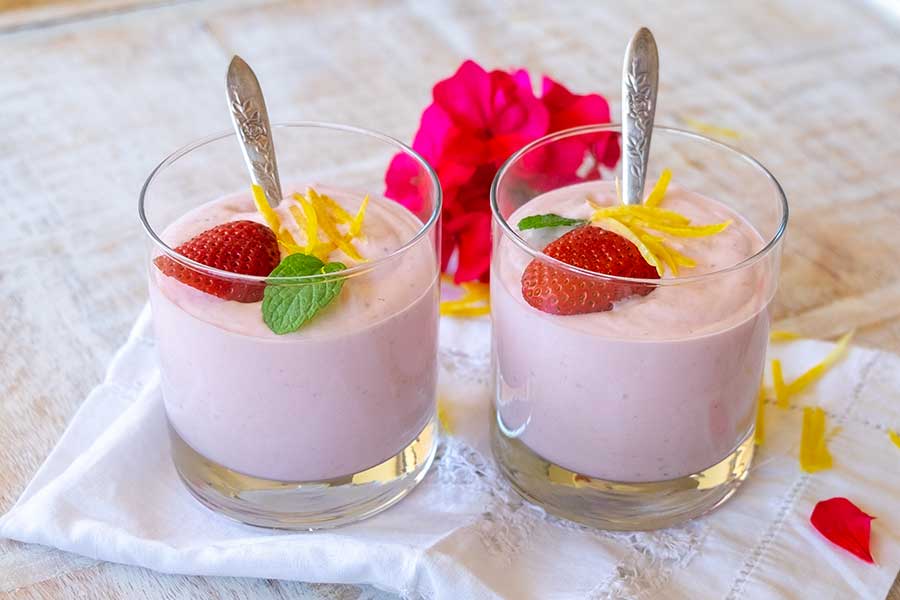 You will find our complete selection of gluten-free keto friendly recipes here →
Let's Connect!
Be sure to FOLLOW US on FACEBOOK and PINTEREST.
Many thanks!
Kristina xx