Spanish Pork and Sausage Casserole
Published on Feb 22, 2016
by
Kristina Stosek
Prep Time:

15 minutes
Cook Time:

40 minutes
Serves:

4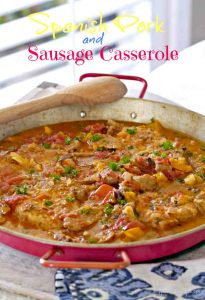 ​This post may contain affiliate links, please see our
privacy policy
for details
Spanish Pork and Sausage Casserole is a hearty dish flavoured with garlic, smoked paprika, caraway, bay leaves and wine. For the veggies, fresh tomatoes, bell peppers and onions. These are typical ingredients in Spanish cuisine because, in Spain, the food is uncomplicated and made with local and seasonal produce.
The pork chops are tender and juicy, smothered in a tasty sauce, and the sausages add intense flavour to this Spain's favourite casserole.
There is nothing easier because it's made entirely in one pot. Seriously this is one of those easy recipes for weeknight or company is coming. I don't know anyone that wouldn't love this pork and sausage casserole.
And it's easy –> Only one pan!
First, you will need a large deep pan or a pot. Brown the pork chops and set aside. To the same pot, brown the sausages with onions, garlic and bell pepper. Add the spices, return the pork chops to the pan with remaining ingredients.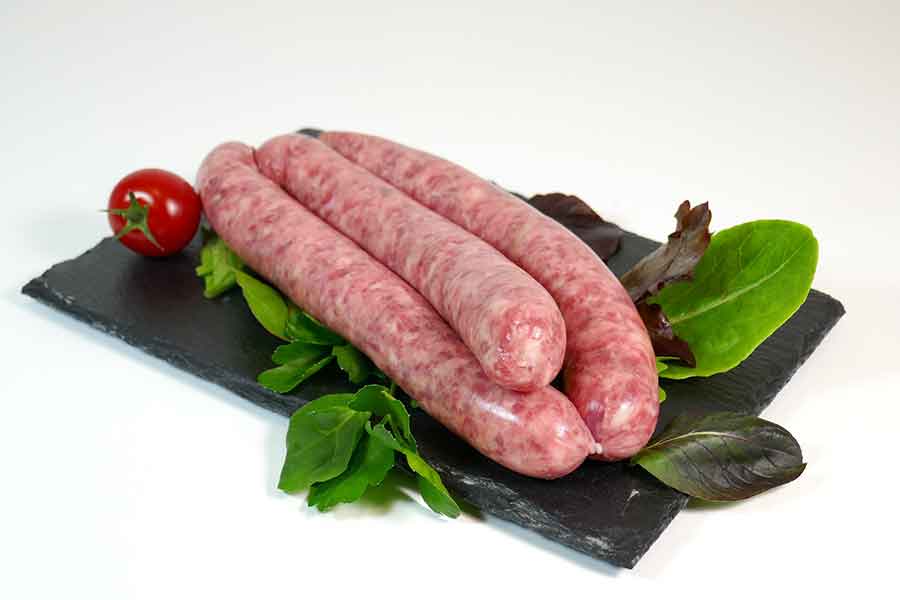 Cover and bake until the pork chops are tender. How easy is that? Just before serving, cut the sausages to bite-size pieces and top with extra fresh parsley…enjoy. The best part, everything in this casserole dish is naturally gluten-free.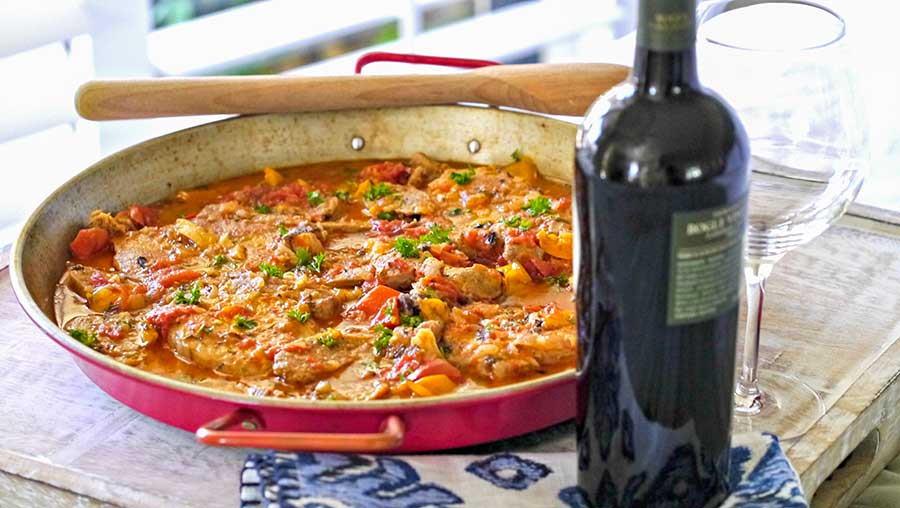 To serve, I recommend adding a side of simple rice or simple potatoes with garlic. If you like to soak up the delicious juices from the meats and veggies, serve with gluten-free pull-apart soft rolls with rosemary.
Spanish Pork and Sausage Casserole
Published on Feb 22, 2016
by
Kristina Stosek
Instructions
1.

Heat oil over high heat in a large deep pan. Season pork chops with salt. Add to hot oil and brown on both sides. Transfer to a plate

2.

Reduce heat to medium and add sausages, onion, bell pepper and garlic to the pan. Cook until onions are softened, turning the sausage so they are browned on all sides

3.

Stir in paprika and caraway and return pork chops to the pan.

4.

Add wine, tomatoes, bay leaves and parsley and season with salt. Give it a gentle stir. Cover with a lid or foil and bake in a preheated oven at 375 F for 30 minutes until pork chops are tender.

5.

To serve, cut the sausages to bite size pieces and top with extra parsley