Salmon Pops With Piquant Dill Sauce
Published on May 12, 2015
by
Kristina Stosek
Prep Time:

15 minutes
Cook Time:

12 minutes
Serves:

16
​This post may contain affiliate links, please see our
privacy policy
for details
These Salmon Pops With Piquant Dill Sauce make for delicious healthy low-carb appetizers. Or, for the nights when you are craving something flavourful and light but want to keep things quick and simple with healthiness in mind.
The salmon is flavoured with sesame oil and sesame seeds and baked on skewers with lemon slices and then drizzled with a flavourful piquant dill sauce.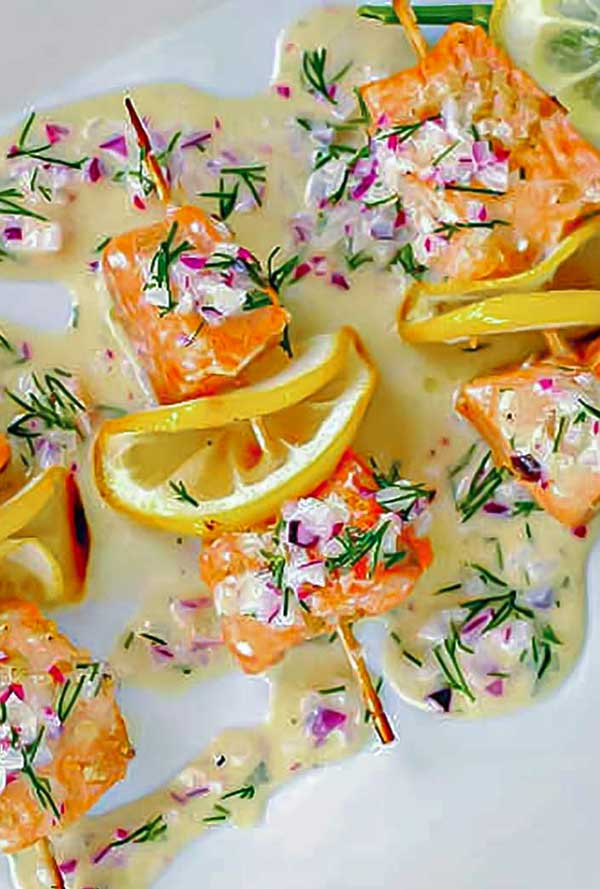 This fish recipe is baked on a baking sheet using either bamboo or stainless steel skewers, keeping this recipe easy with minimal clean-up.
When you are purchasing the salmon filet, look for a thick slice. The reason for this is, the fish is cut into 1-inch cubes and then threaded on the skewers.
salmon pops recipe details
first, flavour the salmon,
The salmon cubes are coated with olive oil, sesame oil, sesame seeds and seasoned with salt.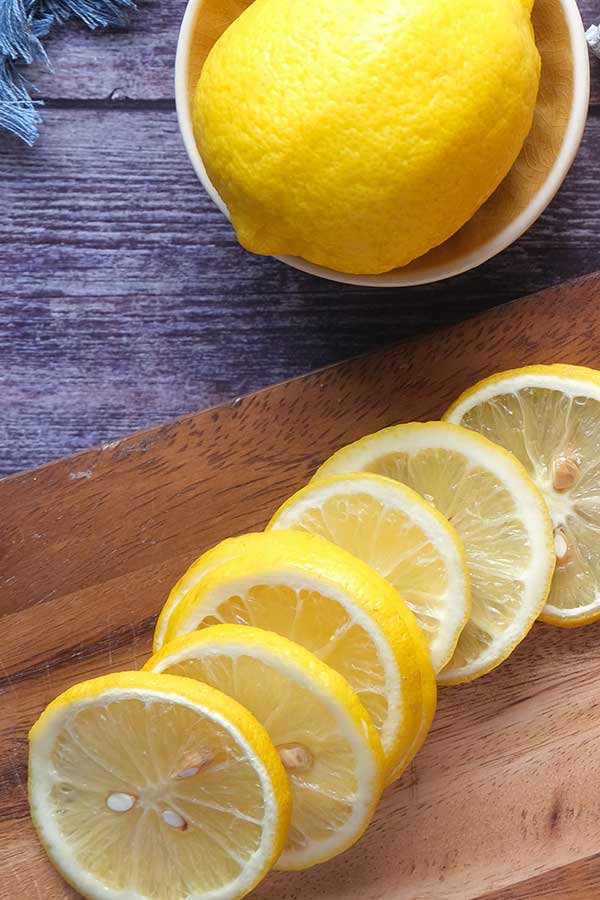 The seasoned cubes are threaded on appetizer skewers alternately with folded lemon slices. The lemon adds a tangy flavour to the salmon, making the fish taste so good! Let's agree fish and lemon are two best friends.
light piquant dill sauce for salmon
The piquant dill sauce is made with chopped red onions, fresh dill, lemon juice, olive oil, a tablespoon of mayonnaise, salt and pepper. The ingredients are whisked together, and the sauce is ready to go.
The fresh-tasting sauce adds that tangy lemon flavour. Add red onion to the mix, and you know this salmon dish will not be short of deliciousness—a delicious way to serve fish. The sauce is simple, and it compliments the salmon beautifully.
The best part? This salmon recipe comes together in less than 30 minutes!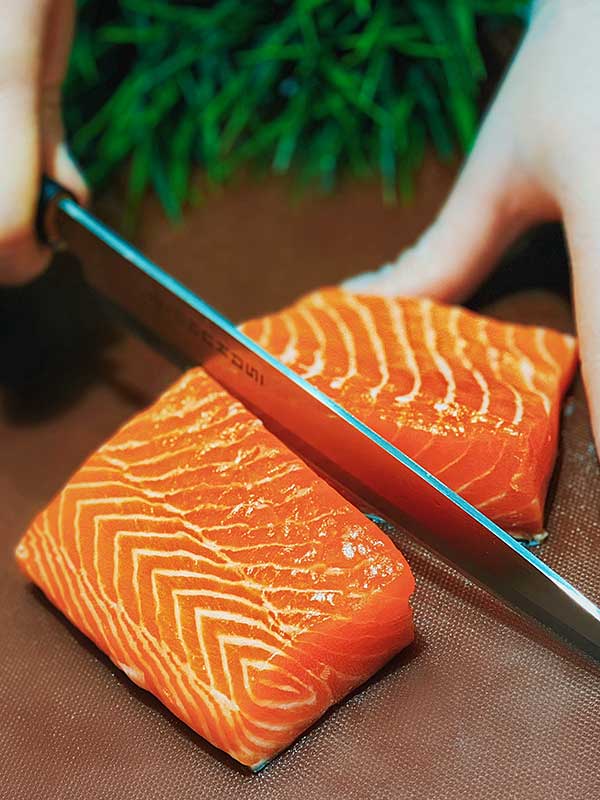 tools you will need
sharp knife
2 bowls, 1 large + 1 small
measuring spoons
16 appetizer skewers, bamboo or stainless steel
parchment paper
rimmed baking sheet
Why are the bamboo skewers soaked in water?
If you are using bamboo skewers, you should first soak them in water for twenty minutes. Dampening the skewers in water will stop them from burning when cooking the salmon.
I used bamboo skewers in this salmon appetizer recipe. However, you can use 5″ stainless steel skewers and skip the soaking.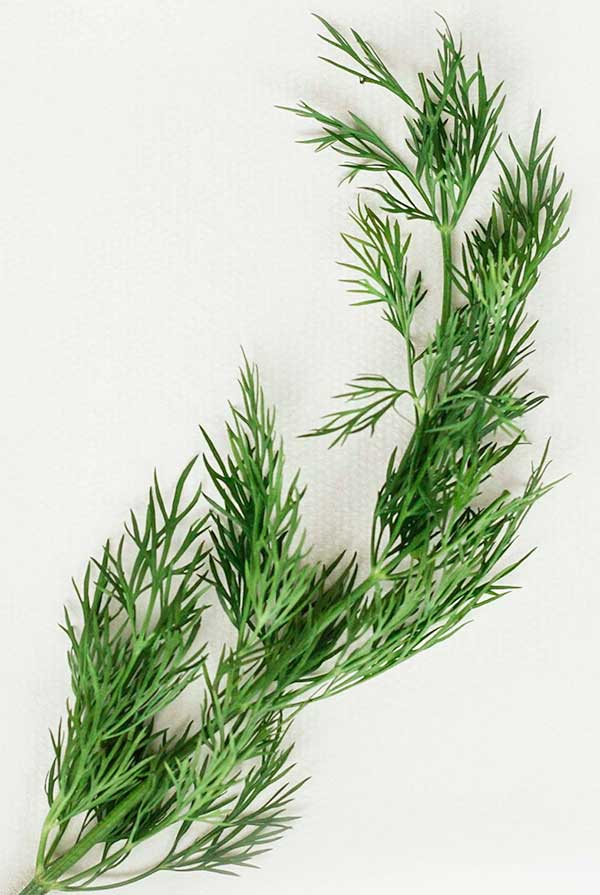 Is dill healthy?
This may surprise you. Dill leaves are packed with healthy nutrients such as vitamins A, C and D. In addition, this tiny pungent leaf has folate, iron, copper, potassium, zinc and more.
What does dill taste like?
Dill is one of those herbs that you either love or it is not for you. The tiny leaves taste slightly grassy, with an anise flavour with a light citrusy undertone. This herb goes exceptionally well with fish or in potato salads such as the Potato Salad with Yogurt Dill Dressing or Sweet Potato Salad with Herb Vinaigrette.
salmon pops for entertaining
The salmon pops are a big hit at any dinner party, especially for the diet savvy. We love that this salmon dish is easy to prepare and delicious, but it's also low carb, low calorie, high protein and naturally gluten-free.
The best part, this fish appetizer is very popular for those watching their waistline.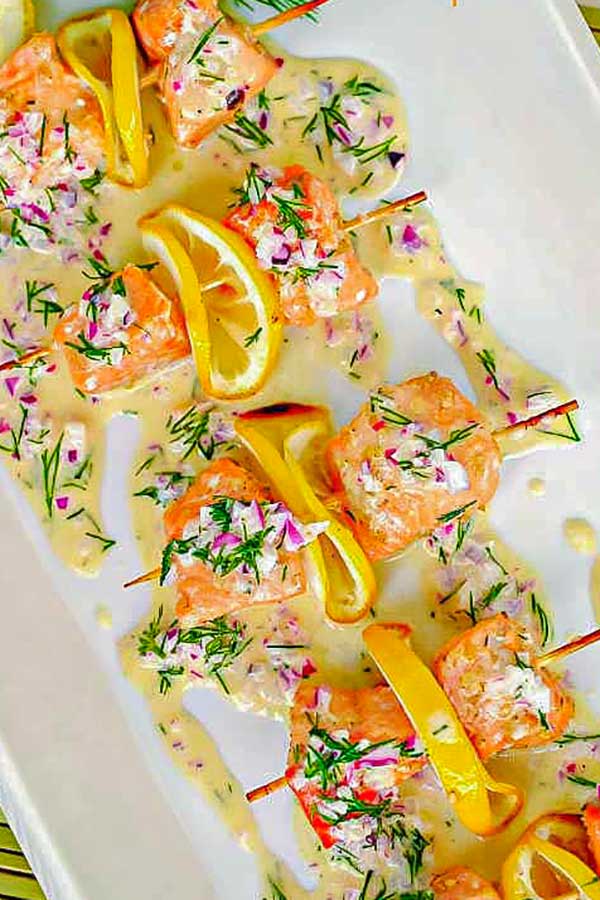 Do you need to feed big appetites?
No problem, serve each salmon skewer over simple rice with parsley topped with the piquant dill sauce, or with gluten-free Mediterranean pasta salad. YUM!
If you are looking for a light lunch idea, serve the salmon pops with this zesty cabbage and fennel citrus salad. You will love it!
Are you looking for recipe ideas for fresh salmon? Check out our popular gluten-free salmon recipes. They are simple to make, healthy and delicious! Enjoy!
Let's Connect!
Be sure to FOLLOW US on FACEBOOK and PINTEREST.
Many thanks!
Kristina xx
Salmon Pops With Piquant Dill Sauce
Published on May 12, 2015
by
Kristina Stosek
Instructions
1.

2.

Place salmon cubes into a bowl with olive oil, sesame oil, sesame seeds and salt. Gently toss to coat

3.

Thread salmon cubes onto a skewer alternately with folded lemon slices. Place on a baking sheet lined with parchment paper. Continue until you use up all the salmon

4.

Place in the oven and bake for 8 minutes, turning halfway through. For barbecue option, place skewers onto hot grills and grill 4 minutes per side, or until salmon is fully cooked.

5.

For the piquant dill sauce; Using a medium bowl whisk everything together

6.

Pour piquant dill sauce evenly over the salmon just before serving and garnish with fresh dill and lemon slices.

7.

Serve warm or at room temperature
Leave a Comment
Kristina
Charlene, I have made it with halibut and it was amazing. Any firm fish that is thick enough will work
Has anyone made this recipe with a different fish??
So incredibly good! No changes necessary, they are perfect
Kristina
thank you Lori for sharing!
I made this salmon recipe over and over, thank you for this recipe so much! Everyone loves it!
Kristina
thank you Teresa, I am so happy to hear that.
my dinner party was a big hit with these salmon pops, thank you a great appetizer!!
Kristina
thank you Hala, it's always nice to hear
I like your dishes, its very simple and delicious..