Healthy Low-Carb Bok Choy Soup
Published on Apr 25, 2015
by
Kristina Stosek
Prep Time:

10 minutes
Cook Time:

10 minutes
Serves:

4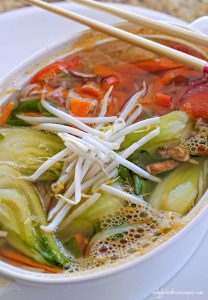 ​This post may contain affiliate links, please see our
privacy policy
for details
Healthy broth like Bok Choy Soup filled with carrots, mushrooms, tomatoes, bell peppers, and green leafy bok choy cabbage made under 15 minutes.
This low-carb, low fat soup is seasoned with ginger and garlic with a squeeze of fresh lime juice, sesame oil and garnished with fresh bean sprouts for added freshness.
a quick and simple healthy bok choy soup recipe,
Start with simmering all the veggies except for the bok choy in a chicken broth for only three minutes.
next,
Add the quartered bok choy and cook for additional three to five minutes. The bok choy should be tender but firm.
the flavours,
In the end, stir in tamari sauce, fish sauce, maple syrup, sesame oil and a squeeze of fresh lime juice.
to serve,
Ladle hot soup into bowls and top with fresh crispy bean sprouts.
This Asian-inspired bok choy soup is a perfect healthy brothy soup to include during the holiday season. Holidays are about indulging in rich and delicious food and leftovers drenched in gravy.
Adding a light soup filled with veggies and plenty of healthy bok choy will help your digestion and add nutrients to your diet. For more dishes made with bok choy, check out our complete list of gluten-free bok choy recipes.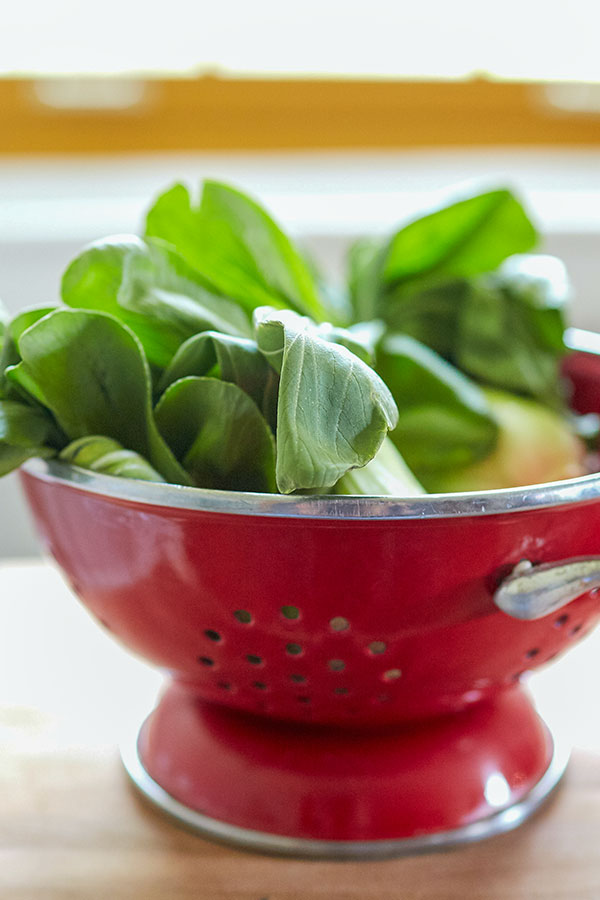 What is bok choy?
Bok Choy is a Chinese leafy cabbage that is low in calories, high in nutrients and a staple vegetable in Asian cuisine. Bok choy, sometimes called Chinese white cabbage, has tender green leaves with a white stalk.
What does bok choy taste like?
The tender leaves taste like a combination of spinach and lettuce. The mild flavour makes bok choy a great addition to soups and stir-fries.
Is bok choy healthy?
This green leafy vegetable is a good source of vitamin C and K. It also contains vitamin A, betacarotene, folate, B 6 and some fiber.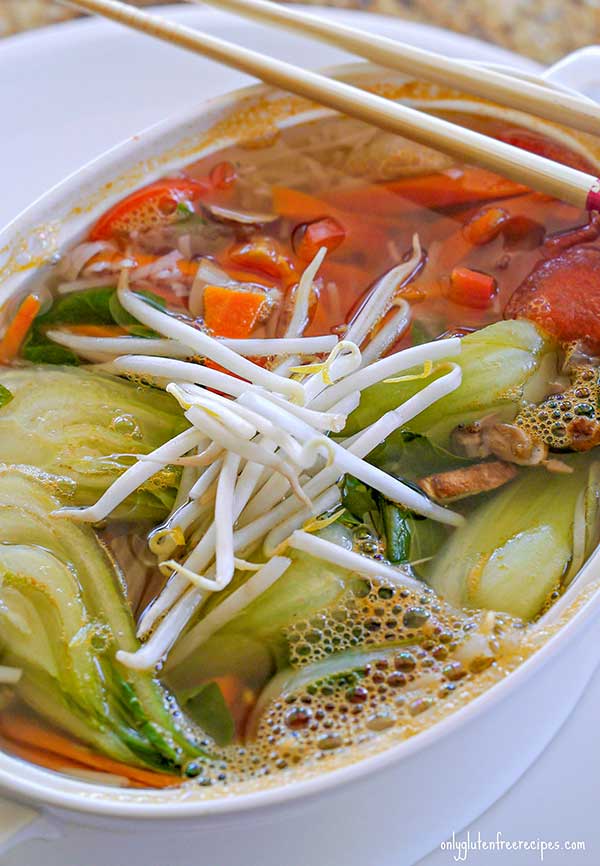 When you are short on time and are looking to create something hot and satisfying this healthy bok choy soup will satisfy that craving. This delicious soup is on top of our list for a weight-loss diet.
Another soup you may enjoy using bok choy is the 30 Minute Creamy Thai Chicken with Noodles
Need more heartiness? Add some gluten-free rice noodles. The noodles go exceptionally well with this flavourful Asian-style broth soup.
Let's Connect!
Be sure to FOLLOW US on FACEBOOK and PINTEREST.
Many thanks!
Kristina xx
Healthy Low-Carb Bok Choy Soup
Published on Apr 25, 2015
by
Kristina Stosek
Instructions
1.

Add broth, water, carrots, mushrooms, tomato, red pepper, jalapeno pepper, ginger and garlic into a large pot. Bring to boil and cook for 3 minutes

2.

Add bok Choy and simmer for 3 – 5 minutes until vegetables are just tender

3.

Remove from the heat and stir in tamari sauce, fish sauce, agave, sesame oil and lime juice

4.

Taste and season with salt to taste

5.

Ladle into soup bowls and top with bean sprouts
Leave a Comment
Kristina
light and tasty, thank you!