30 Minute Creamy Thai Chicken with Noodles
Prep Time
15 Minutes
Difficulty
Easy
Cook Time
15 Minutes
Serves
4
Average Rating: 5 | Rated By: 5 users
30 minute creamy Thai chicken with noodles dinner made with healthiness in mind and deliciousness. Lightly flavoured chicken, bok choy, mushrooms and carrots cooked in the creamiest sauce flavoured with Thai spices, fresh lime juice and fresh herbs.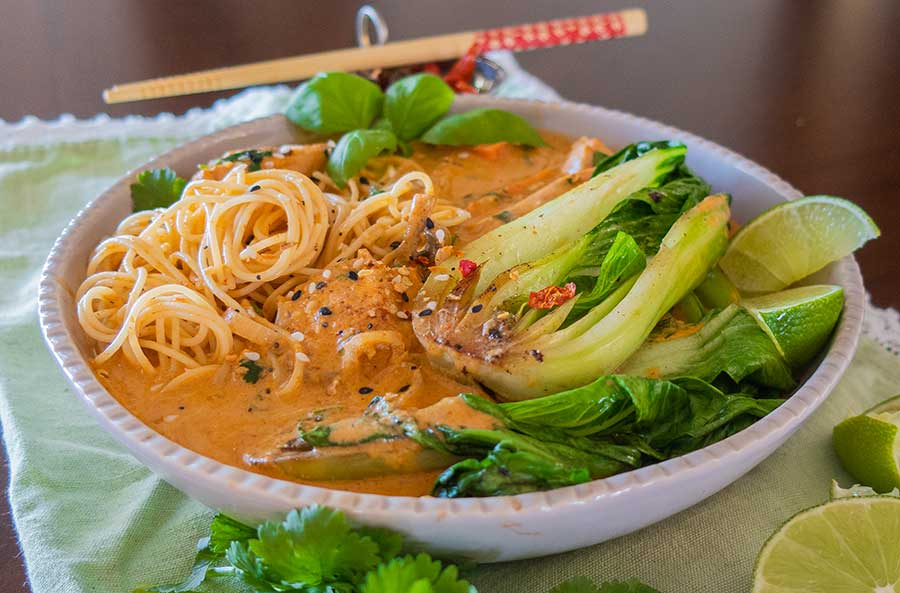 Monday is a good day to start with an easy gluten-free chicken dinner. This colourful creamy Thai chicken takes minutes to prepare and cooks for under 15 minutes. The sauce is thick, and creamy filled with healthy veggies and served with rice noodles.
Switching up the chicken with this Thai inspired weeknight creamy chicken is another way to serve a delicious gluten-free chicken dinner. This super flavourful dish is served over rice noodles with your favourite toppings.
Your family will be impressed by how delicious this chicken dinner is with so much goodness in one bowl.
how to make creamy Thai chicken – the details,
You will love how easy this chicken recipe is. First, you toss chicken cubes with ginger, sesame oil, honey, tamari sauce and black pepper. Then using a large skillet, quickly brown the chicken pieces. To the same skillet, add the bok choy and lightly charr around the edges.
Remove the chicken with the bok choy and make the creamy coconut sauce with lightly cooked veggies. The sauce takes just minutes to cook. Finish the sauce with fresh lime juice and herbs.
When it comes to Thai food, you can serve it with rice noodles or rice. Jasmine rice accentuates the Thai flavours and makes everything more delicious. Both, rice noodles and rice are naturally gluten-free, making them a good choice to add to this Thai meal.
When it comes to thick sauces, I love to add noodles. I can't help it, but noodles are my favourite carbs, especially when the noodles are heavily coated with a delicious sauce. Thai noodles are typically made from rice, and you can use either thick or thin rice noodles. Rice noodles cook very quickly and are probably the easiest noodles to prepare.
the toppings, 
To make any meal extra special, it is all about the toppings. However, this Thai dish is delicious as is add some toppings, and this chicken dinner will step up to another level. I would recommend fresh herbs like cilantro or, if you can get Thai basil.
And, fresh lime juice is a must in Thai dishes. Everything else you add, like hot chilli sauce or crushed pepper flakes, is all about the flavours you desire.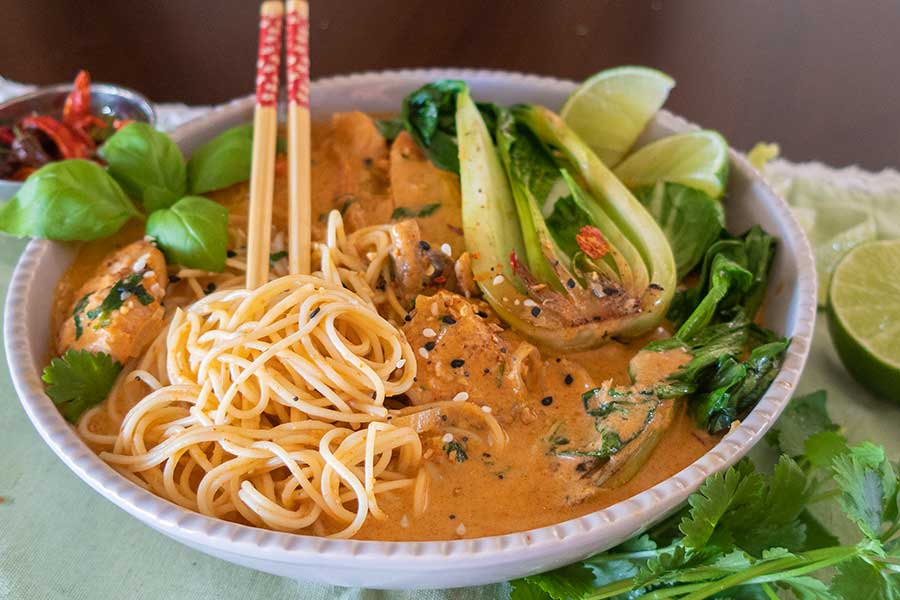 It is the beginning of the week, and starting with a bang is the way to go in our home. Serving gluten-free Thai creamy chicken oozing with deliciousness and plenty of healthy veggies served over satisfying rice noodles…perfect!
The best part, this chicken dinner is healthy, comforting and not to mention satisfying. Enjoy!
For the latest recipes and tips, please like us on Facebook or follow us on Pinterest and  Instagram.
Ingredients
1 1/2 lb. boneless skinless chicken thighs or breasts, cubed 
2 Tbsp. GF sodium reduced tamari sauce
 1 Tbsp. Minced ginger
2 tsp. Honey
1/2 tsp. GF ground black pepper
3 Tbsp. Coconut, peanut or extra virgin olive oil
3 baby bok choy, quartered
1 medium shallot, diced
2 garlic cloves, grated or thinly sliced
1 Tbsp. Fish sauce
14 oz. can coconut milk
1/2 cup GF chicken broth or water
2 small carrots, diced
8 oz. quartered small mushrooms
Crushed red pepper flakes, to taste (optional)
1/3 cup roughly chopped cilantro or Thai basil
Juice of 1 lime
Optional toppings; cilantro, Thai basil, lime juice, sesame seeds, crushed red pepper flakes, a drizzle of sesame oil, a drizzle of hot chilli oil
*As an Amazon Associate and member of other affiliate programs, I earn from qualifying purchases. Please check out my sponsorship and disclosure policy page for more details
Instructions
Toss the chicken with sesame oil, tamari sauce, ginger, honey and black pepper. Rest for 10 minutes
Heat 2 tablespoons of oil in a non-stick skillet over medium-high heat. Add the chicken and brown all over. Add the bok choy and cook until lightly charred, turning as needed. About 2 minutes. Transfer everything on to a plate, keeping the bok choy to one side
To the same skillet, add 1 tablespoon of oil, shallots and garlic. Cook over medium heat until fragrant. About 1 minute
Stir in curry paste, fish sauce, coconut milk and whisk to combine
Add broth/water, carrots, mushrooms and chicken. Bring to a simmer, cover and cook over low heat for 5 minutes. Add bok choy, cilantro/basil and lime juice. Cook until the bok choy reaches the desired doneness. About 1 - 2 minutes
To serve, divide noodles between bowls and top with chicken, veggies, sauce and desired toppings
Similar Recipes
Creamy Thai Peanut Dahl (Vegan, Gluten-Free)
Creamy Thai Peanut Dahl — I call this recipe India meets Thailand. Lentils with vegetables snuggled in a spiced Thai coconut sauce, oh yes, definitely something to try. Dahl with rice is a national dish of India often eaten with rotis. I wanted this dahl recipe to reflect the flavours of India and Thailand. Something different, […] Read More
Prep Time
15 Minutes
Difficulty
Easy
Cook Time
25 Minutes
Serves
6