Vegetarian Celeriac Soup Recipe
Published on Dec 04, 2017
by
Kristina Stosek
Prep Time:

15 minutes
Cook Time:

35 minutes
Serves:

6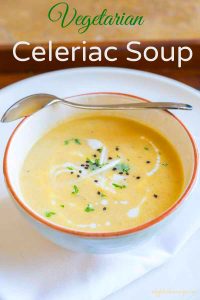 ​This post may contain affiliate links, please see our
privacy policy
for details
Are you looking for a hearty and nutritious soup? Look no further because this vegetarian celeriac soup is perfect for any season. A classic French-style creamy soup that is flavourful, healthy, and easy to make, and you can serve it hot or cold.
What is celeriac
Celeriac, also known as celery root, is a type of celery grown for its edible white bulbous root rather than its stalks.
The flavour of celeriac is similar to that of regular celery, but it is more intense and slightly nutty. This makes it a perfect ingredient for savoury dishes.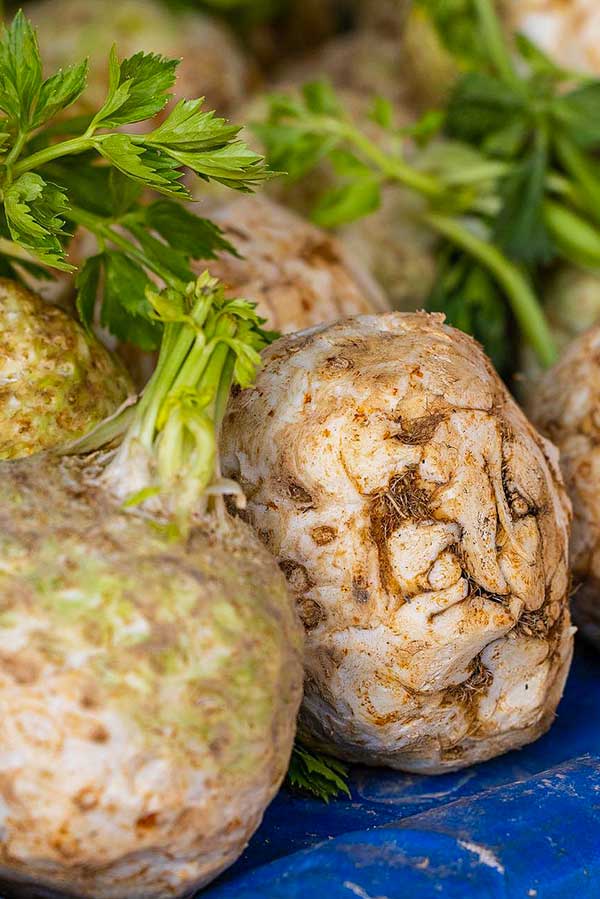 Is celeriac healthy?
There's no denying that celeriac is a healthy vegetable. It's low in calories and fat and packed with nutrients like fiber, potassium, and vitamin C.
But some people might wonder if it's really worth eating celeriac because of its somewhat unusual taste and texture.
The answer is a resounding yes! Celeriac is not only healthy, but it's also delicious and versatile. You can use it to make soups, stews, casseroles, and even salads.
And because it's so low in calories and carbs, you can enjoy eating celeriac without having to worry about packing on the pounds.
Where does celeriac soup originate from?
Celeriac soup is thought to have originated in France and is a popular dish in many French households. It is also common in Belgium and other parts of Europe.
The soup is typically made with celeriac, potatoes, leeks, and carrots. It is flavoured with herbs such as thyme, parsley, and bay leaves.
In this celeriac soup recipe, I replaced the carrots with sweet potatoes, adding extra creaminess and flavour to this dish.
what to serve with celeriac soup
When it comes to serving celeriac soup, there are a few different options that you can go with. One option is to serve the soup with a side of bread. This can either be Gluten-Free Homemade Italian Bread or Gluten-Free Artisan Bread.
Another option is to top the soup with shredded gruyere cheese or gluten-free croutons.
Lastly, you could also garnish the soup with some chopped celery leaves.
Do you have to peel the celeriac?
When it comes to celeriac, there is some debate over whether or not you have to peel it before cooking. Some people find the skin tough and bitter, while others don't mind it.
If you're unsure which camp you fall into, it's best to peel the celeriac before adding it to your dishes.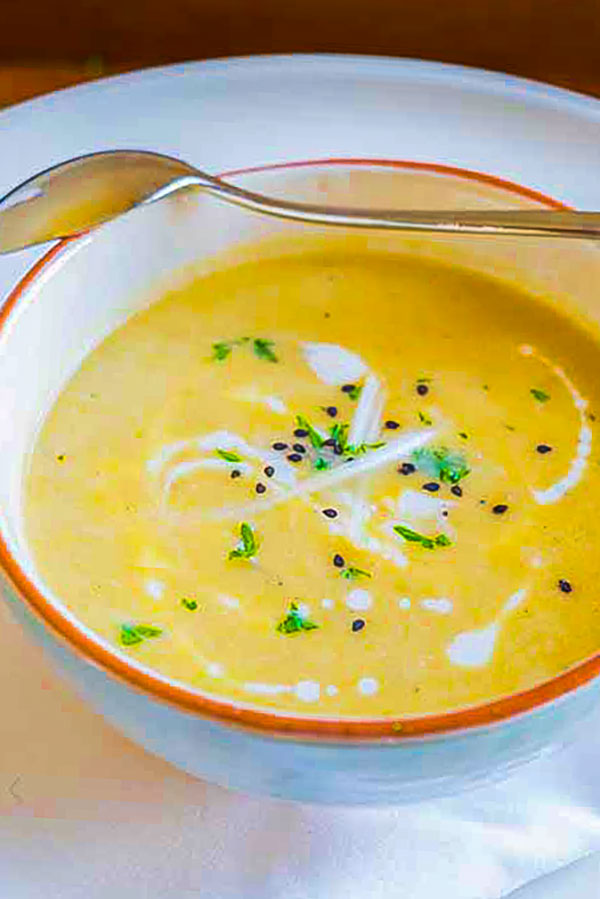 Is this soup low carb?
If you're looking for a delicious and hearty vegetarian soup recipe, look no further than this celeriac soup! This vegetarian soup is lower in carbohydrates than Vichyssoise, another well-known French soup that you can serve hot or cold.
vegan version
This creamy French soup is easily converted into a vegan recipe. You will need to replace only two ingredients—the heavy cream for full-fat unsweetened coconut milk and yogurt for a vegan version. Vegan yogurt is now widely available in most supermarkets.
Main course or a starter?
This vegetarian celeriac soup recipe is hearty and filling to serve as a main, yet light enough to enjoy as a starter. It's packed with nutrients, and the addition of sweet potato makes it even more nutritious.
Serve with a dollop of yogurt and a slice of crusty bread for big appetites. So next time you're in the mood for a hearty, creamy soup, give this one a try!
Let's Connect!
Be sure to FOLLOW US on FACEBOOK and PINTEREST.
Many thanks!
Kristina xx
Vegetarian Celeriac Soup Recipe
Published on Dec 04, 2017
by
Kristina Stosek
Instructions
1.

In a soup pot over medium heat, heat olive oil. Add leeks, onions, bay leaves and thyme. Cook for 5 minutes stirring as needed

2.

Add nutmeg and wine and cook until the liquid is reduced by half

3.

Add celeriac, sweet potato and stock. Bring to a boil, cover and reduce heat to medium-low. Cook for 20 – 25 minutes until celeriac is tender. REMOVE BAY LEAVES!

4.

Transfer the mixture in batches to a blender and blend until smooth

5.

Return soup back to the pot and add just enough cream until you reach desired consistency. Taste and adjust seasoning as needed

6.

To serve, drizzle with yogurt and sprinkle with sesame seeds