20 + Scrumptious Gluten-Free Cookie Recipes
There is nothing better than the aroma lingering through your home from freshly baked cookies. From classic chocolate chip cookies to healthy keto cookies. Or our famous nut butter cookies and even sandwich cookies.
Whatever you are looking for, you will find it here. So let's get baking and enjoy delicious freshly baked gluten-free cookies today!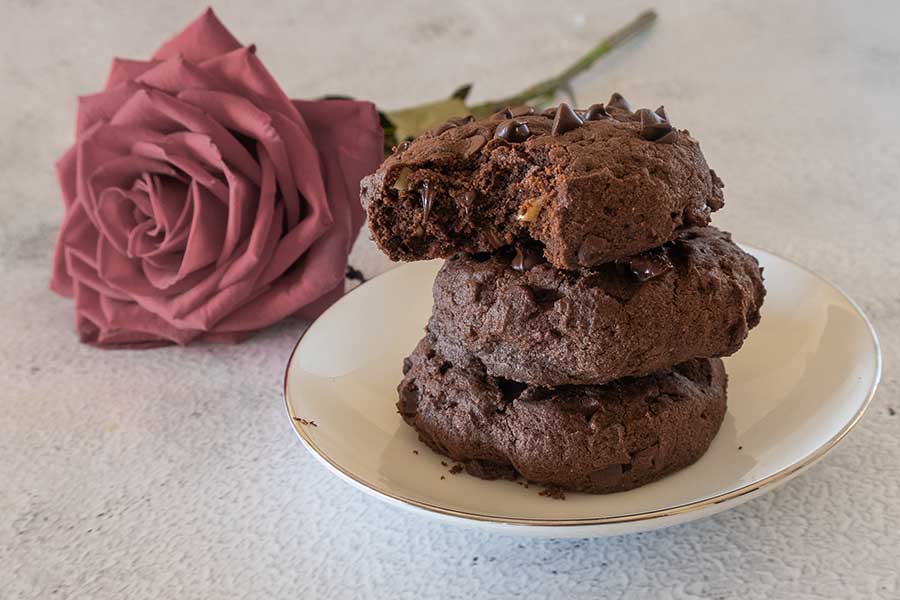 INSANELY DELICIOUS fudgy, chocolaty, think of this cookie as a brownie except in a cookie form. YUM!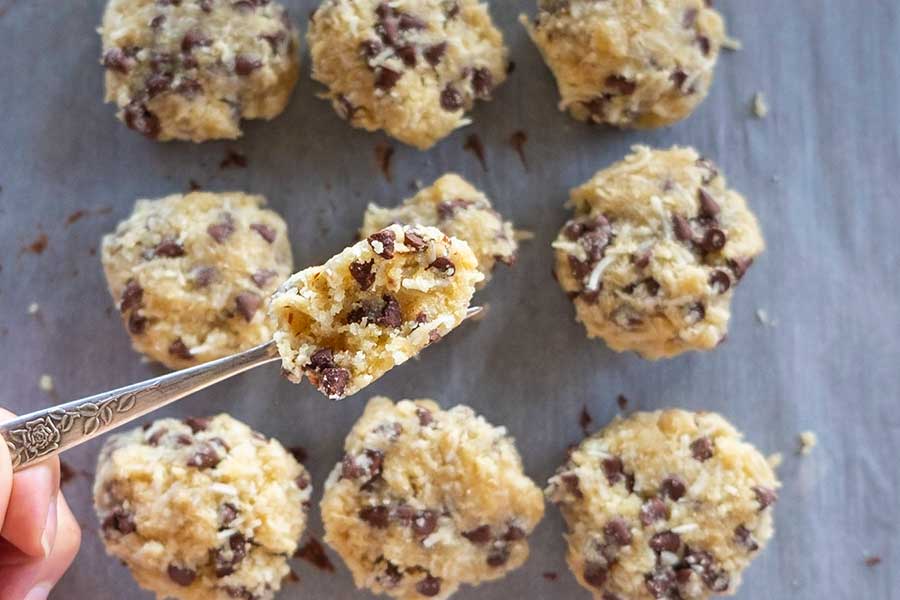 As cookies go, it's hard to get an easier Grain-Free Coconut Chocolate Chip Cookie recipe. The cookies are completely gratifying, filled with coconut and chocolate chips.
When you combine coconut and chocolate, you can't go wrong, and we all need a chocolate fix every once in a while. These simple to make cookies are packed with fiber and protein and are an excellent snack to have before a workout or as an afternoon pick me up sweet treat. Or, replace these grain-free coconut chocolate chip cookies for sugar cookies in your kid's lunch box.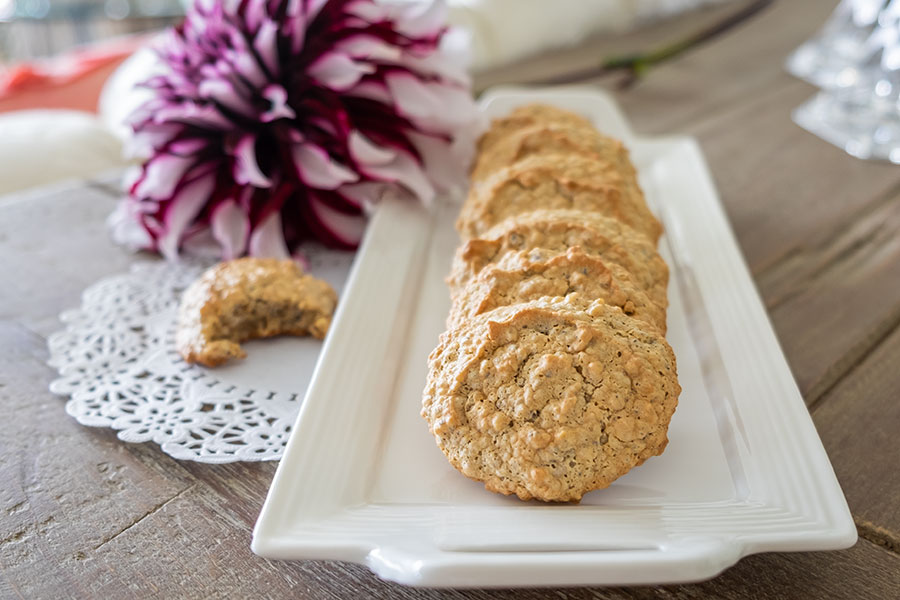 This scrumptious keto walnut cookie is super simple to make and has only about 1 gram of net carbs per cookie. I prefer to use monk sugar in my keto recipes because it is a natural sweetener extracted from monk fruit and contains no calories or carbs.
Isn't it wonderful that we can enjoy delicious healthy cookies like this one on the keto diet?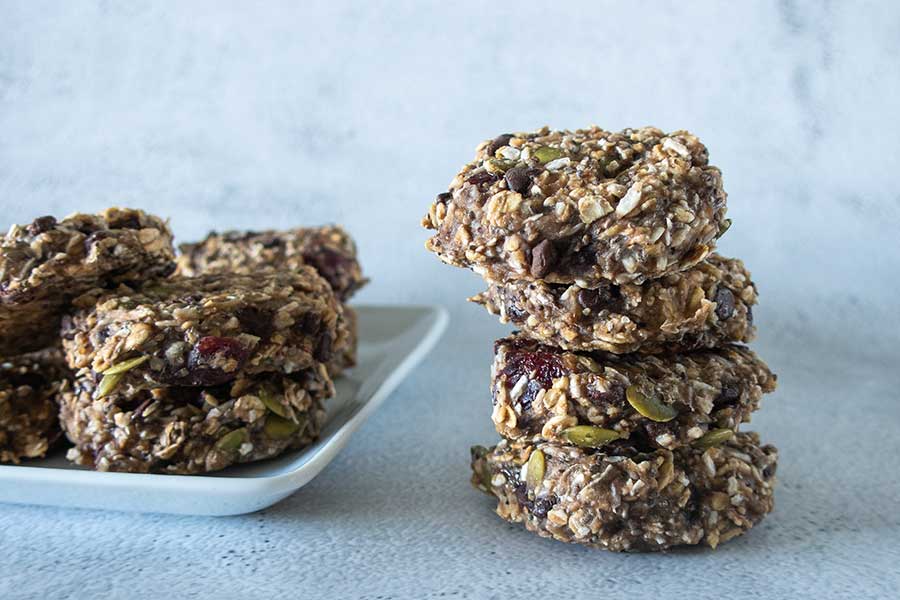 Packed with seeds, unsweetened coconut, oats, dried fruit, nut butter, cocoa nibs and bananas. Yes, this nutrient-protein filled cookie has it all. The cookie will satisfy your craving for something sweet and will help to keep you energized.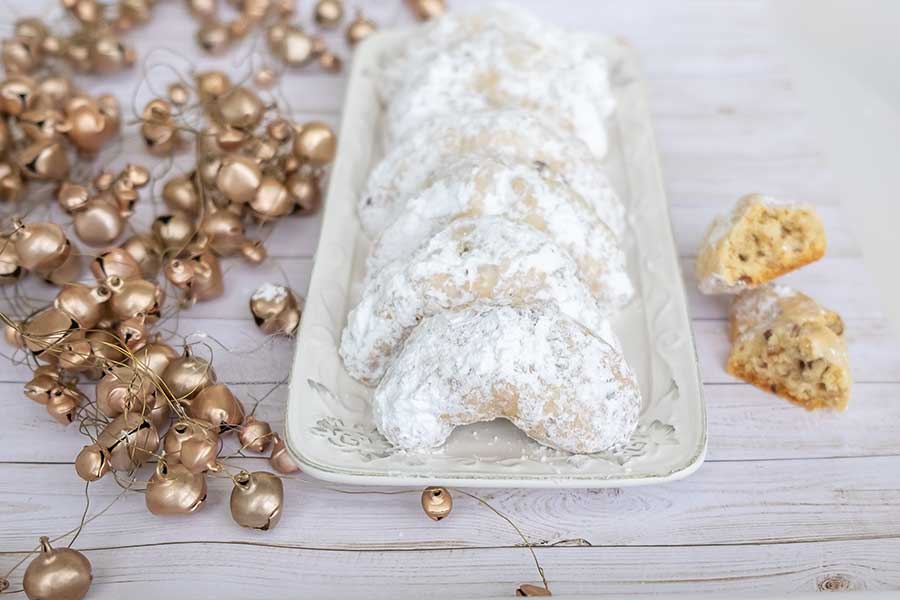 The recipe is super simple. Only 6 ingredients, imagine that. To make the cookie, I first started with almond flour. Then to sweeten them, I added powdered sugar.
To keep them buttery tasting, I added some butter, and for an added bite, I added finely chopped pecans. Once they finished baking, I coated them in some powdered sugar. Although it is optional, but to keep them close to tradition, I had to do it. OMG….they are heavenly cookies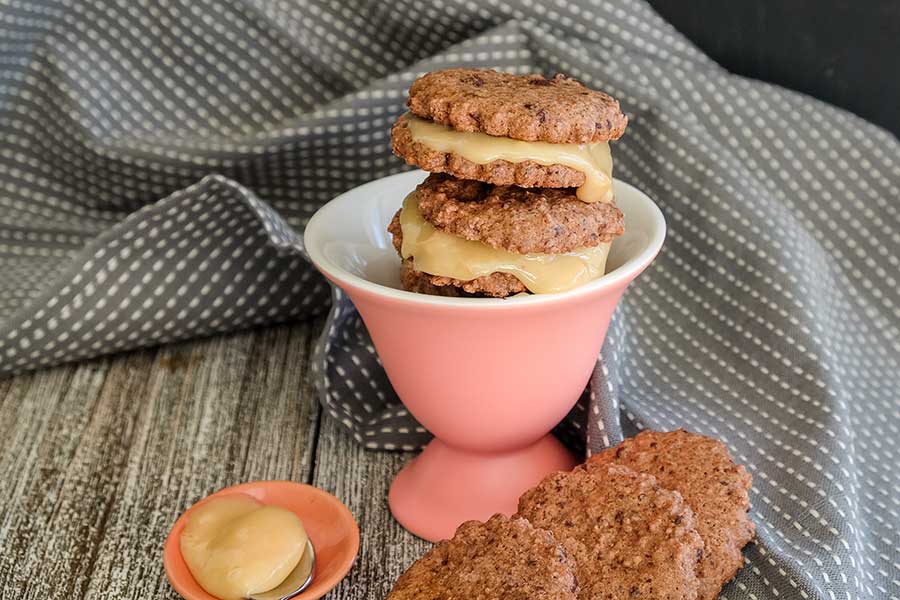 Let me tell you about these gluten-free mocha chocolate chunk sandwich cookies. They are quite different from your basic cookies because they are made with a mocha chocolate chunk shortbread base and are stuck together with gooey caramel filling. Just thinking about them makes me want to eat an entire batch.
All you cookie lovers should try this mocha chocolate chunk sandwich cookie you will LOVE IT!! This amazing cookie sandwich is like a dessert, it is definitely not just a cookie.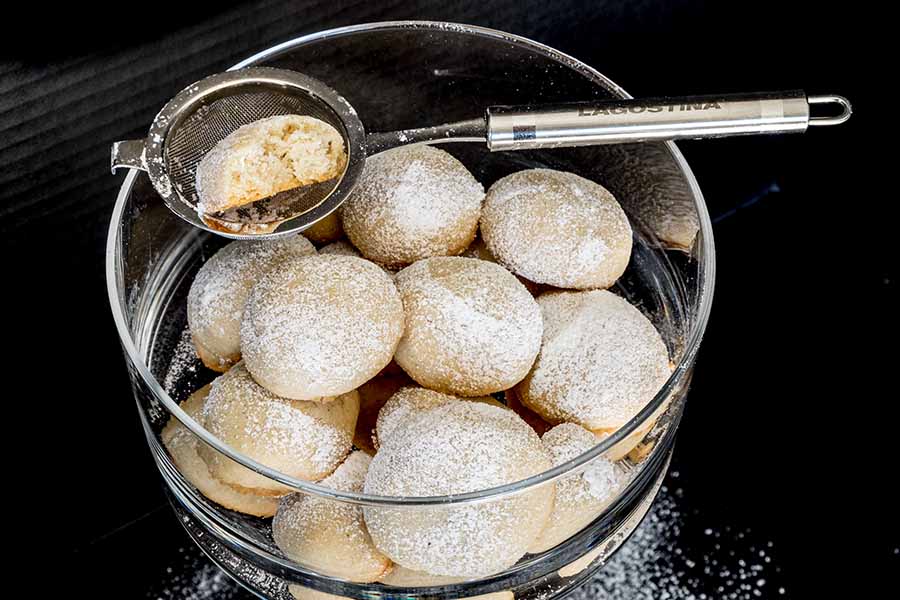 This gluten free shortbread cookie will melt in your mouth. Shortbread cookies are always popular, especially during holiday season. All you need is one bowl and thirty minutes to whip up this cookie recipe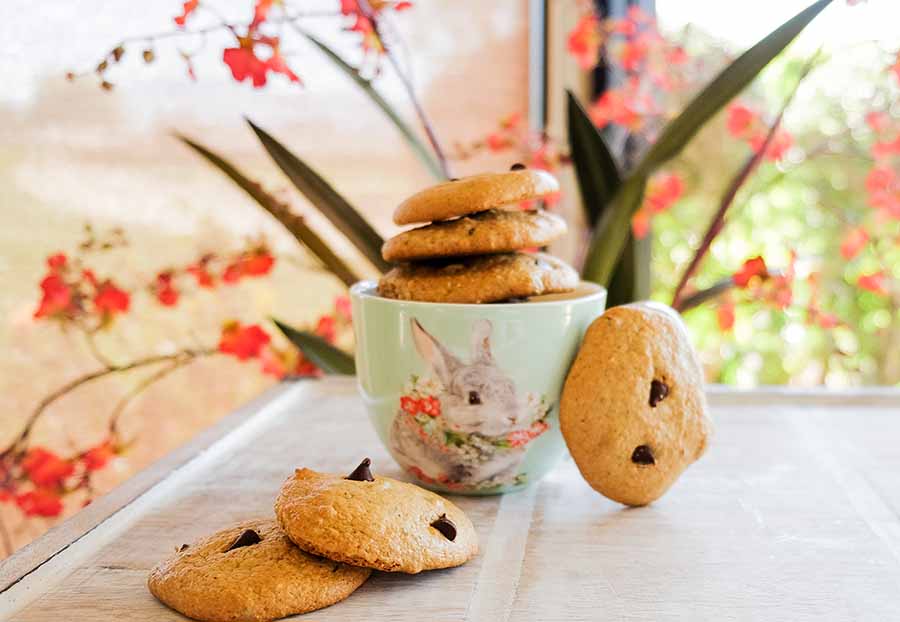 There is something comforting about the smell of freshly baked chocolate chip cookies. I created this recipe with three things in mind, less sugar, no grains and no dairy. I replaced almond butter for butter and used coconut sugar instead of regular sugar.
Coconut sugar has more flavour, which means I don't have to use as much sweetener, in addition, it holds a trace amount of vitamins and minerals. This scrumptious chewy cookie is packed with protein and tasty chocolate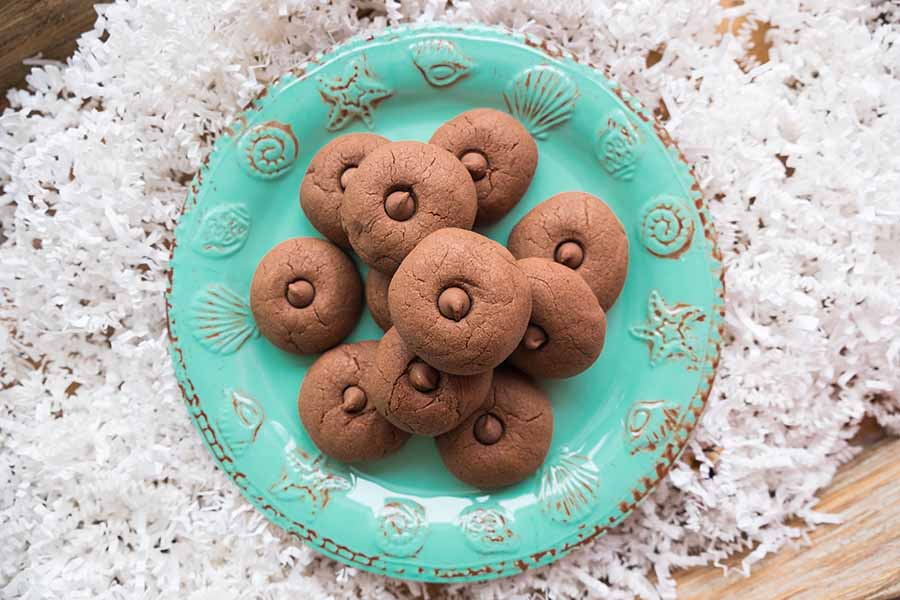 These gluten-free cookies are flavoured with hazelnut chocolate spread called Nutella. In Italy, Nutella is considered as peanut butter to Americans except a little sweeter. Enjoy these chocolate hazelnut cookies as a sweet treat anytime of the day :-).
Although the Nutella spread contains saturated fat and sugar, it also supplies a good amount of key vitamins and minerals that you need for good health. One warning, they are super addictive and yummy.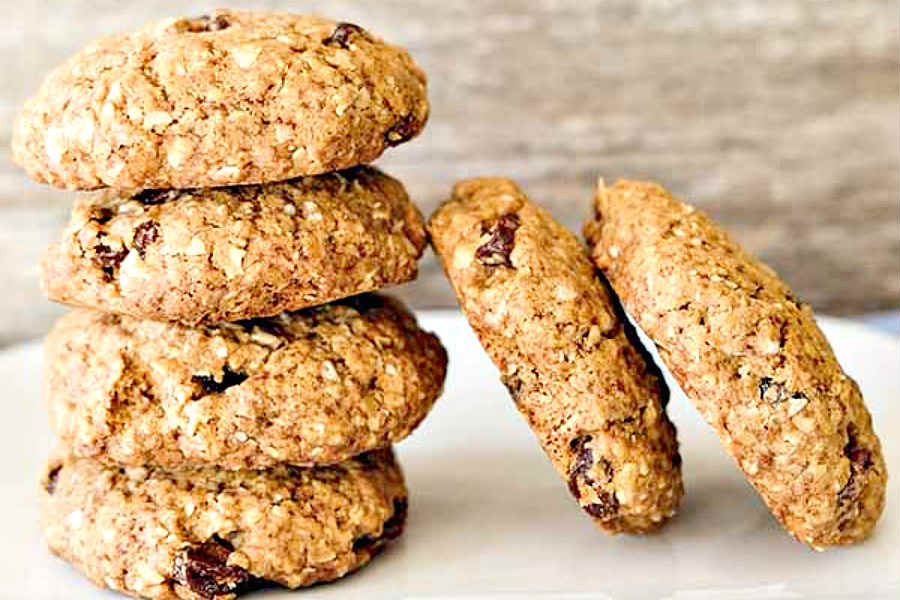 If you were on a search for the perfect gluten-free oatmeal raisin cookie, you must try this recipe. I promise you will not be disappointed. Packed with raisins, hint of cinnamon and nutmeg, this gluten-free oatmeal raisin cookie is a winner!
This cookie recipe is also dairy-free and refined sugar-free.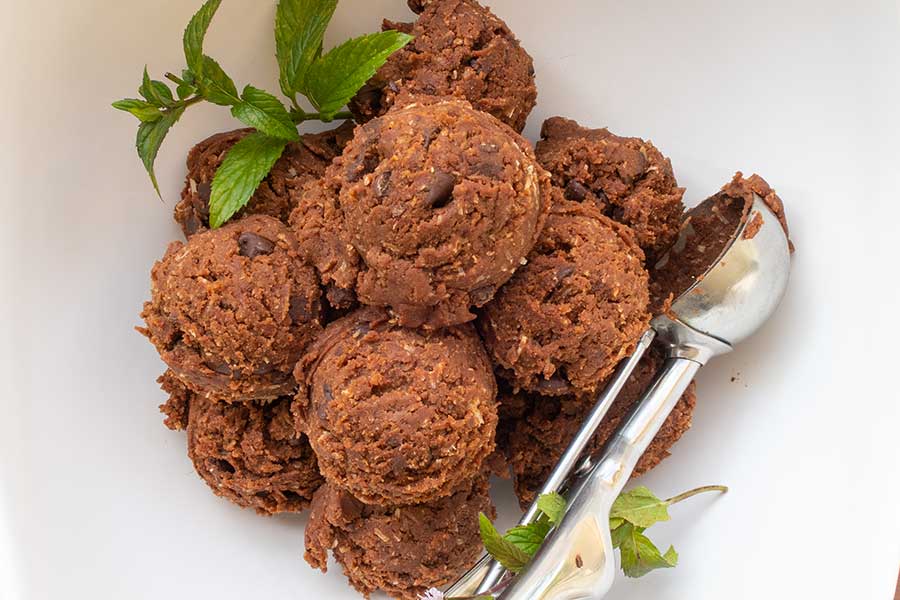 This delicious raw cookie dough is made with chickpeas, nut butter, cocoa powder, coconut flour, almond flour, unsweetened shredded coconut, carob chips, and sweetened up with pure maple syrup. So much goodness in one cookie!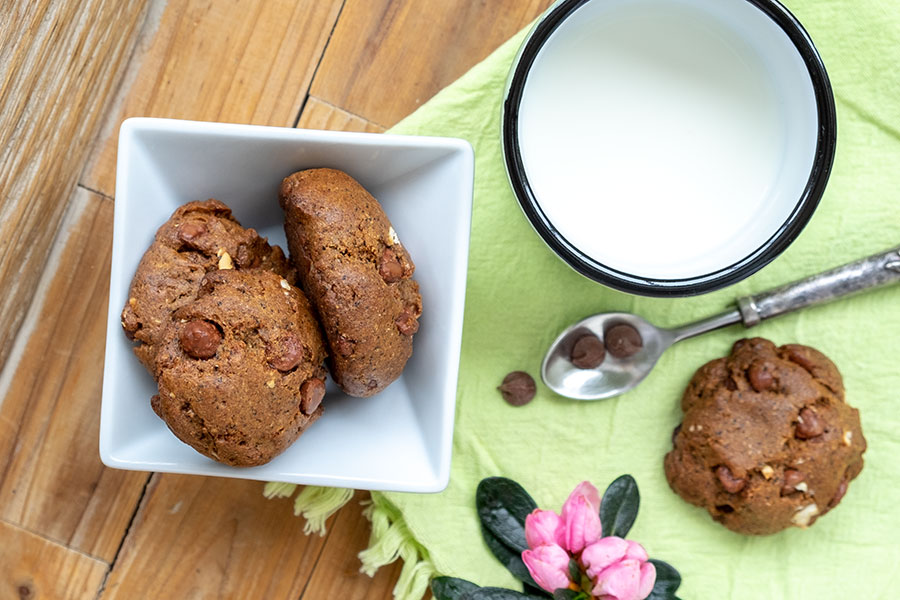 Buckwheat is a naturally gluten-free seed high in easily digestible protein, fiber, and a good source of amino acids. It also has more vitamins, minerals and antioxidants than most grains. This is why using buckwheat flour in baking is especially important when following a plant-based diet.
Adding buckwheat flour to this chocolate chip cookie recipe makes this tasty cookie crispy on the outside and chewy on the inside. Now you can enjoy a nutritionally packed gluten-free chocolate chip cookie that you don't have to feel guilty about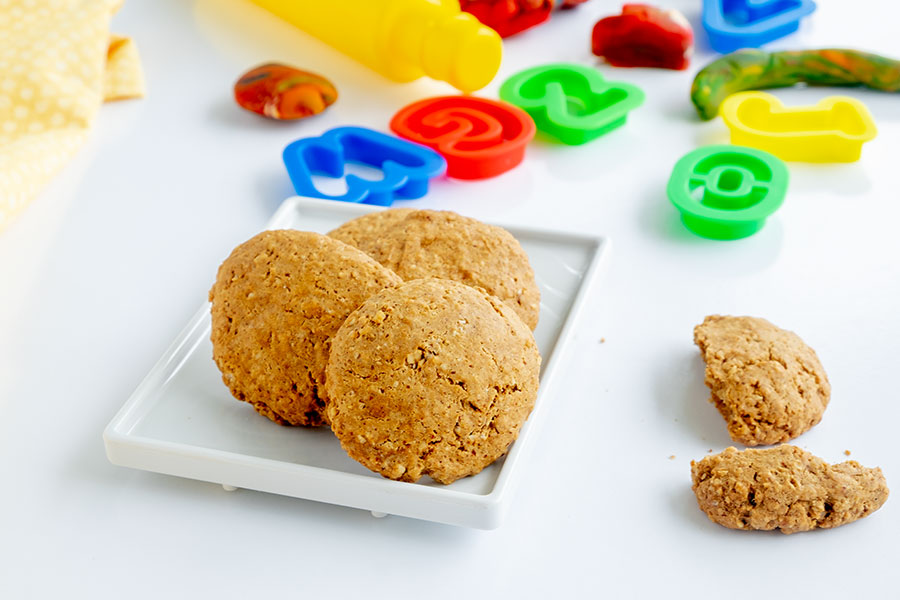 When I was creating this gluten-free oatmeal and almond butter cookie recipe, I wanted to keep it as healthy as possible, by keeping the sugar low and protein high, and still keep the cookie tasting delicious.
I combined unsweetened roasted almond butter with butter and used coconut sugar to reduce blood sugar spikes. This oatmeal & almond butter cookie contains less than 3 grams of sugar and approximately 2.5 grams of protein per cookie.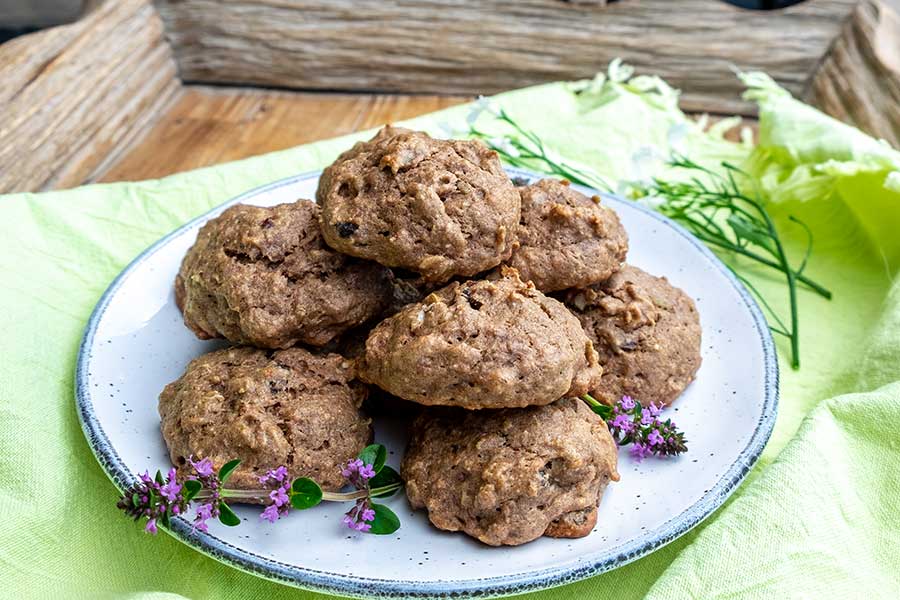 This is one of those super healthy cookies! Teff is a small gluten-free ancient grain with a mild nutty flavour. This tiny grain (seed) has more calcium than any other grain, is a complete protein and is the only grain that contains vitamin C.
In this cookie recipe I combined teff flour with oats, nut butter, pumpkin seeds and dates, making this a healthy gluten-free cookie that will provide you with lasting energy, fiber and eight essential amino acids.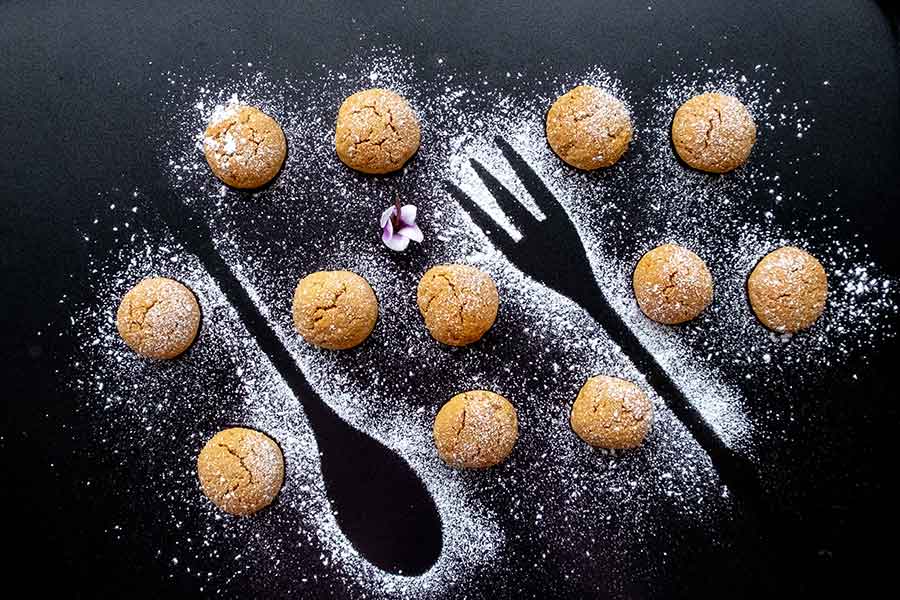 Ahhh, the smell of freshly baked cookies. Is there anything more delightful after a long day at school to come home to. There are so many different types of cookies, from the typical chocolate chip to a more exotic such as this so deliciously tasty gluten-free cream cheese cookie. This gluten-free cookie recipe gets the thumbs up every time!
This is probably one of the easiest gluten-free coconut cookie recipes I have created. All you need is 4 ingredients and a food processor. The delicious cookies are chewy on the inside and crispy on the outside and are made without refined sugar.
The gluten-free coconut cookie is made with only 4 ingredients, unsweetened coconut flakes, almond flour, butter and pure maple syrup. The recipe is so easy!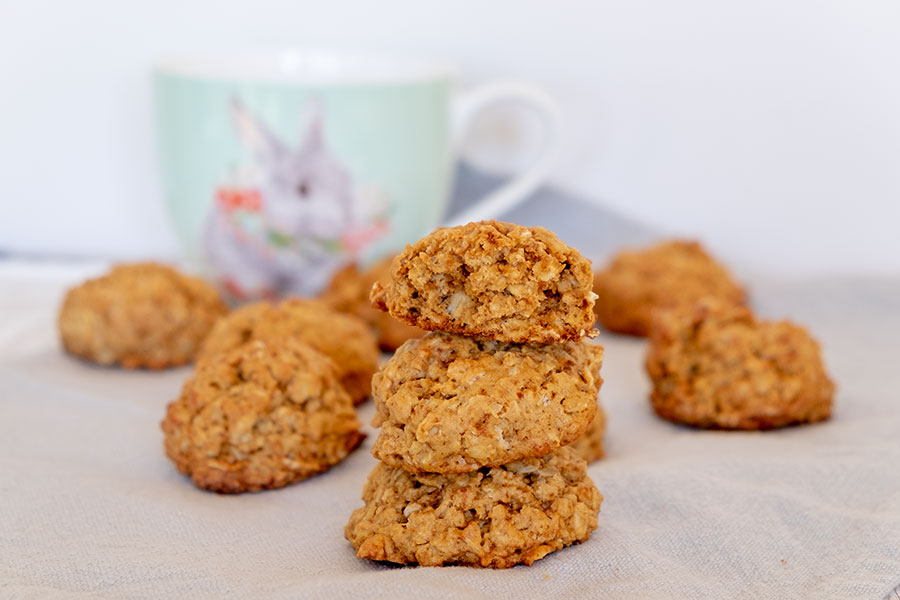 These Gluten-Free Oatmeal Cookies are chewy and satisfying – yummy oatmeal cookies that are rich and buttery and sweetened without refined sugar and made with only 7 ingredients.
I can honestly say that this is the best classic oatmeal cookie recipe, except this is a gluten-free version. The cookies have that perfect chewy texture of oats, and they are sweetened with coconut sugar, adding a wholesome, earthy flavour.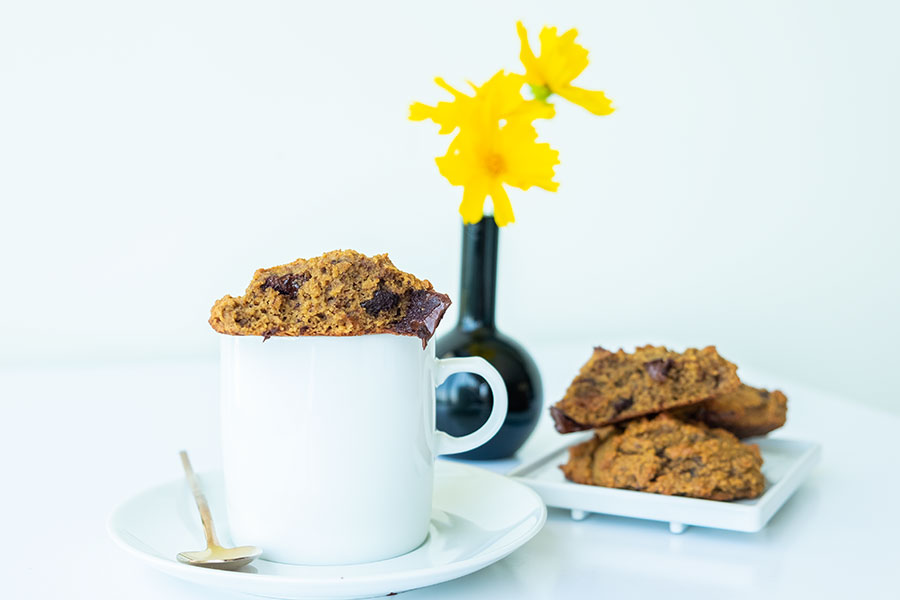 These Soft Keto Cappuccino Chocolate Chunk Cookies are for adults only! They are made with coffee and chocolate chunks and are keto-friendly. Therefore low carb! In this keto recipe I used almond flour, coconut flour, a little butter and cream, coffee and dark chocolate chunks YUM!
As a sweetener, I used monk sugar. It is not your typical crispy or chewy cookie. It's a soft melt in your mouth cappuccino flavoured cookie with chocolate chunks throughout. AWW… for me, a cup of good organic coffee with this gluten-free cappuccino chocolate chunk cookie is a perfect treat.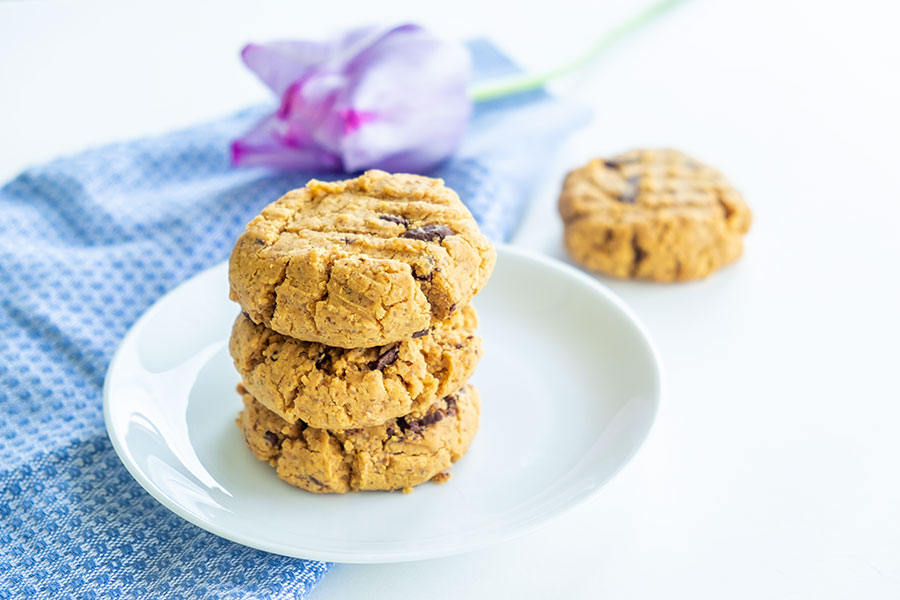 These gluten-free peanut butter chocolate chip cookies are sooo delicious! The cookie will melt in your mouth and all you need is five ingredients for this recipe. Just imagine a cookie recipe without flour, doesn't this sound good? This peanut butter cookie recipe is grain-free and dairy-free!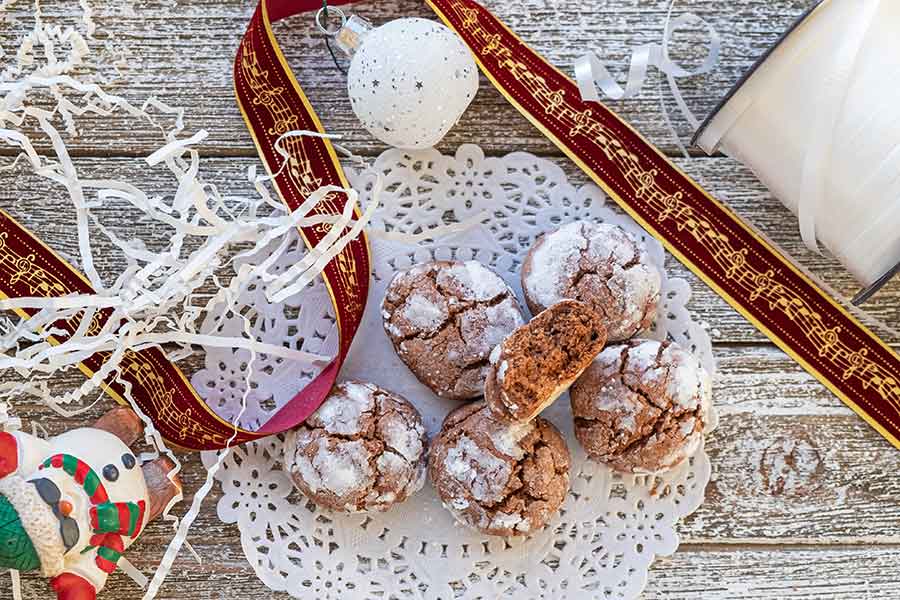 The melt in your mouth cookie is probably one of the easiest gluten-free cookie recipes I have made. With only a few ingredients, few minutes of prep time and a little chill time, these cookies are made in no time.
I have adapted this recipe from the classic chocolate crinkle cookie recipe, but I have substituted maple syrup for sugar and made it without gluten. These cookies are fudgy, not too sweet and lightly coated with powdered sugar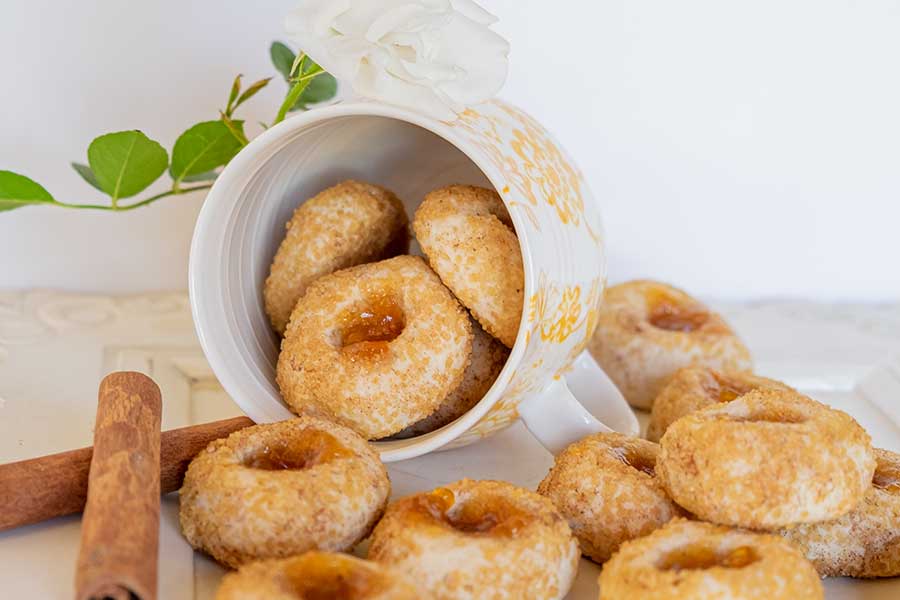 Perfectly spiced with chai spices, coated with spiced sugar mix and finished with ginger marmalade. This gluten-free chai spiced thumbprint cookie is a one-bowl recipe and so much fun to make.
Deliciously flavoured with chai spices, such as cardamom, ginger, cinnamon, nutmeg and a pinch of black pepper. The chai flavour is not overpowering, but it does make this cookie extra special. The cookies are extra buttery with a dollop of ginger marmalade in every cookie.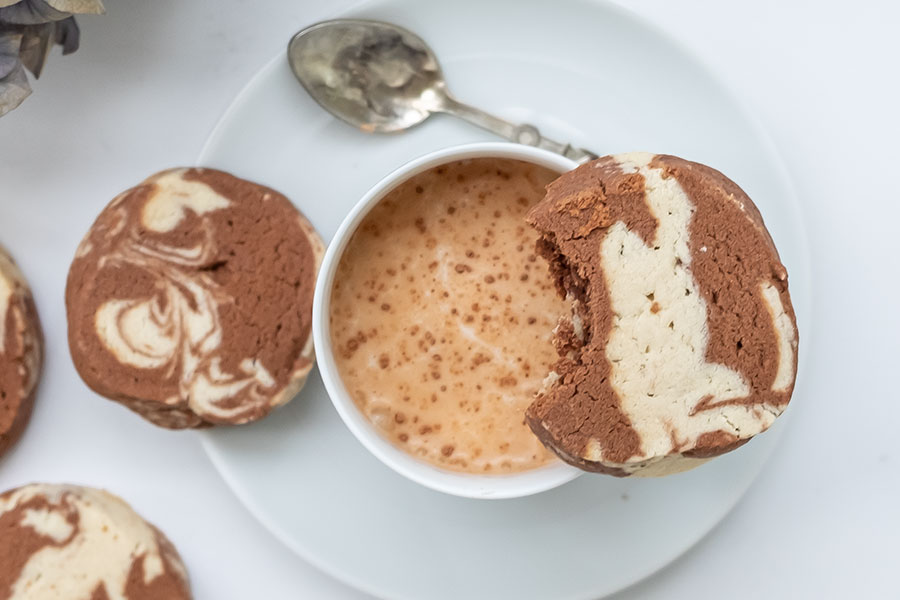 Super easy, chocolate and vanilla flavoured slice'n bake shortbread cookie recipe. Made with only six simple ingredients that you probably have in your pantry already. Butter, gluten-free flour, cocoa, vanilla, salt, and sweetened only with pure maple syrup.
The shortbread cookies are pretty almost looking like the top of a cappuccino, and they are extra delicious.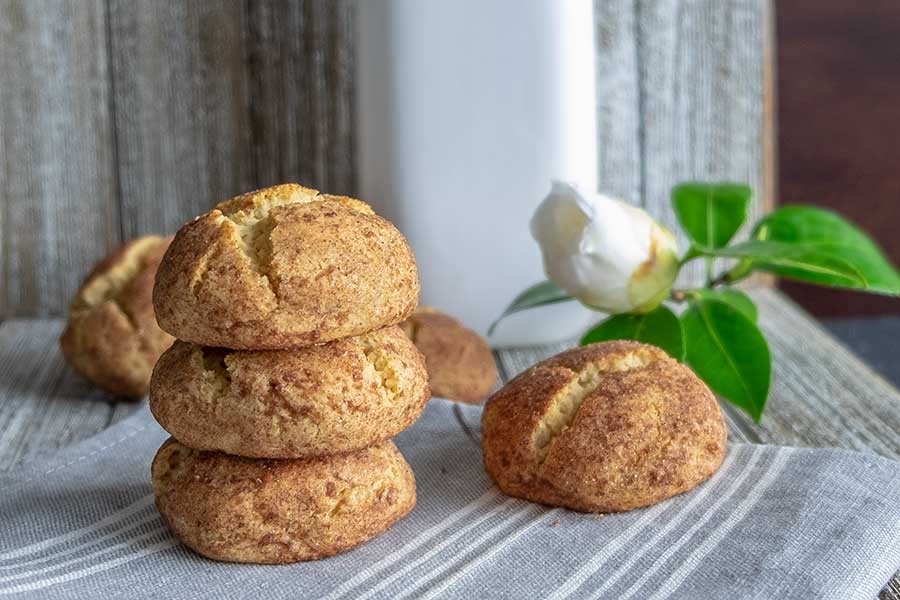 A traditional snickerdoodle cookie is typically made with basic ingredients such as butter, sugar and flour, then rolled in cinnamon sugar. In this cookie recipe there is no refined sugar and some of the flour is replaced by nutrient packed almond flour.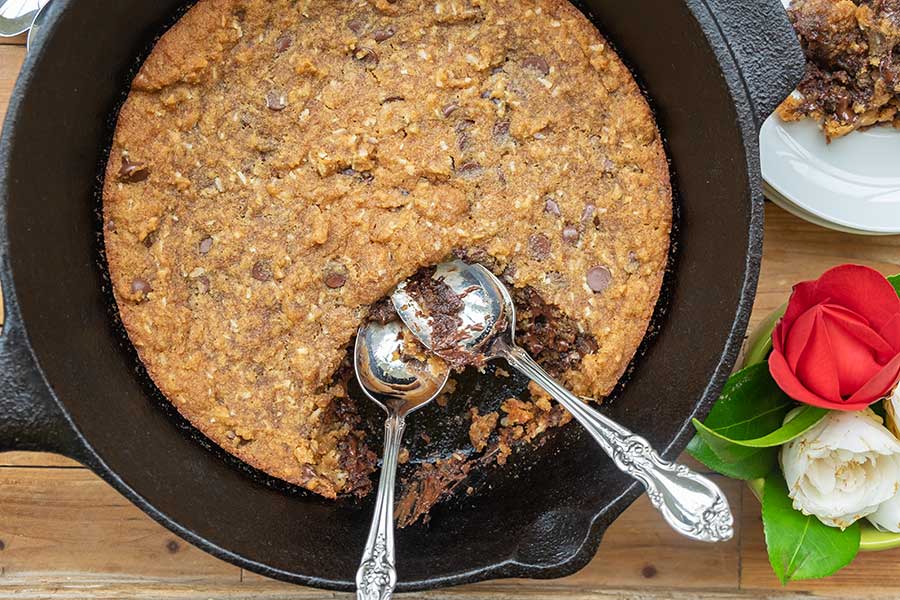 Ooey gooey Skillet Chocolate Chip Cookie with Coconut made without grains. The cookie is shaped like a pizza and eaten straight out of the oven. Who doesn't love a warm cookie made with chocolate melting in your mouth?
It's beyond delicious. This is a family friendly chocolate chip and coconut cookie, so grab your spoons and dig in.
Affiliate Disclosure: Only Gluten-Free Recipes is a participant in the Amazon Services LLC Associates Program, an affiliate advertising program designed to provide a means for sites to earn advertising fees by advertising and linking to amazon.com. Please check out my sponsorship and disclosure policy page for more details