10 Best Gluten-Free One Pot Meals in 2017
The one pot meal style of cooking is a combination of vegetables, meat or both, with rice, pasta or potatoes cooked in superb sauces. The recipes are no fuss home cooked gluten-free meals with minimal cleanup.
After a busy day, comforting one pot meals are a wonderful way to end the day because they practically cook themselves, leaving you time to spend with your family
Here are our 10 most popular gluten-free one pot recipes in 2017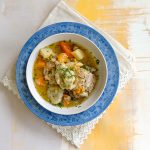 Gluten-Free Chicken Stew with Buttermilk Dumplings
Chicken stew with dumplings is one of those old-fashioned favourites, it is warming and comforting. In the traditional version the stew is thickened with flour and the dumplings tend to be heavy made with fat. This chicken stew has that perfect consistency, and the gluten free buttermilk dumplings are light and fluffy. The flavours smouldering in your mouth are from carefully chosen vegetables cooked to perfection, and the dumplings are equally unforgettable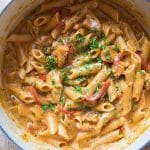 Gluten-Free One Pot Chicken Paprikash Penne
Chicken paprikash is a classic Hungarian dish. Traditionally the chicken is cooked in a delicious sauce with a harmony of spices. Then the dish is finished with sour cream adding a rich, creamy flavour. Ordinarily, chicken paprikash is served over pasta or rice. In this recipe, I cooked the pasta in the sauce allowing the pasta soak up flavours from the magical sauce. Although this recipe started as a Hungarian dish, it ended up Italian. This one pot wonder takes only 25 minutes to cook, making this an easy gluten-free weeknight meal that even the pickiest eater will love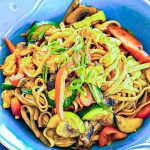 Gluten-Free One Pot Singapore Noodles
See how easy it is to make this gluten-free Singapore noodle dish. The noodles are seasoned with a spicy curry sauce, and the vegetables cooked to perfection. This recipe is fast and affordable and all you need is twenty minutes. This one pot noodle dish is an outstanding Singapore dish. In this authentic Singapore recipe, I used eggs, but you can use leftover chicken, cooked shrimp or tofu. I call this dish a weeknight wonder pot. Quick and easy dinner recipe with wonderfully blended flavours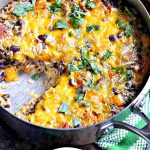 Gluten-Free Burrito in a Skillet
This gluten-free dish has all the delicious ingredients of a vegetarian burrito without the tortilla. At the end of the day having a hearty nutritious meal that takes only minutes to prepare is always welcome. For this delish, Mexican recipe all you need is one large skillet and an oven. What a nice relaxing way to end the day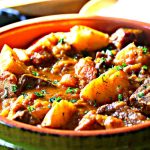 Cooking with ethnic spices adds a nice diversity to our food. This beef stew recipe is slow-cooked in coconut sauce spiced with African spices to develop unforgettable flavour and tender texture. The combination of spices used in this hearty stew is what creates a unique taste, setting this stew apart from most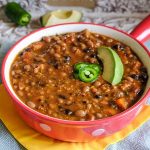 This vegetarian chili recipe draws on the flavours of beans and vegetables with western spices, but with distinctly North American tradition. This is a novel way to cook classic chili because it imparts two types of beans, vegetables, and quinoa. The key to vegetarian chili is not overcooking the vegetables. With slow cooking and the right combination of spices, the beans transform into rich most delicious vegetarian chili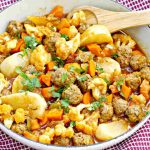 Cauliflower and Meatballs Ragout
When you are craving comfort food on a light note, this ragout will satisfy that craving. This casual healthy dinner can be made under 45 minutes. Serve as is or with rice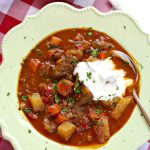 Hungarian goulash can be served as a stew or as soup, depending how much water you add to the goulash. The traditional Hungarian spices are what give this Goulash authentic and robust flavour. When serving the goulash as a stew traditionally you would add pasta, in this case, gluten-free pasta. Enjoy!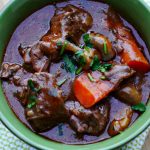 Beef bourguignonne is a hearty French beef stew cooked in rich red wine sauce. This French stew is slowly cooked for a few hours which is what makes the sauce incredibly tasty. Serve this delicious beef dish with boiled potatoes or over gluten-free pasta
Gluten-Free Chicken Cordon Bleu Casserole
This gluten-free chicken cordon bleu casserole is based on the original chicken cordon bleu recipe. The difference is, no frying and without the extra work. This gluten-free dinner casserole is delicious and should appeal to the novice as well as the seasoned lover of French food. This easy to make casserole is always a big hit with kids
Click here for our selection of gluten-free casual meals ->