Best Gluten-Free Lasagna Soup Ever!
Published on Sep 13, 2020
by
Kristina Stosek
Prep Time:

15 minutes
Cook Time:

45 minutes
Serves:

6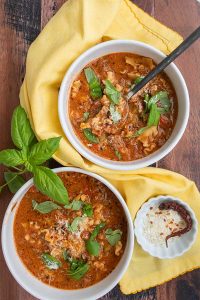 ​This post may contain affiliate links, please see our
privacy policy
for details
You will love this made from scratch, Gluten-Free Lasagna Soup. I promise you it is the best Italian soup ever! There is so much flavour going on in this lasagna soup…who needs lasagna?
Gluten free lasagna soup with traditional Italian spices
The traditional Italian spices such as oregano, marjoram, paprika and bay leaf combined with onion and garlic give this Italian soup an insanely delicious broth.
extra veggies for a classic Italian dish
I have also added bell peppers, tomatoes, baby zucchini, or you can use baby spinach, parmesan cheese, cream and lots of fresh basil. The noodles come from broken down gluten-free lasagna noodles.
This lasagna soup is thick and hearty, featuring all the delicious flavours you would find in a classic Italian lasagna dish.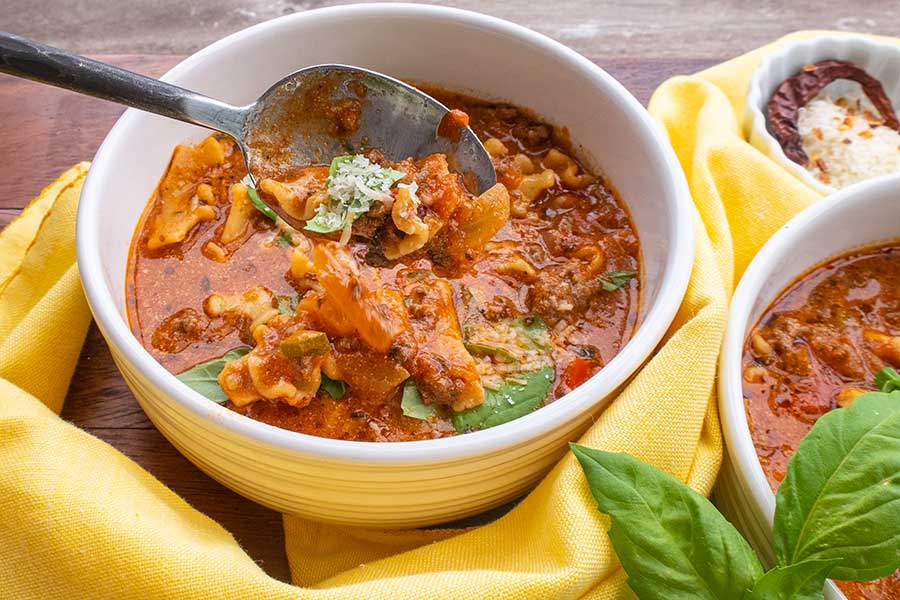 gluten-free lasagna soup recipe overview
To make this creamy Italian soup, you will need one large saucepan. Yes, the soup is made all in one pot. First, the onions and garlic are cooked until translucent and aromatic.
Then add the beef with all the herbs and spices and cook while stirring until the meat is no longer pink and starts to brown. The herbs and spices add so much flavour to the meat, and ultimately to the soup.
Once the beef is ready, stir in the bell peppers and add the stock, you can use beef or chicken stock as long as it is gluten-free. If the stock is already salted, be careful not to oversalt the soup because we will be adding tomatoes and parmesan cheese, both are usually well salted.
With the stock, we add the crushed tomatoes and season with salt and pepper. I have also added hot chilli pepper flakes because I love spicy food. One other thing I would highly recommend to add to the soup is a leftover parmesan rind. The rind gives a delicious cheesy flavour to the soup.
Do not overcook the gluten free lasagna noodles!
Now the soup is ready to be simmered for thirty minutes. After only thirty minutes, add the noodles. They should be cooked al-dente (cooked but firm to the bite). DO NOT OVERCOOK THE PASTA. Typically this should take no more then ten minutes.
As soon as the pasta is ready, add the zucchini or spinach. Since we used baby zucchini, you don't have to cook it. The zucchini should be slightly crispy. If you are using spinach, it wilts as soon as you add it to the hot soup.
The soup is now ready to be finished with the cheesy creaminess. Slowly sprinkle in the parmesan cheese first. The cheese will melt immediately in the hot soup, then stir in cream and fresh basil, and the soup is ready!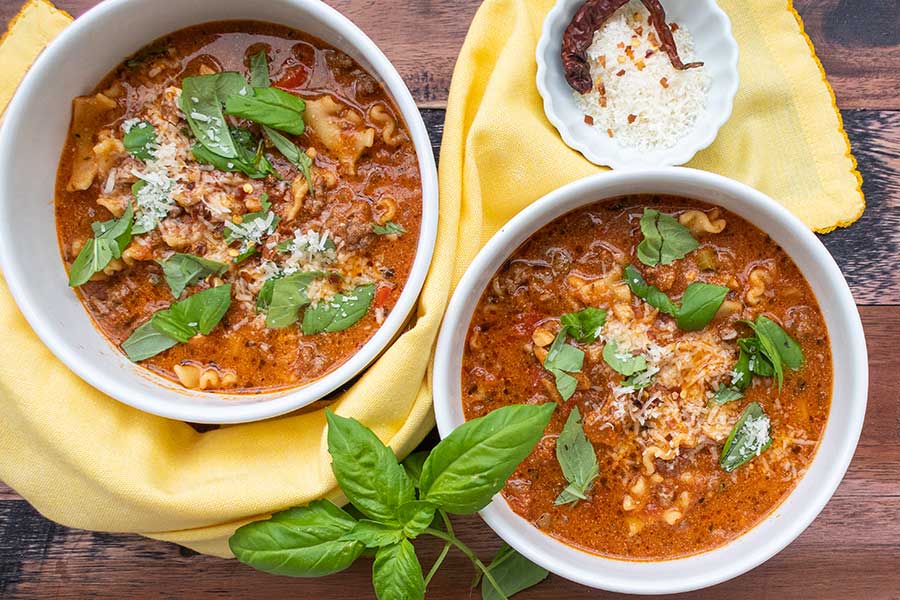 gluten free lasagna soup made entirely from scratch
I can't tell you how delicious this gluten-free lasagna soup is. Because the entire soup is made from scratch, you control the herbs, spices, and other unwanted ingredients. Many lasagna soup recipes are made with sausages.
I am not a fan of sausages because some of them are high in unwanted fat, salt and maybe spices I don't want to include in this creamy gluten-free lasagna soup. Besides, gluten-free sausages are also costly!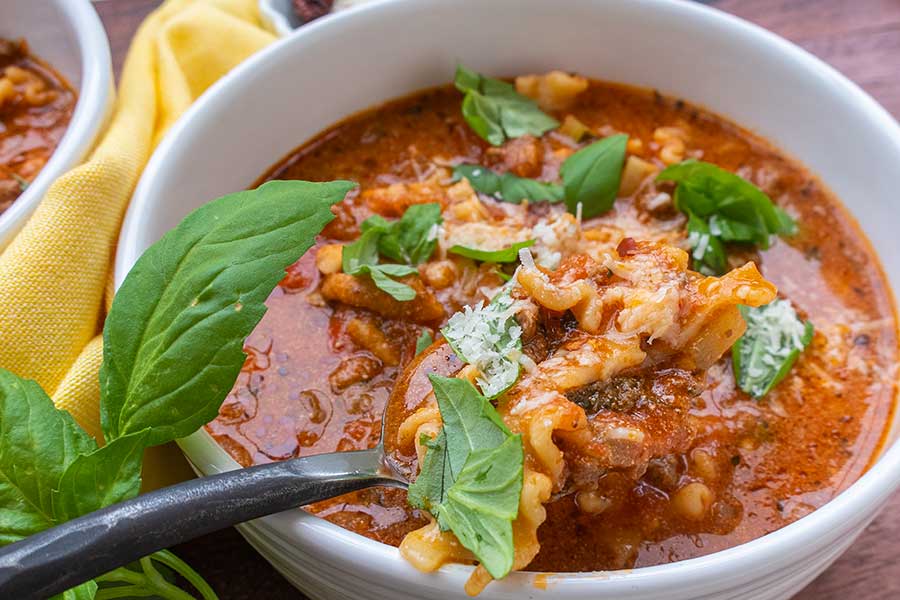 what to serve with gluten-free lasagna soup
I hope you will enjoy this super easy to make Italian classic lasagna soup. In my home, gluten-free lasagna soup often replaces lasagna, especially during busy weeknights. I like to serve freshly baked gluten-free cheese and garlic flatbread with my lasagna soup.
However, if you are short on time, which during weeknights happens often, try my secret quick and easy gluten-free garlic bread recipe. This garlic bread takes only three minutes to make ->Toast gluten-free bread, then rub it with fresh garlic and spread with butter. Sometimes I add chopped fresh parsley to the butter. It is so good and so easy! Enjoy 🙂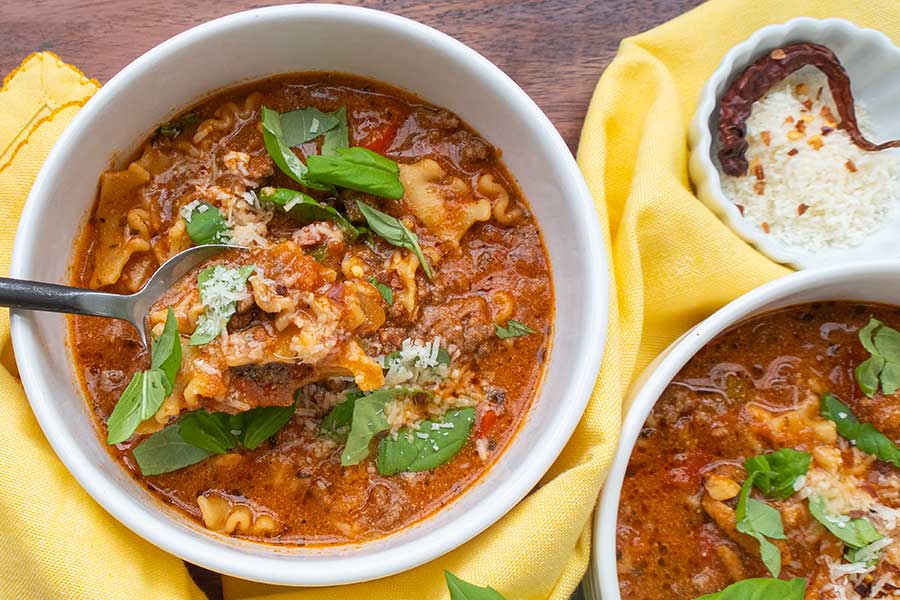 Do you love Italian food? If you are in need of delicious gluten free Italian recipes, check out our selection of gluten-free Italian soups, pasta and desserts!
Let's Connect!
Be sure to FOLLOW US on FACEBOOK and PINTEREST.
Many thanks!
Kristina xx
Best Gluten-Free Lasagna Soup Ever!
Published on Sep 13, 2020
by
Kristina Stosek
Instructions
1.

Using a large saucepan, heat olive oil over medium heat. Add onions and cook for about 5 minutes, until the onions are translucent. Stir in garlic and cook for one more minute

2.

Add ground beef, oregano, marjoram, paprika, bay leaf and if using hot chilli pepper flakes. Cook, stirring often until the meat is no longer pink and starts to brown

3.

Add bell peppers, stock, parmesan rind, crushed tomatoes, and season with salt and pepper. Bring to a boil, cover and reduce heat to simmer. Cook for 30 minutes

4.

Add noodles and cook until the noodles are al-dente or as per package directions. It is better to undercook the noodles then overcook because the noodles keep cooking even after turning the stove off

5.

Add the zucchini or spinach and give it a good stir. Immediately remove the soup from the stove. Add parmesan cheese and stir until the cheese has melted. Stir in cream and fresh basil. 

6.

To serve, divide soup between bowls and top with desired toppings

7.

Chefs notes: to reheat the soup, turn the stove to medium heat and cook until heated. Do not boil the soup.
Leave a Comment
Kristina
yes, the lasagna soup can be frozen Jo.
Can the Gluten-Free lasagna soup be frozen? Just found out that my adult daughter maybe be gluten sensitive. Looking for good things to make for her that my husband and other daughter will eat.