One-Pot Leftover Turkey Stroganoff – Gluten Free
Published on Apr 19, 2022
by
Kristina Stosek
Prep Time:

5 minutes
Cook Time:

15 minutes
Serves:

4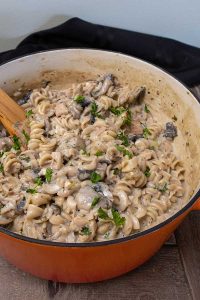 ​This post may contain affiliate links, please see our
privacy policy
for details
One-Pot Leftover Turkey Stroganoff is nothing short of delicious. Caramelized mushrooms, onions, chunks of leftover turkey and herbs cooked in the creamiest sauce with gluten-free noodles in about 30 minutes.
Turkey leftovers are delicious the next day in turkey sandwiches, but often we have too much leftover turkey, so why not try something new? In comes this creamy turkey stroganoff.
What makes this turkey stroganoff extra creamy?
You will find that this stroganoff is extra creamy and flavourful. The secret ingredient in this dish is cream cheese. The cream cheese makes the stroganoff sauce thick and extra creamy. So good!
Let me show you four steps and how easy it is to make this turkey stroganoff recipe!
Start with sauteing the mushrooms, onions and garlic in olive oil. Once the mushrooms start to brown, add the spices and coat everything evenly.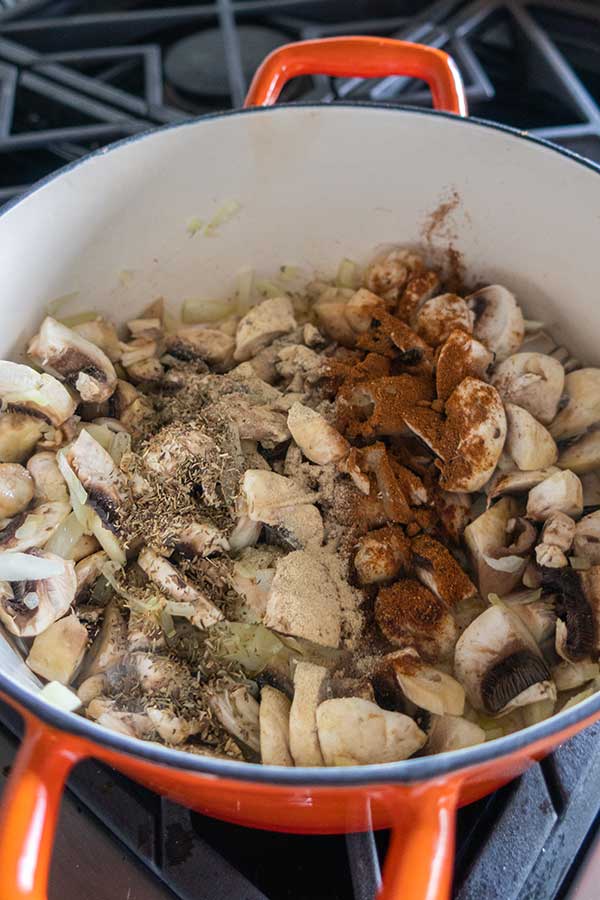 Next step, add your liquids and short cut gluten-free pasta. I used gluten-free rotini because the sauce sticks so beautifully to the noodles, making them saucy and flavourful. Cover and cook everything for about 7 minutes.
Or follow the package directions to get the al-dente texture of the pasta—less one minute of the specified cooking time. The pasta keeps cooking while it rests.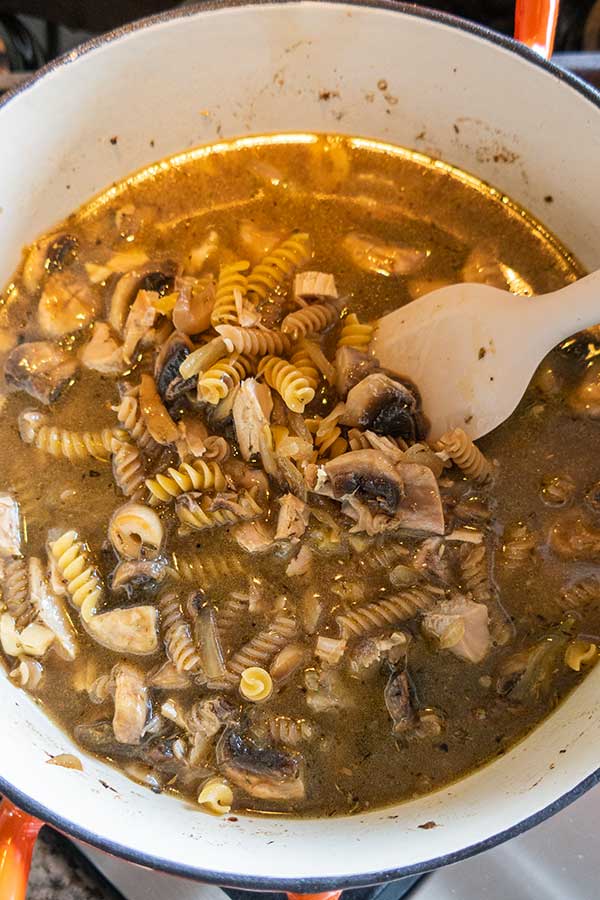 Once the pasta is cooked and firm to bite, stir in cream cheese pieces until melted and add fresh parsley. Remove the pot from the heat, keeping it covered rest for fifteen minutes.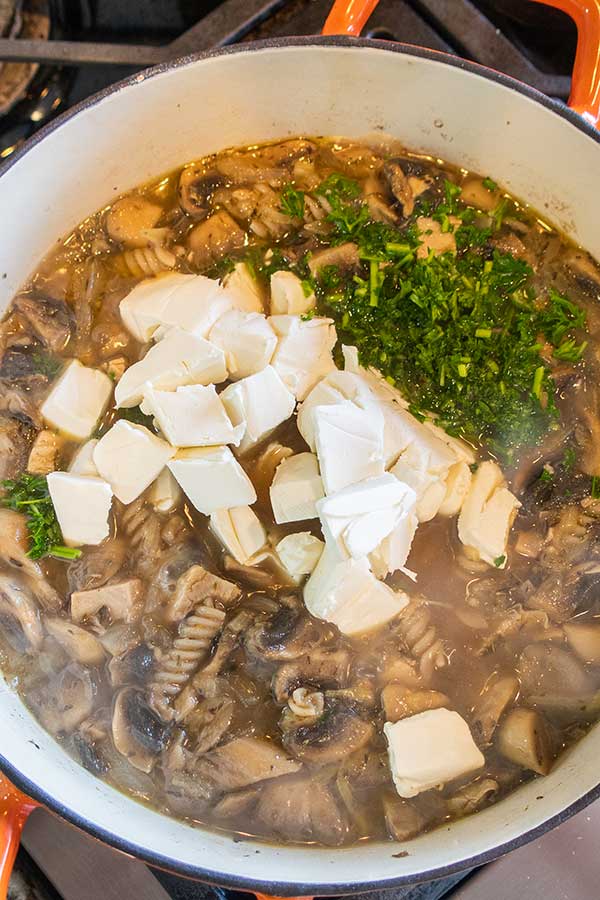 The sauce thickens as it rests, and the pasta is smothered with a thick creamy mushroom and turkey sauce.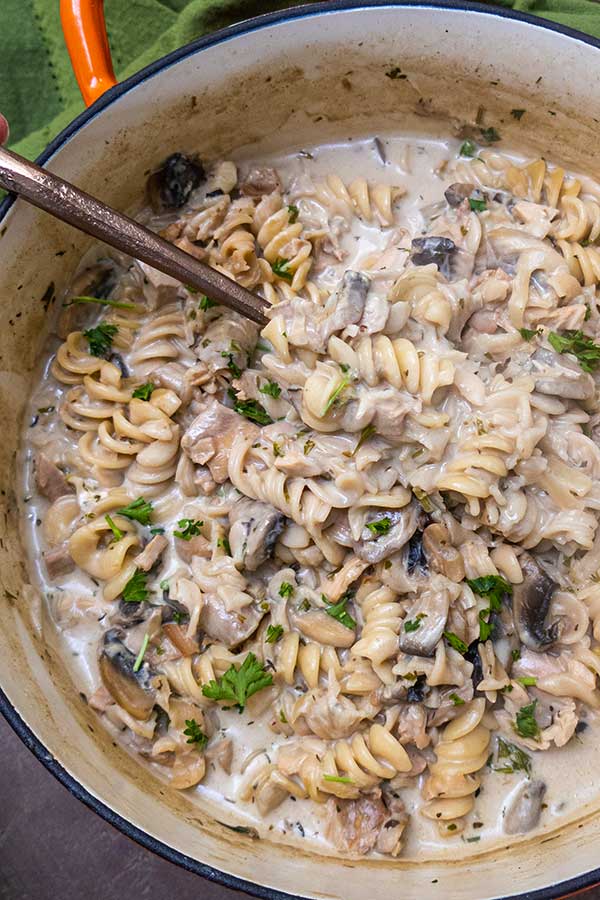 The entire cooking time for the leftover turkey stroganoff was only twelve minutes plus resting. And the best part, you only needed one pot for the whole dish. Easiest clean-up ever!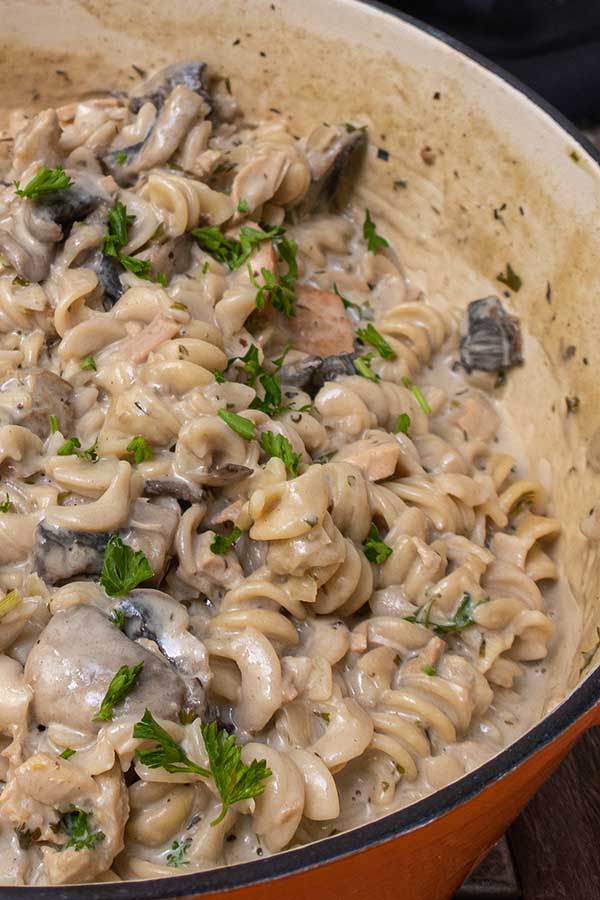 What to serve with stroganoff?
For my family, I like to add a fresh green salad. However, this gluten-free turkey stroganoff goes exceptionally well with braised cabbage, green beans with bacon, steamed asparagus or broccoli slaw.
Can you freeze leftover turkey?
Cooked turkey meat freezes exceptionally well. First, remove the meat from the bones. Then slice the meat to similar sizes and wrap tightly in foil paper. Place in freezer bags pressing out as much air as possible. This will keep the turkey moist.
Always defrost the turkey in the refrigerator. Then, you can enjoy it with gravy or make casseroles, sandwiches, tacos, soups, chilli or fried rice.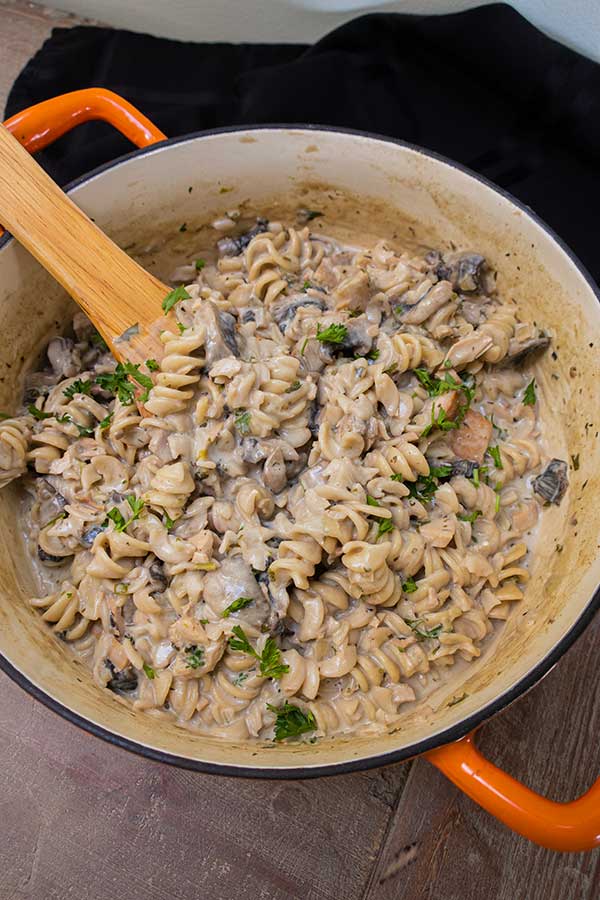 How long does cooked leftover turkey keep?
You can keep leftover turkey for up to three days in the refrigerator. Or freeze for up to three months. After defrosting cooked turkey meat, you should eat the leftovers within 24 hours.
This 30-minute one-pot turkey stroganoff is one of the easiest ways to enjoy a gluten-free meal made from leftover turkey. The sauce is thick and creamy, packed with flavour, the turkey is tender and tasty, and the mushrooms add healthiness and extra deliciousness.
One-Pot Leftover Turkey Stroganoff – Gluten Free
Published on Apr 19, 2022
by
Kristina Stosek
Instructions
1.

In a large Dutch oven or a saucepan, saute onions, garlic, and mushrooms in olive oil. About 5 minutes

2.

Stir in turkey, thyme, paprika, salt, black pepper, Worcestershire sauce, and Dijon mustard until combined

3.

Add broth and pasta and bring to a boil. Cover, reduce the heat to simmer and cook for 7 minutes, or according to package directions for al-dente pasta—less one minute of the specified cooking time

4.

Stir in cream cheese and parsley until cream cheese has melted

5.

Remove from the heat and cover. Set aside for 15 minutes until most of the liquid is absorbed by the pasta.

6.

Note; The sauce thickens as it rests. If the sauce needs more liquid, add some broth or cream. Enjoy