15 Easy Gluten-Free Asian Takeaway Recipes
In this collection of gluten-free Asian takeaway recipes, we've selected dishes that capture the essence of various Asian cuisines while keeping them gluten free using wholesome ingredients. You will find tamari-infused stir-fries, tasty noodle dishes, popular rice meals, and healthy aromatic broths.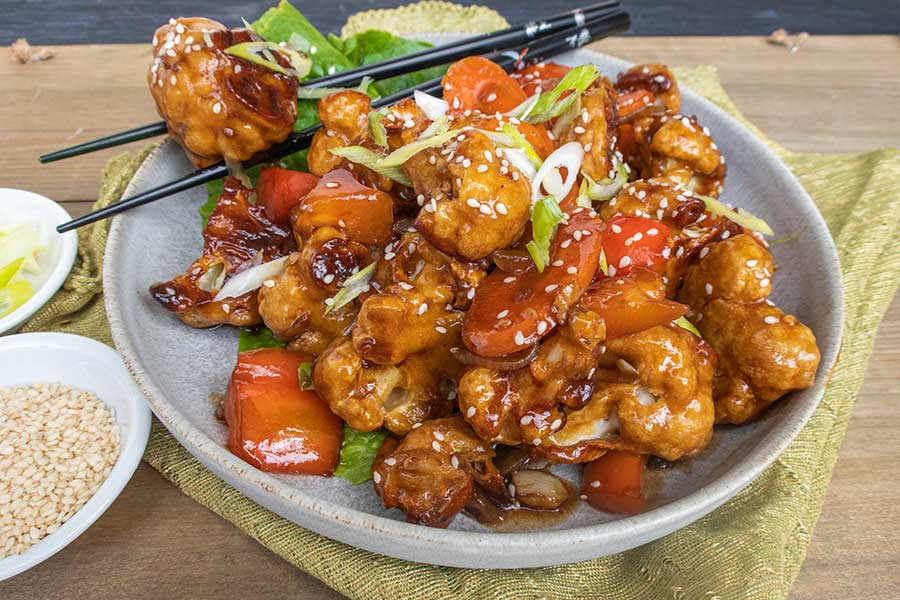 Why are Asian foods so popular?
Asian foods have gained immense popularity for their bold flavors, from sweet and spicy to savory. Many dishes include noodles and rice, staples in many Asian cultures.
Are gluten free Asian dishes healthy?
Many gluten free Asian recipes emphasize fresh ingredients, vegetables, lean proteins, and minimal use of processed foods.
FAQs about Asian gluten free takeaway
What types of takeaway foods might contain gluten?
Many traditional Asian takeaway foods, like noodles, rice, and fried foods, are made with gluten-containing ingredients, such as certain sauces and marinades.
How can I find gluten-free options when ordering Asian takeaway?
Ordering takeaway from restaurants is very risky. Unless they have a designated area for preparing only gluten free food, the dishes are most likely contaminated with gluten, even if they use gluten free ingredients.
Are there specific Asian cuisines that are more gluten-free friendly?
Some cuisines naturally have more gluten-free options, such as Japanese (sushi, sashimi), or Thai (curries with rice). Always check with the restaurant to ensure they're following proper gluten-free practices.
What precautions should restaurants take to prevent cross-contamination?
Cross-contamination occurs when gluten-free foods come into contact with surfaces or utensils that have touched gluten-containing foods. Restaurants should have separate preparation areas, utensils, and cooking methods to avoid this.
Do gluten-free options cost more?
In some cases, gluten-free options are priced slightly higher due to the use of gluten-free ingredients and preparation methods.
How can I ensure the food I'm ordering is truly gluten-free?
Communicate clearly with the restaurant staff about your dietary needs. Ask about their practices, cross-contamination prevention, and how they handle gluten-free orders. Ultimately, make gluten free Asian food at home.
Gluten Free Condiments for Asian Recipes
​This post may contain affiliate links, please see our privacy policy for details
Here are some gluten-free condiments commonly used in Asian recipes including links to where you can purchase them.
Tamari Sauce: A gluten-free alternative to soy sauce, tamari is made from soybeans and often has a richer flavor. It's perfect for seasoning stir-fries, marinades, and dipping sauces.
Coconut Aminos: Another soy sauce substitute, coconut aminos, is made from coconut sap. They have a slightly sweeter taste and work well in various Asian dishes.
Fish Sauce: Most fish sauces are gluten-free (not all) and add depth and umami to Southeast Asian dishes like Thai curries, Vietnamese dipping sauces, and more.
Rice Vinegar: Used in dressings, marinades, and sauces, rice vinegar adds acidity to dishes. It's a key ingredient in sushi rice and various dipping sauces.
Sesame Oil: This fragrant oil is derived from sesame seeds and adds a rich nutty flavor to stir-fries, dressings, and marinades.
Chili Paste/Sauce: Many chili pastes and sauces are gluten-free and add heat and flavor to dishes. Check the labels for gluten free certification.
Oyster Sauce (Gluten-Free): Some oyster sauce brands offer gluten-free versions made with gluten-free soy sauce, commonly used in Chinese stir-fries and marinades.
Hoisin Sauce (Gluten-Free): Like oyster sauce, gluten-free hoisin sauce substitutes ensure you can enjoy its sweet and savory taste without gluten concerns.
Tamarind Paste: Used in various Asian cuisines, tamarind paste, adds a tangy and slightly sweet element to dishes like Pad Thai and curries.
Green Curry Paste (Gluten-Free): Green curry paste is often gluten-free and a key ingredient in Thai green curry dishes.
Red Curry Paste (Gluten-Free): Like green curry paste, red curry paste is usually gluten-free and used in Thai red curry recipes.
Black Bean Sauce (Gluten-Free): Some black bean sauces are gluten-free and provide a rich, savory flavor to Chinese stir-fries.
Miso Paste: Made from fermented soybeans, it is typically gluten-free and adds a deep umami flavor to soups, marinades, and dressings.
Sriracha Sauce: This popular chili sauce is generally gluten-free and adds a spicy kick to various dishes.
Ginger Paste: Prepared ginger paste is a convenient way to add ginger flavor to marinades, dressings, and sauces.
When using condiments in your gluten-free Asian recipes, always check labels to ensure they are explicitly marked as gluten-free and made with gluten-free ingredients, or contact the manufacturer to confirm their gluten-free status and any cross-contamination risks.
Which dishes are considered Asian
"Asian" is a broad term encompassing a wide range of cuisines from Asia. Asia is the largest and most diverse continent, and its cuisines reflect this diversity, with each region and country having unique culinary traditions. Some popular Asian cuisines are Japanese, Chinese, Indian, Thai, Vietnamese, and Korean.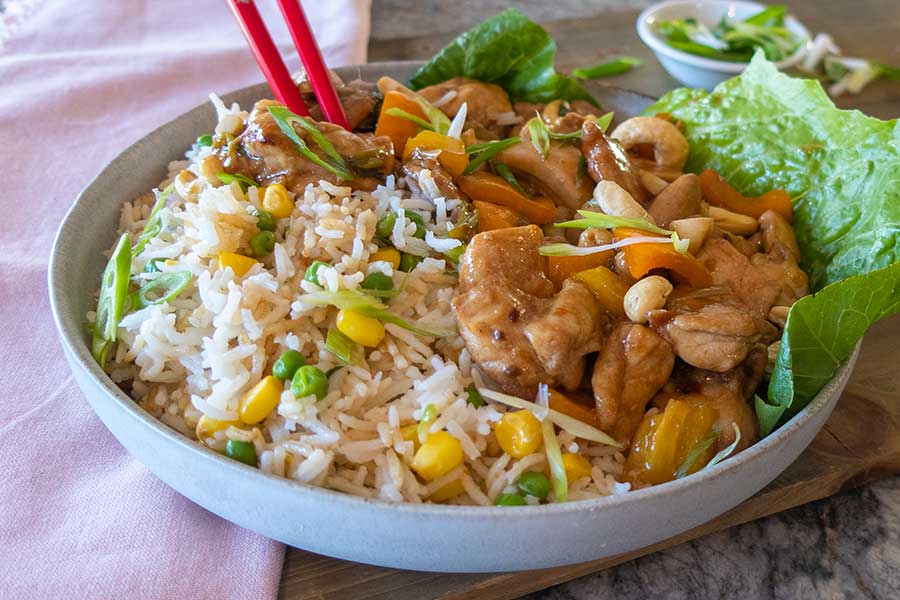 Sticky most delicious Gluten-Free Kung Pao Chicken. Roasted in the oven first and then tossed in the most delicious Kung Pao sauce. By avoiding the deep-frying of the chicken, the recipe was much simpler and healthier. Or try the vegetarian version the Asian-style Kung Pao Cauliflower.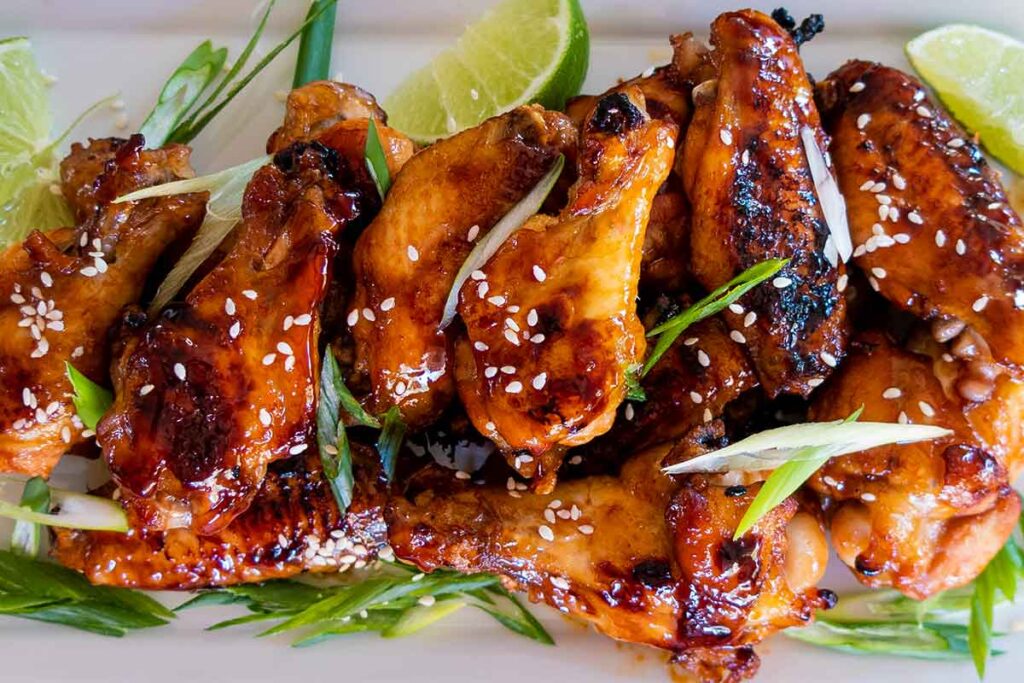 These gluten free wings are coated in a sticky, sweet, and spicy sauce and baked until they are nice and crispy. The wings are topped with sesame seeds, green onions, and lime wedges to help balance out the spiciness of the chicken.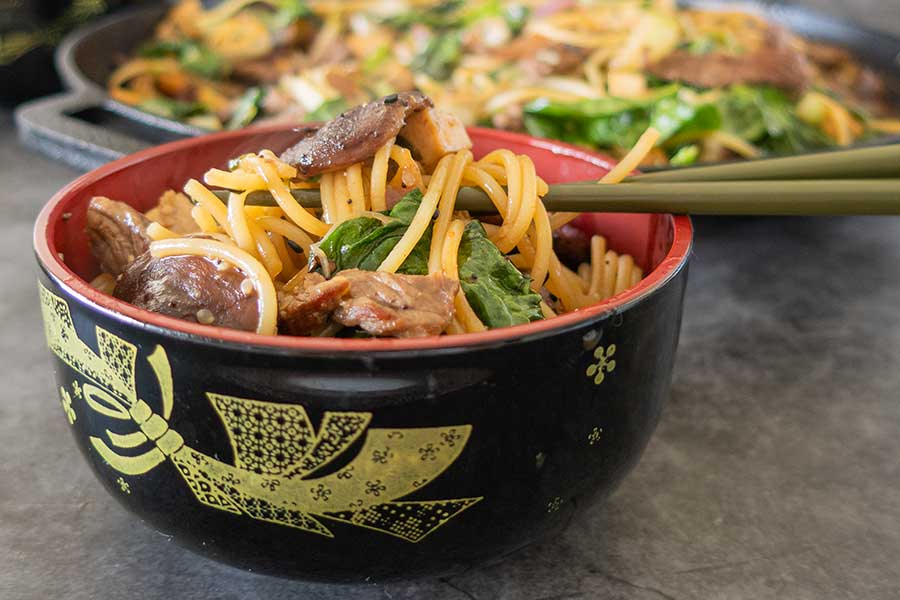 This Japanese salad is all about tender slices of beef, noodles, red onions, shiitake mushrooms, bok choy, green onions, tofu and fresh baby spinach richly flavoured with tamari-mirin sauce. This gluten free noodle salad can be served warm or at room temperature.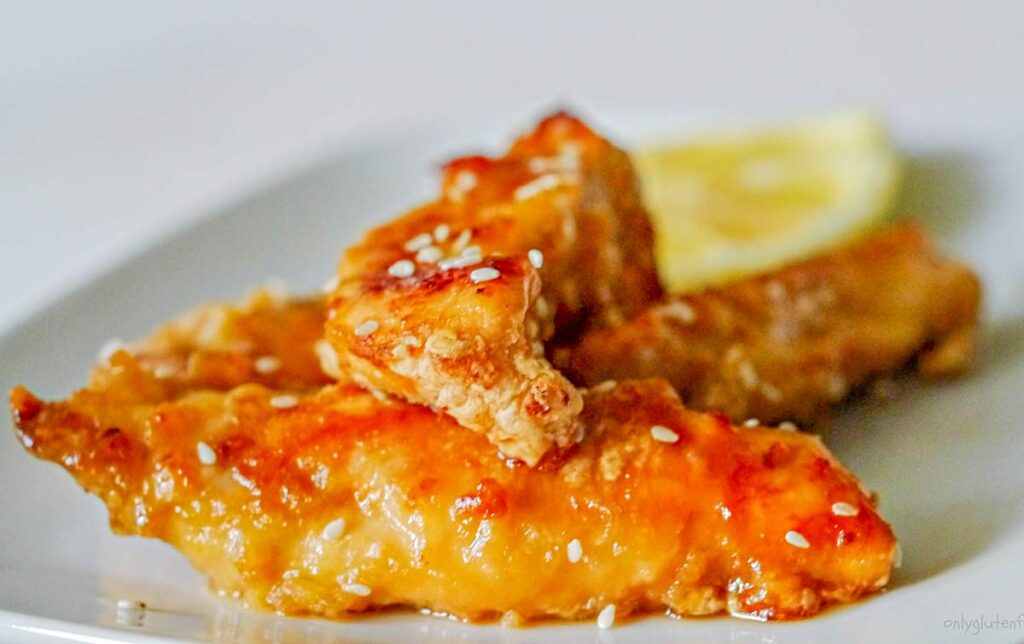 This Asian-style gluten free Chinese lemon chicken is crispy packed with flavor and coated in a delicious, lightly sweetened lemon sauce. The best part about this takeout-like dish is, the chicken is made without deep-frying or refined sugar, keeping it on the healthier side.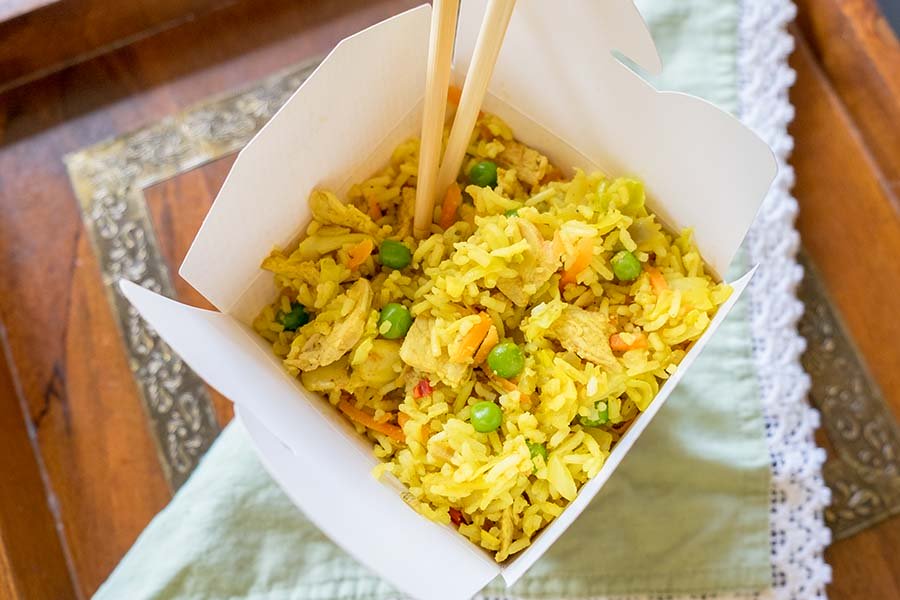 This easy curry pork fried rice is a great way to use up leftover rice and leftover meats and make a quick, tasty meal. Simply fry up some veggies and pork, add in spices and cooked rice, and you've got a delicious takeout-style fried rice.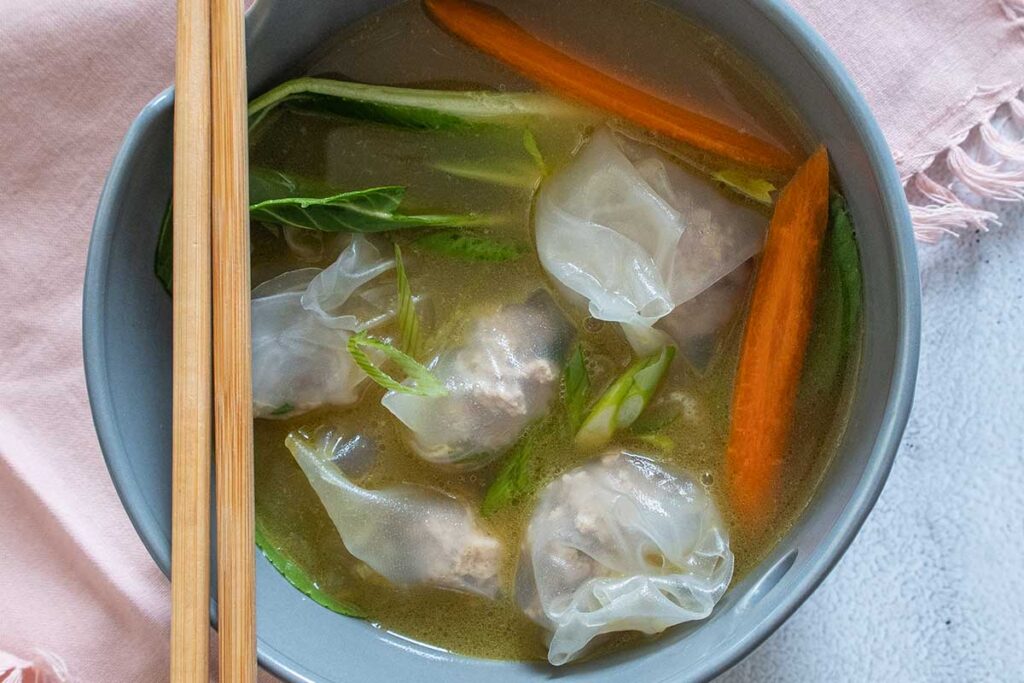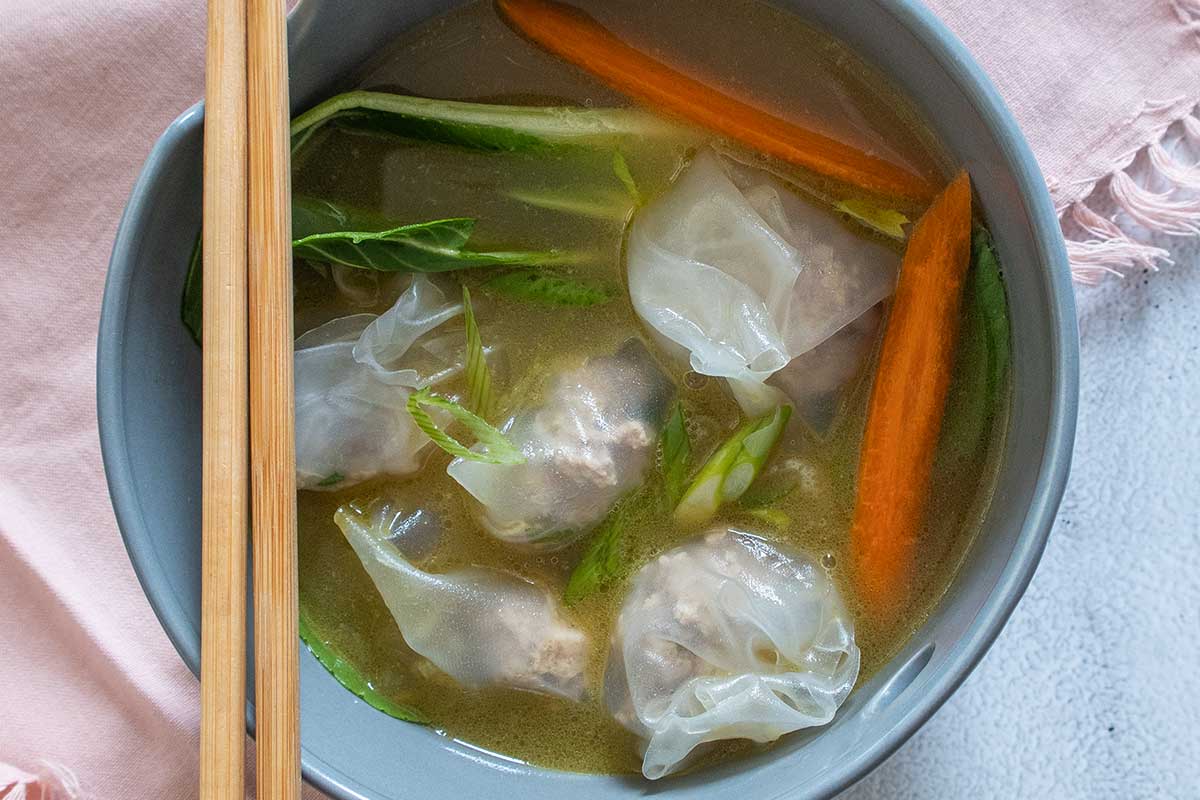 If you have 30 minutes, you can make this easy gluten free wonton soup. The rice paper wontons are filled with flavorful chicken filling and served in a delicious ginger-infused broth, just like takeout!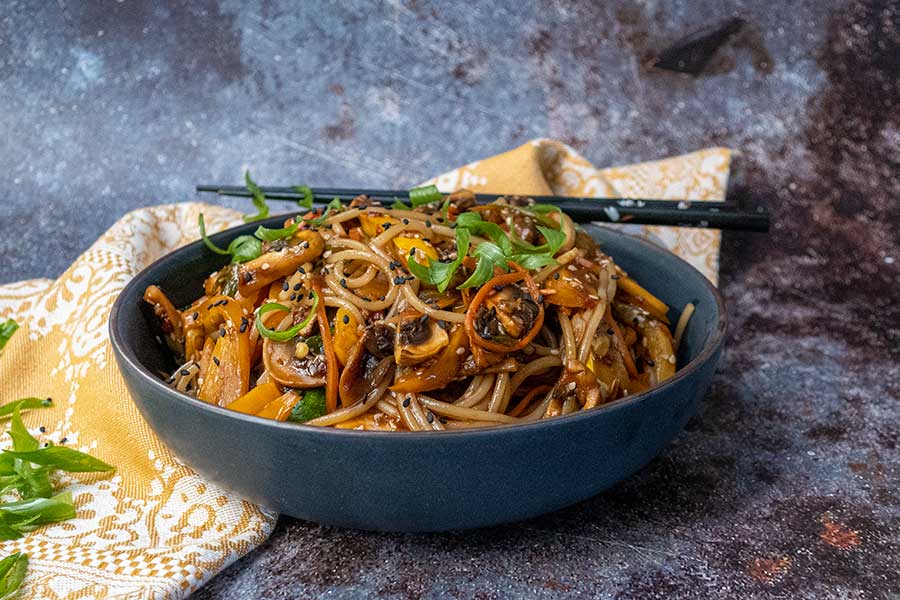 This Korean meal is made with rainbow colored nutritious vegetables, a spicy Korean sauce and toasted sesame seeds, changing simple noodles into an extra tasty takeaway dish.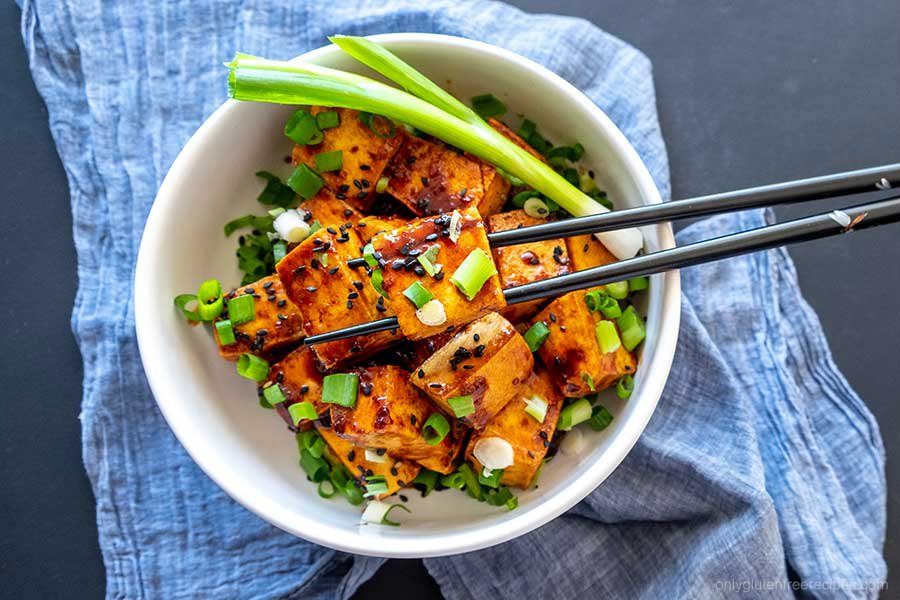 Enticingly delicious, Crispy Tofu With Spicy Ginger Sauce — So few ingredients and tastes better than takeout.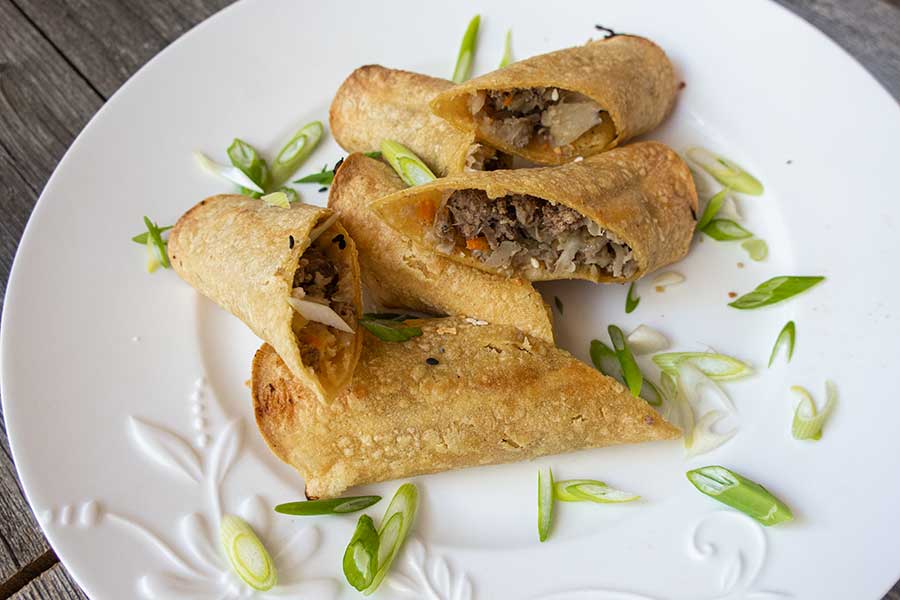 The Asian-style egg rolls are filled with tasty tender pork, ginger, garlic, fresh green cabbage, carrots, green onions, tamari sauce, sesame oil, and Asian spices, making these gluten-free egg rolls perfect without ordering takeout.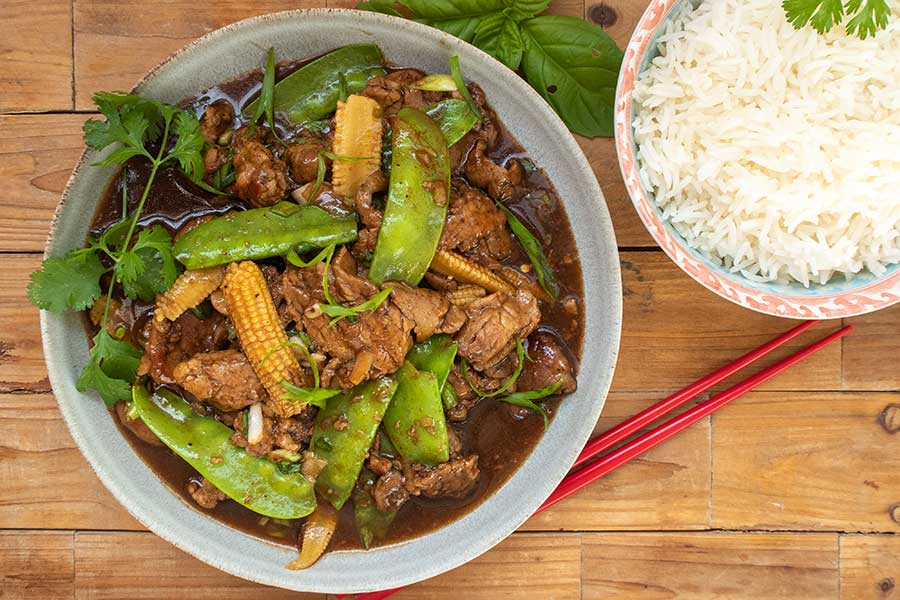 This Asian-inspired dish is about tender pork medallions cooked in the most flavourful honey garlic sauce with added snow peas and baby corn. This dish is healthier and gluten free, and better than classic takeout.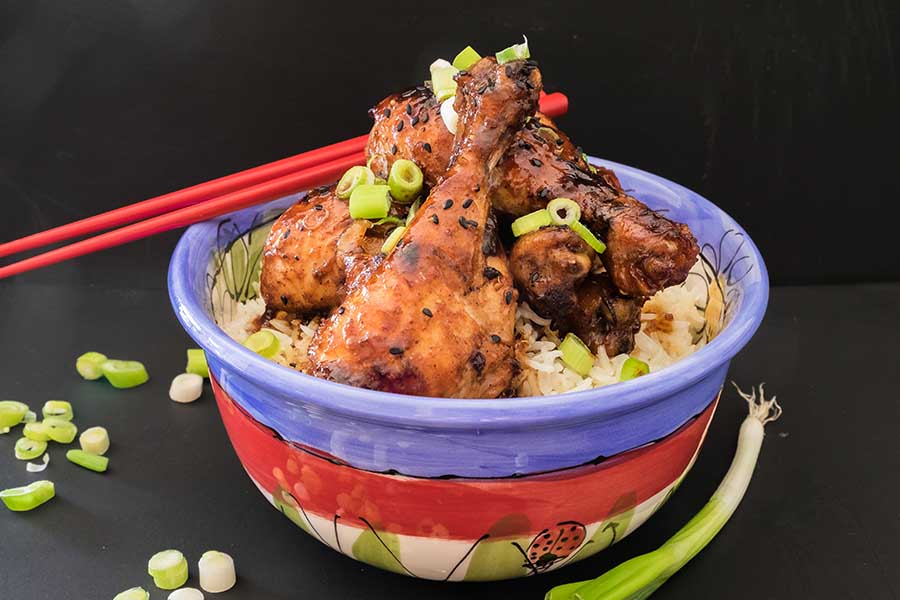 This chicken recipe is a finger-licking Peking-style chicken with crispy and flavorful skin, just like the classic dish you would get when ordering takeout, except fresher tasting and gluten free.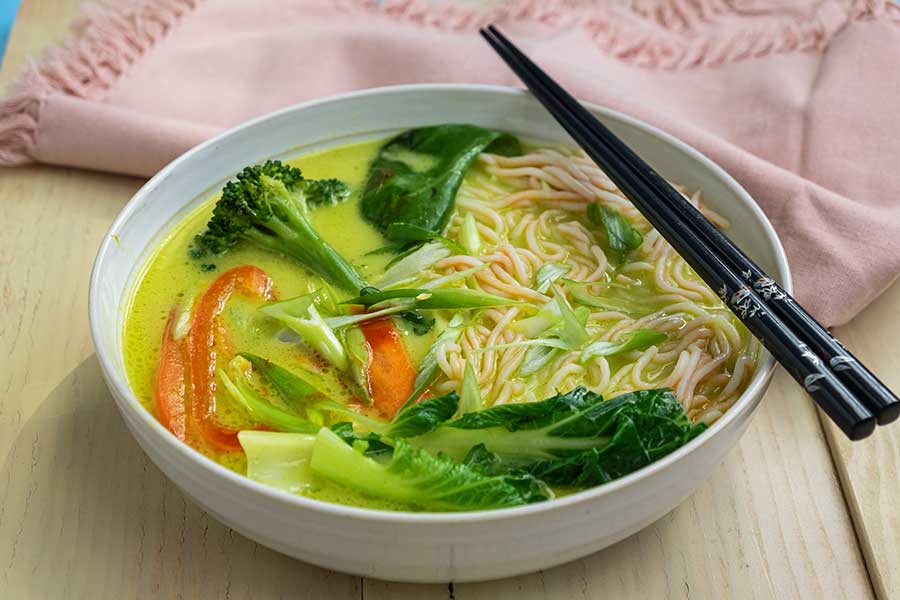 We love this gluten-free curry ramen because the soup is super easy to prepare, making this a hot, nutritious meal whenever you need it without ordering takeout.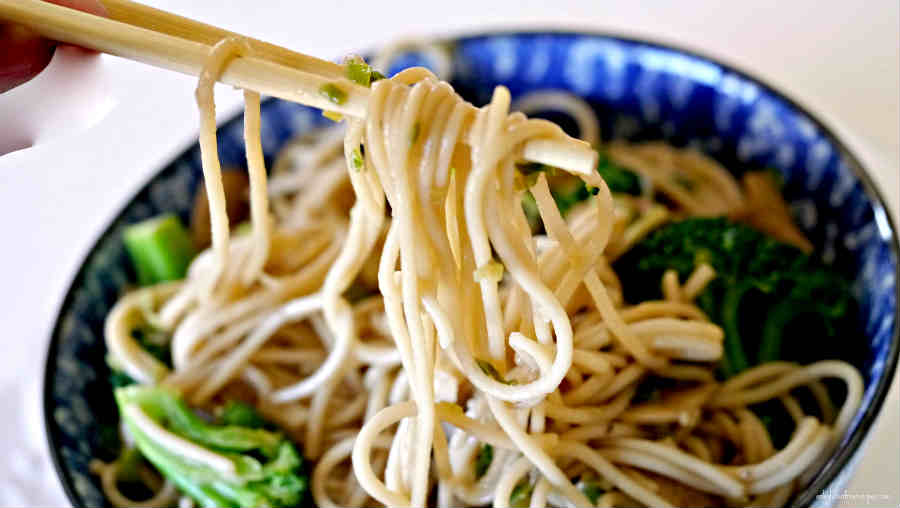 This is one of the all-time favourites, a take on a classic Asian noodle dish. The noodles and veggies are coated with a lightly sweetened garlic sauce, making this simple dish just like takeout.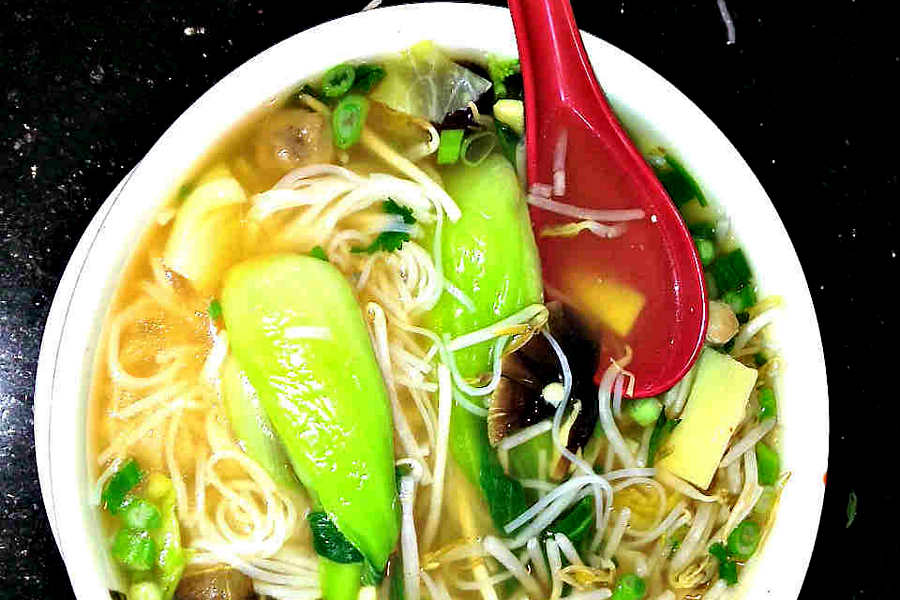 Why order takeout when you can make a simple version of Gluten-Free pho at home? This Vietnamese soup is made with fresh ingredients keeping the soup healthy, flavourful, and gluten free all at the same time.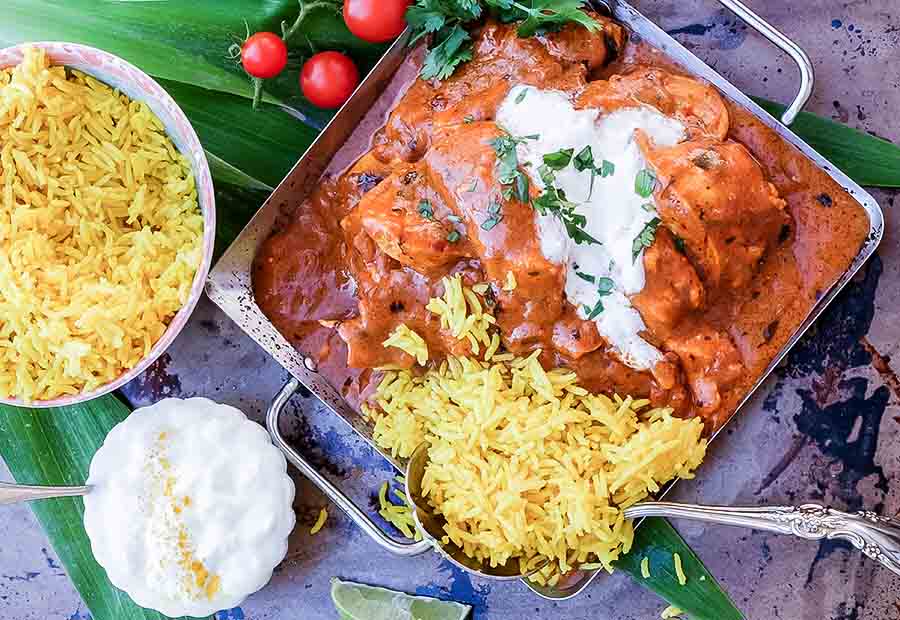 This is the most popular dish in Indian restaurants and the most ordered dish as takeout. The recipe for this butter chicken is simplified, low-fat, and gluten-free. And the best part, it is an incredibly delicious Indian chicken dish.
Summary for Asian Takeaway Recipes
These are just a few examples of Asia's many diverse and delicious gluten free takeaway dishes. Each cuisine brings unique flavors, techniques, and cultural influences, making Asian cuisine so famous. Check our complete collection of Gluten Free Asian Recipes for inspiration.
Embrace the joy of gluten-free Asian takeaway recipes, where tradition meets innovation, and the love for food knows no boundaries.
Let's Connect!
Be sure to FOLLOW US on FACEBOOK and PINTEREST. And don't forget to sign up for our newsletter, the form is at the bottom of this page. We always have something new and exciting for you!
Many thanks!
Kristina xx