Crispy Baked Gluten-Free Egg Rolls
Published on Feb 09, 2021
by
Kristina Stosek
Prep Time:

15 minutes
Cook Time:

15 minutes
Serves:

12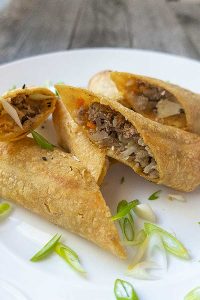 ​This post may contain affiliate links, please see our
privacy policy
for details
Oh my, these crispy baked gluten-free egg rolls are not to be missed. The egg rolls are filled with deliciously tender pork, ginger, garlic, fresh green cabbage, carrots, green onions, tamari sauce, sesame oil and spices making these gluten-free egg rolls super flavourful.
Every bite is filled with plenty of meat and veggie mixture rolled in a crunchy wrapper.
To keep the egg rolls super crispy without frying, I made them with soft corn tortillas. I know, not your typical egg roll wrapper and a little different. But, once the tortillas are baked, they become super crispy. And you will find that by using the corn tortillas, the Asian inspired rolls are super easy to whip up.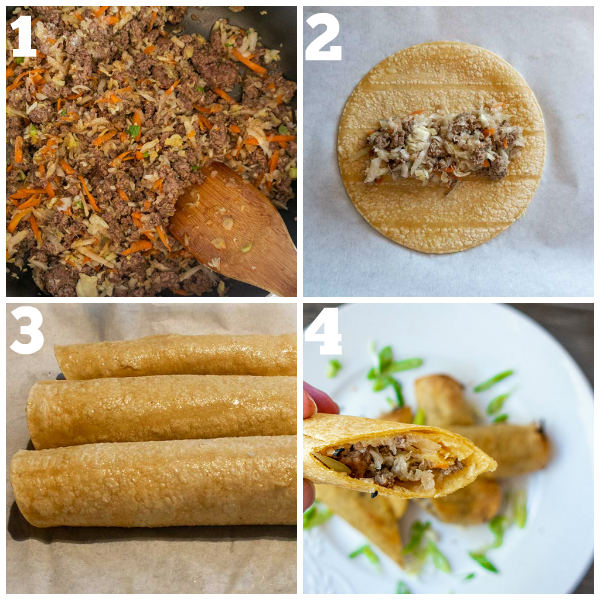 Easiest gluten-free egg roll recipe
You may think that making egg rolls is complicated and time consuming — it's not. I will show you how easy it is to make these crispy baked gluten-free egg rolls in just a few steps.
First, the filling is made. You will need to preheat a large skillet or a pan. Once the pan is hot, add the ground pork and cook, making sure that you are breaking up the meat as it is cooking. The pork takes just minutes to cook. Then add the ginger, garlic, cinnamon and cloves and stir everything until the meat is well coated.
Now that the meat is ready remove the skillet from the heat and add the fresh veggies. You don't want the veggies to be cooked, just heated through. The crispy bite of cabbage and carrots is what makes the filling sooo good. At this point, I added gluten-free sodium-reduced tamari sauce and toasted sesame oil. Both of these ingredients add extra flavour.
Once everything is mixed, taste the filling, and if needed, season with salt and pepper. I don't like to add too much salt to my dishes, and this is why I add salt until the very end, if needed.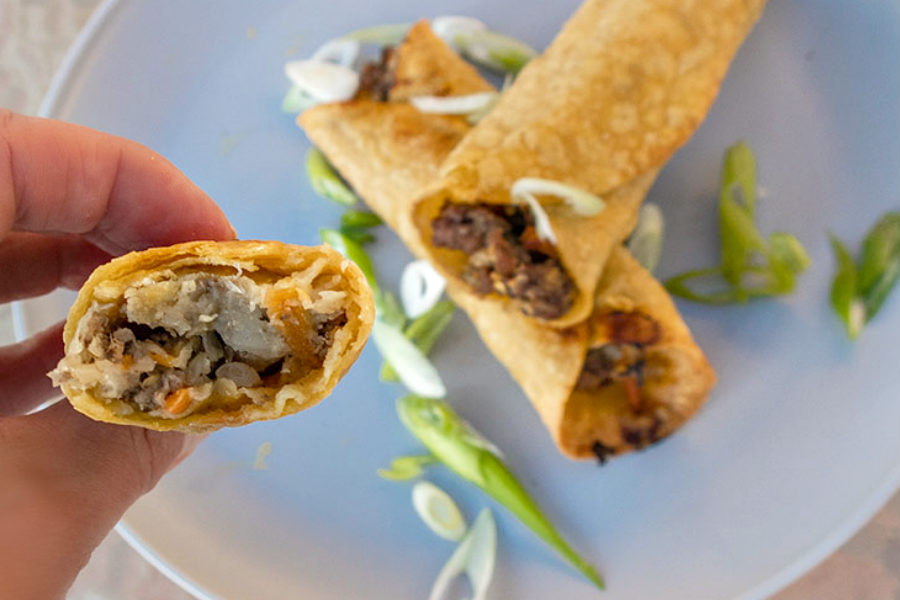 gluten-free egg roll wrappers,
I especially love the filling made with lightly spiced pork and fresh veggies, YUM! I could just eat it with a spoon with steamed veggies or rice. You may have tried my egg roll in a bowl recipe …delicious! However, today I wanted the filling to be wrapped with a crunchy wrapper. It is more satisfying and comforting to take a bite out of a crispy egg roll. Don't you agree?
Recently I made gluten-free carnitas. The carnitas came out so good and crispy, so I thought why not try to make these egg rolls the same way. I was worried that they would fall apart after they were baked, because there isn't melted cheese holding everything together.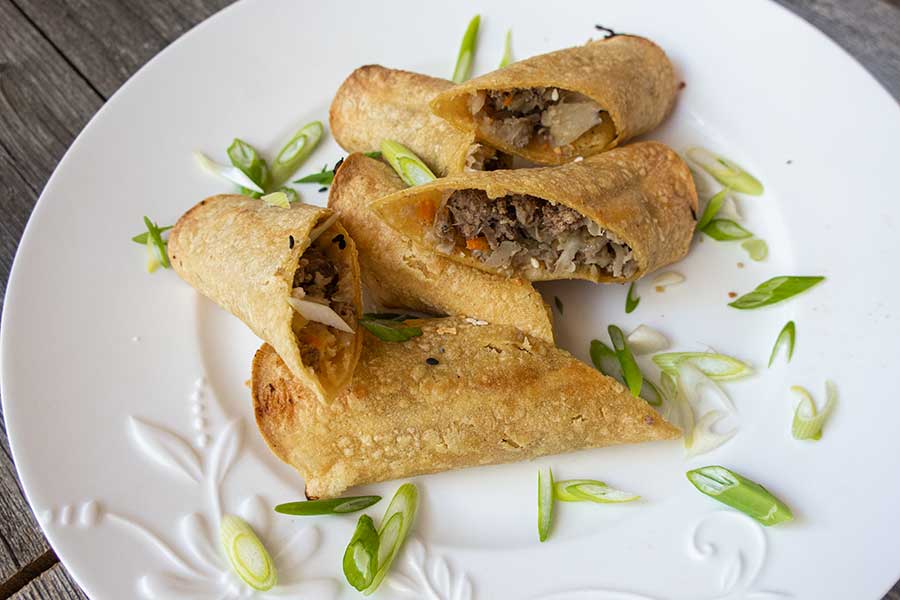 It wasn't a problem. The important thing was to make a tight roll and then place it seam side down on the baking sheet. The heat sealed the seam perfectly, and the gluten-free egg rolls came out super crispy. What I love about these egg rolls is there is no frying. Frying any food is unhealthy and not to mention messy.
If you feel adventurous and would like to add a sauce for dipping, I included my favourite sesame sauce recipe.
Sesame sauce
2 tsp. extra virgin olive oil

1 garlic clove, minced or grated

1⁄2 tsp. red pepper flakes

2 tsp. Minced or grated fresh ginger

1/4 cup honey

2 Tbsp. Fresh orange juice

1 tsp. Fresh lime juice

1/4 tsp. Toasted sesame oil

1 tsp. Sesame seeds
Using a small saucepan, cook garlic and red pepper flakes over medium-low heat until fragrant. Add remaining sauce ingredients and simmer for 2 minutes. Cool and refrigerate until ready to serve.
For the latest recipes and tips, please like us on Facebook or follow us on Pinterest and Instagram.
Crispy Baked Gluten-Free Egg Rolls
Published on Feb 09, 2021
by
Kristina Stosek
Instructions
1.

Preheat oven to 425 F and line a large rimmed baking sheet with parchment paper

2.

Heat a large skillet over medium-high heat. Add the ground pork and cook, breaking up the pork with a spatula until the meat is no longer pink. Add ginger, garlic, cinnamon and cloves and stir until well combined. 

3.

Remove skillet from the heat and stir in cabbage, carrots, green onions, tamari sauce, sesame oil and season with salt and pepper. Set aside.

4.

Warm tortillas for about 50 seconds in the microwave until pliable. Do this just before you are ready to roll them. 

5.

Lightly brush one side of each tortilla with olive oil and place oiled side down on a large plate. Spoon approximately 1/4 cup of meat mixture in the center (see pic) and then roll tightly. Place seam side down on the prepared baking sheet. Continue until all the rolls are done

6.

Bake for 8 minutes, then flip the rolls over and bake for 6 more minutes until crispy and golden brown. Enjoy!
Leave a Comment
Kristina
Katie, I don't understand why the tortillas break for you. In the recipe it calls for soft corn tortillas. The tortillas are placed in the microwave for a few seconds to soften them up even more so that they are pliable. They work like a dream, but you must use soft tortillas.
Your recipe sucks. Corn tortillas just break.