Gluten-Free Chinese Lemon Chicken
Published on Apr 10, 2015
by
Kristina Stosek
Prep Time:

20 minutes
Cook Time:

20 minutes
Serves:

4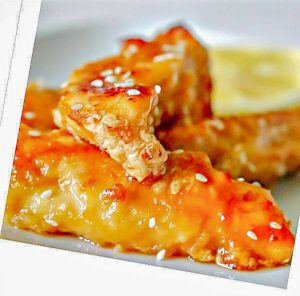 ​This post may contain affiliate links, please see our
privacy policy
for details
Gluten-Free Lemon Chicken, just like takeout – crispy packed with flavor chicken tenders coated in a delicious, lightly sweetened lemon sauce.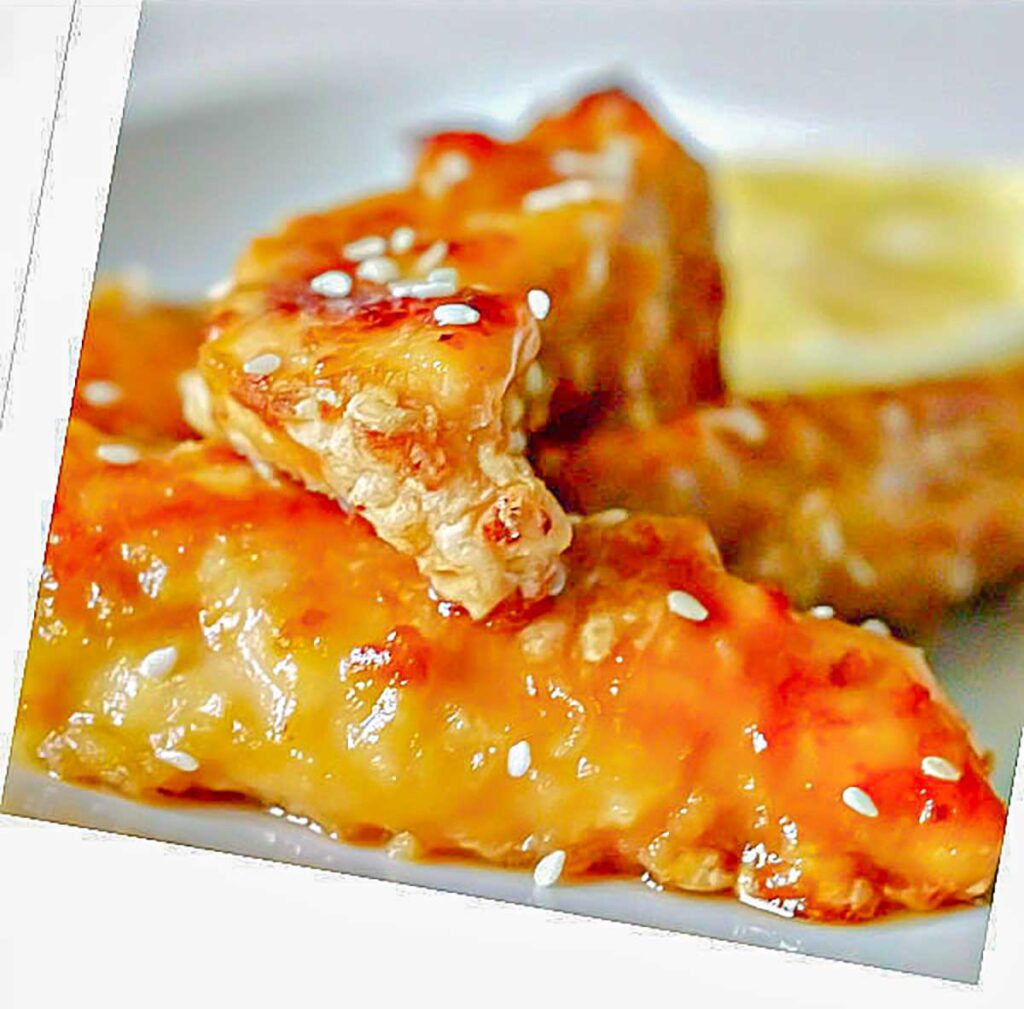 Traditionally, Chinese lemon chicken is made by marinating chicken pieces in soy sauce, lemon juice, sugar, and sometimes vinegar.
To make this dish gluten-free, you will need to substitute ingredients that contain gluten. Choose a gluten-free alternative for soy sauce such as tamari sauce or coconut aminos. Tapioca flour or corn starch is an ideal gluten-free thickener, replacing wheat flour.
Why is this gluten free Chinese lemon chicken healthier?
If you love Chinese takeout and need a gluten-free lemon chicken version, this recipe is one to try. It is made without deep-frying or refined sugar, making this a healthier recipe.
Why is lemon chicken so tasty?
The secret to this gluten free dish is marinating the chicken first in an egg, tamari sauce, maple syrup, and sesame oil.
The marinade infuses the chicken with flavor and coats it with a sticky sauce that will give it a crispy and delicious coating we love. Then the chicken is lightly coated in tapioca flour, flash-fried, and baked until extra crispy. And then coated with freshly made lemon sauce.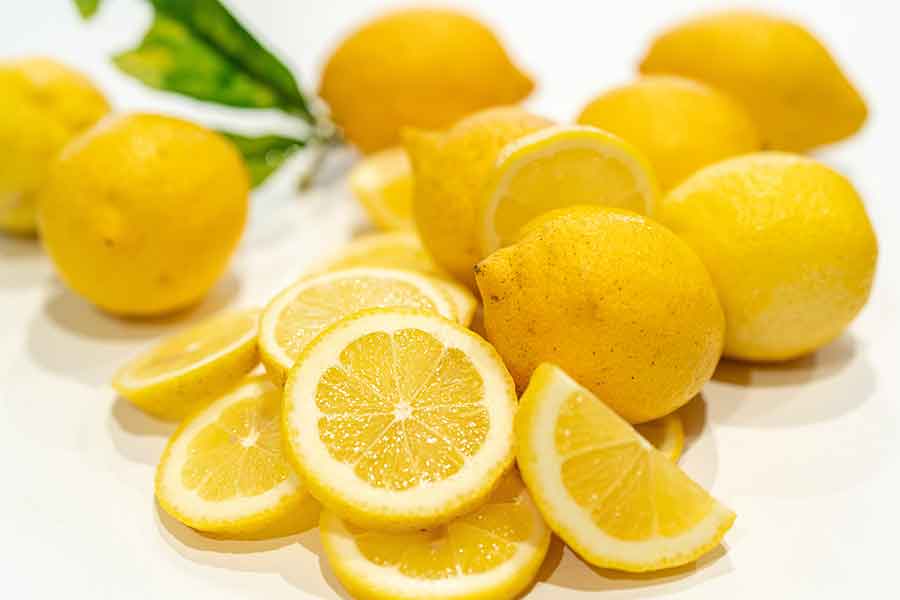 the lemon sauce
The secret to a good lemon sauce is fresh lemons, not bottled lemon juice or lemon extract. The sauce is slowly simmered with fresh lemon juice, chicken stock, maple syrup, and lemon slices, creating a fresh, sweet, and zesty flavor.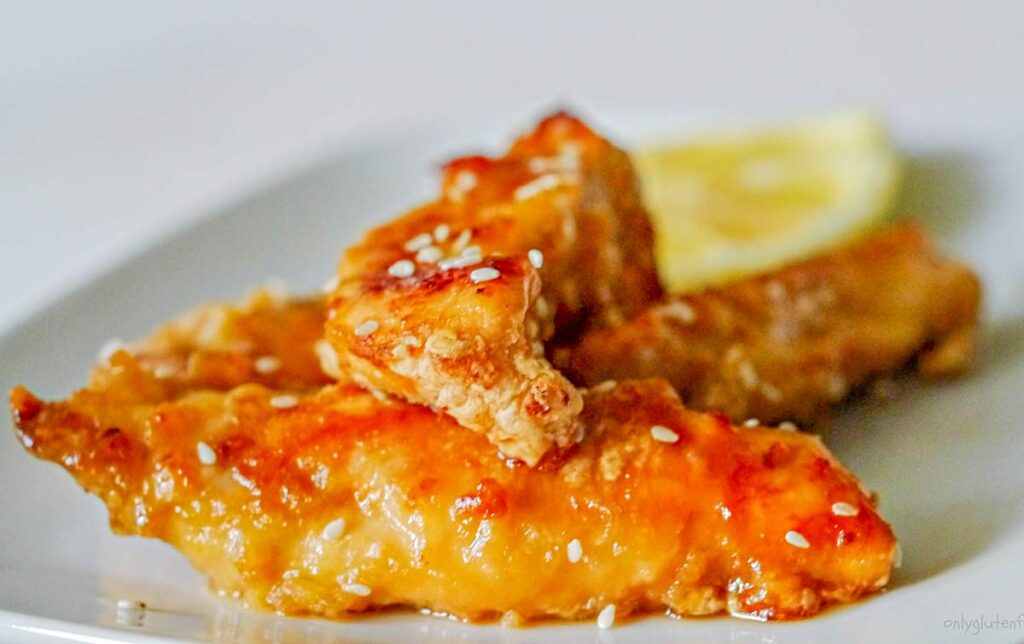 lemon chicken serving suggestions
Gluten-free Chinese lemon chicken pairs well with Simple Rice With Parsley or Gluten-Free Spicy Chinese Noodles to create a satisfying meal. Garnish the dish with thinly sliced green onions or sesame seeds to add texture and flavor. You can also add a side of stir-fried vegetables like broccoli, bell peppers, or snap peas or Gluten Free Vegetable Hibachi Noodles to create a balanced and nutritious meal.
tips on eating out Chinese food
When dining out or ordering gluten-free Chinese lemon chicken, communicate your dietary needs to the restaurant staff to ensure they understand the importance of avoiding cross-contamination. Some restaurants may use wheat-based soy sauce or flour-based thickeners, so asking about their ingredients and preparation methods is crucial.
This super easy gluten-free lemon chicken dish can be served as a main or as the perfect party food. Do you love takeout? Check out our list of gluten-free Asian recipes!
Let's Connect!
Be sure to FOLLOW US on FACEBOOK and PINTEREST. And don't forget to sign up for our newsletter, the form is at the bottom of this page. We always have something new and exciting for you!
Many thanks!
Kristina xx
Gluten-Free Chinese Lemon Chicken
Published on Apr 10, 2015
by
Kristina Stosek
Instructions
1.

Whisk together egg, tamari sauce, 1 teaspoon honey/maple syrup, sesame oil and lemon zest. Add chicken and coat with the marinade. Refrigerate for 30 minutes

2.

3.

In a small saucepan add lemon juice, chicken stock, 1/3 cup honey/maple syrup, and lemon slices. Simmer over low heat for 5 minutes

4.

Whisk together 2 teaspoons of tapioca flour and 1 tablespoon of water. Add to the lemon sauce and cook over low heat until the sauce thickens. If the sauce is too thick, add some water. Set aside

5.

6.

7.

In a bowl mix remaining tapioca starch with salt. Add chicken pieces and lightly coat with the mixture. Place chicken on parchment paper until ready to cook

8.

Preheat olive oil over medium heat and flash fry the chicken pieces. About 1 minute per side, then transfer onto a non-stick baking sheet and bake for 10 minutes, or until chicken is fully cooked. The internal temperature should be 165 F

9.

Pour lemon sauce over the chicken and bake about three minutes longer to reheat the sauce

10.

Sprinkle with sesame seeds and enjoy!
Leave a Comment
better than the real thing!