Gluten-Free Lemon Chicken
Prep Time
20 Minutes
Difficulty
Intermediate
Cook Time
20 Minutes
Serves
4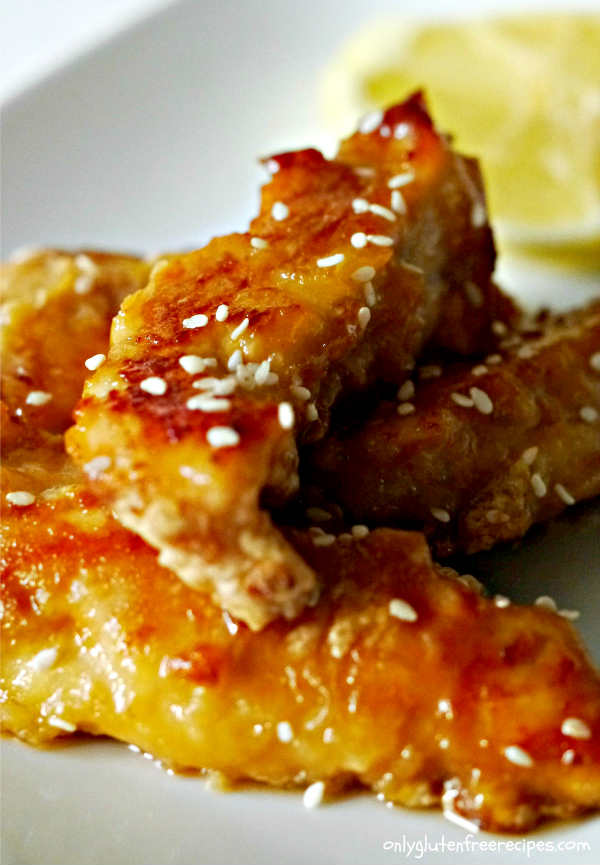 Average Rating: 4.5 | Rated By: 2 users
If you love authentic Chinese lemon chicken and are looking for a gluten-free version, you will love this recipe. This lemon chicken dish is made without deep-frying or refined sugar, making this a healthier version of lemon chicken. Serve with rice or steamed veggies. This lemon chicken makes a wonderful appetizer
Ingredients
2 large skinless boneless chicken breasts, cut into approximately 2-inch wide strips
1 large egg
2 Tbsp. GF tamari sauce
1/3 cup agave nectar + 1 tsp., divided
1 tsp. sesame oil
1/3 cup fresh lemon juice
½ cup GF chicken stock
1 lemon (thinly sliced + zest)
½ cup tapioca starch
½ tsp. sea salt
3 Tbsp. extra virgin olive oil, or as needed
1 Tbsp. sesame seeds
Instructions
Whisk together egg, tamari sauce, 1 teaspoon agave, sesame oil and lemon zest. Add chicken and coat with the marinade. Refrigerate for 1 hour
THE SAUCE
In a small saucepan add lemon juice, chicken stock, 1/3 cup agave, and lemon slices. Simmer over low heat for 5 minutes
Whisk together 2 teaspoons of tapioca starch and 1 tablespoon of water. Add into the lemon sauce and cook over low heat until the slightly sauce thickens. If the sauce is too thick, add some water. Set aside
FOR THE CHICKEN
Preheat oven to 400 F
In a bowl mix remaining tapioca starch with salt. One piece at a time, slightly dust the chicken. Place chicken on parchment paper until ready to cook.
Preheat olive oil over medium heat and flash fry the chicken pieces. About 1 minute per side, then transfer on a non-stick baking sheet and bake for 10 minutes, or until chicken is fully cooked
Pour lemon sauce over the chicken and bake three more minute, just long enough to reheat the sauce.
Sprinkle with sesame seeds and enjoy!
Similar Recipes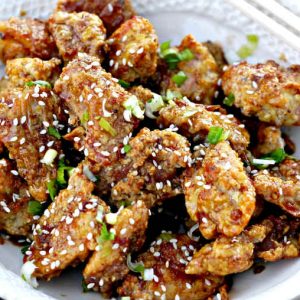 Gluten-Free Baked Honey Garlic Chicken
In this recipe, the chicken is coated with a crispy coating and seasoned with delicious honey garlic sauce. Serve this chicken dish as an appetizer or as a main over rice or a light salad Read More
Prep Time
15 Minutes
Difficulty
Easy
Cook Time
30 Minutes
Serves
4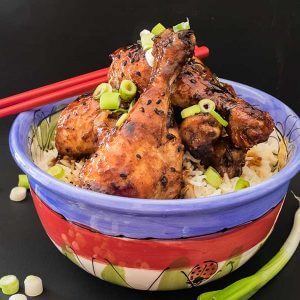 Gluten-Free Peking Style Chicken
Fingerlicking Peking Style Chicken. I know, the recipe sounds complicated, but it's not. This dish originates from Beijing, and is traditionally made with a duck. I wanted to use chicken in this recipe because it is simpler and faster. To make this gluten-free exotic chicken dish is super easy. First mix the ingredients for the […] Read More
Prep Time
5 Minutes
Difficulty
Beginner
Cook Time
55 Minutes
Serves
8 pc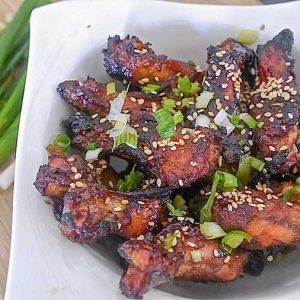 Honey Ginger Chicken Wings
Chicken wings make a good appetizer especially when they are coated with a honey ginger sauce. This recipe is simple to make and can be prepared in advance. Just pop the wings in the oven when ready Read More
Prep Time
10 Minutes
Difficulty
Beginner
Cook Time
30 Minutes
Serves
16 wings