Vegetable Hibachi Noodles (Gluten-Free, Vegan)
Published on Sep 07, 2018
by
Kristina Stosek
Prep Time:

10 minutes
Cook Time:

10 minutes
Serves:

4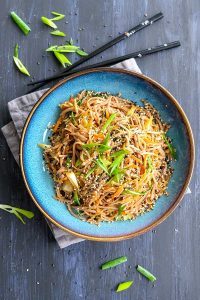 ​This post may contain affiliate links, please see our
privacy policy
for details
Most flavourful Japanese style take-out vegetable hibachi noodles dish. Today just seems like a take-out night, and this gluten-free and healthy noodle dish will satisfy that craving.
This simple Japanese inspired noodle dish is saucy, savoury and a little sweet with thinly sliced veggies throughout. I used traditional soba noodles because they are nutritionally packed and are also high in protein.
20 minute noodle meal
Did I mention this 20-minute hibachi noodle meal is super healthy! Sometimes all we need is just a bowl full of tasty noodles, especially after a busy day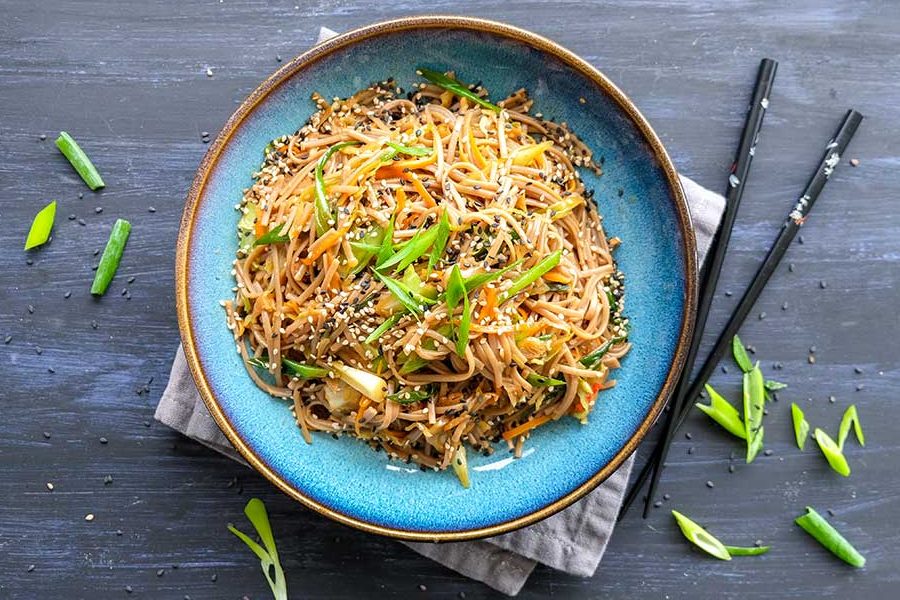 If you you are looking to get inspired, check out these gluten-free noodle recipes!
Vegetable Hibachi Noodles (Gluten-Free, Vegan)
Published on Sep 07, 2018
by
Kristina Stosek
Instructions
1.

Over medium-high heat in a wok or cast iron skillet heat the oil

2.

Add garlic and cook until fragrant, about 30 seconds

3.

Add carrots, cabbage and green onions and stir-fry until crisp tender. About 5 minutes

4.

While the veggies are cooking, whisk together teriyaki sauce, tamari sauce, maple syrup and tapioca starch. Add the sauce to the veggies, and cook for about a minute, until the sauce is heated through

5.

Add in noodles and sesame oil and gently toss until the noodles are well coated with the sauce. Remove from the heat and sprinkle with sesame seeds

6.