Honey Garlic Pork Tenderloin
Published on Jun 13, 2020
by
Kristina Stosek
Prep Time:

15 minutes
Cook Time:

15 minutes
Serves:

4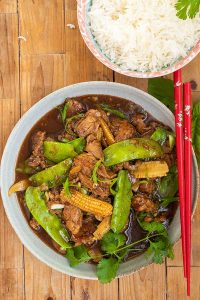 ​This post may contain affiliate links, please see our
privacy policy
for details
The fast Honey Garlic Pork Tenderloin is so much better than takeout. Tender pork medallions cooked in the most flavourful honey garlic sauce with added snow peas and baby corn. The sweetness of honey and the saltiness of Tamari sauce blend beautifully with garlic and ginger.
The rich, thick sauce coats the pork tenderloin and the veggies with so much flavour. All you need is rice or noodles for a perfect dinner in a bowl. You really don't need anything else beyond this for a relaxed night at home.
♥

Is takeout food gluten-free?

If it were me, I would stay away from restaurants that serve takeout food labelled gluten-free. Many claim to have gluten-free takeout menus but do not have any cross-contamination protocols. Also, restaurants use commercial spices that are not gluten-free.

For someone who has celiac disease or has gluten-intolerance, even a small amount of gluten can make them very sick. The only restaurants that I would order takeout food from are the ones that serve only gluten-free food.

Unfortunately, I have not found any Asian restaurants that serve only gluten-free food. Therefore, cooking at home is your only option if you crave takeout. This honey garlic pork tenderloin dish tastes just like takeout…better and healthier!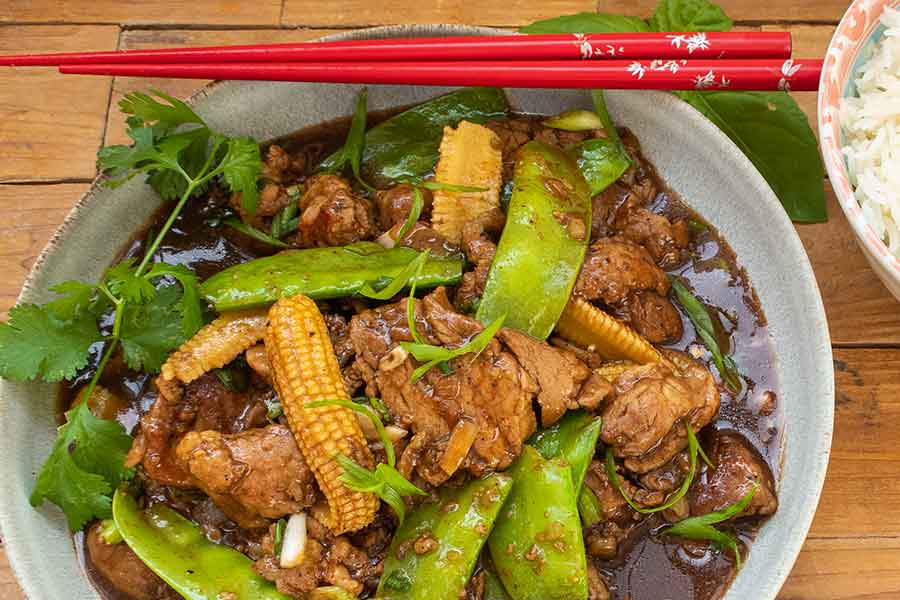 ♥

Honey garlic pork tenderloin recipe under 30 minutes.

You will be pleasantly surprised to see how easy this honey garlic pork tenderloin recipe is. First, you toss thinly sliced pork with arrowroot starch, black pepper and a bit of oil. Then, in a bowl, combine the ingredients for the honey garlic sauce.

Sear the meat, add shallots and then add the sauce. The sauce thickens very quickly. As soon as the sauce starts to thicken, add the snow peas, baby corn and green onions. Cook a few more minutes and you are done!

The best part about pork tenderloin is, it cooks very quickly and it is the most tender part of pork. You will love this gluten-free Asian dish because it tastes better than the classic takeout dish.

My family loves the honey garlic pork tenderloin with Saffron Rice, Mint and Caramelized Onions. For me, I like to have it with zucchini noodles or spaghetti squash. You know → keeping the carbs down. However, if I need something heartier, I love it with rice noodles. I made extra sauce in this recipe, so you have plenty to coat the noodles with.
Substitutions:
In this super simple and easy recipe, there isn't much that needs to be changed. However, if you don't have arrowroot starch, you can use tapioca or cornstarch. For the veggies, you can use bell peppers, mushrooms or broccoli. You can replace shallots with finely chopped onion. And although this recipe calls for honey, you can use maple syrup, coconut, or brown sugar if you don't have honey.
If you do make this recipe, don't forget to tag me on Instagram! I love looking through the photos of recipes you all have made:-) or join me on my Facebook page for the latest updates.
Honey Garlic Pork Tenderloin
Published on Jun 13, 2020
by
Kristina Stosek
Instructions
1.

In a medium bowl, toss together pork, 2 tablespoons of arrowroot starch, black pepper and 2 teaspoons of oil

2.

In a small bowl, combine honey, tamari sauce, 1/3 cup water, ginger, garlic, rice vinegar, and 1 teaspoon arrowroot starch

3.

Heat remaining oil in a large skillet or a wok over medium-high heat. When the oil shimmers add the pork and quickly brown all over. This takes about 4 - 5 minutes. Add the shallots and cook for 2 more minutes stirring as needed

4.

Add honey-garlic sauce and bring to a boil. Add snow peas, baby corn and green onions. Save some green onions for topping. Cook until the sauce starts to thicken about 5 minutes. Enjoy over rice or noodles topped with sliced green onions
Leave a Comment
Kristina
Just finished dinner!!! Ooooo my gosh! This recipe is SUPER EASY and SO DELICIOUS!!!! This will definitely go into the recipe rotation!!!