Gluten-Free Beef Sukiyaki Noodle Salad
Published on Jun 10, 2021
by
Kristina Stosek
Prep Time:

20 minutes
Cook Time:

15 minutes
Serves:

4 - 6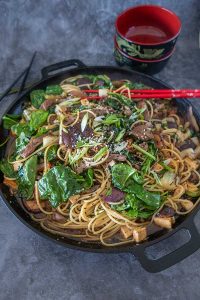 ​This post may contain affiliate links, please see our
privacy policy
for details
Japanese-inspired Gluten-Free Beef Sukiyaki Noodle Salad…tender slices of beef, noodles, red onions, shiitake mushrooms, bok choy, green onions, tofu and fresh baby spinach richly flavoured with tamari-mirin sauce. This healthy salad can be served warm or at room temperature.
This gluten-free noodle salad picks up on the popular Japanese custom of eating cold soba noodles with soy dipping sauce – comforting food to be enjoyed for its simplicity.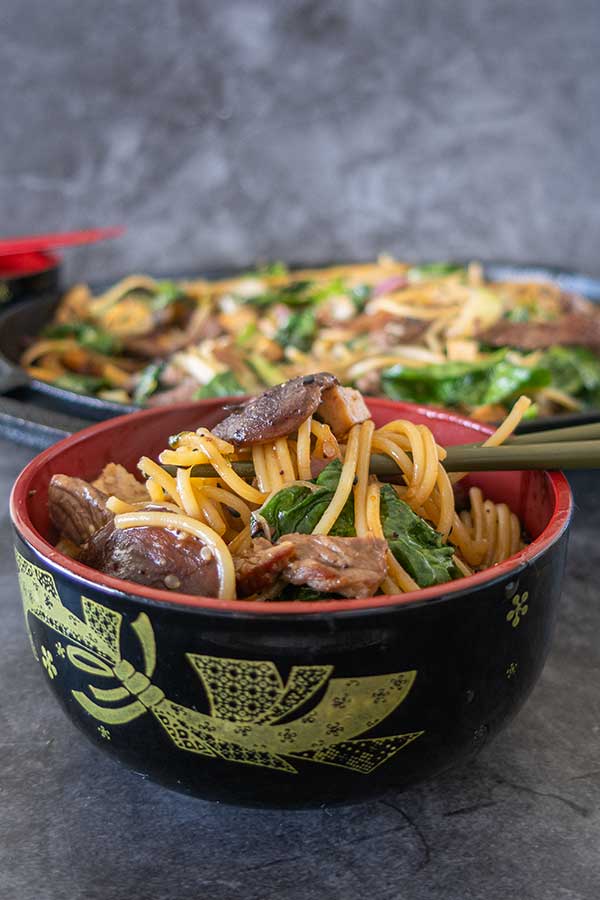 do you serve noodle salad hot or cold?
Defining what makes a salad a salad is no easy task, particularly when you include warm noodles salads. Most salads are eaten cold. However, noodle salads are dressed with flavourful sauces and can be eaten warm.
In Japanese cuisine, dressed salads are called aemono. The definition of a good Japanese salad is not too much of any one thing. Salads aim to refresh and make a nice change from heavier dishes.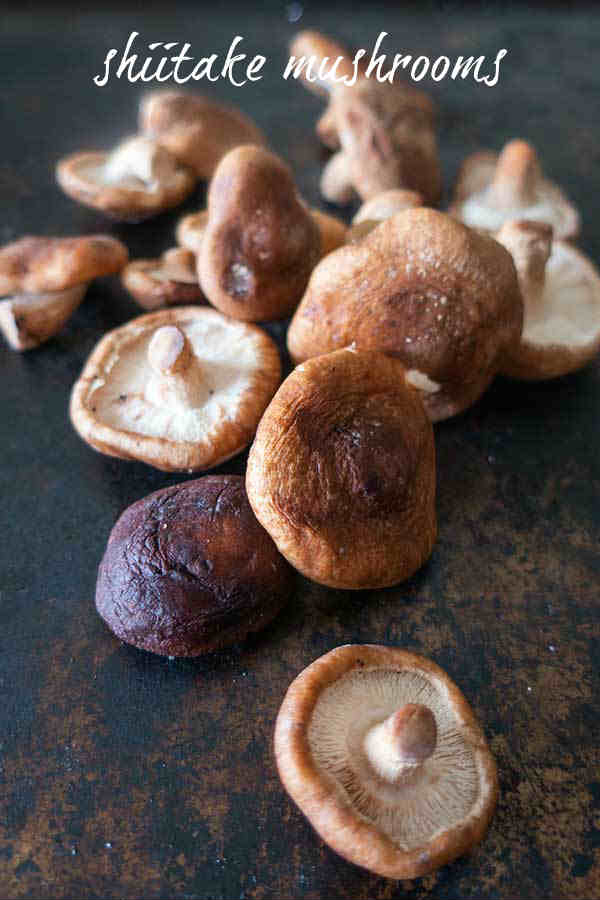 Today salads are often considered a meal in themselves, such as this beef sukiyaki noodle salad, especially in the summer months. There is something special about a plate of rainbow-coloured veggies with lots of other elements dotted about.
Freshness is everything in a salad, crispy veggies, cooked noodles, tender beef slices all dressed in heady delights of tamari sauce, mirin, sesame oil, miso, chilli and slight sweetness of maple syrup or honey.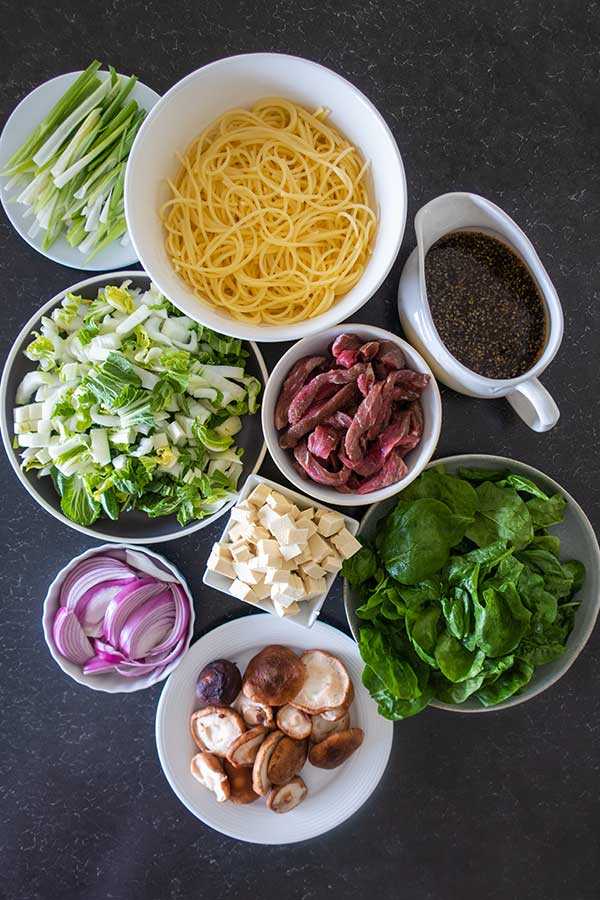 Beef Sukiyaki Noodle Salad Recipe Overview
The secret to simplicity when making this beef sukiyaki noodle salad recipe is preparation. Prepare the veggies, slice the meat, cook the noodles and make the sauce. Once this is done, the cooking goes very quickly.
To start, sear the meat. Using a cast-iron skillet is best for searing meat and veggies. The skillet cooks everything with even heat, and when the skillet is seasoned correctly, nothing sticks to it.
Once the meat is briefly seared, transfer it to a plate. Next, start with the onions. They caramelize beautifully on a cast iron skillet setting the flavour for this noodle recipe.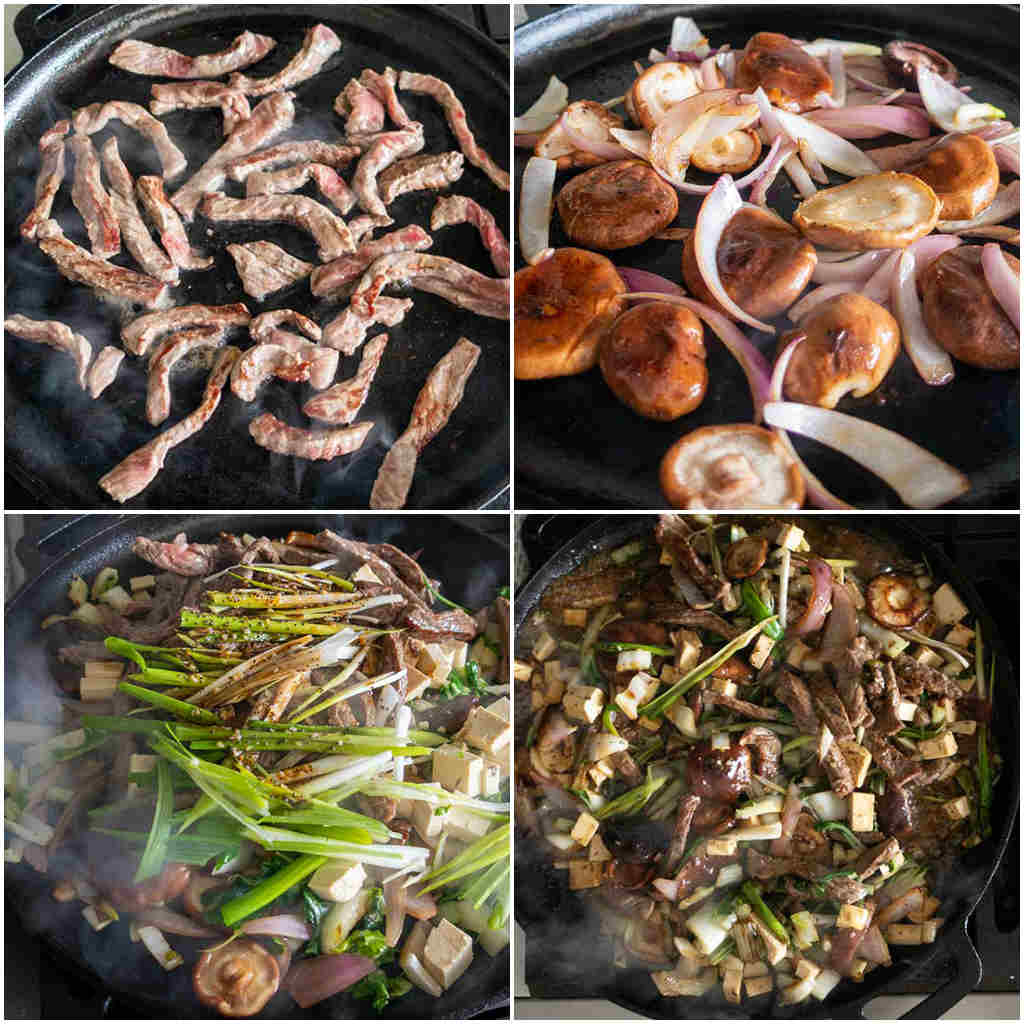 Next, add the mushrooms, then bok choy and cook them briefly. Return the meat to the skillet with the green onions, tofu and half the tamari-mirin sauce. Cook until the sauce starts to thicken.
Everything is now ready for the noodles and the fresh spinach. Remove the skillet from the heat. The cast-iron skillet will still be hot.
Add the noodles, fresh spinach and the remaining sauce. Gently toss to coat everything with the sauce and sprinkle with sesame seeds. Done! If you like warm salads you will enjoy the Warm Asian Chopped Chicken Salad or the Warm Harvest Salad with Sticky Pecans.
I promise this gluten-free beef sukiyaki noodle salad will not disappoint. Everything in this salad is intensely flavoured with the tamari-mirin sauce, the veggies are soft with a slight crunch to them, the noodles are coated with a tasty sauce, and the beef is cooked to perfection.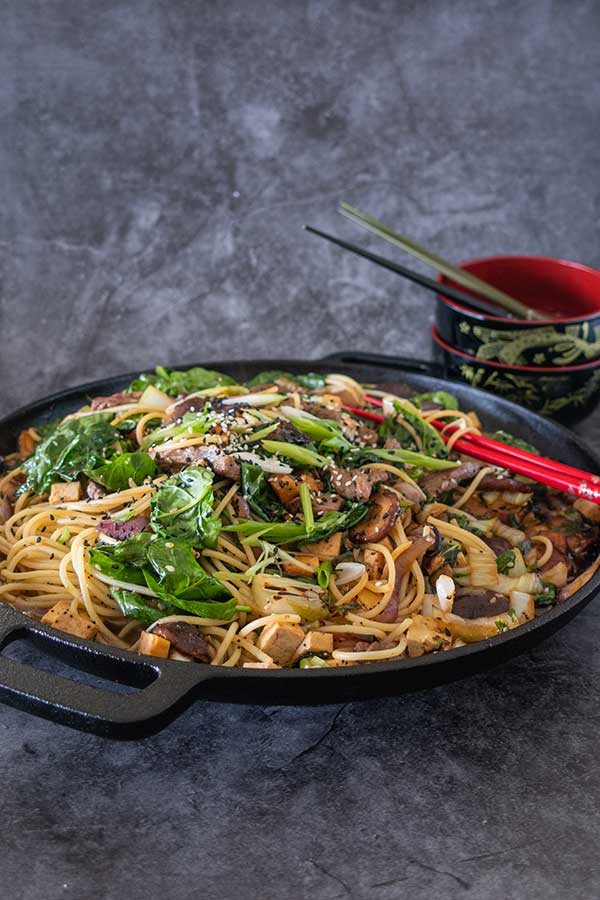 How to serve beef sukiyaki noodle salad?
Mostly I like to serve this gluten-free noodle salad warm as a main dish. Other times my family enjoys the Japanese-inspired salad as a starter or a snack, and I serve it at room temperature.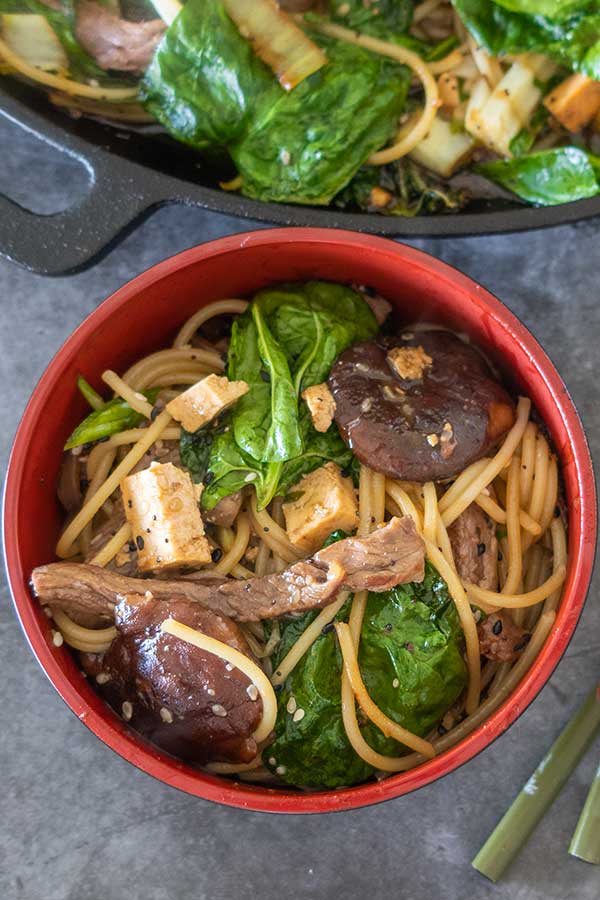 gluten free noodles for sukiyaki salad
In this beef sukiyaki noodle salad, I used gluten-free fettuccini noodles. If you want to keep this an authentic Japanese noodle salad recipe, use gluten-free soba noodles. When using soba noodles, you can also serve this healthy salad cold.
Let's Connect!
Be sure to FOLLOW US on FACEBOOK and PINTEREST.
Many thanks!
Kristina xx
Gluten-Free Beef Sukiyaki Noodle Salad
Published on Jun 10, 2021
by
Kristina Stosek
Instructions
1.

Cook noodles in well-salted water until al dente. Drain and rinse with cold water. Set aside

2.

While the noodles are cooking, in a small saucepan over medium heat, cook tamari sauce, mirin, water, maple syrup/honey, 2 tablespoons of sesame seeds, toasted sesame oil, and chilli oil for 1 minute. Whisk in miso paste until combined. Set aside

3.

Using a large cast-iron skillet, I used my cast iron pizza pan, heat 1 tablespoon of oil until shimmering. Season meat with salt and sear on both sides, but still keeping it pink on the inside. Do not stir the meat, first sear one side, then turn the meat over and sear the other side. About 1 minute per side. Transfer onto a plate

4.

To the same skillet, add the remaining tablespoon of oil, add the onion and cook over medium heat until lightly caramelized. Stirring as needed

5.

Add mushrooms and cook until softened, about 3 minutes. Add bok choy and cook for 2 more minutes

6.

Add green onions, tofu, meat with the juices and half the tamari-mirin sauce. Bring to a boil and simmer just until everything is heated through and coated with the sauce. About 1 minute

7.

Remove the skillet from the heat and add the noodles, spinach and remaining tamari-mirin sauce. Gently toss everything until well coated with the sauce. Sprinkle with sesame seeds and enjoy warm or at room temperature.