Warm Fall Harvest Salad with Sticky Pecans
Prep Time
15 Minutes
Difficulty
Easy
Cook Time
15 Minutes
Serves
4-6
Average Rating: 5 | Rated By: 5 users
The beautiful thing about this salad is the variety of textures, sweet and savoury bold flavours and beautiful colours. In this salad, the warm roasted vegetables, fresh baby spinach and sticky pecans are flavoured with tamari ginger vinaigrette making everything insanely delicious.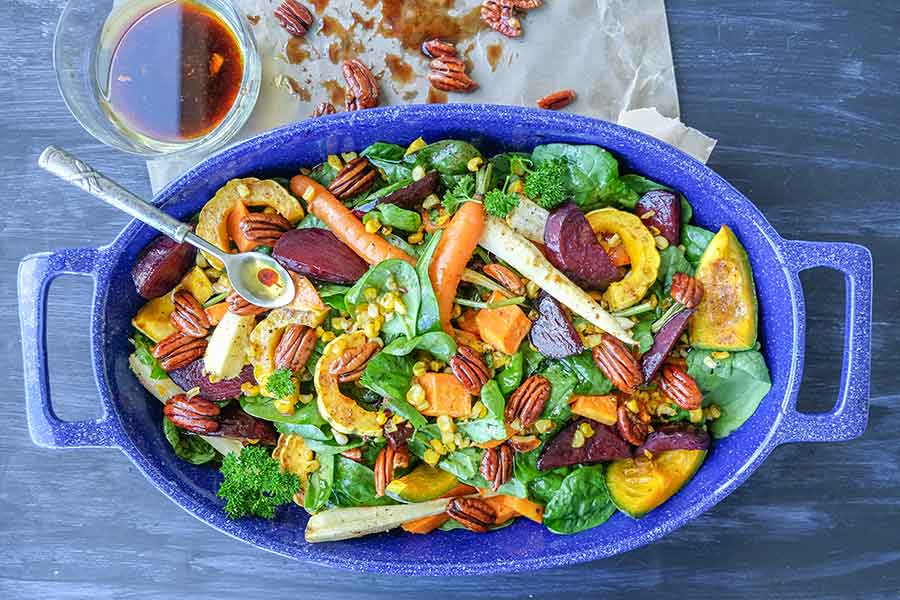 This warm harvest salad with sticky pecans is especially comforting and satisfying during cold weather months.
Ingredients
2 varieties of small squashes such as acorn squash, delicata squash, butternut. Halved, seeds removed and cut into small wedges
4 small carrots, halved lengthwise
2 small parsnips, quartered lengthwise
2 small beets, cut into small wedges
1 medium yam, peeled and cut into small cubes
3 Tbsp. extra virgin olive oil
1/2 tsp. Pure sea salt
1/4 tsp. GF ground nutmeg
1/4 tsp. GF ground black pepper
1 fresh sweet corn, kernels removed
10 oz. fresh baby spinach
STICKY PECANS
1 cup raw pecans
2 Tbsp. Coconut sugar, divided
1/8 tsp. GF ground cinnamon
TAMARI GINGER VINAIGRETTE
1/4 cup extra virgin olive oil
2 Tbsp. GF Rice vinegar
1 Tbsp. GF low sodium Tamari sauce
1 Tbsp. minced fresh ginger
1 garlic clove minced
1 tsp. Pure maple syrup
Optional garnish; fresh parsley, cilantro or basil
*As an Amazon Associate and member of other affiliate programs, I earn from qualifying purchases. Please check out my sponsorship and disclosure policy page for more details
Instructions
Preheat oven to 425 F and line a large rimmed baking sheet with parchment paper
Arrange vegetables except for corn and spinach on the baking sheet and brush with olive oil.
Mix salt, nutmeg, 1/4 teaspoon pepper and 1 teaspoon of coconut sugar. Season the vegetables with the spice mix
Toss corn kernels in the remaining olive oil and season with salt and pepper. Scatter the corn on foil paper
Roast the veggies and corn for 15 minutes. Turn the oven off and slightly open the door, leaving the veggies in the oven until you are ready to make the salad
For the pecans, in a small saucepan add 1/4 cup water, remaining coconut sugar, 1/8 teaspoon cinnamon and a small pinch of salt. Bring to boil and cook until the sauce thickens about 2 minutes. Remove the sauce from the heat and stir in pecans until coated with the sauce Transfer onto parchment paper to cool
For the dressing, in a small bowl whisk everything together
To construct the salad, place spinach in a large salad bowl, add warm roasted veggies, sprinkle with roasted corn and drizzle with vinaigrette. Gently toss and top with sticky pecans. Garnish with fresh herbs if you wish Enjoy!
Similar Recipes
Rainbow Salad with Tamari Honey Vinaigrette
When it comes to salads, it is about the balance of flavours and textures. In this healthy salad the carefully chosen vegetables, greens and berries are what make this salad packed with antioxidants, nutrients and fiber. For the finish, the light tamari honey vinaigrette, tying everything together to perfection.     This super healthy salad […] Read More
Prep Time
15 Minutes
Difficulty
Beginner
Serves
4
Roasted Butternut Squash Salad
Roasted Butternut Squash Salad. Meet your new power salad, vibrant and nutritious, with just a touch of citrusy vinaigrette. The robust flavours of butternut squash and the saltiness of feta cheese go exceptionally well with apples, grapes and walnuts. This salad is ideal for the diet savvy and those who follow a vegetarian diet. the […] Read More
Prep Time
15 Minutes
Difficulty
Easy
Cook Time
20 Minutes
Serves
4