Warm Fall Harvest Salad with Sticky Pecans
Published on Sep 18, 2018
by
Kristina Stosek
Prep Time:

15 minutes
Cook Time:

15 minutes
Serves:

4-6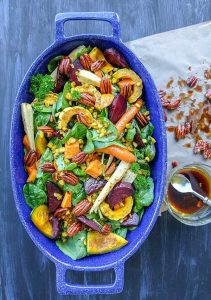 ​This post may contain affiliate links, please see our
privacy policy
for details
The beautiful thing about this salad is the variety of textures, sweet and savoury bold flavours and beautiful colours. In this salad, the warm roasted vegetables, fresh baby spinach and sticky pecans are flavoured with tamari ginger vinaigrette making everything insanely delicious.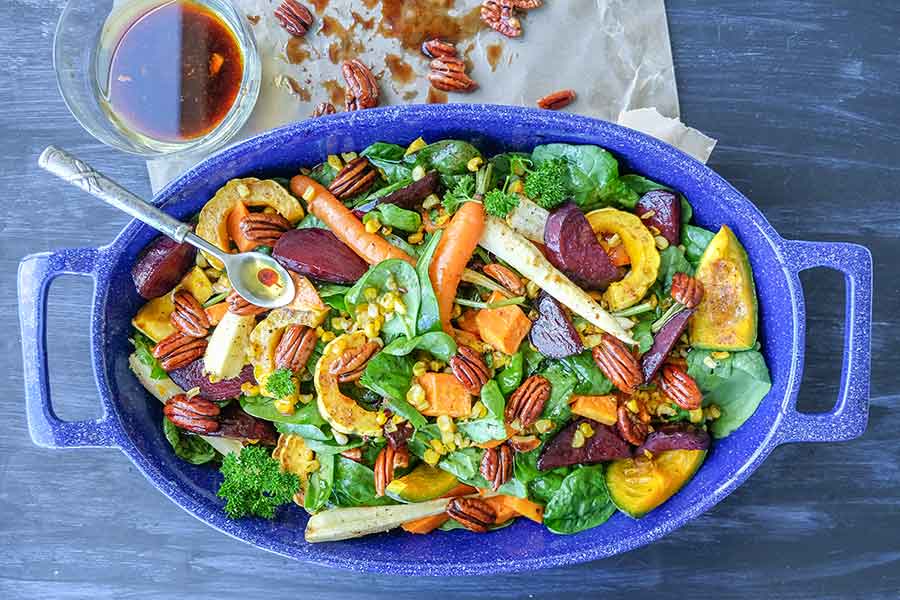 This warm harvest salad with sticky pecans is especially comforting and satisfying during cold weather months.
Warm Fall Harvest Salad with Sticky Pecans
Published on Sep 18, 2018
by
Kristina Stosek
Instructions
1.

Preheat oven to 425 F and line a large rimmed baking sheet with parchment paper

2.

Arrange vegetables except for corn and spinach on the baking sheet and brush with olive oil.

3.

Mix salt, nutmeg, 1/4 teaspoon pepper and 1 teaspoon of coconut sugar. Season the vegetables with the spice mix

4.

Toss corn kernels in the remaining olive oil and season with salt and pepper. Scatter the corn on foil paper

5.

Roast the veggies and corn for 15 minutes. Turn the oven off and slightly open the door, leaving the veggies in the oven until you are ready to make the salad

6.

For the pecans, in a small saucepan add 1/4 cup water, remaining coconut sugar, 1/8 teaspoon cinnamon and a small pinch of salt. Bring to boil and cook until the sauce thickens about 2 minutes. Remove the sauce from the heat and stir in pecans until coated with the sauce Transfer onto parchment paper to cool

7.

For the dressing, in a small bowl whisk everything together

8.

To construct the salad, place spinach in a large salad bowl, add warm roasted veggies, sprinkle with roasted corn and drizzle with vinaigrette. Gently toss and top with sticky pecans. Garnish with fresh herbs if you wish Enjoy!